Today we are going to talk about the differences and similarities in the frame of a new software comparison: Blender vs SketchUp.
Is the Blender vs Sketchup face-off a matter of price?
As you might know, Blender is an all-around software that was designed to satisfy artists' needs in almost all artistic fields from creating video games, Creating VFX shots for film and television, interior design, architecture, VR, 2D animation, and more. On the other hand, SketchUp is mainly for interior design and architecture but they surely have similarities that are worth talking about. 
Many of you would think that the price tag matters. The fact that Sketchup is a paid software while Blender is a free one might be misleading you into thinking that Sketchup is a lot more worth it that Blender. Comparing Sketchup with Autocad for example seems more viable, isn't it?
This hypothesis couldn't be more wrong, and we have dozens of posts and videos that prove that the future of Blender is truly one of the brightest despite not reaching the industry-standard level (yet!)
It's really a bad thing is when people hear that it is free, they immediately assume that it is a low-quality kind of software, and this is maybe the only problem that Blender suffers from. People used to not give it a chance or consider it professional software. But in the last couple of years, things changed a lot in favor of Blender compared to the other software due to the changes that happened to it.
This is why we will make a comparison that is solely based on what each software can offer, regardless of the price.
So, let's get to the good stuff.
Brief Background of Blender and Sketchup
What is SketchUp?
SketchUp was released in 2000, by Google. At first, it was completely free, because big companies like Google have the funds to develop free software. And of course, architecture students found it to be very useful. After its huge success, Trimble, a software leading company, bought it in 2012.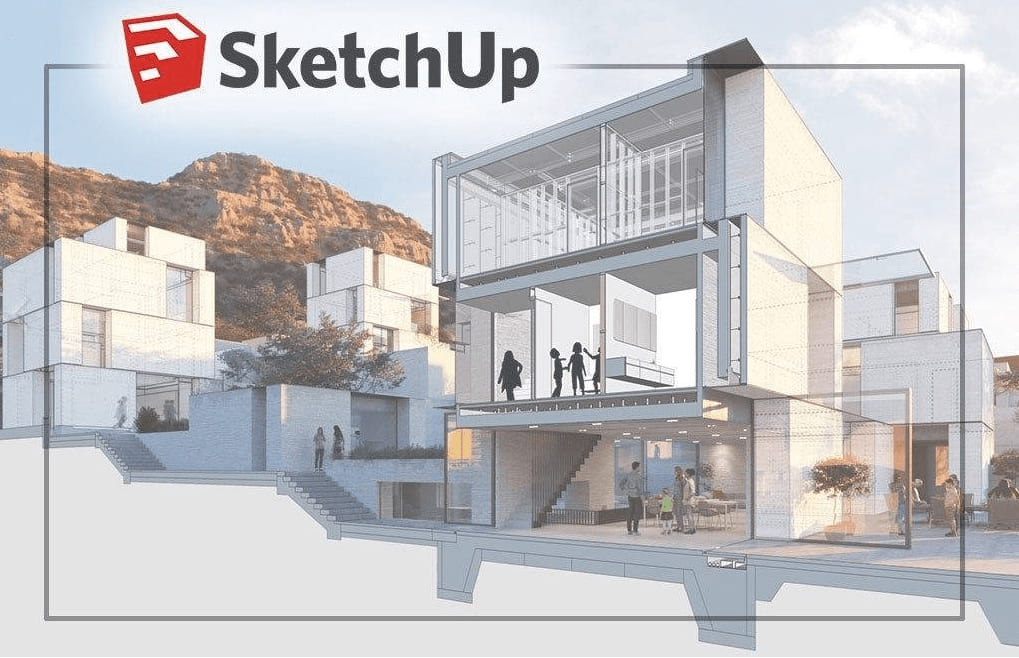 We did a full software review for Sketchup to cover its capabilities in modeling, rendering and animation, interface and learning curve, price and availability in addition to some very useful plugins.
What is Blender?
The story of Blender started with Ton Roosendaal who was working for a company called NeoGeo in the Netherlands. And in 1995 he started his project of developing in-house software.
In 1998, however, Ton developed a new company called Not a Number (NaN), which aimed to develop Blender to sell it for profit. He received investments, but could not make the necessary sales, so NaN went bankrupt. By then, Blender had developed a loyal following of users who didn't want to see Blender die, so Ton created Blender a non-profit company after its fans collected 100,000 USD to buy it from the investors.
And that was just the beginning as Blender continued to grow with the support of donations from people who loved it. Furthermore, independent developers and Blender artists are always building new features and great addons to make it better for the community.
2. Why Use Blender or SketchUp?
As we already mentioned, these are kind of different pieces of software, so they are used in very different fields.
Blender use cases
Blender does everything designers and 3D artists ask for, from modeling, sculpting, particle physics effects, character animation, video editing, creating games assets, etc.
And the very big news here is: it is entirely free. Yes, you heard right! Blender is a free open-source kind of software. This may be the huge thing that differentiates Blender from all other software.
Now, it is becoming more and more famous because even though it is free, people started discovering how amazing it is, with the deep library of tools it contains. In fact, there's nothing you can't create in Blender.
The secret behind Blender's amazing growth is its development fund that artists, small studios, and big companies are contributing to every month. Also if you are good enough as a Blender user you can develop add-ons and add them to the Blender community to help in making the software better.
SketchUp use cases
On the other hand, one of the main things we should mention whenever talking about SketchUp is simplicity, it has the most user-friendly interface that you can imagine, plus it also offers a free online plan, next to other offline paid plans. But the free plan is very limited.
Generally speaking, SketchUp is a 3D modeling program mainly oriented for architectural work. It will give you the ability to make 2D drawings or 3D models easily using all of its creative tools. Undoubtedly, if you are an architect, an interior designer, or you work in real estate, it will be great for you to choose SketchUp to make and visualize your projects.
3D modeling plays a very important part in architecture. However, architects are less concerned with physics and simulations and are much more concerned with shape and design.
This is the reason why SketchUp is highly recommended in this particular field, its core program was created for this type of work. In addition to that, all the 3rd party -plug-ins and extensions- enable SketchUp to produce some professional renderings.
3. Blender vs SketchUp: How to choose?
These two pieces of software give their users a huge variety of features, which we are about to talk about, to help you choose the one that suits you the best.
Modeling differences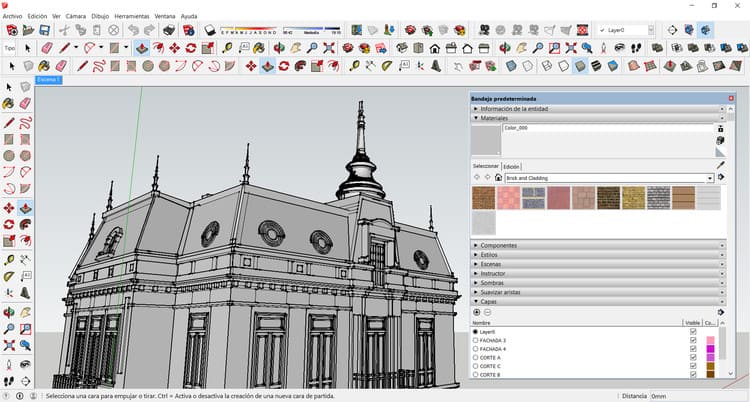 SketchUp is oriented for architectural & design modeling because it's equipped with a very suitable set of tools. This includes the ability to model simple to complex interior design assets such as furniture in addition to all types of buildings. Blender is much better for modeling Objects, characters, and Environments in 3D because it's used as we said for video games, animation and VFX.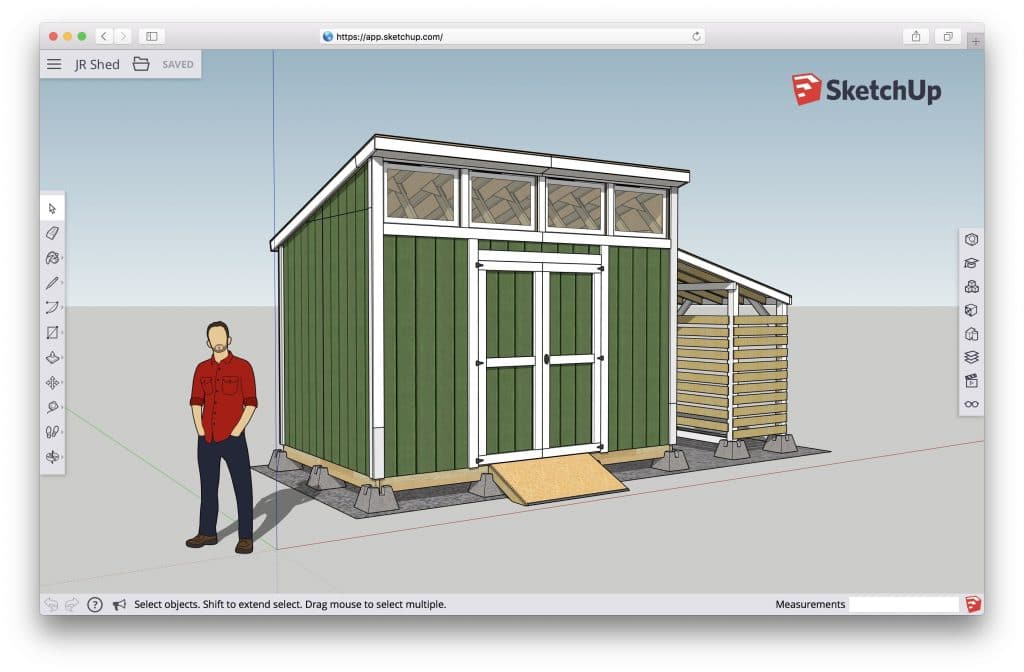 Modeling with SketchUp is limited to hard surface modeling like furniture, houses, objects. It will not give you the ability to make faces, complex plants, or monsters. The reason is simple, SketchUp is oriented towards architecture, urban planning, interior design, and decoration.
On the other hand, modeling with Blender is with no doubt a different experience, this open-source software has taken the modeling process to a new level. It enables hard surface and organic modeling.
Blender vs Sketchup in Creating Animation
SketchUp is widely known for its inability to animate, other than making small videos with very basic and simple minimalist animations, which is practical for designers to show their models.
And of course, when we say Blender we are talking about 3D movies that are made with Blender itself, with effects and very complex characters and environmental animations just like those of great studios such as Pixar and Marvel. Because Blender has a very powerful set of tools that can animate almost anything. Users from all skill levels created amazing short films using Blender, and we extensively talked about them before.
Learning production phases like character creation, animation or environment design the right way can help you create amazing things even as a complete beginner.
Rendering differences
When rendering with Blender and SketchUp it's better to use the third-party render engines for more speed and efficiency even though Blender has two amazing render engines.
You can use render engines such as Vray, Octane, and more.
There is also a huge number of cloud-based rendering services for both SketchUp and Blender, which will serve to reduce the amount of time it takes for these powerful renderings. Not to mention that it solves the problem of inaccessible computers that 3D artists need but can't get right away. It also frees up the computer for other things while saving time. Moreover, chances with Blender are endless. It can create anything you can imagine. 
Blender vs Sketchup in Learning curve
This is the greatest advantage of SketchUp, it is very simple with the most friendly user interface ever, it is extremely easy to use, and very fast to learn. The results can be noticed very fast in just a few days.
On the other hand, learning Blender is quite easy, thanks to the online tutorials, but it is not very intuitive compared to SketchUp. I don't consider this to be a bad thing because if a software is a bit harder to learn, it means that it can do more things.
Operating Systems
One more thing you should pay attention to before purchasing any software is if it is compatible with the operating system you are using. Because it can be a serious problem later.
For SketchUp, it is available for Windows and Mac, while Blender is available for Windows, Mac, and Linux.
Blender vs Sketchup in Prices & Licensing
SketchUp has different sets of plans:
Blender, on the other hand, is Opensource, which means that you can download its full version for free. But the plugins are often paid (which makes sense). Here are examples of great addons that can help you take your work to the next level:
Final Thoughts
Finally, I would say that both are great CAD software that can produce some quality models with detailed shapes. SketchUp tends to use bare-minimum tools and commands, while Blender has an almost limitless number of tools.
SketchUp and Blender are both software intended for different clients and industries. SketchUp is more adapted to large or medium corporations, while Blender is great for small teams or freelancers.
Each of them has its advantages, so your choice should depend on your project and your use of their CAD tools. Because I believe that both software has very different targets:
Sketchup aims to mainly satisfy the needs of architects, interior designers, decorators, illustrators, urban planners, visual artists Thanks to its fast and easy to access user interface. 
As for Blender, you will need a big deal of time to invest in learning it. It was designed to make complex models and animate them to create video games, specific needs.