Today we are going to talk about 5 of the Best Blender addons for UV unwrapping, that you can use to make the process of making and organizing UV islands much faster and easier. Whether it be for video game assets or high-poly assets for visual effects and animation.
We are continuously updating this article to add more tools, and to keep up with the changes that the developers perform on their Blender UV addons.
Why use Blender addons for UV unwrapping and UV packing?
You can obviously deal with the UV unwrapping and UV packing process without addons. Regardless of your purpose, Blender comes with features and settings that can be enough to an extent. But most importantly, you'll definitely achieve better results relying on these addons. Especially if you're aiming for stunning quality and a timely manner. It was our primary focus when constituting this list of Blender addons for UV unwrapping and UV packing.
6. Quick UV Pro
Quick UV Pro is a helpful addon for Blender, that allows you to control your UVs directly from your 3D Viewport, without the need to jump to the UV Editor, thanks to its Pie Menu.
In addition to all the Gizmos and different types of projections, you have the ability to Scale, Rotate, and Move the Uvs from your selected faces directly from the 3D viewport. You can also edit individual faces and copy materials easily from one face to another. You can find Quick UV on Blendermarket.
5. Textools
It is a collection of tools that helps any texture artist with UV and texture-related tasks. The main philosophy is to shorten typical steps into simple context-sensitive single clicks. 
Textools addon comes with Size tools, UV Layout tools, Selection tools, Texel Density tools and it can do Texture Baking as well. This tool is really good for doing UV unwrapping work if you need something that allows quick or fast UVing.
This is one of the Blender addons for UV unwrapping that are fully free of charge. You can download it from GitHub.
Find the addon here: https://github.com/SavMartin/TexTools-Blender
4. Texel Density Checker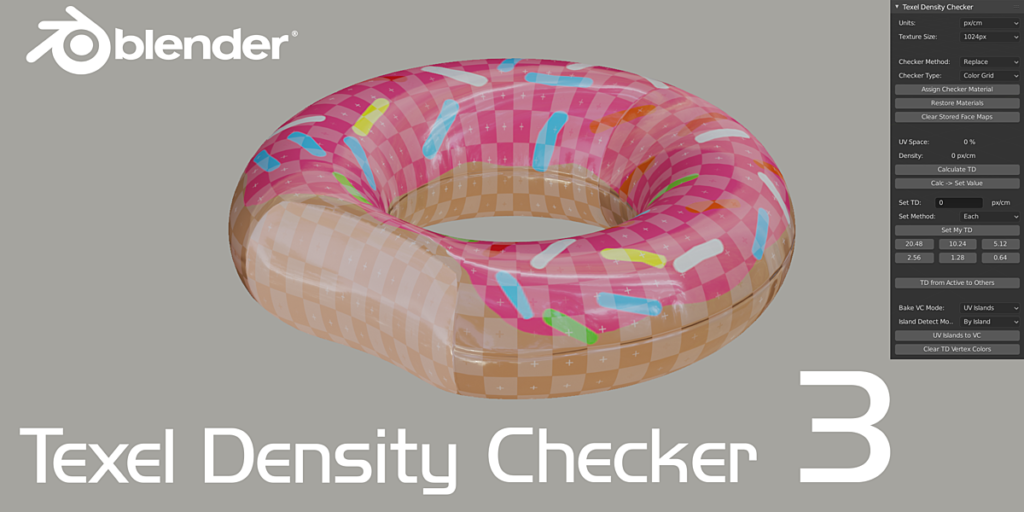 This Blender addon can be used to solve a simple but serious problem when creating UVs. In 3d software in general when creating UVs you need to keep the aspect ratio between UV islands accurate otherwise the textures will not look perfect nor with the same details. This Blender UV addon helps you to do that with the different features it has.
You can use the Texel Density checker to Calculate the Texel Density of a model for different texture sizes (between 512px – 4096px) or with the custom size and aspect ratio you choose.
You can use Interactive Checker Material to see what is going on when trying to check the texel density.
In addition to having the ability to copy Texil Density from Active to Selected objects. Also, you can visualize the Texel Density with Vertex Colors and UV Islands with Random Vertex Colors as well. Again, this tool is among the Blender addons for UV unwrapping that are fully free. You can download it from GitHub or Gumroad.
3. Zen Uv
Zen UV is another Blender UV unwrap addon that combines a set of tools that can be used for creating fast UV's in Blender. Its tools are intuitive and can help you do some complex UV unwrapping tasks with ease. Some of the most important features that come with it include:
Smart Zen Unwrap Operator that allows you to Unwrap your model by Marked edges and Packing UV Islands after.
Also, a Powerful Marking System that helps you to mark Seams automatically by angle, by existing UV Borders or Sharp Edges and manually as well.
In addition to the Quadrify Islands Operator to straighten rectangular-shaped UV Islands.
And you can even use a Different UV Packing Engine such as UVPackmaster with Zen UV addon.
You can find this addon on the Blender market here: https://blendermarket.com/products/zen-uv?ref=247
2. UVpackmaster
When you use this addon you will realize that it is one of the most efficient Blender UV packing addons, because it is very fast and uses both the CPU and Cuda GPUs as well at the same time. So if you have a strong CPU and a strong GPU you will be able to pack the UVs super fast with maximum efficiency.
The secret behind UvPackmaster is that it uses an algorithm that gives the packing process an enormous performance boost, outperforming other UV packing solutions.
The most interesting thing about this addons performance is not just time-saving only. Even though packing a complex UV map in real-time is nice, the great efficiency of the algorithm equips the addon with much more powerful abilities that prove to be useful when working on your 3D assets.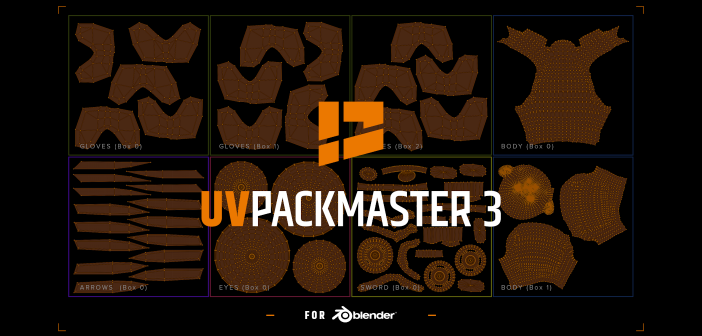 You can find the newest version of the addon on Gumroad, and here's a glimpse of the new features:
the added advantage of the computational GPU power, using a Cuda accelerated variant of the algorithm. significantly enhancing the speed and performance of the addon.
an easier UDIM creation process splits UV into any number of groups, prioritizes specific UV islands, and automatically limits the scale of less important islands.
heuristic search where you can iterate on the CPU and GPUs available in the system simultaneously to find the most ideal packing for your UVs. sometimes you might want to stack similar UVs together however UVpackmaster gives you the option to lock the stacks, during the packing process the islands with stay glued on top of each other.
packing UV groups to the same UV space so that islands belonging to the same group are neighbors, exact pixel margin and padding, non-square textures, and much more.
UVpackmaster 3 is a really powerful Blendr UV addon. If you are a modeler or a game assets artist, this one is a must-have.
The legacy version is also available. Although it's no longer developed, we thought you might find it useful. You can also check the official website of the UVpackmaster addon for additional information.
1. Uv Toolkit
UV Toolkit is an addon that has a set of tools for fast and high-quality UVs creation within Blender. It comes with a lot of features that make the process of creating UVs faster easier.
For example, you can straighten the UVs using alignment tools. You can do this on both the x and y-axis and you can do it with edges and vertices in addition to islands as well. You can also control the orientation and rotation of the islands and edges to be able to arrange them a certain way.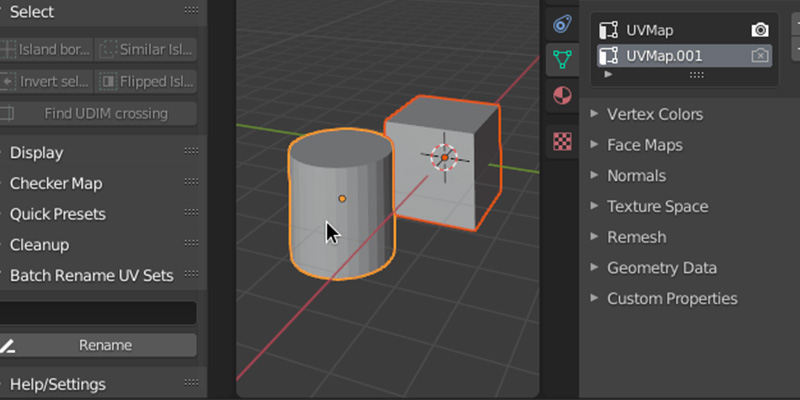 In addition to having the ability to stack different islands on top of each other or unstack them and set the distance between them as well. In the same vein, you can also match similar islands and make them identical.
There are also some interesting features like the ability to check crossing UDIM borders, in addition to having customizable pie menus that enable you to add and remove tools that work best for you.
You can find this addon on Gumroad, and you can also check the full documentation on Gitlab.