Today we are going to talk about 4 amazing 3D software for character creation that can help you create characters. It doesn't require advance modeling techniques that are usually necessary for professional modeling and animation software.
Can you actually use these 3D software for character creation as a beginner?
It's certainly surprising to speak about 3D character creation using adjectives like "easy" or "beginner", right? But it's actually the case with these tools specifically: you can very much start your learning journey with them. Although some basic knowledge will be great to make the learning curve a little less steep, it's definitely not necessary. One of the reasons is the fact that these 3D software for character creation are exclusively dedicated to this task in particular. This will make the toolset a lot more accessible and less overwhelming at first approach. If your interested in learning character creation in depth, check our previous post that includes awesome Blender character creation courses. So let's dive in!
4 – Make Human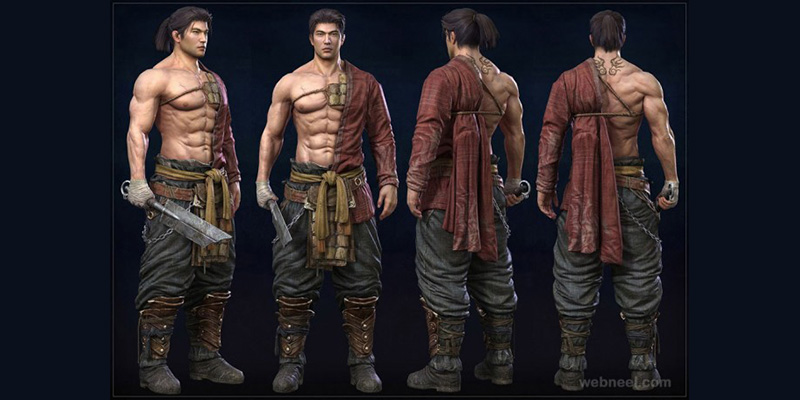 MakeHuman is a free and open-source 3D software that was designed for the prototyping of photo realistic human characters. It was developed by a community of programmers, artists, and academics interested in 3D character modeling.
Humans are created through the manipulation of controls that allow for the blending of different human attributes to create unique 3D human characters. The controls are intended to provide the user with a simple way to create characters that give expression to the widest possible range of human forms.
MakeHuman was actually one of the most popular Blender addons written by Manuel Bastioni, artist and coder, in 1999. A year later, a team of developers had formed, and they released the first version of MakeHuman for Blender. The project evolved, and in 2003, it was officially recognized by the Blender Foundation. The development stopped for a period of time due to some difficulties and obstacles until 2014 when a stable version was released.
Find the software here: http://www.makehumancommunity.org/content/downloads.html
3 – Poser
Poser is a 3D rendering software package for the posing, animating, and rendering of 3D human and animal figures. Poser allows you to load figures, props, lighting, and cameras for both still and animated renderings.
It comes with a large library of pre-rigged human, animal, robotic, and cartoon Models. The package also includes poses, hairpieces, props, textures, hand gestures, and facial expressions. since poser is not created for modeling objects and characters, a large community market of artists has emerged, in which Poser content is created and sold through various third party channels.
Poser's interface has evolved since the product's introduction in 1995. The current Poser preserves many of the application's original interface elements so that legacy users can move into the newest version and navigate without relearning the program's controls.
Poser is available for both Microsoft Windows and Mac OS X operating systems. You can find further information on the official website: https://www.posersoftware.com/downloads
2 – Daz Studio
Daz Studio is one of the most popular 3D software for character creation that are fully free, developed by Daz 3D. It is a 3D scene creation and rendering application used to produce still renders as well as animation videos. 
Renders can be done by leveraging either the 3Delight render engine, or the Iray render engine, both of which ship for free along with Daz Studio, or with a variety of third-party render engine plugins for Daz Studio from various vendors and companies. These render engines include Luxrender and Octane render.
Daz Studio is popular among many artists in different industries because it is being used for many purposes.
For example for those who have ideas but they don't have artistic skills, this software can be great especially for those who want to create character illustrations for books, book covers, or even comic books. 
The idea is basically to customize your characters, create some background, bring some objects and give them life. The software will come in great help when adding the expressions and the right poses and later you can render it or take it a 3d animation software or take it a 2D software such as photoshop if you want to.
Daz Studio also supports the import and export of various file formats for 3D objects and animations to allow for the use of other 3D content within Daz Studio, as well as to get content out of Daz Studio for use in other 3D Software. Download it for free, no questions asked: https://www.daz3d.com/get_studio/
1 – Character Creator
Reallusion has one of the best and fastest 3D software for character creation known as Character Creator. Character Creator is a full character creation solution for designers to easily create, import, and customize stylized or realistic looking character assets for use with iClone in addition to the Popular 3D animation packages like Maya, Blender, and game engines such as Unreal Engine, Unity, or any other 3D software as well. 
It is a time and resources saver if you use it the right way. It allows artists to create characters easily and intuitively. First of all, using the morphable body shaping tools that allow you to customize a character to any size, or shape, whether it be tall, short, fat, slim you name it. You can also change other body features like hair, clothes, and so on. And it works smoothly with other character creation software such as Daz studio by allowing to import certain elements or complete characters to be customized further in the Character creator.
And to provide further flexibility you can actually take your character to sculpting software such as Zbrush to add more details. Also, you can add your custom materials and textures in software such as Substance Painter and custom clothes in software such as Marvelous Designer to be added to your character inside Character Creator. And much more.