In this article, we will talk about some of the best BIM software, which offers different options, features, and even results. You can watch the following video. If you prefer to read and check the links, keep scrolling.
What is BIM software and what is it good for?
BIM software or Building Information Modeling software is used a lot in the construction and architecture industries. These programs offer a lot of good features to help Architects and Designers in their work. They can also be used in MEP parts (mechanical and electrical plans).
10. Kreo
It's a great BIM software. Kreo has BIM management capabilities, quantities, and estimation, as well as a great sense of organization and classification. There is also the possibility to share documents and reports on the cloud with other members. The software supports only English as a language.
It is a flexible software and can be customized according to your needs. Besides that, the software helps you achieve materials quantities, cost estimation, and schedules. The good thing about it is that it is a complete software that helps you through the entire design process in different steps, and the whole company can work on the same project on the same software.
It is also a cloud-based software, which means it doesn't need a high-performance computer to run in it. Besides, you can save and share all your files on a cloud base easily.
Link: Kreo
9. BIMobject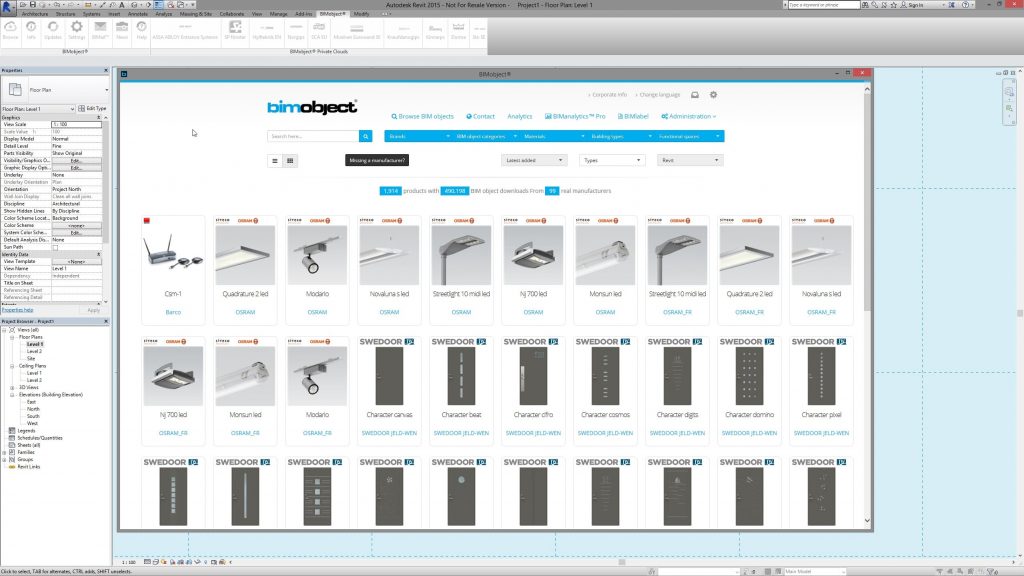 It's a digital content management system for buildings and a great BIM solution for architects and Designers. It is a free and easy piece of software to use. It is compatible with AutoCAD and Revit. You can use the software to generate structural plans, architectural plans, and MEP as well.
The software is available on MAC, Windows, and Web-based. It also supports 12 different languages. BIM supply in this software allows you to create a list of all the materials used in the project with their quantities and prices, and you also have the ability to make direct orders and share them with the people responsible for this task.
Besides that, the software comes with very useful features like Metadata and Mosquito for BIM developers to build objects on the cloud directly. BIMobject has a great marketing campaign that provides help to engage with your target on the market.
Link: BIMobject
8. BricsCAD BIM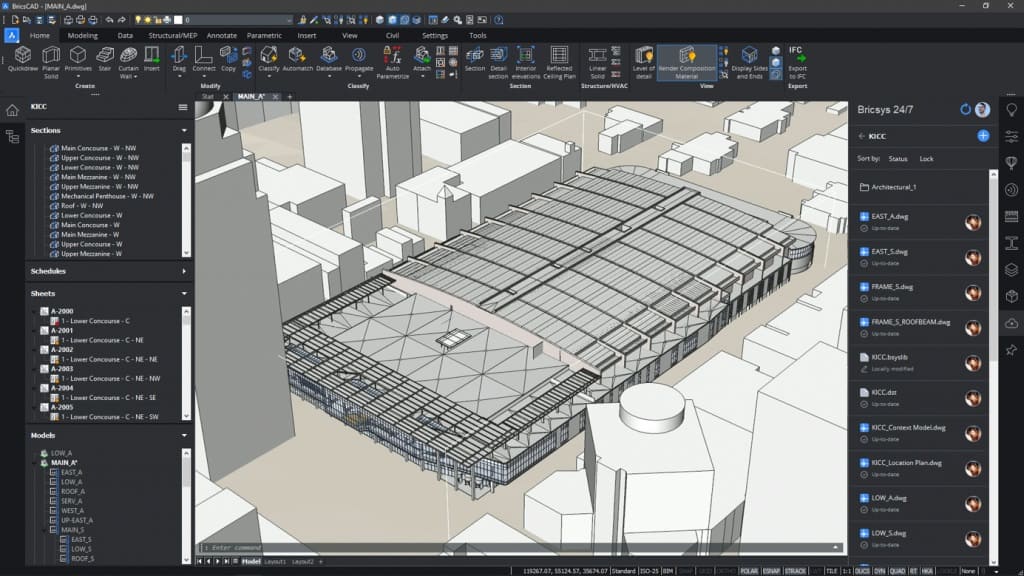 It is a versatile software that can be used to do 2D drafting, 3D modeling, BIM, and MEP design. The software is available on Mac, Windows, and Linux. You can get a lifetime license or a perpetual subscription. It supports 17 different languages including English, Chinese, Spanish and Russian.
It's a good alternative to other expensive BIM and CAD software. BricsCAD is not a very heavy software, and it can run on a low-performance software easily. It is constantly improving, offering new useful features with every released version. The online support team gives you quick answers about your concerns related to the software.
BricsCAD has 3 different editions: the classic one, the pro edition, and the Platinum edition. Besides that, the software has an intelligent Quad Cursor, setting management, dynamic dimensions, drawing explorer, web map service, and dynamic arrays.
Link: BricsCAD BIM
7. Allplan Architecture
It's a great 3D modeling and designing software. It can be used by architects and interior designers. It helps you translate your idea into a sketch and follows you until the construction with all the necessary details you need including cost planning.
The software is very flexible, giving you the possibility to move from large scale to small detailed scale, according to your project's needs. The interface of Allplan is user-friendly, and you can easily manage to find the tools.
Using Allplan gives you the possibility to open up different plans at the same time to edit or just to review. You can also share and work on one file with several co-workers. You can use Allplan to generate high-precision technical plans for prefabricated elements as well.
Link: Allplan Architecture
6. ActCAD
It's a CAD and a BIM piece of software used by both architects and engineers. It supports both DXF and DWG files. It also has the IntelliCAD technology consortium (ITC) that offers the best features to its users.
The software has a block library feature that you can use in civil engineering, architecture, and MEP. It also has a Unit converter and batch file converter. It's a very light software, and it does not require a strong computer even though it is a very professional program.
ActCAD supports several languages including English, French, and German. You can open and edit a PDF file using ActCAD easily. The software is also low-cost compared to other BIM software. You can also add plugins to your software to improve its skills and capabilities.
Link: ActCAD
5. Civil 3D
It's an Autodesk piece of software and a great BIM software for civil engineering design. You can use this software to design roads and highways, airports, and rails. It's a professional software that can help you improve your workflow, avoid errors at work, and reduce risks.
The software has a large range of tools, and you can start with the basics to get familiar with Civil 3D and use more advanced tools in more complex projects. The software has a great supporting system from Autodesk in case you need help when working. Civil 3D collaborates with most CAD software and you can export your file to Autodesk easily.
Link: Civil 3D
4. Vectorworks Architect
It is a 3D modeling, documentation and 2D architecture drafting software. Vectorworks Architect enables you to convert complex ideas into 2D and 3D with refining construction details and high-quality rendering. The software supports multiple languages including English, Spanish, French and Japanese.
It has great 2D tools that help you generate accurate 2D plans like hatches and patterns, line weight, fonts, and drop shadows. All these features help you get the best possible graphic results. The software accompanies you through the whole process from the first sketch to the final technical drawings with all the necessary documentation.
The software has 2D and 3D symbols for doors, windows, plumbing, kitchen cabinets…etc. It also allows you to have photorealistic renders at the end.
Link: Vectorworks Architect
3. Tekla Structures
Tekla structure is a 3D modeling software. It belongs to the BIM family. It's a great solution for Architects in the construction industry. It also allows you to collaborate with other team members in order to generate exact work and to avoid errors before production.
The software has a great feature that you can activate to detect clashes in the design. You also have the clip plane feature that allows you to take a deep look into your 3D model. Tekla Structure also has a version for mobile that can help you review your plans on site, take notes, and share them with the rest of the team.
It can also be used to generate steel structure plans with a high level of detail, and you can also get a detailed report related to the plan with all the necessary quantities that you need.
The software is easy to use for modeling even complex projects. Tekla Structure provides easy visualization and editing for your drawings.
Link: Tekla Structures
2. Revit
Revit is a very known program; it is used a lot in the design and architecture industry. The software allows you to quickly generate intuitive designs thanks to the conceptual design tools that it offers. It also has parametric components, which help you save a lot of time and effort.
Revit has the possibility to share centralized files where several members can work on the same file. This option increases the work team and also allows you to have a better-organized work and help you share the information more efficiently. You can use Revit to analyze and optimize the performance of your building.
The software has a rich library full of components, such as walls, windows, and doors that can be edited according to your project needs.
The good thing about Revit is that it allows you to have the 2D and the 3D at the same time; you can get the plans, elevations, section, and the 3D with one click. You can also specify the level of details you need to present in your project. You can also work on the structural, electrical and mechanical plans on Revit.
Link: Revit
1. ArchiCAD
ArchiCAD has all the necessary requirements that BIM software offers. ArchiCAD has a good design environment that will positively affect your workflow. It is considered as professional software, and it is used by the most well-known design companies, yet it can also be used by students and architects.
The software can help you deliver accurate building plans, information management, and automatic documentation related to your project. It increases the collaboration between architects, designers, and all members working on one shared file. The interface of the ArchiCAD is straightforward and simple.
It's a paid software, but we compared ArchiCAD to FreeCAD if you're looking for an alternative that won't break the bank.
Link: ArchiCAD
Final thoughts
These are samples of some BIM modeling software, the list is so long and other BIM software exists in the market. From this small review, you can detect and define the BIM software that suits you the most and suit your budget.
Some of these software are available for free, others for low-budget users, and others expensive for big companies. Also not all BIM pieces of software are available on Mac or web-based. You can still check our list of free online industrial design software if you're on a budget.