There are many computer design software out there, but today we will give you a global idea on 12 of the best CAD software for beginners. 
This includes some of the simplest CAD software but also professional software that are commonly used by beginners and have a nice learning curve.
12-LibreCAD
It is a free and an open-source-software that was developed to do 2D drafting only, it belongs to the CAD family and it is available on all platforms such as Windows, Mac, and Linux.
It is made to make all kinds of technical plans, and construction details, it even can be used to do interior design sketches, mechanical parts schematics, and diagrams, and its supports different kinds of file format like DXF, SVG, and PDF. The tools and features are easy to use and it can be used by students, hobbyists, and professionals.
11-TinderCAD
This software is used a lot by students and professionals because it helps them start designing simple objects and make progress when making more complicated objects, it can also be used in 3D printing, jewelry design, M interior design, toys, and prototypes.
 The software offers a lot of good features like an intuitive interface, circuits option, code blocks. you can save your work in the cloud and the software is very light it doesn't in addition to that it doesn't require a strong computer or a lot of space. And the best part is it is completely free.
10-BlocksCAD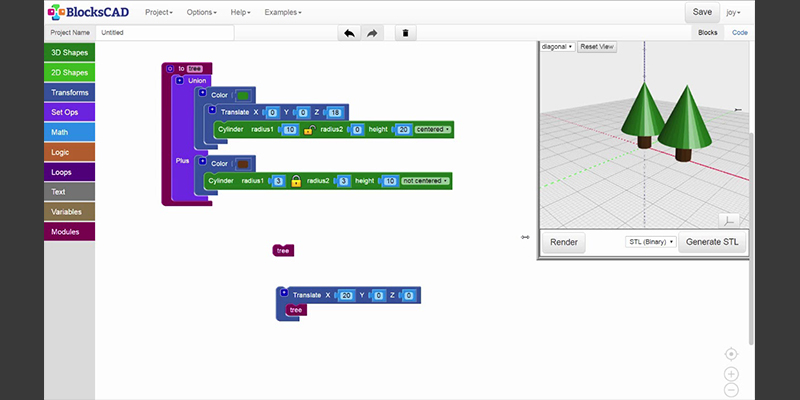 It is a web-based application to do 3D modeling and animation, the 3D designs that this software generates can be used in webinars, presentations, websites, and even social marketing. 
This web application is used a lot by startups and agencies, it offers a lot of good features like 3D modeling using drag and drops, coding, and so on. it is also very similar to OpenSCAD, it uses the same coding to create and combine geometric objects. The web application costs 149 US Dollars per year.
9-QCAD
This one is free and an open-source-CAD-software. It was made to do 2D drafting, but it has good tools for creating complex technical details. 
It is especially great for graphic design, you can precisely set all the measurements and the dimensions relative to your design, or mechanical piece.
 It is compatible with all CAD software, so you can open QCAD files in other CAD software, you can also use both metric and imperial systems. This software may impose a little bit of training before using it more for beginners and students who are not so familiar with CAD programs.
8-Moment of Inspiration 3D
It is an intuitive 3D modeling software with powerful tools, anyone can use it even if you are a beginner or if you're not a designer because the interface is so simple and straightforward. It is one of the low-cost solutions in the CAD family, it can also work perfectly to create mechanical pieces and, solids and hard surfaces models. Additionally, you can use the software on a tablet with a pen easily, which will give you more freedom in the designing process. 
You can get the software for 260 US dollars and it is available for windows and Mac.
7-OpenSCAD
It is a great software to create solids in 3D, it can also be used to create parametric geometric objects. The workflow of this software actually depends on your experience. 
Working on parametric object design helps you adjust them in the future to suit different needs, you can also use coding to set up all the parametric parts relative to your objects.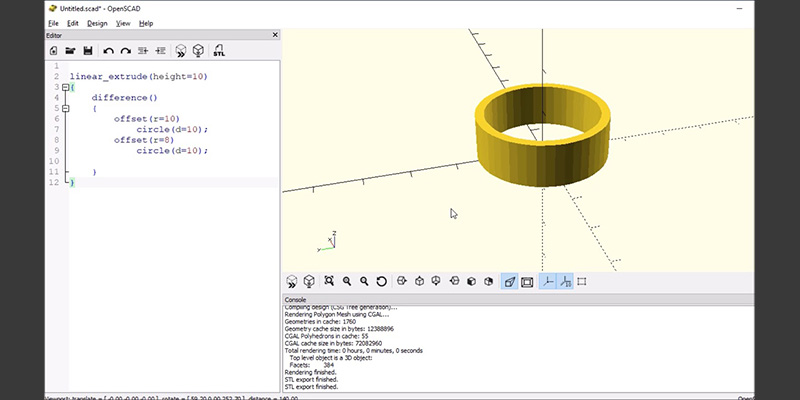 it also offers GIT configuration management which is a very great and helpful option.
Overall OpenSCAD is a great software to program in multiple languages and it can also be used in 3D printing.
6-AutoCAD
It is one of the first products released by Autodesk and it is considered as an ancestor for all the design programs, it is a great start for beginners and students since it has an easy interface, the tools, and the commands are direct and easy to use.
Autocad is commonly used in 2D drafting in different fields, like architecture, mechanical, electrical parts, and so on. the 3D part of Autocad can be a little bit complicated and it doesn't offer a lot of features in terms of 3D compared to other 3D software. But learning AutoCAD will open the way for you to learn other software more easily. It is available on Mac, Windows, and later on a web app called AutoCAD 360°.
5-SolidWorks
Solidworks was Made essentially to do complex 3d design, like mechanical and electrical pieces because it has great tools for creating details. The software can help you create all kinds of objects, assemblies, and presentations of the products to clients in the end.
It also offers all the necessary and basic tools to create simple products, like the ability to change area, weight, dimensions, and it has advanced and precise drawing tools that you can use to create complex models and assemblies.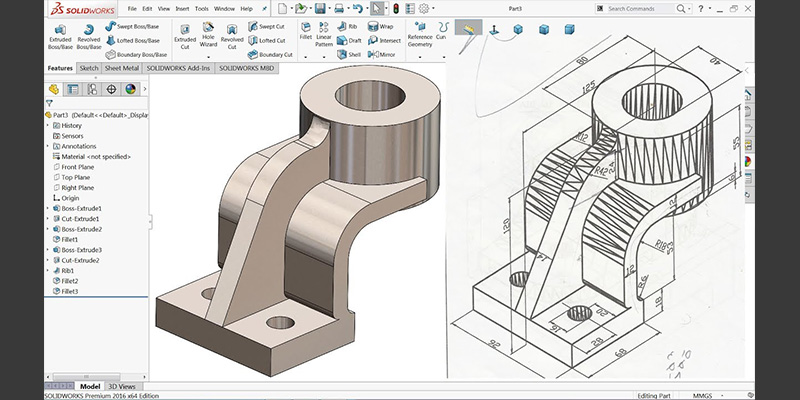 Solidworks is known for being one of the simplest to use among professional CAD software. But it is a little bit limited in terms of using curves. For insistence, when it comes to car design it can be hard to use it, especially when creating curved surfaces.
Overall it has great and easy tools for measurement since its users pay very close attention to details especially when it comes to technical drawing.
4-FreeCAD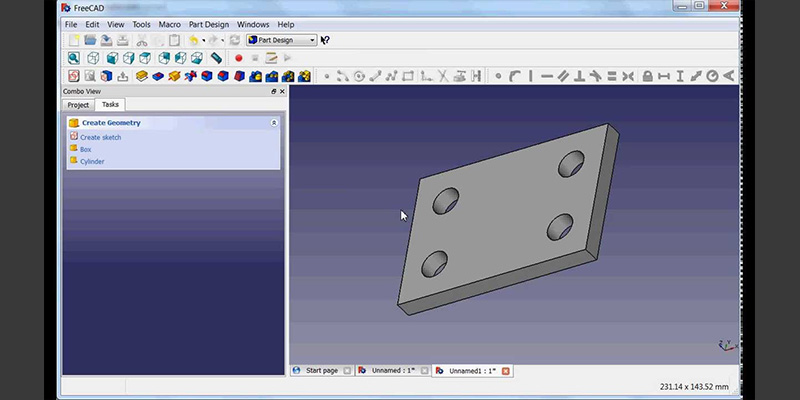 FreeCAD is modeling software made essentially to design complex objects especially mechanical stuff. Freecad can be considered simple and easy to use especially for basic design, it can also be used in different industrial fields in addition to architecture.
 You can also use it to design complex objects and even do the rendering. In addition to that, it has a great parametric workflow where you can re-generate your model by changing some variable values. 
Overall you can use this software to design from scratch or to do reverse engineering. The software offers great features that can be found even in the paid software.
Besides that, Freecad is open-source and it is available for free, it also has the GUI mode, it can run on Linux and windows.
3-Rhino
This is a great modeling-software that can be used in different fields. It can be used to model houses, furniture, and objects. It relatively an easy software to use because the interface is clear and simple with many tools and features. 
Its tools also allow you to have high precision when working on complex 3d models like cars and jewelry. With time the workflow of the software will be fast because you will get used to it and you will also be able to use shortcuts.
Overall it can also be used by beginners for small projects or by professionals for complicated ones. The good thing about Rhino is that you can download plugins and customize the software and to have a smooth workflow and better results. 
Rhino costs $995 and it is available for Mac and Windows. https://www.g2.com/products/rhinoceros/pricing
2-Fusion 360°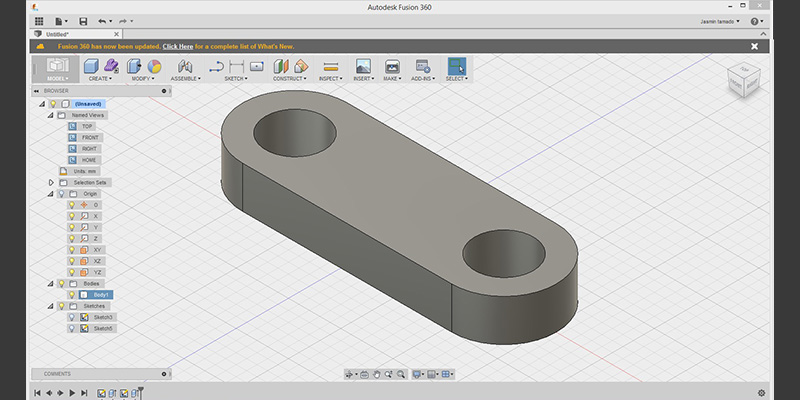 Fusion 360 was made specifically to do mechanical and technical object design. It also offers you the possibility to model artistic 3D objects, and it can also be used to do 3D printing, Or to design electronic pieces and toys. 
It has powerful tools to model quickly but with high precision, it also has the option of collaboration so that all members of the project can work on it together. Besides the software has intuitive UI and you can also use parametrical design which helps you to gain time and effort. 
The software has easily accessible tools and quick access help in case you need help, especially for beginners. It also enables you also to save all your work online which is great and better than saving in your computer and taking more disk space, and also it enables you to open your file from anywhere.
Moreover, fusion 360 helps you to create realistic 3D rendering, it can also give you the possibility to choose different materials for your objects.
1-Sketch Up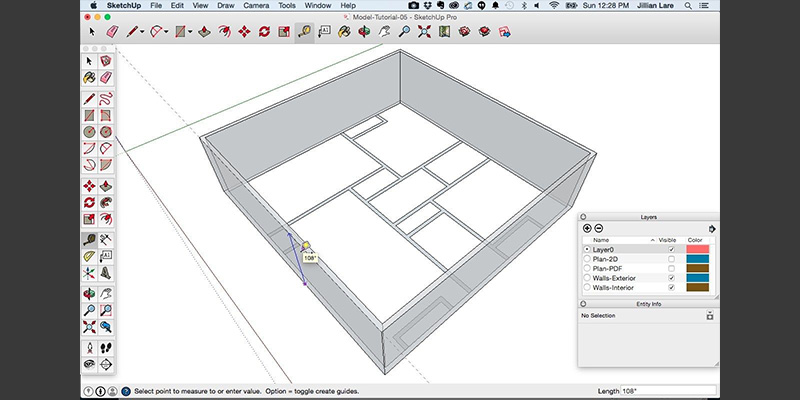 This is one of the easiest and Best CAD software for beginners, it was made to do 3D modeling and 2D drafting, you can work your 3D from scratch or import a 2D plan and work based on it. The basic tools of the software are simple and easy to handle. It is perfect for beginners, but you can import more plugins and customize your software based on your needs.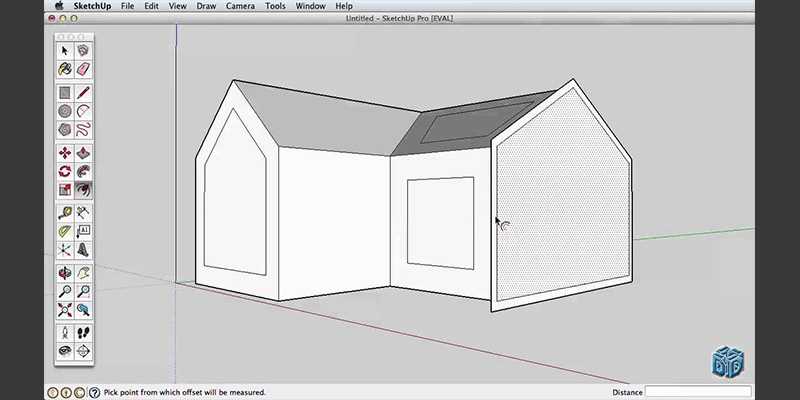 Sketchup also has the ability to integrate powerful third-party rendering plugins that can help you render images in addition to coo animations as well especially for architecture.
Besides, it has great control of lighting and cameras, and it has a large variety of textures and materials, it also has a special warehouse to download different components.
The software has a free version and it can run on Windows and Mac.