Today we are going to talk about 7 Blender environment courses that can help you create different types of environments. Whether it be forests, deserts, ruins, Sci-Fi environments, and even space stuff.
Blender environment courses will teach you the art of design by doing
The most popular opinion about learning Blender and mastering it is that it can be quite challenging. Although the Blender community is becoming larger every day, it's difficult to keep up. This is where structured Blender courses filled with hands-on practical projects will come in handy. The fact that the instructors have amazing backgrounds in the field is certainly more of a reason to chose their courses. Even the most difficult tasks in Blender (such as character creation for example) will become a lot more accessible with a good course. We even selected some of the best character creation courses in a previous article, you can check them out by clicking this link.
Now, back to our topic today: let's start showcasing the best Blender environment courses that will help you on your journey to learn environment design in Blender.
7 – Creating A Stylized 3D Forest Environment with Blender
This is a refreshing Blender environment course from CGcookie that will give you a short break from realism. In addition to teaching you how to create cool looking stylized 3D forests in Blender.
During this course you will learn how to create low poly models of natural assets, generating plants and trees with the sapling Blender addon. In addition to creating grass with particles. These are actually some of the best Blender addons out there, we talked about them in detail previously on this post.
And as you make more progress you will learn how to use textures, lighting, and rendering with Blender's real-time render engine Eevee.
This Blender environment course is great for beginners, because it does not require a ton of skills. And all the steps are relatively easier compared to creating a realistic environment since the expectations are higher. Not to mention that everything usually needs to be complicated and realistic with realistic environments.
If you haven't created something stylized before or if you want to learn new things this might be your chance.
Course's page: https://blendermarket.com/products/creating-a-stylized-3d-forest-environment-with-blender-2?ref=247
6 – Space Vfx Elements : The Ultimate Guide To Creating The Galaxy In Blender
This is one of the most impressive Blender environment courses out there about creating space environments. But unfortunately, it was made using Blender 2.79 because it's about 3 years old.
You will learn how to create different kinds of planets such as rocky planets, gas planets, advanced multilayered planets with atmospheres. In addition to planet closeups that show a ton of details.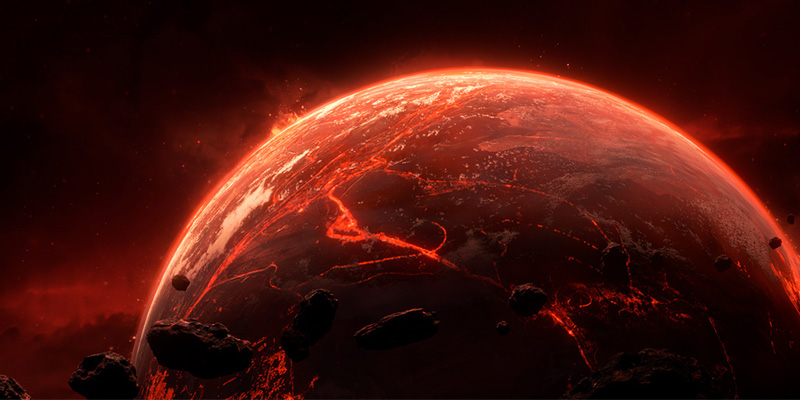 You will also learn how to create and render astroids and asteroid fields which is a common thing in space shots.
This is course is about 20 hours long so you will learn a lot of other things as well. Such as how to create comets, black holes, gas clouds, procedural space panoramas, and more.
You will learn how to do this using two different workflows: procedural and image-based.
Course's page: https://blendermarket.com/products/spacevfx?ref=247
5 – Creating Procedural Sand Dunes With Blender 2.8
This is another Blender environment course from CGcookie that will teach you how to create believable sand dunes in Blender. And the great thing is: you don't have to create millions of polygons to achieve this.
You only need to work with only 4 different things: a mesh plane, HDRI, Cameras, and Materials.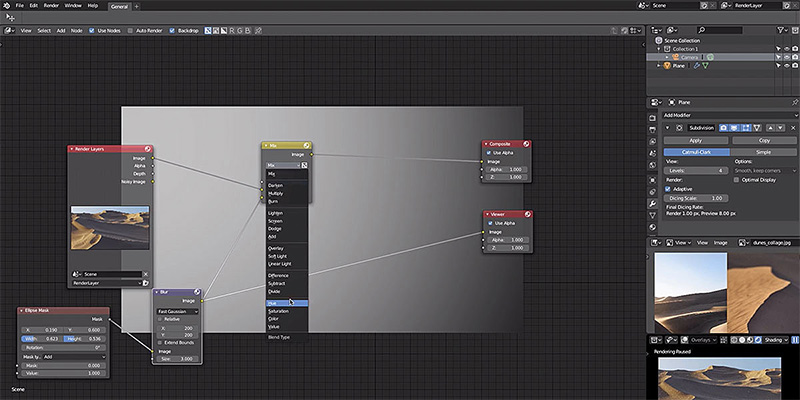 This course will teach you how to use Procedural Texture Displacement using Blender's nodes system, Adaptive Subdivision in addition to Compositing. Throughout which you will do some post-processing after the rendering process to have something more believable.
If you want to think out of the box, work faster and smarter then you'll learn a lot of things in this course.
Course's page: https://blendermarket.com/products/creating-procedural-sand-dunes-blender-28?ref=247
4 – Ancient Ruins Game Environment In Blender course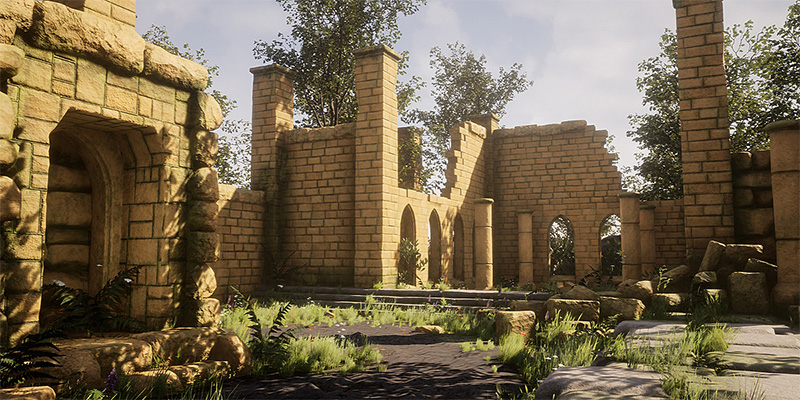 This is a course in which you will learn how to create ancient ruins for games. Using Blender, Zbrush, Substance painter, substance designer, and Unreal Engine.
In this course you will learn how to:
Create modular assets using Blender
Create realistic stone and brick details using Zbrush
Creating correct UV unwraps inside of Blender.
Baking our high and low poly models in Marmoset toolbag.
Creating tileable materials using substance designer
Creating practical real-world shaders
Producing materials with mask blending and parallax mapping
Level setup, lighting & post effects using Unreal Game Engine
This is not the most advanced Blender environment course and it isn't the most impressive either. But it is a good way to learn how to do things the right way, according to professional industry-standard workflow. Because the instructor actually works for Ubisoft, and I am sure you will learn valuable lessons from him.
Course's page: https://blendermarket.com/products/ancient-ruins-game-environment-in-blender?ref=247
3 – Real-time Environment Design in Blender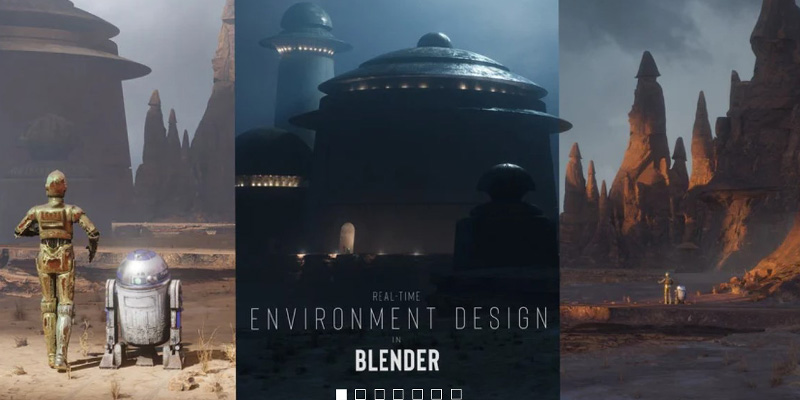 This is a 4-hour crash course on how to use Blender's Eevee for Real-time environment design. This will allow you to create similar scenes to those that were used in "Star Wars: Mandalorian" TV show. In fact, the instructor of this course worked on The Mandalorian.
This course is suitable for both, experienced Blender users and for artists making first steps in Blender.
This will allow you to learn a ton of skills like how to use Megascans, texture blending, Using decals, color maps. In addition to how to create and set up desert scenes with realistic Skye, lighting, shadows, and physical atmosphere.
You will also learn how to paint grass, create volumetric fog. In addition to how to use Blender cameras and animate them in your scene.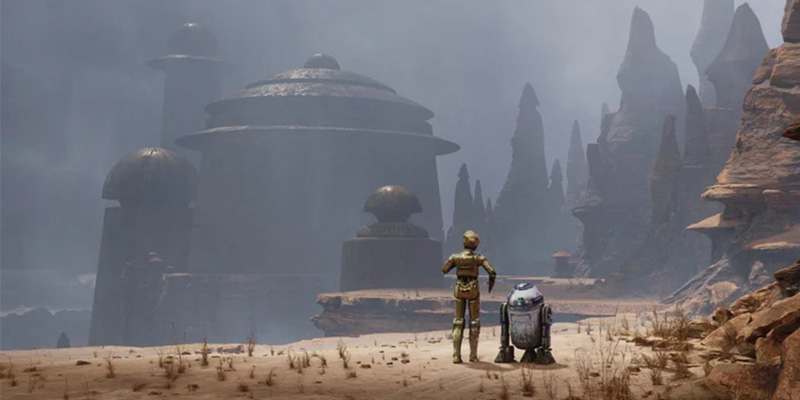 Finally, you will learn how to become better at setting up a final scene. Specifically a sunset scene and a night scene.
Course's page: https://gumroad.com/l/Lstpj
2 – A-Z Environment Design Using Trim Sheets: Blender course
This is a completely comprehensive Blender environment course from Two great Blender artists covering everything you need to know about how Trim Sheets work. In addition to how you can implement them to create fantastic game environments using the methods used in big-budget game projects.
In my opinion what this course offers is way more than you are going to pay for. Because it includes a ton of valuable resources, information, and excellent training. It is great for aspiring game-artists, environment artists, and general 3D artists, in addition to sci-fi hard surface enthusiasts in general, even if they are beginners.
In this course, you will get 6 ready to use trim sheets. In addition to that, the instructors on this course will show you how to create your own sheets to be able to use them on your projects during different stages of production.
Using these trim sheets in your projects will allow you to save a ton of time, resources, and money. And the great thing is it will looks just as great as if you modeled everything using millions of polygons. This is not just a technique that solo artists use to save time and resources.
Course's page: https://blendermarket.com/products/a-z-environment-design-using-trim-sheets?ref=247
1 – Creating 3D Environments course in Blender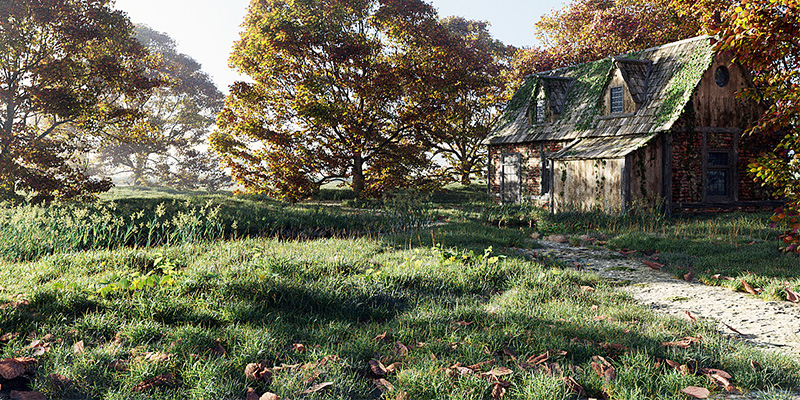 This is actually a great 3D environment design course in Blender. Because it will show you how to create complex natural environments starting from scratch with the necessary steps throughout the process.
First of all, you will learn about Blender's interface and how you can make our first steps in Blender. Slowly you will carve your way to building objects for example you will learn how to create these dice here.
After that, you will start learning how to mix textures in Blender. This will allow you to apply materials to a ruin example and build the first environment scene. You will also model grass, add water and learn how to render the whole thing.
Then you will build a farmhouse in a medieval style. During the process, you will use the workbench for modeling, Eevee for the texture work, and Cycles to render the scenes to get the max out of it.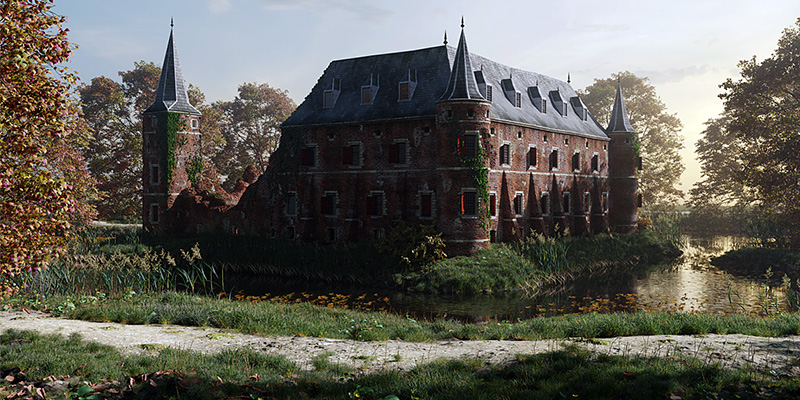 After that, you will merge the building with a natural environment. Subsequently after creating trees with the sapling add-on without using any commercial addons.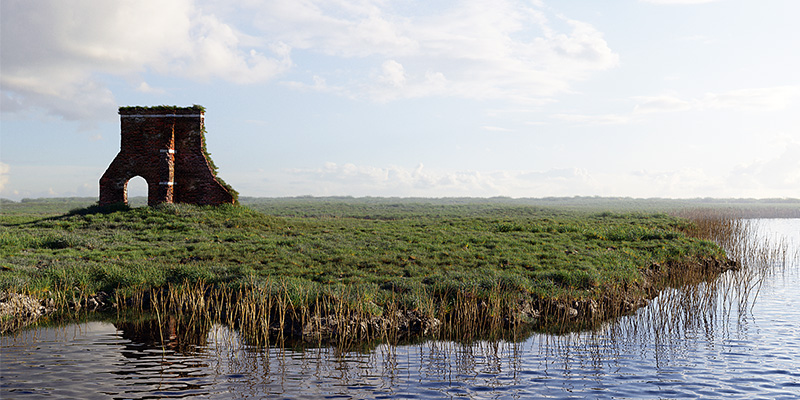 And finally, you will use all the different assets you created and the techniques you learned to create the final castle project. It is kind of a summary of all the skills and the stuff you learned in this course.
Course's page: https://blendermarket.com/products/Creating-3D-environments?ref=247