If you're an environment artist, an architect, or even a 3D generalist, you must've struggled with building large worlds that have a natural aesthetic to them. I mean, forests and gardens present this pattern of numerous, repetitive, high-density botanic elements. Dealing with every element manually seems like a death sentence to me, as the process is really tedious and cumbersome. The question is: how can you populate a large natural scene with so many plants and vegetation easier and faster?
There are many ways to populate natural scenes in Blender, but it is better and faster to use Blender plants addons and vegetation asset packs.
In this article, we are going to talk about some of them and see how they can help you achieve more. We are continuously updating this article to keep it relevant to the question and help you find what you need quickly.
What to expect from these Blender plants addons?
As 3D artists, you're very likely to need something like a Blender vegetation addon in your projects. The reasons and motives are many, but the most obvious one is being able to save time and effort. In other words, the tedious chore of populating your scenes with different vegetation will become a breeze. Above all, you can use the extra time in being more creative and achieve higher levels. These addons can either be:
Plants generators.
Vegetation asset packs.
Botanic scattering systems.
Without further ado, let's jump right in.
1. Graswald
This is a Blender grass addon in a form of a high-quality asset pack. To clarify, they contain different species of weed, grass, and moss as well as various kinds of debris. These can certainly be used to add a touch of realism and imperfection to exterior visualization scenes.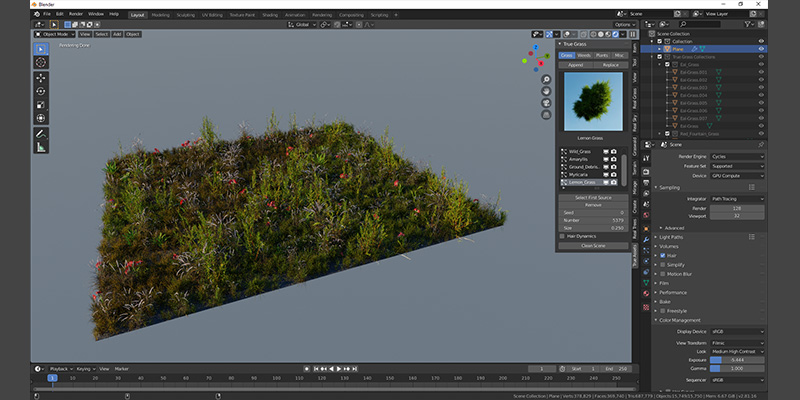 You can populate the scene with different vegetation species using particle systems, which is a nice way of covering large surfaces very quickly. Also, it is possible to add plants individually if you want to have more control over the final result.
In addition to that, you can use paint density or length maps to be able to scatter plants across different surfaces in the scene manually quickly. All that while maintaining a high degree of control over the distribution of those plant species. You can even use multiple particle systems at once if you need to. You'll find all the different libraries on the official website of the addon.
2. Jungle Scapes
Jungle Scapes (also known as Terra Scapes) is a high-quality asset pack of diverse jungle and rainforest vegetation.
It contains a library of 27 species of plants, including tropical trees, herbaceous plants, grasses, and large-leaved shrubs. Each plant species includes from 5 up to 15 variations.
These plants are also animated, which can be very helpful in real-time architectural visualization. Above all, they can be even used in videogames, movies, illustrations, and interactive experiences.
The collection is divided into two types: static and dynamic, giving you a continuously looping animation. Which ranges from 150 to 170 frames at a rate of (24-30 fps) depending on the complexity of the plants.
The entire pack uses Principled BSDF materials and is prepared for both Cycles and Eevee.
There are also similar packs from the same creator like :
Creeper scapes
It's a ready-to-go library with 21 species of detailed creeper and vine plants. Which consists of 437 models in total, with up to 45 variations for each model.
Vertical Scapes
It is a library of 27 plant groups with 5 variations for each and 9 walls set, giving you the possibility of creating unlimited green wall design. Just append ready-made particle systems into your scene and start rendering or use the Scatter addon to achieve the same result even much faster and easier.
Grass Scapes
25 species of fully animated render-ready ornamental grasses with up to 8 variations for each family.
3. True Grass 2.0
As the name of this Blender plants addon suggests, True Grass is able to generate realistic grass with:
8 grass species.
3 weed species.
5 plants or flowers.
5 mushroom species.
ground debris.
In total it comes with 22 PBR, realistic "grass" assets for you to play with using a lot of different settings to generate the needed results.
The parameters that allow you to use this addon come with intuitive UI. This allows you to adjust particle settings, and change material settings with a custom material on each model.
Generally speaking, this Blender addon can be a time save for creating scenes with realistic grass that make outdoor scenes more believable.
4. Tree and Grass Library
Tree library Botaniq is a library of optimized & realistic 3D vegetation – mostly trees and grass. It features a variety of Trees, Grass, Flowers, Weed, Palms, Succulents, Shrubs, Weeds, Plants, and Pots for Architectural Visualization, Environmental Design, Rendering Forests, Landscaping, or any other scenes that could use a bit of varied greenery.
Features
Scatter Assets: you Quickly populate selected objects with either pre-made particle presets of grass and weeds or create your own. Each asset has a rendered preview and can be easily added through the addon. By default, the assets are linked, but you can also choose to add them as editable objects or convert them later on.
Add new trees easily: Adding new assets is very easy with this tree and grass library. you can Create your nature scene with just a few clicks by selecting the asset from the library.
Snap to ground: you can use the Snap to ground button to make sure all your trees are safely planted. and avoid floating trees or dragging your trees to the ground one by one.
There is also a feature to automatically randomize the selected assets so their rotation and scale differ, giving the appearance of variation.
5. Scatter
Scatter is one of the best Blender plants addons and one of the most powerful scattering tools that can be used with the software. Because it includes the right features to make the process of scattering stuff such as vegetation and grass a very simple task. In order to streamline your workflow, the addon contains Scattering Presets; you can use them to get things done quickly and then easily adjust the result inside the tweaking area.
Scatter addon has premade ecosystems that have a specific atmosphere and they allow you to create believable and realistic scenes in a very short period of time. You can choose the right one that you feel fits the scene and start adding more details or change the way it looks.
You can also create non-destructive pathways in the grass. This means Scatter addon will allow you can create paths in the grass using splines and choose any length or shape you want. In addition to the ability to go back and change it later if you change your mind or change something in the scene.
There is also a non-destructive camera clipping and culling. After you create a camera and set up clipping, the addon will generate the vegetation ecosystem in the field of view of the camera only. This means if you move the camera or its viewing direction the vegetation ecosystem will be generated accordingly. This can be very handy if you have a slow computer or the scene you are creating is very large.
But if you want to explore this matter further, you can check our previous post regarding Blender camera addons.
The latest version: Scatter 5 and 5.1
Recently Scatter 5 for Blender 3 was released, and it brought with it a lot of new features. If you have ever used Blender to create natural scenes you probably have heard of it already because it's so good.
Now Scattering assets is easier than ever, and you can select any object, choose the distribution presets you like, and click "Scatter". This operation can work also seamlessly with the new Asset Browser! Other features include Flow Maps support, and Manual Placement tools to scatter your assets manually. Also multiple scatter users per texture at the same time, using ID maps.
In addition, Interactive instances of your scatter system can be manipulated to give the effect of objects colliding with each other. There is also the new precise rotation, scale, and alignment system, and you can also easily create billboards effect. On top of all that the add-on has seen a lot of performance Optimizations.
6. Tree Vegetation
This Blender vegetation addon features a large vegetation asset library, it includes:
226 assets.
751 variations with up to 8k PBR textures, with every season version for each of them.
trees and shrubs.
hanging plants, climbers, and green walls.
desert plants and stumps.
garden or tropical plants.
pots and rocks.
Also, you have the ability to add moss to the trunk of your trees for even more uniqueness and realistic results. In addition to the fact that the leaves and trunks can be animated with precision either by using the presets included in the addon or by tweaking the force of the wind.
7. Moss Biom Ground Scatter
Moss Biom Ground Scatter is a great blender vegetation addon that comes with 79 different variants of nature assets for a mossy biome. These assets are ultra photorealistic while still being optimized for any project and ready to render with both Cycles and Eevee render engines. It even comes with separate files of triangulated meshes with reset location ready to be imported into game engines like Unreal Engine or Unity.
With the assets, there are also 4k and 8k PBR textures as well as 3 HDR environments. And to make it easier for making texture variants, there is only a single PBR texture set per asset type; dead wood, moss, plant species and ground coverage whereas the stones come with three mergeable texture sets.
In addition to the example Blender scene that has two Geometry nodes setups for quick scatter on meshes that you can use.
8. Forestation
Forestation Blender plants addon features a growing library of currently 35 highly realistic 3D scanned trees that are very customizable. You are able to change the season look of the tree models whether it be winter, summer, autumn, or spring, you can animate the leaves, add moss or snow, create infinite variations of the trees using the Randomize function, and much more.
You also have the possibility to switch between HD models of close-up shots and Low Poly trees for a forest in the background, of course for better handling of the machine resources.
Real sized trees with applied PBR materials of texture maps up to 8K, in addition to the micro displacement feature for a high level of detail at the trunks that allows you to achieve breathtaking renders for any of your projects whether it is archviz arts, design arts or concept, etc…
9. Garden Painter
This is not a Blender grass addon per say. With Garden Painter, you will get a .blend file that contains everything you need to create your garden very easily using geometry nodes. It features an asset pack of 30 plants and an animated moth with a Geo-node-based plant placer that allows you to draw over your ground surface where you want your plants to be.
These plants come already animated with a Wave modifier applied to them that you can easily adjust to your liking in addition to the set of parameters that lets you control everything from the seed, the density, etc… You can also draw wherever you want to put a group of moths flying around for extra details and realism.
10. Tree Generator
Tree Generator, a ready-to-use geometry node Blender plant generator for generating an infinite number of unique and procedural trees. This add-on gives you full control over the look of the generated trees. Its Geo Node system takes as input, the Height, trunk settings like wiggle and radius, main branch settings like scale, seed, and angles, and much more…
The addon also includes an optimized scattering system that includes automatic scattering only within the field of view of the selected camera. It also gives you the ability to change everything about the look of the scattering such as seed, density, scale, rotation, and randomness.
Final Thoughts
If you're a 3D artist who needs more than just Blender plants addons, you can actually find many addons and useful tools for virtually any purpose: