In this Article, we are going to talk about 7 Blender addons for management that can help you enhance you productivity. It will be come possible by automating important functions and using creative tools that can fill gaps in what Blender is already able to offer.
How can these Blender addons for management and productivity be an asset?
There's no doubt that 3D artwork and production using Blender in general is tedious and time consuming. Especially when it comes to frequent and repetitive tasks that aren't related to the creation process itself, but to the overall workflow. Using Blender addons for management can remarkably enhance your creative process and speed things up.
7. Catchup Importer
This is a Blender productivity addon that allows you to solve a serious problem when it comes to importing assets to Blender if your workflow includes working with SketchUp. We even posted a detailed comparative article between these two amazing software when it comes to interior design. You can check it out by clicking here if the question is already on your mind.
CatchUp Importer addon does import models via the classic DAE, OBJ format. It does manage a batch import, manage layers, create layers from new files, which is just great.
With this Blender addon for management, the colors of the layers will be automatically generated at the time of creation, or during batch import. It will also help you manage your materials as well. In addition to material mapping, which is necessary to move, scale or rotate your materials that are applied to your objects in the scene.
Sketchup importer is also good for creating in addition to managing objects using new layers. This will allow you to be more flexible and have more control, plus the automation that the addon is created for.
You also don't have to worry about duplicate materials when reimporting models to Blender because the addon will recognize and merge the materials instead of having two at the same time.
Find the addon here: https://blendermarket.com/products/catchup-importer?ref=247
6. Shot Manager
Shot Manager is designed to speed up render management and shot design by saving frame ranges, render cameras, view layers, and output paths. Also perfect for splitting up a single timeline animation for game animation and multi-cam rendering setups.
To clarify, it's one of the Blender camera addons that have been originally developed for a specific project. After that, it has been further developed to cover a range of render tasks for ease of mind and improve render management on complex projects. It makes it easier to organize shots without needing to save out separate .blend files.
Above all, it's great for both mid to large-sized productions. You can use it to create shots and keep all the cameras, and assets in one file or use 'shots' to separate complex render set-ups and automate render paths. It's definitely one of the Blender addons for management that we highly recommend.
Find the addon here: https://blendermarket.com/products/shot-manager?ref=247
5. B-Renderon
This is a Blender rendering stand-alone program that was made to make the process of rendering animations smooth without ever worrying about messing things up during the process. B-Renderon was developed by a Blender artist who works at an animation studio, while he worked there was a need to let Blender files render overnight but during this process, problems might occur. B-Renderon allows you to hit render and comeback in the morning to see several Blend files rendered successfully without any problems what so ever which is fantastic.
In addition to that, this tool gives you the flexibility of being able to easily batch render blends scenes or different blends with various Blender versions. Or to quickly set up different frame ranges and render them, just to mention some of the things that will be able to do. There's also a huge set of great Blender addons for rendering and lighting for even better results.
Find the addon here: https://blendermarket.com/products/b-renderon?ref=247
4. Save Cams 
This Blender productivity addon helps you solve the problem of working with multiple cameras in one scene. Whether you are trying to render a fixed shot from multiple angles and distances or you are trying to render animations, Save Cams addon will help you save your cameras and do Batch rendering.
Save Cams can also be used for batch rendering, which is one of the most important features of this addon. This includes all camera angles in the list, selections, collection, and so on.
One of the things that this addon allows you to do is to store your camera's data. Things like Camera position or rotation, Camera type, Depth of Field, Rendering resolution, Frame Range, and so on.
There is also a menu that allows you to view all the information related to rendering. This will enable you to check and make sure the information about the scenes is correct. These attributes allowed this tool to make it to this list of Blender addons for management.
Find the addon here: https://blendermarket.com/products/save-cams?ref=247
3. Sculpt Paint Wheel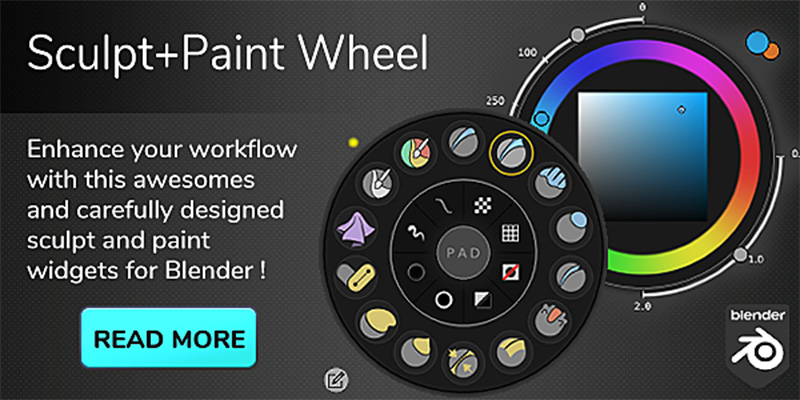 Sculpt Wheel is one of the Blender addons for management that allows you to navigate, manage and use Blender's sculpting tools more effectively. Like a Krita-style wheel pop-up menu featuring Sculpt Mode brush icons arranged around the pointer position in a circular way. But Sculpt Wheel offers more functionality than just an arrangement of icons.
Basically, you have an outer circle, an inner circle, and another circle in the center, and each one has its own tools.
Sculpt Wheel's outer circle contains 14 Sculpt Mode brushes, which you can freely rearrange after activating an edit icon outside the wheel. It even allows you to choose which brushes are going to be there in addition to adding your own brushes as well.
Find the addon here: https://blendermarket.com/products/sculpt-paint-wheel?ref=247
2. Better FBX Importer
This is a great addon for game developers, animators, or Blender artists who generally use different 3D software to get things done. Better FBX Importer helps to do things the right way when it comes to importing FBX files to Blender. This is the case because you don't always get to see your models, characters, or animation projects imported properly to Blender using FBX.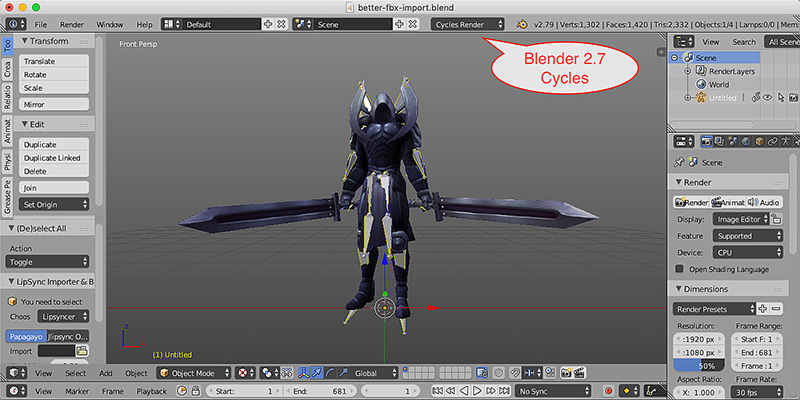 The developers have tested the importer and exporter with about one hundred commercial FBX files made by 3D digital artists in 3DS Max, Maya, or Cinema 4D, the add-on can import and export these FBX files successfully. In addition to that, the exported FBX and DAE files have been verified in Unity Engine 2019, Unreal Engine 4, and Godot Engine v3.2 with no issues.
Find the addon here: https://blendermarket.com/products/better-fbx-importer–exporter
1. Asset management addon
With this Blender productivity addon, you can manage assets and libraries directly in Blender without any additional tools. The asset management addon has many interesting tools that can help you organize your work and take it to the next level. This is possible because it can help you organize and manage your assets professionally and easily. Making it one of the best Blender addons for management and using some of the most important features it offers including:
Thumbnail generator
Using this feature, you will be to do 3 different things when it comes to thumbnails:
THUMBNAIL RENDER: The addon generates the Thumbnail of your assets with the default scene. You can configure the shaders in the preferences and create a custom render. 
THUMBNAIL OpenGL RENDER: The thumbnail uses the OpenGL rendering with Matcaps, Ambient Occlusion(AO), DOF, etc.
THUMBNAIL IMAGE: with this one you can use a picture from your computer or use the Render Result. 
Assets features
The asset features include tools for selecting objects, such as selection by face or by objects. In addition to other options as well that you will have to discover for yourself once you start using the addon.
You can also replace one or a bunch of assets at once with another asset or a set of assets. This might come in handy when you have a scene full of assets and you need to replace some of them or most of them without having to start from the beginning all over again. There are also a bunch of other features for editing assets this addon as well.
Scenes features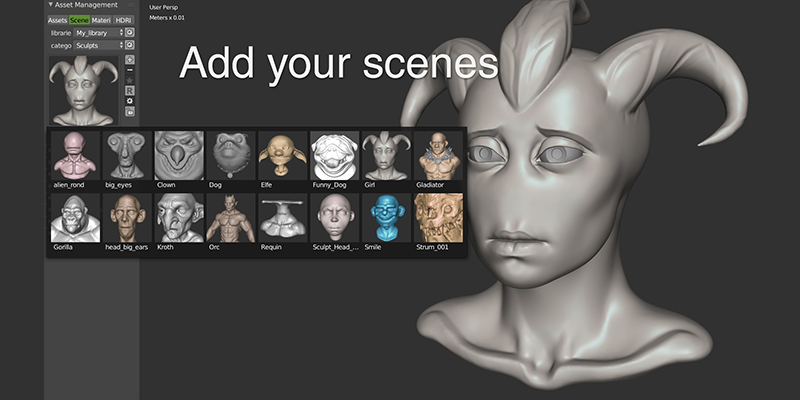 You can save complete scenes in The Asset Management addon. You can create libraries, categories and add custom thumbnails as well. 
Materials features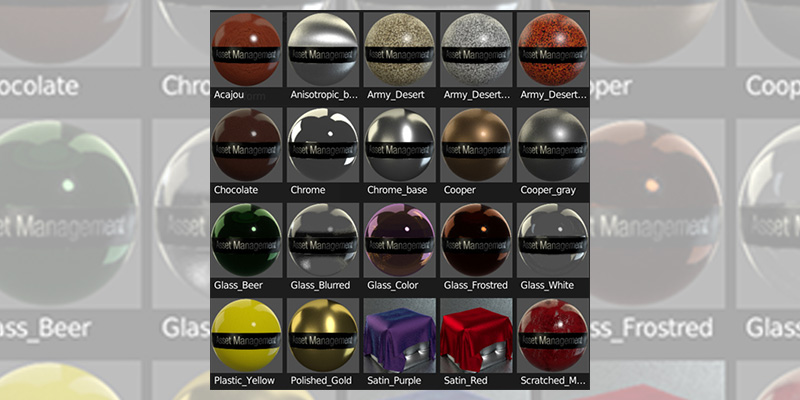 When it comes to managing materials using this addon, you can save the materials you created yourself or imported from somewhere else. In addition to that, it is also possible to create libraries, categories, and manage your materials. Besides, You can link materials too, which is definitely more of a reason to consider this tool one of the best Blender addons for management out there. 
Find the addon here: https://blendermarket.com/products/asset-management?ref=247