Today we are going to talk about 5 Blender sculpting addons that can help you work on your projects using different tools and features.
The power of Blender sculpting addons in the process
Sculpting itself is a very tedious and precise process to handle in many 3D software. Even the most reputed ones like Zbrush and the fam, that are often mentioned in character creation. In Blender however, the process id highly extensible with the amazing set of addons it offers. Blender sculpting addons can push your workflow to crazy horizons. But most importantly, you can save a great deal of time.
5 – Bumarin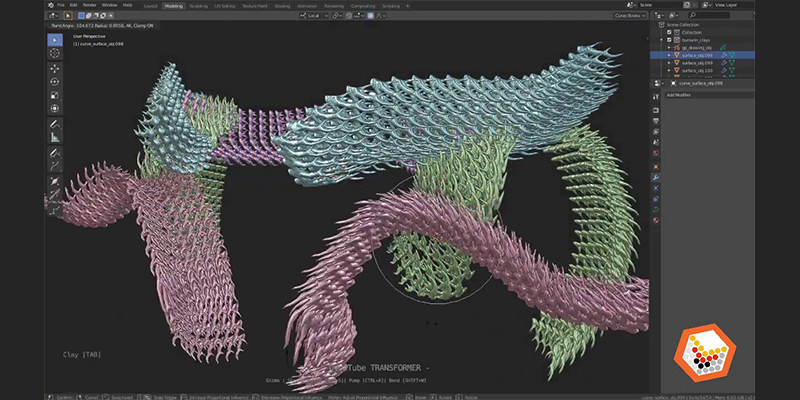 This is an addon in which you can draw 3D meshes using the grease pencil. The initial idea is based on the approach of traditional sculpture from a set of clay pieces that generates a unified sculpture. This addon thus provides 7 pencils allowing to generate 3D pieces of clay, and each pencil having its own specificity.
Behind each grease pencil stroke, there is a hidden 3D mesh and it only depends on you to reveal it with your creativity.
So as you can see, this addon is a new way of sculpting combining two different things. Which are Grease pencil and 3d sculpting to come up with this method that allows you to approach sculpting from a new perspective.
Overall This addon can be generally speaking used for Sculpting anatomy and organic modeling. In addition to Prototyping and concept sketching.
https://blendermarket.com/products/Bumarin?ref=247
4 – Bricksculpt
BrickSculpt is an addon for Bricker – which is a brick modeling and simulation tool for Blender available on the Blender Market – that brings a whole new interface and toolset for sculpting, painting, and editing the construction of LEGO brick sculptures made with Bricker.
BrickSculpt was designed to take Bricker's powerful brick modeling workflow to the next level – adding a suite of sculpting tools that will streamline the process of tweaking and customizing your brick models after they have been generated.
With this addon, you'll be able to change the shape of your model, edit the model's construction, and paint new materials onto your model with ease. When it comes to this sort of sculpting, it's definitely one of the best Blender sculpting addons out there.
BrickSculpt: https://blendermarket.com/products/bricksculpt?ref=247
Bricker: https://blendermarket.com/products/bricker?ref=247
3 – Dyntopo Plus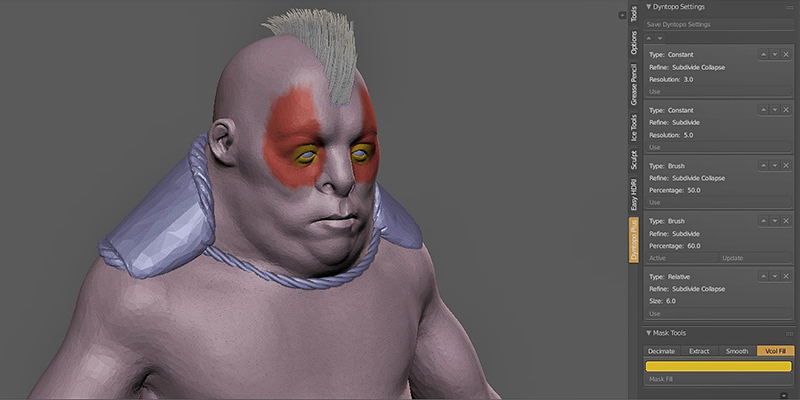 Dyntopo Plus add-on is used for speed and management of Dyntopology sculpting in Blender. It lets you edit and save Dyntopology settings (Detail Type, Refine Method, Resolution) for the different needs and stages of your sculpt. Which you can use and reuse with just a few clicks without having to change the values every time. Also, it allows you to work faster in full-screen mode using your tablet with its Pie Menu and minimalist UI.
Some of the most important features of this addon include:
The ability to Save your favorite dyntopo settings and manage their order, update or remove them for a linear workflow.
A Pie Menu for added speed when working with other tabs. and for some people, this can be a really effective feature.
In addition to a Simple and functional UI for a more pleasant work and learning experience.
There are also several features related to using masks:
You can Use the Mask Extract to create sculpt assets from masked areas of your main sculpt for rapid sculpt sketches.
In addition to Mask Decimate to manage the resolution of mask isolated areas to create a healthier viewport and boost sculpting speed.
Also, the Mask Smooth to smooth out mask isolated areas for a more even and controlled smoothing.
https://blendermarket.com/products/dyntopo-plus?ref=247
2 – Sculpt Wheel
Sculpt Wheel is one of the Blender sculpting addons that allows you to navigate and use Blender's sculpting tools more effectively like a Krita-style wheel pop-up menu featuring Sculpt Mode brush icons arranged around the pointer position in a circular way. But Sculpt Wheel offers more functionality than just an arrangement of icons.
Basically, you have an outer circle, an inner circle, and another circle in the center, and each one has its own tools.
Sculpt Wheel's outer circle contains 14 Sculpt Mode brushes, which you can freely rearrange after activating an edit icon outside the wheel. It even allows you to choose which brushes are going to be there in addition to adding your own brushes as well.
But you're not limited to the default number of 14 brushes in the wheel: you can add as many as you want. And to be able to still see the wheel better or see what you are working on better instead of the wheel blocking your view, you can change its radius.
Sculpt Wheel's inner wheel contains a number of shortcuts to Sculpt Mode menus. Such as Stroke settings, Falloff settings, and multiple mask operations.
The center circle has basically two functions. Firstly, it functions as a tooltip display when you move your mouse over the UI elements.
The second function of the center circle is a pad to activate an interactive mode for adjusting brush size.
https://blendermarket.com/products/sculpt-wheel?ref=247
1 – Speed Sculpt
Speedsculpt is an addon that will help you to make your sculpting as fast and easy as possible! Because it allows you to create very fast characters, using Dyntopo Sculpting with booleans, cut curves, skin modifier, decimate, masks, etc.
Usually when you sculpt in the previously mentioned entry of Blender sculpting addons "Dyntopo", you have to go into Edit mode or Object mode to perform some operations. But this addon allows you to make those operations directly in your current mode.
Speed Sculpt addon gives you a lot of tools to do everything you need to create and sculpt your model whether it be simple or complex.
Some of the most important features we can talk about include:
The ability to create primitives, curves, and add a mirror, make auto parenting, etc.
You can use Metaballs and convert them to combine them with your mesh.
You can create curves, make a mesh from them or convert them to a skin mesh. which is a fast method of generating mesh when creating certain shapes.
You can create bones and convert them to make your character's base form real quick unstaid of using basic geometry to do that.
With the Decimate, you can optimize your Dyntopo sculpt and have a lighter mesh to continue your sculpt.
You can also choose witch part will be decimated with a mask.
As a conclusion, after you are finished sculpting your character you can add a Quick Pose to adjust it. It goes without saying that we are confident about putting this tool among the best Blender sculpting addons out there.