We've already put Adobe Premiere Pro against Sony Vegas Pro in the previous video, and we have concluded that premiere pro stays the leader in terms of features but mostly the overall possibility to integrate with the other creative cloud apps. Yet Sony Vegas Pro is a good alternative, since it is a way easier program to use and learn for beginners overall. But today, we are going to put back to the test adobe premiere pro against a new challenger, another video editing software that is starting to find its audience more and more lately.
And in this video, we will try to make a fair comparison between Adobe Premiere Pro and the new challenger DaVinci resolve.
Let's start by doing a quick overview of both programs.
Quick overview Davinci Resolve
DaVinci Resolve is a color grading and non-linear video editing (NLE) tool for macOS, Windows, and Linux that was initially created by da Vinci Systems and is currently developed by Blackmagic Design following its purchase in 2009. In addition to the commercial version (dubbed DaVinci Resolve Studio), Blackmagic Design now offers a free version (dubbed DaVinci Resolve) with limited capability (formerly known as DaVinci Resolve Lite).
Quick Overview Adobe Premiere Pro
Adobe Premiere is one of Adobe Systems' earliest non-linear video editing programs. It is currently called as premiere pro, and it is a revamped version of Adobe Premiere. It was initially released in 1991 and was only accessible for the Mac platform. There have been a total of 28 versions issued since the first one. Adobe Premiere is the greatest video editing program in terms of functionality and quality.
If you are new to Adobe Premiere Pro or if you are just starting to work with it, you might be wondering "which one is better" between the two programs. Or maybe you have been using the other program and now you want to switch to Premiere Pro. In this video, I will compare and contrast the two programs and show you the main differences. I will also show you some cool features that each program has. This video will answer all your questions and provide you with the information you need to make an informed decision about which program you should use.
DaVinci Resolve VS Adobe Premiere Pro Workflow
A few key differences between the two programs: DaVinci Resolve is primarily geared towards professional level editing while Premiere Pro was designed with the consumer in mind.
Nevertheless, DaVinci Resolve has some very useful features such as comprehensive multi-cam and multi-track audio, advanced titling, 3D, proxies, and an incredibly powerful motion design toolset.
As far as workflow is concerned, Premiere Pro is the clear leader. It offers many more workflows than DaVinci Resolve including multicam editing, 3D and 360-degree editing, multi-track audio, titles and graphics, proxy editing, and a large library of stock footage and animations. All of these are very helpful for the advanced editor who wants maximum control.
DaVinci Resolve VS Adobe Premiere Pro Audio
Premiere contains one of the best audio features, which improves the program's overall performance value. The synchronize tool is a common tool used by video editors. You can use this function to sync two audio clips that were recorded at the same time. This is commonly used in productions when the video and audio are taken separately, such as in higher-budget films.
In DaVinci, the audio waveform can be displayed on top of the video in the source panel using the audio overlay option. This allows you to listen to the selected clip while also keeping track of the audio via the waveform for that exact clip.
Using keyframes, you can easily create fades, change the slope of the fade, and erase segments of clips in DaVinci. Simply click the audio clip in the timeline on top and slide the audio volume between the keyframes to add a keyframe. A curve keyframe is already in place. No more steps are required, as they were in Premiere.
Despite the fact that DaVinci has considerably enhanced its audio engineering features in recent years, Premiere Pro has greater audio features. It also allows you to quickly access Adobe Audition, a professional-level program.
DaVinci Resolve VS Adobe Premiere Pro Color Correction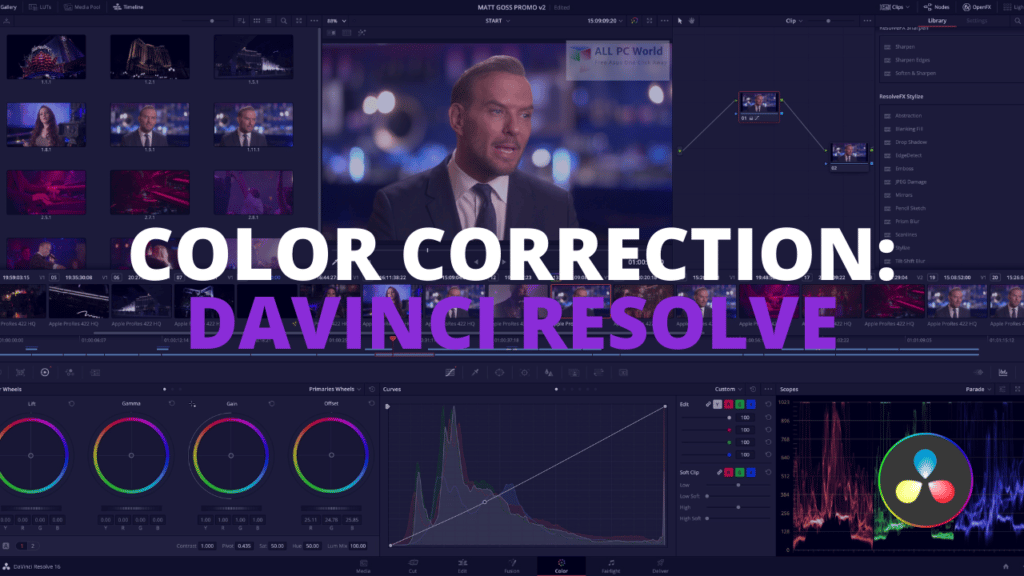 The DaVinci coloring interface is well-organized, straightforward, and includes a node tree for complex clip coloring. The node tree integrates neatly into the project and allows you to perform RGB node splitting for even more complicated coloring projects.
Color wheels are available in DaVinci for manipulating saturation, highlights, mids, shadows, vibrance, and much more.
This is the most basic technique of coloring, yet it nevertheless allows for the creation of a sophisticated color palette.
Curves and waveforms can also be manipulated for comparison or modification. As a result, you have a variety of options for doing the same work.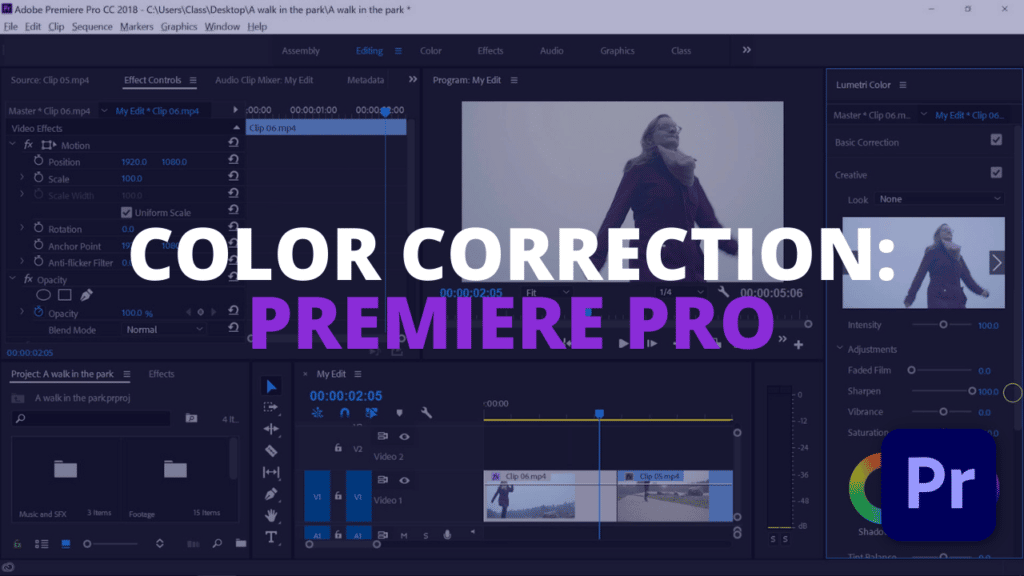 Premiere Pro also has a lot of color correcting options. Color correction in Premiere is simple because of its color wheels, curves, and waveform panels. These instruments, on the other hand, lack DaVinci's tremendous might. They do, however, work for practically all tasks.
While Premiere Pro includes a large number of color correction capabilities, DaVinci is not just the superior of the two, but also the industry's best color correction video editing software. This is due to the fact that it has been an exclusive color fixing program for many years.
DaVinci's excellent color repair tools would appeal to professional colorists who devote their whole careers to color correction. DaVinci now also features video editing capabilities. However, it was only a coloring software a few years ago.
You may compare your current clip to stills from prior clips using one of DaVinci's handy coloring tools to perfectly match the tone, mood, and color palette of the project. Colorists have been requesting this basic yet important tool for years. DaVinci is only the first to do so.
DaVinci Resolve VS Adobe Premiere Pro Features
Because Adobe and Premiere Pro are so widely used, there are a plethora of third-party plug-ins and integrations available right now, thanks to the Creative Cloud.
DaVinci Resolve simply does not have the same user base, and as a result, there are fewer aftermarket options. Because some plug-ins can completely change a user's workflow, it's something to think about, and Premiere is far superior in this regard.
Premiere and Resolve both use the same basic editing method. It's possible to get a nearly same experience if you learn to edit properly with your favorite keyboard shortcuts.
Premiere is a little easier to use when it comes to things like text overlays, graphics, effects, and more. The most important aspect is that it features Dynamic Linking with After Effects, which is a fantastic program.
One of the unique things about Premiere Pro is its support for After Effects projects. You can use any AE project you create as a template for your own Premiere Pro project.
This gives you an incredible amount of flexibility. You can easily make minor modifications to the template and have them instantly appear in your own project.
This allows you to create very complex projects without having to learn an entirely new software package.
Fusion is now included in DaVinci, but mastering it is a little more challenging. Fusion is primarily designed for single-shot compositing. This means you can take a single shot from DaVinci Resolve into Fusion, apply any effects you want (coloring, stabilization, blurring, etc. ), and then return it to Resolve for further editing.
Our Opinion
Here are some of the things I like about DaVinci Resolve: It's extremely easy to learn and use. It has an extensive and powerful preset library including support for many third-party plugins. It has great automation features. The interface is clean, simple, and easy to understand. The program is based on Linux which means it has a very fast and reliable startup time. DaVinci Resolve also has the advantage of being able to render to almost any format including VR.
Here are some of the things I like about Adobe Premiere Pro: It's extremely powerful. It has the ability to do 3D editing and there are many powerful plugins available for it. It offers unlimited projects and unlimited timelines. It has a huge library of stock footage, motion graphics, and other templates.
Adobe Premiere Pro CC and DaVinci Resolve are two of, if not the most widely used, editing programs. Both of these programs have the capacity to edit a blockbuster feature film or a home movie, and they are suitable for both amateurs and pros. Both do exactly that, as well as everything in between.
On the whole, I think it's safe to say that most people who want to edit videos will be able to use either DaVinci Resolve or Adobe Premiere Pro. What matters most is what you are most comfortable with.
If you are doing any kind of complex 3D work at all or you have particularly difficult motion design problems, then you should use DaVinci Resolve. Otherwise, if you are a beginner or if you are working on a budget, then Premiere Pro is the program for you. DaVinci Resolve is a great program, but it is not a beginner's program.