For a better explanation and a better presentation, architects need to generate floor plans, sections, building inspection plans, walls, and separation; they also need to prepare building permit drawings and landscape layouts. And in order to present all the technical details of the project, architects must start with 2D drafting.
In today's article, we will see a list of the top 10 2D architecture software. But if you're looking for free alternatives, you can check our extensive list of free 2D architecture software.
Why use 2D architecture software?
Architecture is a passion, a vocation, a calling – as well as a science and a business. It has been described as a social art and also an artful science. Therefore, if you are into architecture, you may find the following posts interesting to you:
2D drafting can help you polish the concept and develop your idea; it also helps you transform a sketch into a technical plan. We will be talking about the different 2D drafting software that exists on the market.
Some of these pieces of software are made to do 2D drafting only, and others can do 2D drafting and 3D modeling. Every software offers different features to users. Some of these pieces of software are available on Mac and Windows while others are available only on Windows. Based on these quick reviews, you will get a clear idea about the software that suits your work and meets your needs. Let's dive right in!
2D Drafting programs
6. ActCAD
ActCAD is a 3D modeling and 2D architecture software. It can be used by architects and engineers. It also helps you generate all the technical plans that you need for the fabrication and the installation of your project. It belongs to the CAD family (computer-aided design), and you can use it to edit any DXF or DWG file.
The software uses the latest technologies of IntelliCAD to offer you the best features like bach files convertor, block library, and Unit convertor. Besides that, the software supports 15 different languages including English, Turkish, German, French, Japanese…etc. ActCAD is considered as a light software yet very powerful compared to other similar software available on the market even though it's a new software founded in 2010.
The good thing about ActCAD is that it offers you drawings with great precision. It also helps you generate plans with text, dimension, annotation, tables, and layers.
In addition, the software has a lifetime license; therefore, you don't need to pay an annual subscription. You can also use ActCAD to convert PDF into DXF and DWG easily. It converts images into DXF or DWG files, which helps you save a lot of time and reduce effort. Moreover, you can convert a raster image into a vector image. The blocks library has over 5000 blocks available to be used, and you can add your blocks as well. The software costs $399 for a lifetime license.
Official Website: ActCAD
5. NanoCAD
It is a professional Computer-Aided Design software. NanoCAD offers a lot of good and intuitive features in 2D drafting. It also has an easy and familiar interface. Great technical support is offered in case you have questions or recommendations. The software is compatible with multiple CAD software to help you import and export your work whenever you need it.
The software increases your designing skills and helps you generate technical plans and structure plans. The great thing about this software is that it has a free version that all of you can use easily and another low-cost professional version that can compete with AutoCAD in terms of tools and features. The software helps you speed up your workflow since it has direct commands and tools. NanoCAD costs $180 per year.
Official Website: NanoCAD
4. LibreCAD
It is an open-source free 2D architecture software. The software is available on Windows, Linux, and Mac. It has a lot of good features and it supports multiple languages. You can use it to produce high-precision technical drawings. It allows you to use layers to have a better-organized work. It also has a flexible internal plugin system and a developed interface on the QT library.
Most of the commands and tools available on LibreCAD exist in AutoCAD, so it shouldn't be that difficult for you to learn the software if you are already familiar with AutoCAD. The interface of the software is quite simple: you have the menu of the options on the left, the workspace in the middle, the layers on the right, and the different commands on the bottom of the interface.
Official Website: LibreCAD
3. Chief Architect
It is a great architectural software that can be used to produce highly detailed 2D plans. Besides that, the software helps you get all the necessary documentation related to your project like materials quantities, Annotation, texts…etc. Chief Architect is also available on IOS or Android as a mobile 3D viewer Application that helps you review and recheck the project without the need of having a desktop computer or a laptop. The price of the software is $199 per month.
Official Website: Chief Architect
2. Draftsight
Draftsight is a great 2D solution. It belongs to the CAD family. The software gives you access to the Cartesian coordinate system that helps you use numerical coordinates to organize your items. The software offers a free version that can only be used for 2D drafting. Draftsight supports multiple files format, mainly DWG and DXF and you can also export your 3D into PDF, jpeg, SVG, and PNG.
The software allows you to add points, lines, doors, arcs, and different shapes to complete your drawing. Another good feature of Draftsight is the ability to integrate the API on the software's interface that will allow you to speed up your workflow and get fast results. You can get Draftsight for $99 per year for a standard version and $199 for a professional version.
Official Website: Draftsight
1. AutoCAD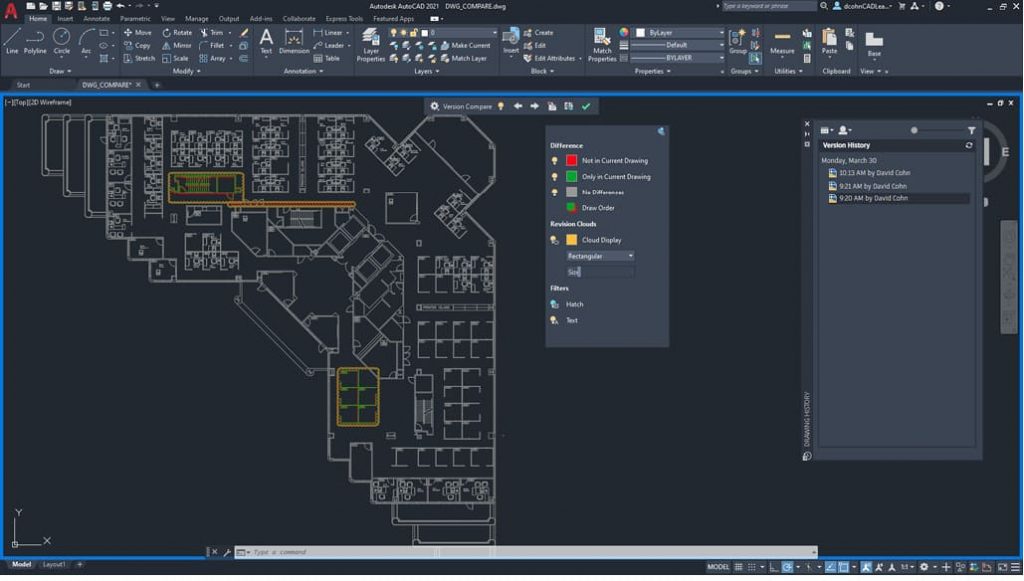 AutoCAD is the most famous software of the whole series of CAD in Autodesk. It is actually the first software that the company developed, and also it is considered as a reference to all the other CAD software. The use cases of AutoCAD are various, and 2D architectural drafting is one of them.
It offers a lot of useful features that can help you in your 2D drafting; however, compared to other software, AutoCAD doesn't have the option of changing the scale or adding details with one click. You have to draw them manually on your own. Also, you can't have plans, sections, and elevation at one time; you need to draw them separately, and this will take you a lot of time and effort. The pricing of a one-month subscription is $220 and a one-year subscription costs $1775.
We compared AutoCAD head-to-head to other software before to give you a better idea:
Official Website: AutoCAD
3D software that can be used for 2D architectural drafting
4. Vectorworks Architect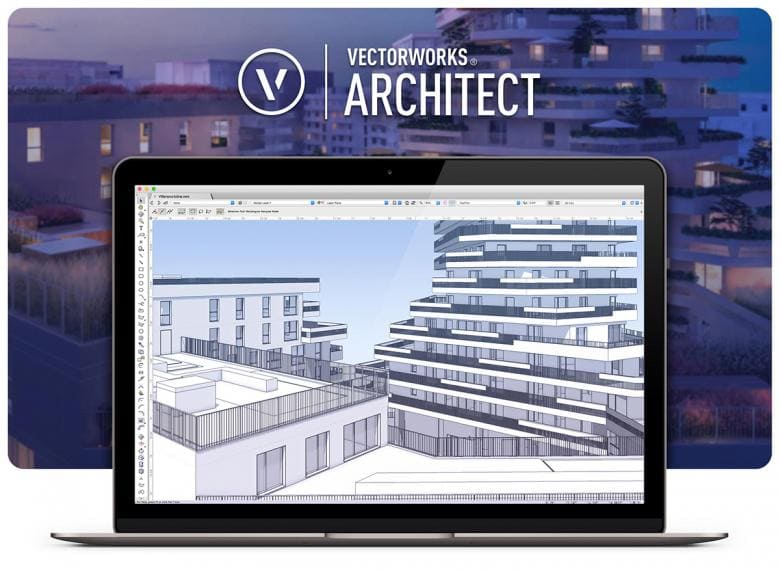 This software belongs to the BIM family (building information modeling). It can be used for 3D modeling, 2D drafting, and even documentation. You can use this software to realize any idea you have. It is a very intuitive software. The process of 2D drafting is direct and easy. You can also benefit from a large library full of objects. Vectorworks Architect supports eleven different languages including English and French. You can get a license of the software for $2945.
Official Website: Vectorworks Architect
3. Autodesk Revit
Autodesk Revit is a BIM software; however, it is very powerful in 2D drafting as well. You can use it to work on a project and get the plan, the sections, and the elevations all with one click. You can also control the level of details you want your plans to be in by changing the scale.
The software delivers all the necessary documentation related to your projects like materials quality calculation, areas, and dimensions. The good thing about Revit is that it follows you from the beginning of the project meaning from the sketch to the construction. It supports collaboration between different members and colleagues, which will result in good communication and a better organization for the work.
Revit also has synchronization with all its different structures: if you modify the plan, it will appear automatically on the section and the elevation. The software's price starts at $290 per month per user. It also offers a 30-day free trial to test the software.
We compared Revit to AutoCAD from this same list. You can check it if you're struggling to choose one of the two.
Official Website: Autodesk Revit
2. Trimble SketchUp
SketchUp is one of the easiest 3D modeling software to use in the market. You can import a 2D plan to the software and start modeling. Or you can model a 2D plan in SketchUp from scratch.
However, the software doesn't offer a high level of detail in the 2D plan since it's not solely build as a 2D architectural drafting software. All you can do is lines, forms, and annotation as a base for the rest of the work. So comparing to other software, you cannot count on the plans delivered by Sketchup because there is a huge absence of details and missing information. SketchUp pro costs $299 per year and the studio version costs $699 per year.
Official Website: Trimble SketchUp
1. ArchiCAD
ArchiCAD is a very powerful modeling, rendering, and most importantly 2D architecture software. It helps you to go through the entire design process. It also enables you to get different parts of the work without the need to draw everything apart. The software has a simple interface, and it also allows to collaborate with team members.
ArchiCAD is available on Mac and Windows. You can also use ArchiCAD to generate a micro-scale detail of objects like doors and windows. As for 2D plans, you can specify the composition of the walls at first before you start the drawing, for instance, you can choose the thickness of the wall, the thickness of the plaster, the nature of the finishing, you can also specify the type of windows and doors, and the level of details that you need for your 2D technical drawings.
ArchiCAD pricing starts at $240 per month. But if you're looking for a free alternative, we compared ArchiCAD and FreeCAD before.
Official Website: ArchiCAD
Final thoughts
All these 2D architecture software are good. But it depends on your needs and the field you are working on. Some software offers a high level of details for different scales while others give you slightly different results in terms of details. Also, not all 2D drafting programs offer you the necessary documentation that you need for your project. So, the choice will be based on your field, project requirement, and also budget.