Today we are going to talk about 12 Software that can help you create Video architectural visualization presentations. These are the Best Architecture Video Presentation Software that has the ability to do real-time rendering which saves a ton of time and effort.
12- EYECAD VR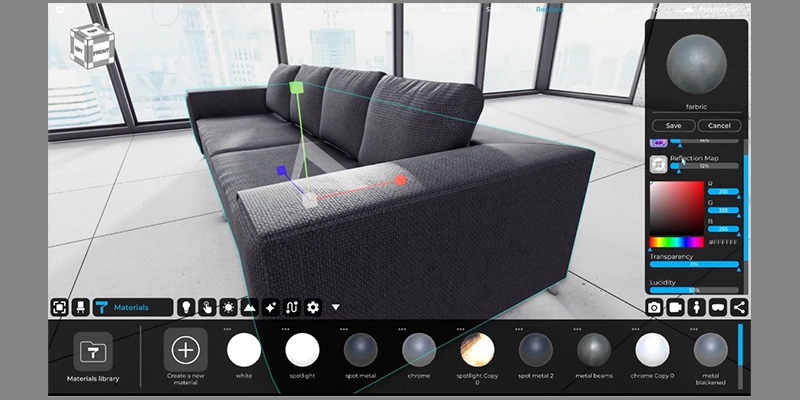 Eyecad VR was created to help you work on rendering, videos, and interactive experiences for architecture and design. Even though it is not very popular it stands out because it can generate Photorealistic visuals render in real-time, with an easy and powerful workflow.
It is in essence similar to the popular real-time rendering and visualization software such as Lumion and Twinmotion. And of course, it brings its own functionally and features to be relative in the marketplace.
It is great for both interior and exterior visualization in addition to real time interctive experiences.
11- Shape Park
Shape park is great for 3D architectural visualization of realistic projects using the web browser. With this software, you can create real walkthroughs of your project and it can be opened easily via a link or on a desktop or a mobile web browser. It has real-time features which are very helpful and important when working on 3D project visualizations on the go.
 And it is great to modify your results, add textures and materials and see the results at the same time which saves you a lot of time and effort. The application is very easy to use and the workflow is smooth, it doesn't require any training before using it.
10- Cry Engine
The software is made for video game production, but it is also used to do rendering and animation in the architectural and design industry. And since it is used a lot in the games industry it is very flexible with all kinds of forms, it will help you transform your imagination into realistic rendering and animation with its high quality of graphics. It also offers intuitive visual scripting and great control of the lighting. 
 You can use your 3D software such as 3ds Max, Blender, or Revit to prepare your models or scene and then export them to Cryengine. Using the environment build tool in Cryengine, you can create all types of vegetation and the surrounding features to make your architectural visualization look more natural and believable. 
This software benefits the Architectural Visualization pipeline in being able to render out information and videos on the fly while still creating viable realistic results that would otherwise take extended periods of time to render out by traditional methods.
9- Sketch Up
Sketch-up is a CAD program made to do 3D modeling for houses, buildings, landscape projects, and even interior design and furniture design. It supports a lot of 2D drafting software where you can import a plan and start modeling it into 3D, or you can also start modeling your project from scratch using Sketch-up. in addition that, it has a lot of plugins that can be downloaded to add more functionality to the software and to help you through the process. 
https://www.sketchup.com/plans-and-pricing
It is a very flexible and easy software to work with. For example, you can integrate with it the rendering engine Vray which is very well known for its high performance in generating details and high quality. The software also offers you the option of animation; which is highly important in architectural visualization.
8- Cinema 4D
It is a complete software that combines 3D modeling, motion graphic, animation, rendering. The interface of the software is very simple and it can be used by beginners and by professionals. It has a variety of tools that make modeling easy and flexible with the organic forms. As for rendering Cinema 4d has a powerful rendering engine, with a lot of good options like using GPU option to render and it is compatible with many other third-party rerender engines as well. 
It also has the ability to generate high-quality textures and materials. And it also offers great tools and features for animation, where you can get a realistic visualization of how your project will look like.
7- 3DS Max
It is used a lot in architectural visualization and interior design because it is a very flexible software when it comes to modeling and rendering. What sets 3ds max apart from the rest of 3D software is the abundance of resources whether it be courses, tutorials, plugins, materials you name it. 
If you use it in this field you are not going to be disappointed. And you will find it relatively easy to visualize a present your projects.
When it comes to rendering it comes with a very powerful render engine called Arnold, but you can also use third-party plugins to do even a better job.
6- Enscape
It is actually a plugin that can be connected to Revit, Sketchup, Archicad, and Rhino. Its interface and the tools, in general, are easy to handle, and anyone can learn using it in a few hours to few days.
The real-time features in this plugin are very powerful because you can show the client directly the project while making the necessary modifications.
The latest versions of the software improved in terms of rendering quality, and textures. The animation is great and fast. in addition to that, it doesn't need a lot of configuration and you can move it easily in the project to work scenes.
5- Unity Engine 
This software is made to create 2D and 3D games, in addition to architectural visualization. Since it is basically used to create video games it has high quality visual and auditory effects, the workflow with the software is smooth, the interface is friendly for both professionals and hobbyists. 
Designers, engineers can use Unity to construct buildings in VR, allow clients to experience an environment before it exists, in addition to training and experimenting without being constrained by physical boundaries, and iterate across teams before the concrete is poured.
In addition to construction and engineering, Unity real-time capabilities can also be used for interior and exterior visualization of homes, building, and so on. Architects can actually use a 3d software to do their renders and show clients their work but nothing beats real-time capabilities in the time we are living in right now because clients want everything created and adjusted to their needs in a timely manner.
 4- Blender     
Blender is a versatile software, it can be used in video games, the VFX industry, and also in architecture. It is a very flexible software so it is easy to model and create any kind of shape wanted, and since it can be used in video editing, it also offers rendering and animation features in architecture. 
One of the most important features of Blender is having a strong and capable real-time render engine known as Eevee. Eevee comes very handily especially during the process of assigning your materials and testing lighting and rendering before doing the final render using and great render engine known as cycles. 
3- Lumion
It is a very powerful software for rendering images and animations. Its interface is familiar and easy, anyone can start using it quickly, and it doesn't require a lot of training. Lumion is made to do landscape renders and interior renders; it has a large library full of components especially those that are used for the exterior presentations.
After putting all the necessary components together, you can add effects to have realistic animation renders, or you can also add specific effects like rain, wind, snow, and so on. After that, you can set up the camera and start creating scenes, choose the resolution, and render your video.
2- Twinmotion
Twinmotion has all the elements for good architectural animation and rendering. The latest version of the software added a physically based sky and sun model, also a lot of new features like global illumination, volumetric light tools, cinematic depth of field. 
Vegetation, for instance, can have different seasons, different colors and different proportion according to the age of the plant, it also has another interesting feature relative to lighting which is automatic exposure adjustment used a lot in areas of shades and intense lighting.
1- Unreal Engine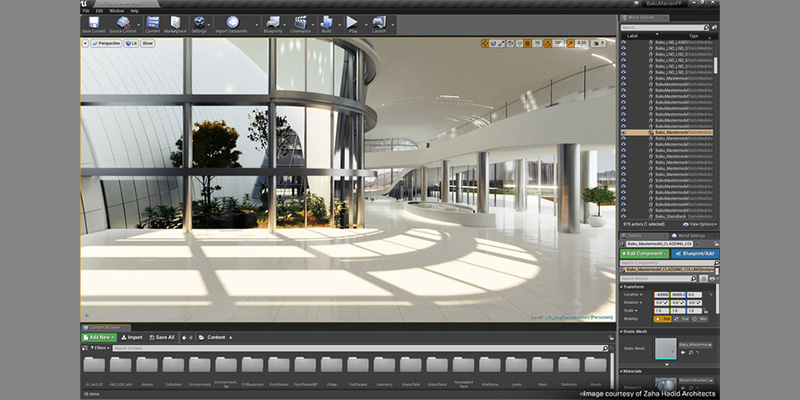 It is a game engine but like any other because it has very powerful real-time capabilities in architecture and VFX. It has been used to film the Mandolorian scenes in real-time for god sake.
It offers a lot of features relative to rendering and animation like different types of lighting, interactive features.
Unreal Engine is now a complete suite of creation tools for photoreal visuals and real-time immersive experiences. with high quality, powerful performance, and a lot of flexibility, and it is an open platform you can rely on.
In recent years, the Unreal Engine has embraced the field of architecture and design by providing some interesting tools that can help Architects, designers, and 3D artists to do their work utilizing the capabilities of the Unreal Engine when it comes to architectural visualizations. 
Unreal offers one of the most immersive interactive experiences available to users in the industry right now. The reason why unreal has become important in the field of architectural visualization is the ability to showcase architectural designs in real-time which is a game-changer – and a very effective method that a lot of designers, architects, and 3D artists are beginning to embrace since it is much faster and more efficient.