Whether you are a furniture designer or simply a hobbyist who wants to draw pieces of furniture, the various CAD programs will help you get the job done. In this article, you will take a closer look at the countdown of the 12 best CAD software for furniture design of 2021. By exploring the features, capabilities, and price of each one of them, you can, in the end, choose the best for your needs. Don't miss out!
Traditionally, furniture designs were drawn on paper, but today, the process is so much easier. The history of interior design itself has countless proofs of how huge the evolvement was. Technology (specifically CAD software and 3D modeling software) has brought so many benefits to the furniture industry. These options allow you to create plans and sketches of unique household furnishing and different items on your PC.
How can CAD software for furniture be of help for you?
The impact of furniture design on architecture and society alike has been very clear throughout the years. The furniture design software can be seen as a part of the 3D interior design software that we have been discussing before. These tools depend directly on what you are using them for. They can help you with:
Providing you with the necessary tools to conceptualize professional-quality furniture.
Strategizing, purchasing or building the best items.
Try out different 3D design variations without the need of experimenting in the shop.
Finally, they help you to get productive fast.
12. Sweet Home 3D
Pros
Permits changing colors, size, thickness, texture, and orientation.
Helps to create photorealistic videos and images.
Cons
Designing features are pretty limited.
Sweet Home 3D is one of the free software for furniture design that can save you if you're on a tight budget. One of the incredible capabilities of this software is the different perspectives that it provides for previews.
This tool will not waste your time developing and personalizing furniture as it is straightforward. Another great feature is that it is an open-source furniture design program, which you can use online or install on your PC.
Price: It's free and open source.
Platforms Supported: Windows 98 to Windows 10, Solaris, Linux, macOS X 10.4 to 10.15.
Official Website: http://www.sweethome3d.com/
11. SmartDraw Cabinet Designer
Pros
Comes with a simple interface.
It is user-friendly.
Suitable for both professional and amateur use
Cons
Only the trial version is free
SmartDraw Cabinet Designer is an ideal CAD software for furniture design. It's well suited for both beginners and professional furniture designers.
It allows its users to create custom designs and shapes of shelves, racks, drawers, etc. By using it, you can move, add, stack, or remove multiple units conveniently. Furthermore, it guarantees effortless collaboration among team members who can work on the same cabinet design.
In addition, this wood furniture design program works seamlessly on web browsers and mobile apps.
Price: $5.95 per feature per month.
Platforms Supported: Windows.
Official Website: https://www.smartdraw.com/storage-design/examples/cabinet-design/
10. Easy Wood Project Designer
Pros
Comes with a simple interface.
It is user-friendly.
Has some powerful editing tools.
Cons
It is features are basic compared to other software.
Not ideal for commercial designers.
As the name reveals, this is a simple woodworking and furniture design software. It's a perfect option for designers or hobbyists who like simplicity, and have no deep knowledge of how to use CAD programs.
The program comes with compatibility for both 2D and 3D designs. It also has basic design features that allow woodworkers to estimate potential costs for a task and comes with a reasonably intuitive editing tool. It also supports cut shelves, cut lists, and angles to aid professionals and non-specialists with designing.
Price: $39/user.
Platforms Supported: Windows and Mac.
Official Website: https://www.ezwoodshop.com/ezwoodprojectdesigner.html
9. Vectorworks Designer
Pros
Sketch, draw, and model in a fully integrated BIM workflow.
Present in a single, intuitive interface.
Cons
Vectorworks Designer is one of the best CAD software for furniture design, and the most appropriate choices for this category of 3D modeling.
It provides many valuable features and capabilities in one place, instead of using multiple software to get everything you want. This tool can be used for modeling, designing, and rendering. It can also be used to generate reports. Vectorworks affirms the most frequent import and export features for files and direct links for several other primary software tools.
Price: The license costs $3,745.
Platforms Supported: Windows and Mac.
Official Website: https://www.vectorworks.net/en-US
8. Woodwork for Inventor
Pros
Defining the hardware position for components, axes…
Material assignment.
Size calculator for parts and blank
Cons
Specialized in wood furniture only.
Woodwork for Inventor is a specialized extension of the software. It is a furniture design software that follows the skeletal modeling design approach.
Using this tool allows you to create a fast prototype design for panels. Different furniture designers can use this program for residential kitchen designs, shopfront designs, and boutique furniture designs for commercial purposes. Woodworks for Inventor helps designing furniture from scratch and reduces the processing time.
I mean, architects can't only rely on their powerful laptops to do the job. They also need reliable tools and software to achieve the desired results.
Price: Free trial is available for 45 days and can still be used after that but with some limited features.
Platforms Supported: Microsoft Windows 7, 8, 8.1 & Windows 10 and Mac.
Official Website: https://www.woodworkforinventor.com/
7. SketchList 3D
Pros
Comes with customizable settings
Simple learning curve
Cons
No advanced features
Just for woodworking
It is a bit expensive
The strength of SketchList 3D that made it enter our list of CAD software for furniture is how specialized it is for this type of work. It will cover all your needs if you are a fan of wooden furniture or work wood professionally.
In addition, it can create photorealistic renderings, which will facilitate showing clients and decision-makers your designs. Its solid 3D sketches allow you to work on even the most minor details and fastly modify them if anything looks out of proportion.
The virtual boards also allow you to see how the elements of your design go together. The con of this software is that it doesn't have features used for other designs and is solely catered to woodwork.
Price: SketchList 3D Hobby: $200 / SketchList 3D Pro: $800
Platforms Supported: Windows & Mac OS.
Official Website: https://sketchlist.com/
6. Fusion 360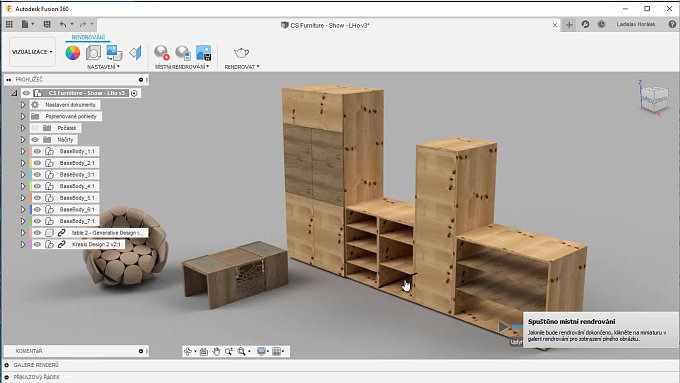 Pros
Combines both 2D and 3D.
Cloud-based.
Easy to use interface with a minimal learning curve.
Cons
Fusion 360 is one of the top choices for designing objects made of different materials, especially furniture. In addition to being often chosen as a furniture design software, it belongs to the Autodesk products.
This software will help you design various pieces of furniture on your PC and allow you to print in 3D other parts and assemble them. It has the most potent modeling set of tools and will let you start from the simplest sketching down to a fully customizable 3D furniture model.
Easily change the material and the colors of your furniture to get the perfect design. Moreover, it's designed to be a user-friendly CAD software for furniture and 3D modeling alike, so it is considered easy to learn and use.
Price: $495/year (or $60/month).
Platforms Supported: Windows and Mac.
Official Website: https://www.autodesk.com/products/fusion-360/overview
5. Rhinoceros
Pros
Custom Fixture Modeling
Space Visualization
Rhinoceros has an internal renderer that features a good quality result.
Cons
It's heavy software.
It is expensive and doesn't have a free version.
Rhinoceros is a powerful 3D modeling software. One of the reasons for this is that it is a parametric program that offers more exceptional features and a higher level of accuracy when working with complex shapes.
That is why Rhino shines with 3D furniture design, as it permits the user to create complex 3D shapes easily. A tool like this is more suitable for designs of unique furniture with uncommon geometry.
Price: The sixth version of Rhino starts at $995.00 per user.
Platforms Supported: Windows and Mac (recent versions).
Official Website: https://www.rhino3d.com/
4. PRO100
Pros
Simple and easy to work with.
It is a powerful 3D rendering engine
Cons
Costs money.
It doesn't have as many features as some other tools.
PRO100 software is a great furniture design software. It was made with a particular focus on cabinetry, woodworking, and interior design.
This software offers many features that come in handy at various stages of the process as it helps you plan and visualize your designing ideas and has both 2D and 3D capabilities. One of the main strengths of this tool is the high quality of visualization.
The crystal-clear detailed images that this tool renders are beneficial, allowing you to spot even the most minor design details. Combine this with good monitors and you'll be stunned with how awesome the results are.
Price: $549 per year.
Platforms Supported: Microsoft Windows 10.
Official Website: https://www.pro100usa.com/
3. CAD Pro Furniture Design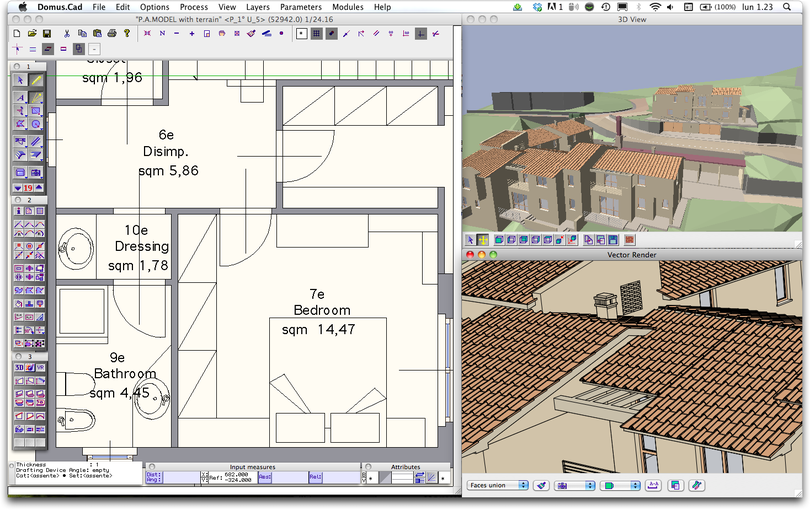 Pros
It can draw and Edit
Comes with Auto Shape Tools
Comes with many Architectural Tools
Cons
The software is a bit clunky and glitchy.
CAD Pro is another excellent choice among the CAD software for furniture and modeling in general. This tool has a lower price than the other options but still offers so many features.
One of the incredible features of this software is that it can scan a paper drawing or a sketch so that there is a template to start from in the CAD drawing. Your initial scanned design becomes, in this case, a traceable template that you can modify and save whenever you want.
CAD Pro supports many additional features that allow you to communicate better with the persons you want to share the design with.
Price: $89.95/one-time (There is no free trial)
Platforms Supported: Windows & Mac OS.
Official Website: https://www.cadpro.com/cad-pro-uses/furniture-design-software/
2. SolidWorks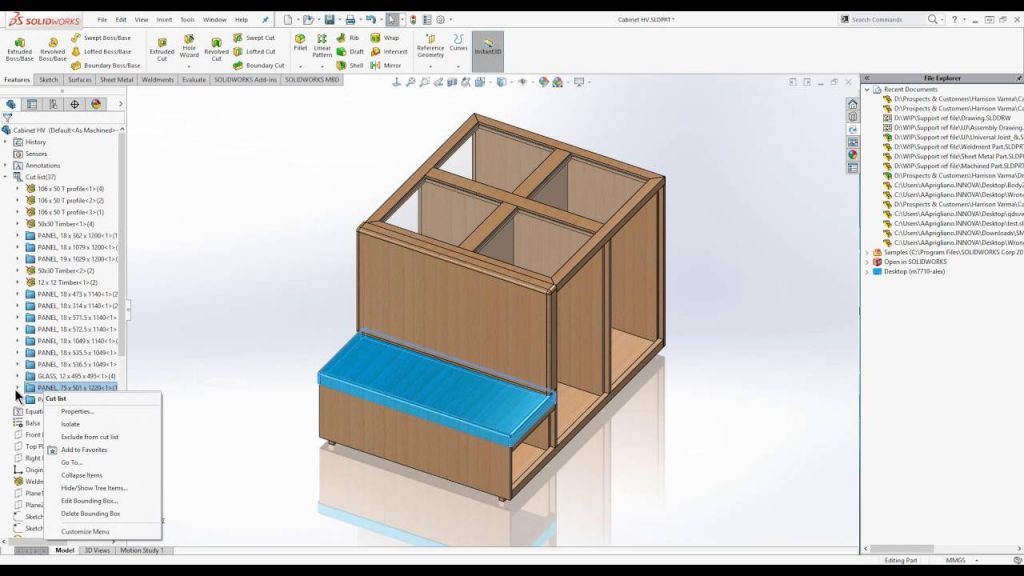 Pros
It eliminates interferences and collisions
Advanced creation of solid and surface geometry
Converts 3D parts to sheet metal
3D solid modeling
Designs welded structures quickly
Cons
Commercial use costs money.
SolidWorks is one of the most famous and widely used 3D furniture design software available in the market that is why it takes second place in this countdown.
One of SolidWorks' main benefits is that so many engineers and designers are familiar with it. It is a versatile furniture design tool that you can use for dining rooms, living rooms, offices, and bedrooms. It supports various materials, including stainless steel furniture, wooden furniture, and also custom-design furniture.
This powerful furniture design software will let you convert your imagination into reality to design the perfect furniture for you.
Price: Free 12-month license for all qualified educators, makers, hobbyists, military, students, and sponsored organizations/ One license of SOLIDWORKS Standard: $3,995/ Annual Subscription: $1,295.
Platforms Supported: Windows.
Official Website: https://www.solidworks.com/
1. SketchUp
Pros
Comes with a wide set of tools that you will need to create detailed designs.
Free version is available.
Easy to use for beginners.
Cons
Commercial use costs money.
SketchUp is one of the best CAD software for furniture design ever. That is why it takes first place on our list. It's available in free and paid versions, and the free version can be enough for simple design needs. So it's safe to include it among the other free software for furniture design.
One of the main features of this software is its massive library of 3D models that users can borrow from. This permits thousands of choices and options when designing furniture.
Moreover, SketchUp is known for being a piece of cake to use and it's very popular among home design software. This tool supports 2D drawing, which means that you can use the walkthrough feature to go through every detail of your sketch and see how various pieces of furniture go together once you are done with your drawing.
Unlike some other software options we have on our list, this software was designed for woodworkers and their woodworking projects.
Price: Free for Single User/ The pro version: $299Single User/Year / SketchUp Studio Subscription: 1,199 Single User/Year
Platforms Supported: Windows & Mac OS.
Official Website: https://www.sketchup.com/
Conclusion
This brings us to the end of the article. We hope that the description and the different details of the furniture design software listed helped you decide which tool to pick and use. If you are a beginner, you should choose a free one to start practicing before passing to a professional one that will cost you money to use for commercial purposes.