In this video, I want to help those who are on low budget but still want to keep thier passion for 3D modeling alive.
I made a list of Open Source 3D Modeling Software especially for you, so you can get an idea on every one of them and choose which is the best for you.
1- Sculptris

Sculptris is a virtual Open Source 3D Modeling Software with a primary focus on the concept of modeling clay. It entered active development in early December 2009. Users can pull, push, pinch, and twist virtual clay. It is geared toward character sculpting and "organic" models.
Sculptris, a fun and engaging way to start off your digital sculpting journey! If you're new to the world of digital sculpting, Sculptris is the ideal ground on which to get started. If on the other hand you're experienced in CG artists then you can use Zbrush, which is the standard in the industry.
It's easy to learn, even for someone with no experience in digital art, yet robust enough for creating base models that can then be refined in other applications, such as ZBrush.
3D meshes (.obj) can be imported into the program for further detailing, generating normal and displacement maps.
In late July 2010, Sculptris inventor Tomas Pettersson joined the Pixologic team (makers of ZBrush), who have taken over Sculptris development. He left Pixologic 'a while' before March 2014
---
2- Blender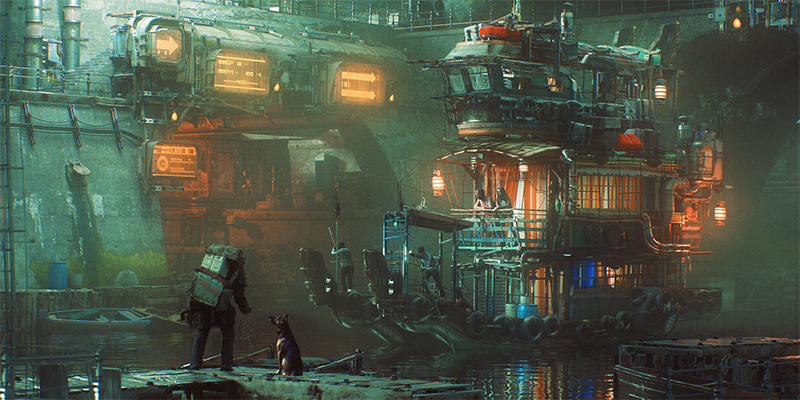 Blender is a free and open-source 3D computer graphics software toolset used for creating animated films, visual effects, art, 3D printed models, interactive 3D applications, and video games. Blender's features include 3D modeling, UV unwrapping, texturing, raster graphics editing, rigging and skinning, fluid and smoke simulation, particle simulation, soft body simulation, sculpting, animating, match moving, rendering, motion graphics, video editing, and compositing.
some of its features:
Support for a variety of geometric primitives, including polygon meshes, fast subdivision surface modeling.
Internal render engine with scanline rendering, indirect lighting.
A path tracer renders engine called Cycles, which can take advantage of the GPU for rendering.
Integration with a number of external render engines through plugins.
A particle system that includes support for particle-based hair.
Python scripting for tool creation and prototyping, game logic, importing/exporting from other formats, task automation, and custom tools.
Camera and object tracking.
---
3- SketchUp (free version)
SketchUp is a computer-aided design solution best known for the ease of use. Using the application is as simple as drawing with a pen and paper.
It utilizes the direct editing push and pulls technology, which ensures users get up to speed in generating the everyday items. Its user interface, on the other hand, imitates a dead-simple UI, but it's well-crafted to rival the most powerful Open Source 3D Modeling Software around.
Maneuvering around this program is pretty easy thanks to the highly customizable palettes. The program gives you the freedom to add, remove, or rearrange the palettes to appear the way you want. Its large icon replaces the feature list of most CAD software thereby allowing the user to easily find the commands.
Most of the features provided by Sketchup are fundamentally focused on 3D designing. However, the program has features and tools that support 2D designing. This makes it an ideal application for beginners looking to plan, visualize, and communicate future construction projects
---
4- Dazstudio
Daz Studio is an Open Source 3D Modeling Software developed and offered for free by Daz 3D. It is a 3D scene creation and rendering application used to produce images as well as videos. Renders can be done by leveraging either the 3Delight render engine, or the Iray render engine, both of which ship for free along with Daz Studio, or with a variety of purchasable add-on render engine plugins for Daz Studio from various vendors and companies.
Daz Studio also supports the import and export of various file formats for 3D objects and animations to allow for the use of other 3D content within Daz Studio, as well as to get content out of Daz Studio for use in other 3D applications.
Daz Studio is available for free, but registration is required. Version 1.0 was released in Fall 2005. Until version 1.7 it was officially known as DAZ|Studio. On February 1, 2012, DAZ 3D Inc. announced it would be giving away DAZ Studio Pro for free.
In 2017 Daz 3D also began offering Hexagon and Daz Studio together for free, thus adding 3D modeling capabilities to the Daz Studio offering.
---
5- Wings 3D
Wings 3D is a free and Open Source 3D Modeling Software, also a subdivision modeler. It was named after the winged-edge data structure it uses internally to store coordinate and adjacency data and is commonly referred to by its users simply as Wings.
Wings 3D can be used to model and texture low to mid-range polygon models. It does not support animations and has only basic OpenGL rendering facilities, although it can export to external rendering software such as POV-Ray and YafRay.
Wings 3D is often used in combination with other software, whereby models made in Wings are exported to applications more specialized in rendering and animation such as Blender or 3Ds Max.
---
6- K-3D
K-3D is a free Open Source 3D Modeling Software, also an animation software. It combines flexible plugins with a visualization pipeline architecture, making K-3D a versatile tool. 3D features procedural and parametric workflows. Properties can be adjusted interactively and results appear immediately. K-3D operates on all the big operating systems and it is free.
---
7- Fusion 360 Free version
Fusion 360 is a CAD program that is free for students, makers, and small companies. It comes with a very powerful CAM suite. It is very powerful when it comes to creating complicated mechanical pieces it is very hard to create mechanical and industrial designs in 3D commercial applications like 3Ds Max or Maya compared to fusion, I wonder why they don't integrate some of its features in 3ds Max or Maya.
Fusion tools are easy to use and it has a fast and efficient workflow. Fusion 360 is important because it's a utility software tool that can do everything in one place. You can create 3D designs, collaborate, manage data, create tool-paths, run a simulation to validate your designs.
Fusion 360 has a low, competitive price. In fact, for hobbyists and enthusiasts, it's free.
---
8- BricsCAD Shape
Shape is a new Windows CAD program from Bricsys that is meant for 3D modeling. Its inspiration was SketchUp (from Trimble) and its purpose is to do conceptual design for input to BricsCAD BIM software. However, for students, casual users, and architects doing pre-design, it stands alone. Like its competitors, BricsCAD Shape attempts to make it easy for designers to generate their ideas in 3D, offering a library of common architectural components and materials alongside straightforward shape generation tools. It is free, and it reads DWG files, as well as starting new models from scratch.
---
9- Tinkercad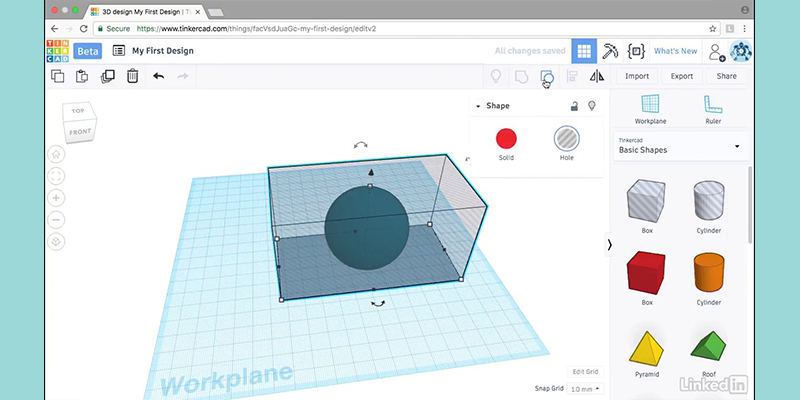 Tinkercad is a free online collection of software tools that help people to create simple 3D models in a simple and fast manner.
Tinkercad was founded by Kai Backman and Mikko Mononen in 2011. It brought the first browser-based 3D design platform to the masses.
Tinkercad is the largest community of 3D design and 3D printing enthusiasts of its kind! And its uniqueness has so far attracted over seven million Users.
In June 2013 Tinkercad became a part of Autodesk's family of apps. This news came shortly after the announcement of Tinkercad's shutdown by previous owners. An active community of Tinkerers has created over fifty million 3D designs since the beginning of Tinkercad
---
10- Mandelbulb 3D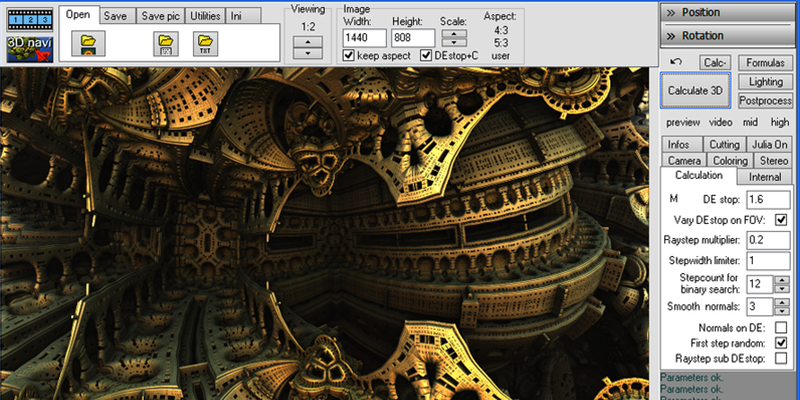 Mandelbulb 3D is a free Open Source 3D Modeling Software created for 3D fractal imaging. Developed by Jesse and a group of Fractal Forums contributors, based on Daniel White and Paul Nylander's Mandelbulb work, MB3D formulates dozens of nonlinear equations into an amazing range of fractal objects. The 3D rendering environment includes lighting, color, specularity, depth-of-field, shadow, and glow- effects; allowing the user fine control over the imaging effects.
MB3D has devoted a following of users worldwide, with online communities on Deviant Art and Facebook, where artists share their creations, as well as fractal formulas and software tips. The software is more user-friendly than most 3D fractal applications, and a number of tutorials are available online.