If you want to become a CG Artist or a designer, one of the first steps you
need to take is choosing the software that you are going to use.
That's easier said than done, as there are many different 3D applications to choose from. The most popular in the CG industry are 3ds Max and Maya, and a very common question is which 3D application is better?
Here we are going to break down the differences between the two programs and the points of strength and weakness. to finally answer the question:
3DS Max VS Maya Which is Better?
---
1-Modeling
---
3Ds Max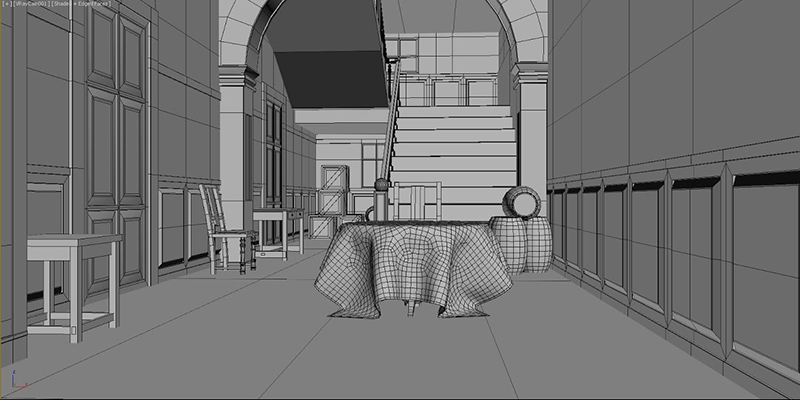 It has a beginner's friendly interface that allows for easy access to the most important modeling tools.
3Ds Max has a robust modeling toolset with the availability of several modifiers that make the modeling process easier & faster.
The UV editing tools in 3ds max are also great and allow you to combine an unlimited number of textures and use as many different projection methods to achieve the correct UV layout.
Also, 3Ds max caters to its designer users by giving them the right tools to help them do a better job when it comes to architectural visualization and interior design.
3ds max has a lot of plugins and scripts for modeling that you can download if you want to take your modeling to the next level or if you need some modeling features that these tools can offer.
---
Maya

Maya is equal to 3Ds Max when it comes to modeling, however, the workflow is different and Maya's UI can be a little bit difficult to grasp compared to 3Ds Max.
After the entry of Maya 2014 version, some very powerful modeling tools have been added to the software which gives its user a better workflow and more efficient modeling that will allow you to create complex models easily.
If you want to be in game development, learning to model in Maya is a good option because you will be using it if you work in the industry.
---
2-Rendering
When it comes to rendering you can expect an equilibrium between 3ds Max and Maya because they both have the same default renderer which is Arnold for the time being,
It used to be Mental ray but the company that was responsible for its development Nvidia decided not to work on it not anymore, basically, mental ray now is dead.
Both programs use Arnold and it is included with a default installation of 3ds Max and Maya, supporting interactive rendering from the interface.
Arnold is a fast, memory-efficient, and scalable physically-based raytracer.
Its aim is to simplify the pipeline of VFX and animation companies with a reduced set of user interface elements, and by promoting a single pass
approach removing all the associated storage and management costs.
Also, There are a lot of people using external Renderers that don't come with 3ds Max or Maya like Vray Redshift and Octane just to name a few.
These renderers can create amazing renders and they are coming with new features every year because the competition is fierce and the possibilities are limitless.
---
3-Animation
Maya stands out when it comes to animation because of the huge library of animation tools. Also, You really need to have a working knowledge of its scripting languages – Python and MEL – to customize this software.
This does not mean that 3ds max is bad when it comes to animation, actually, they have almost the same basic principles & techniques but the difference is in the flow of the process, ease of use, and the tools that are available only in Maya as we said before.
---
4-Visual Effects
---
3Ds Max
When it comes to VFX, 3Ds max has a good history that proves its importance in this field and there are a lot of famous VFX artists and big studios that use it in their pipeline to create visual effects shots.
For example, we have the great Allan McKay who has an amazing Youtube channel in which he creates interviews, tips for artists, tutorials & breaks down VFX shots.
Among the big studios using 3ds Max, we have ILM, ScanlineVFX, Blur, Unit image, and a lot more.
There are a lot of plugins that you can use in 3ds max like Thinking particles, FumeFX, Krakatoa, just to name a few.
3ds max recently started integrating VFX tools with the release of 2020 and it seems like Autodesk is trying to strengthen 3ds max in this aspect by developing its native tools.
---
Maya
Maya also has a very strong presence in Visual effects because a lot
of visual effects studios are using it, even though it seems like the tides are shifting as more and more people are using Houdini instead of 3ds Max or Maya for Vfx for reasons we will talk about later.
Maya can create amazing VFX shots using a bunch of powerful plugins and tools such as Krakatoa, Fume FX, Pheonix FD, Realflow, and a lot more.
In the end, I would say your choice should be based on what you want and your purpose behind using the software in the first place. If you want to do some cool renders or work as a VFX or game artist I would say they are the same, but if you want to do animation specifically I suggest you learn Maya because it has more possibilities. And here a class that can help you master it: https://www.yiihuu.cc/c/8289_3970_944
And if you want to do architectural visualization or interior designs specifically 3ds Max is the best.