The advantages that vector graphics have to offer made them become one of the most chosen for modern design. After all, they can be resized to any scale and still conserve their quality and clean edges.
In this article, we will list the best vector apps for android users. It will definitely be helpful if you want to extend your design potential even if you're not equipped with a computer.
What are vector apps for Android used for?
At first glance, you can definitely tell that Android devices are much more accessible compared to other heavy gear and hardware like workstations and laptops. But this doesn't necessarily mean that you can't create vector graphics if you don't have anything but an Android device (like a smartphone or a tablet). In fact, you can actually do pretty well even with just that, and create solid vector graphics that compete with a flagship software like illustrator.
The use cases of these Android vector apps can vary, but the main objectives are first and foremost: portability, accessibility, ease of use and a lower barrier to entry.
Before moving forward with the list of vector apps for Android, we can go over some of these use cases:
You can use them for Logo design on the fly, even if you don't have a laptop. You don't even need to hire a professional, and still pull off a nice visual branding right from the comfort of your smartphone.
You can create 2D animation that convey your ideas in a smooth and comprehensive way, without causing your PC to catch fire. Or better yet: without having a pc at all!
Even 3D modeling apps are a thing today. Although the core technology is different (especially in the case of voxels), but you can use them to build 3D models from the ground up and even export in STL format directly for 3D printing purposes.
Without further ado, let's jump right in!
7. Adobe Comp
It's one of the Adobe products that are destined for Android devices. It's a cool app that is ideal for mockups and wireframes.
Comp will allow you to play around with shapes, texts and fonts. It has strong integration possibilities with other Adobe products, including Typekit that offers you many free fonts available to use right away. In addition to that, it comes with direct syncing options with the cloud. This way, you can continue working on your design using any other device even a computer. Moreover, it allows you to edit multiple selections, use keyboard shortcuts, benefit from great sketching tools and so on.
Adobe Comp will turn your rough sketches into professional mockups. You can create them with your fingers or using a stylus. Not to mention that it's free and available on Play Store.
Link: Adobe Comp
6. Adobe Capture
It's another powerful vector-based app from Adobe. It will allow you to transform your images into awesome building blocks with the advanced vector conversion system. It also helps you prepare your vector graphics to be used in other programs, such as Animate or Dreamweaver.
It's a free app that comes with custom brushes, color palettes, shape tool, beautiful fonts, hue adjustment and much more. It provides you with the necessary tools to create patterns and geometry based on your images. Not only you can create patterns out of images, but you can also create instant color palettes.
Furthermore, it has a flexible embedded AI technology that help you perform smart operations. We can mention for example the shape recognition and the font suggestions. It will definitely be a massive help for you to take your design to the next level. The cloud service includes 2GB of storage space besides the syncing and sharing options.
Link: Adobe Capture
5. PaperColor (A.K.A. PaperDraw)
It's a light android vector drawing app that is suitable for both beginner and advanced levels. You can use to create simple projects, but it can also turn out to be super handy for more complex projects.
Although it's light-weight and small in size, it's well-packed and has a lot to offer. It comes with a variety of both basic and powerful drawing tools. We can mention the most frequent ones like the ruler, eraser, background colors, paintbrushes in different types and so much more.
In addition to that, it has a tracing feature that you can use to trace images. Not to mention that the free hand drawing option allows you to use a stylus for a more extensive experience. The app is free and available for download on the Play Store, with an upgrade option that will cost you roughly $5.
Link: PaperColor
4. ibis Paint X
It's one of the most popular Android apps for digital art and drawing. It comes with many cool features and it's backed up by a super active community.
You can perceive it as a very beginner-friendly app. But since it's well-packed with a rich toolset, it's one the professionals' choices too. It's organized in panels and menus, so the interface is clean and not very crowded. You can control the different properties using the menus at the bottom of the screen. Like the brush size and the stroke thickness for example.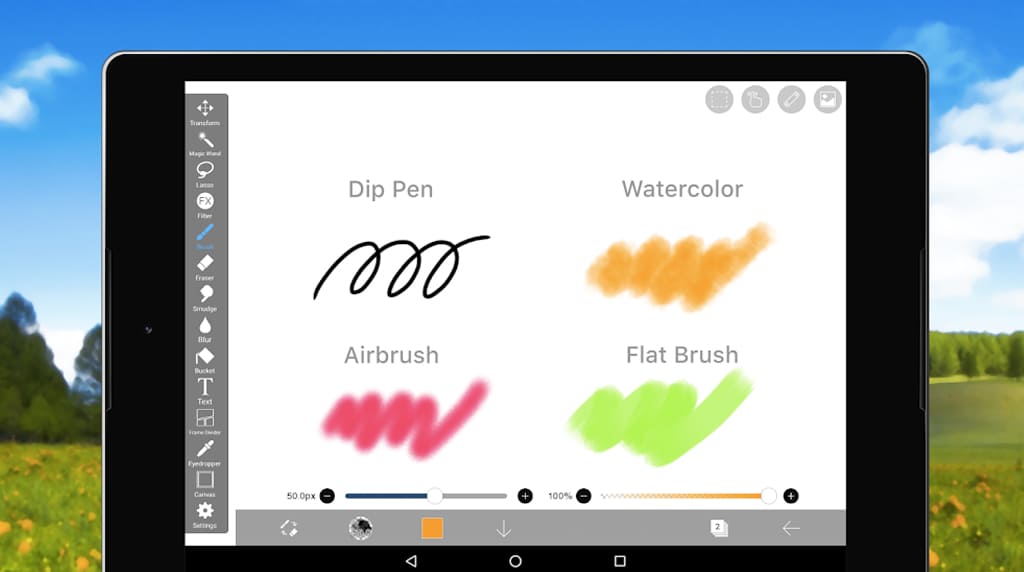 It comes with more than 700 fonts, amazing brushes with 142 tweakable formats, around 2000 design materials, 37 stunning filters, 46 screen tones and 27 blending modes. Your drawing process will be backed up with a stroke optimization feature, which can help you refurbish and smoothen your line-art when it's sloppy or uneven. It's actually one of the features that emphasize the app's focus on small devices. In other words, your small screen won't be a handicap that will affect quality or precision.
Beyond that, ibis Paint X has a layering system that comes with various options like duplication, rotation and zooming in and out. Besides that, it comes with an image clipping feature, along with the horizontal and vertical inversion. One thing that can probably be a hindrance to your workflow is the ads on the free version. But of course, you can get rid of them if you upgrade to the paid version.
Link: ibis Paint X
3. Infinite Design
It's another great Android vector drawing app that has a huge potential to create amazing high quality vector graphics. The layering system allows you to manage an infinite number of layers. It also grants you full control over them, offering you various options. We can mention for example duplicate, merge, split, skew, rotate, distort and flip.
Furthermore, the app allows you to create clean and precise shapes using the pen tool. It has cool special effects to add on canvas and path editing parameters. And above all of this, you'll be able to create 3D graphics using 5 perspective tools.
You can undo and redo as much as you want. The history slide will store each one of your actions, to help you easily back-up and restore your work when necessary. In addition to that, it has 5 different symmetry tools and import options to extend your creative freedom. And for extra convenience, you can use shortcuts to quickly access the different tools.
You can also save your project as a JPEG file using the free version. The full version however will grant you access to additional formats like PNG, PSD or SVG.
Link: Infinite Design
2. SketchBook
As part of the AutoDesk family, it's a free Android vector app that allows you to do pretty much anything. This includes sketching, drawing, painting and vector graphics creation. It's very popular and has a huge number of active users all around the world. Not to mention that it will provide you with a natural feeling, which will offer you a great experience close to the classic paper drawing.
The interface is clean and minimal to avoid any distraction. And the workspace displays a maximum drawing area to make the process easier even with small devices. It has a layering system and a scanning feature that allows you to import your hand-drawn sketches with a transparent background. It's featured with intricate custom brushes that come in more than 170 tweakable formats. It allows you to make perfect line-art since it has 16 sector radial symmetry and advanced stroke features with switchable predictive strokes.
In addition to that, you can use it to create custom PSD layouts that you can modify in other software. It's basically free, but you'll have to pay if you want additional features.
Link: SketchBook
1. Adobe Illustrator Draw
It's probably the most popular Android app when it comes to vector graphics. You can expect high quality graphics with an optimal creation process. It has one of the best user interfaces ever: organized, clean, modern, customizable and well streamlined. It's one of the main factors that will offer you a very good experience, making every single tool at your fingertips.
It's featured with many handy tools, like the Touch Slide ruler for perfect lines, the pressure sensitivity support, 5 built-in brushes, multiple layers with custom options and so on. On top of that, it has the fill tool, stamp shape, eyedropper tool and much more.
The efficiency of Draw can be noticed in how detail-oriented it can be. Especially with the zoom tool that can go up to 64x for the finest details. The system also allows you to import elements from various sources, like the Creative Cloud market for example. Speaking of which, the Cloud grants you 2GB of storage space, file synchronizing and sharing options. In addition to that, it's highly compatible with other desktop versions and can transfer files end-to-end in a seamless way. You can get it for free on Play Store.
Link: Adobe Illustrator Draw
We hope you found this list useful and informative. Comment below if you think that we've missed something or if you have any other suggestions.