Vector graphics are becoming increasingly popular in modern design. With the ability to be resized to any scale without losing quality or clean edges, it's no wonder why vector graphics are chosen so often. In this article, we'll list the best vector apps for Android users to extend their design potential, even if they don't have a computer.
What are the use cases of Android vector apps?
At first glance, you can definitely tell that Android devices are much more accessible compared to other heavy gear and hardware like workstations and laptops. But this doesn't necessarily mean that you can't create vector graphics if you don't have anything but an Android device (like a smartphone or a tablet). In fact, you can actually do pretty well even with just that, and create solid vector graphics that compete with a flagship software like illustrator.
The use cases of these Android vector apps can vary, but the main objectives are first and foremost: portability, accessibility, ease of use and a lower barrier to entry.
Before moving forward with the list of vector apps for Android, we can go over some of these use cases:
You can use them for Logo design on the fly, even if you don't have a laptop. You don't even need to hire a professional, and still pull off a nice visual branding right from the comfort of your smartphone.
You can create 2D animation that convey your ideas in a smooth and comprehensive way, without causing your PC to catch fire. Or better yet: without having a pc at all!
Even 3D modeling apps are a thing today. Although the core technology is different (especially in the case of voxels), but you can use them to build 3D models from the ground up and even export in STL format directly for 3D printing purposes.
The best vector apps for Android
1. Adobe Comp
Adobe Comp is a free app that allows you to create professional mockups and wireframes. It has strong integration with other Adobe products and Typekit, which offers many free fonts. It also has direct syncing options with the cloud, allowing you to continue working on your designs from any device, including a computer. Adobe Comp is available on the Play Store.
2. Adobe Capture
Adobe Capture is another powerful vector-based app from Adobe. It allows you to transform images into building blocks with its advanced vector conversion system.
The app also helps you prepare your vector graphics for use in other programs, such as Animate or Dreamweaver.
Adobe Capture is free and comes with custom brushes, color palettes, shape tools, fonts, and much more. Its embedded AI technology allows for smart operations, including shape recognition and font suggestions. Adobe Capture also includes 2GB of storage space in the cloud, with syncing and sharing options.
3. PaperColor (A.K.A. PaperDraw)
PaperColor is a lightweight vector drawing app suitable for both beginner and advanced levels. It's well-packed with basic and powerful drawing tools, including rulers, erasers, paintbrushes of different types, and more.
The tracking feature can be used to trace images, and the freehand drawing option allows you to use a stylus for a more extensive experience. The app is free and available on the Play Store, with an upgrade option that costs roughly $5.
4. ibis Paint X
ibis Paint X is an exceptional Android app for digital art and drawing that has gained immense popularity due to its user-friendly interface and robust toolset. The app is suitable for both beginners and professionals, providing over 700 fonts, 142 customizable brushes, 2000 design materials, 37 filters, 46 screen tones, and 27 blending modes.
One of the key features of ibis Paint X is its stroke optimization, which helps to smooth and refurbish line art that may be uneven or sloppy. This feature caters to the app's focus on small devices, ensuring quality and precision even on a smaller screen.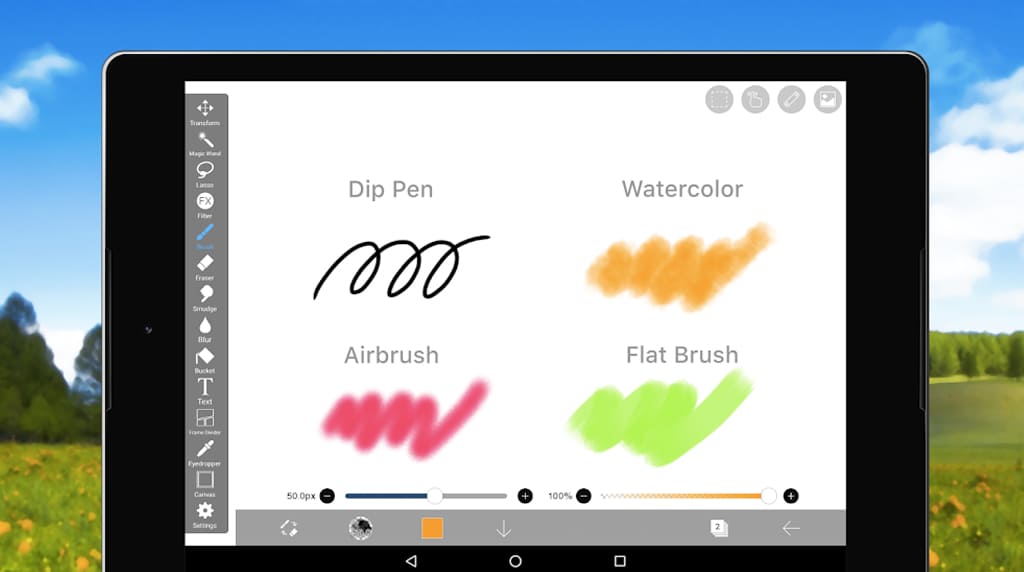 It comes with more than 700 fonts, amazing brushes with 142 tweakable formats, around 2000 design materials, 37 stunning filters, 46 screen tones and 27 blending modes.
Moreover, the layering system in ibis Paint X provides various options such as duplication, rotation, and zooming in and out, along with horizontal and vertical inversion. However, the free version may display ads that could hinder your workflow. But, users can upgrade to the paid version to get rid of the ads.
5. Infinite Design
Infinite Design is an Android vector drawing app that is perfect for creating high-quality vector graphics. Its layering system allows for an infinite number of layers with full control over them, including duplicate, merge, split, skew, rotate, distort, and flip options.
The app also offers a pen tool for creating clean and precise shapes, special effects, and path editing parameters. One of its exceptional features is the ability to create 3D graphics using 5 perspective tools. Moreover, users can undo and redo their work as many times as necessary and store their actions in a history slide, providing easy backup and restoration.
Infinite Design's five different symmetry tools and import options offer users creative freedom, and shortcuts provide easy access to different tools. The free version of Infinite Design allows users to save their project as a JPEG file, while the full version grants access to additional formats like PNG, PSD, or SVG.
6. Vector Asset Creator
Vector Asset Creator is a vector graphics editor app developed by Inglesdivino. This app veers into the simple category of art apps but its abilities should not be underestimated.
Vector Asset Creator, as the name suggests, helps you make scalable vector graphics, it works best if you have a design sketched and established already and you want to turn it into an SVG file. The apps features include a Bezier tool, linear, radial, and sweep gradients.
7. Vector Ink: SVG, Illustrator
Vector Ink: SVG, Illustrator is, obviously, a vector graphics editor. This app is available online alongside being available on android. And just like Inker and Infinite Design, no SVG exports unless you pay. In the case of Vector ink that would be 10 USD a month or 50 USD a year.
Now let's take a look at the features. On top of having the usual pen tool, point modification tool, gradient, and shape tool, the app has a path builder tool where you can use simple shapes and delete some of their lines to create an entirely new form.
The app also has a virtual stylus, a paid tool, that helps make drawing with your finger a lot easier. A copy tool is also an amazing tool, where you can copy objects along an axis to create a pattern or around a shape for an interesting and clean-looking design. The text tool in this app has a variety of fonts and gives you the ability to import custom ones too. All in all this app has all you need when it comes to vector art creation.
8. Inker
Developed by Dark Reader Ltd. Inker is a vector graphics editor available on Android, MacoS, as a Chrome extension or get this, as an online app!
The app is for free, however some features are paid such as exporting as EPS AND SVG files and Linear and radial gradient for instance, Exporting as PNG and SVG (shapes) is free though. We hope you are not completely bummed, because there are many features in this app that might make it worth it for you!
Using the pen tool you can draw whatever you like and the app will automatically smooth your lines, you can then edit your lines with the path tool and play with the different points by pulling them any direction you like, deleting, aligning and distorting them and so on and so forth. Paths can also be joined, split, opened and reversed. Other tools include, shape tool, select too, text tool and ruler.
Honorable mentions: Other great Android vector apps
There are some other apps that are worth mentioning in this list, such as:
For both of these apps, you can export your files into SVG, however just like some of the previously mentioned apps on this list, they are behind a paywall so keep that in mind. Skedio is a lot more focused on vector graphics, whereas Concepts is all about sketching and making concepts work for whatever you're doing.
Conclusion
In conclusion, all these apps offer exceptional features and capabilities for creating digital art and vector graphics on Android devices. They cater to both beginners and professionals, in addition to being the portable design tools that you can take anywhere! However, we have another post about vector graphics software if you're looking for PC options. Not to mention that we also thought about iOS users with this extensive list of vector apps for iOS devices.
We hope this list was helpful, please let us know in the comments if there is anything else we missed.