Nowadays, using smart mobile apps for creating 2D animations is getting more and more popular.
Today, we will talk about some of the Best 2D Animation Apps for Android Devices that you can use for creating your animation projects.
Rough Animator
Rough Animator is a paid animation and drawing app. The app is frame-by-frame based on the timeline. It supports unlimited layers of animation. The app has audio importing options to add sound and music.
Rough Animator comes with other features alongside the hand drawing. It has the Roto-scoping animation feature to trace over pictures. It supports many exporting formats such as GIFs, image sequences, or MP4s. One of the coolest features of Rough Animator is that you can import its projects with other software like Adobe animate, After Effects, and Toon Boom Harmony.
https://www.roughanimator.com/
StickDraw – Animation Maker
StickDraw is one of the free 2D Animation Apps for Android that allows you to create animated videos. With the StickDraw app, you can make MP4 videos, GIFs, and stick figures. The app has a simple interface that makes it easy and simple to use; you can learn how to use it very quickly!
StickDraw is a frame-by-frame animator app, you draw your stickman character and then you animate it using your finger moves. The app gives you a lot of control over the character animation and it gets to all the possible details.
You can have the app ads-free if you purchase the paid version. However, the app does not support adding sound options.
Animate Me
Animate Me is an app for android devices to create 3D cartoon animation videos. The app is so simple with a beautiful and friendly interface. Within the app you will find a wide range of pre-designed characters and cartoons, however, you may need to purchase some of them.
Animate Me app allows you to control the character gestures, you can make your character do movements such as walking, jumping, or running.
To start using the Animate Me app, you will find very useful tutorials that can make you quickly master using the app. Animate Me with many handy features, the app has a voice-over option. It supports direct sharing to YouTube in addition to other websites like Facebook and Twitter.
Make Cartoons with Poppy Toons
Make cartoons with Poppy Toons is a cartoon animation creator app for android devices. The app does not have a frame-by-frame workflow; instead, it uses cartoons and characters from images. The app animation is based on finger gestures, which is very simple to do.
The app interface is easy and simple with the importing option of images from the gallery. It can also perform some other more complicated operations such as scaling, rotating, or hiding, all with your fingers! Once done, you can save and upload the animation video in your gallery.
Although the app is free in the free version, the animation video is limited to 30 seconds. If you need unlimited animation videos, you have to switch to the pro version.
Draw Cartoons 2
Draw Cartoons 2 is an android app for making cartoons and animations. The app is frame-by-frame based with an amazing workflow. With the app you can draw your cartoons, in addition to that, you also have a large and huge library of characters and other objects.
The app gives you full control over the movements of the character and all the animation. You will have key points to animate, as well as the ability to create skeletal-based characters.
Draw Cartoons 2 app has many powerful features, to name a few, it exports the animation video to your gallery in MP4 format. It has a voice-over option along with adding sounds ad music. You can customize the pre-designed character to match your needs.
There is a paid version of the Draw Cartoons 2 app that is up to $2 only.
Anitales – Make Story
Anitales is a storytelling animation app, the app is aimed at kids but is used on large scale by adults to create animation videos for their branding and marketing purposes.
The app is well structured and simple to use, you need to choose the location of your story, then pick your cartoon and customized it by changing the outfit or other adjustments, add a voice-over and you are done.
The app has multiple elements in the library, from various scenes of skies and weather to multiple choices of music. But all these pre-designed elements are totally customized according to what you need in your animation.  
AnimeMaker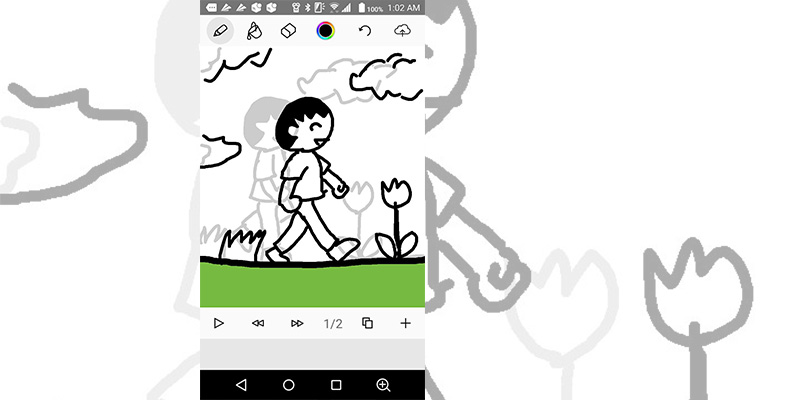 AnimeMaker is a frame-by-frame android app for animation videos. The app allows you to create cartoon animations on a single layer with options to adjust the speed.
The app is simple, does not require any previous animation skills, and gives you the possibility to quickly and easily publish your video.
However, the app has many deficiencies; for example, you do not have the possibility to zoom either adding multiple layers.
Animation Desk
Animation desk is a very popular free animation app for android devices that allows you to create frame-by-frame animation videos and cartoons. The app interface is very intuitive with nice features and options. You can start using the app with no previous animation skills.
You can do drawing from scratch within the app as well as adding multiple layers up to nine layers for better animating. The app permits you also to add your own materials such as images, videos, or even Photoshop layers.
Animation desk app has powerful tools like brushes in a variety of types; it has more than 45 types of brushes. You also have painting tools and color gradients. Moreover, the app has an onion-skinning feature. In addition, it has other tools like pencils that are adjustable in terms of size, opacity, etc.
Animation Desk is an amazing app you should definitely try it.
Animation Amino for MAP
Animation Amino for MAP is an animation app with very different features from other animation apps. With Animation Amino for MAP app, you can have discussions with others using animation! The app has a great community where you can find collaborators to your projects, you can share your projects, inspire, and get inspired as well, and you can stay always updated on the latest news about animation art.
To start using the app, you can check the available tutorials to easily master the use of it.
Stick Nodes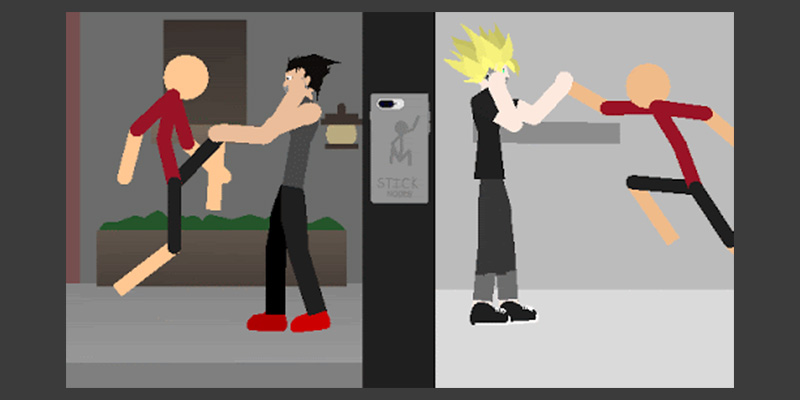 Stick Nodes is an animation app that was developed for games. The app allows you to easily create stick-figure animations with the automatic frame-tweening.
The app is featured with adding sound effects options, also with a virtual camera and zooming options. Stick Nodes is a very gorgeous stickman animator.
Movepic
Movepic is a simple app for making videos from photos or photo motion. It is available for both option free and paid with extra more features for the purchased version. The app has many effects to make the animated photos look interesting. It supports importing options like videos and GIFs.
Movepic allows you to use a huge number of the available filters and effects. It has also a control option over the speed of the looping and other adjustments.
Adobe Spark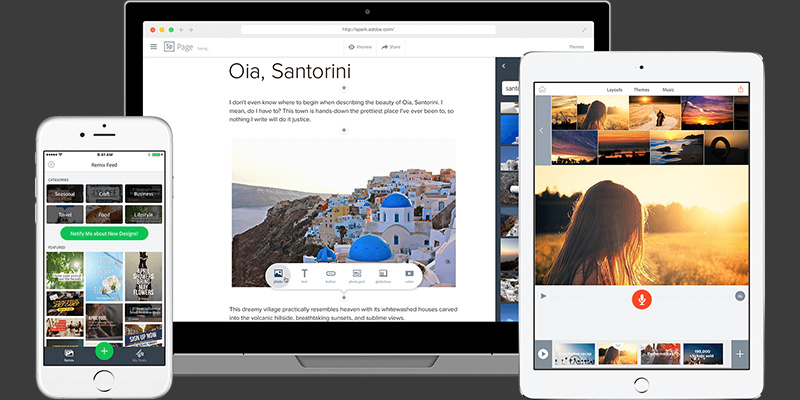 Adobe Spark is a beautiful app for creating animated videos. The app allows you to synchronize between the mobile device and the desktop so you can work on your animation projects on both devices.
The app is available as free to download and as a paid version with different plans for individuals and teams.
Using the Adobe Spark app is simple, you can choose from your own photos and images or you can use the available images in the Adobe repository, which are a lot up to thousands!
The app allows you to add sounds; also you can add your own audios and music. It has the option to add text as well, and the app offers you a range of beautiful and professional fonts. Then you can animate your project to create a slideshow.
Adobe Spark is a very basic app to create an animation based on images; which can be very useful for presentations or similar purposes.
Animation Creator HD Free
Animation Creator HD app is a simple drawing app with many powerful tools. The app interface is extremely structured and organized in a way that allows you to smoothly manage the framework.
The app is featured with tools such as adjustable brushes with multiple options. In addition, it has ink brushes. Moreover, the colors are controlled as well as changing transparency and so on.
Within the app, you can draw or you can import your own materials like images, videos, and soundtracks. The app also has an audio manager so you can edit the sound according to your animation.