Toon Boom Harmony is one of the 2D animation software that is being used by both hobbyists and professionals.
https://www.toonboom.com/products/harmony
Today we go through an overview of its main features to finally answer the question: What is Toon Boom Harmony used for?
Overview and Main Features of the Software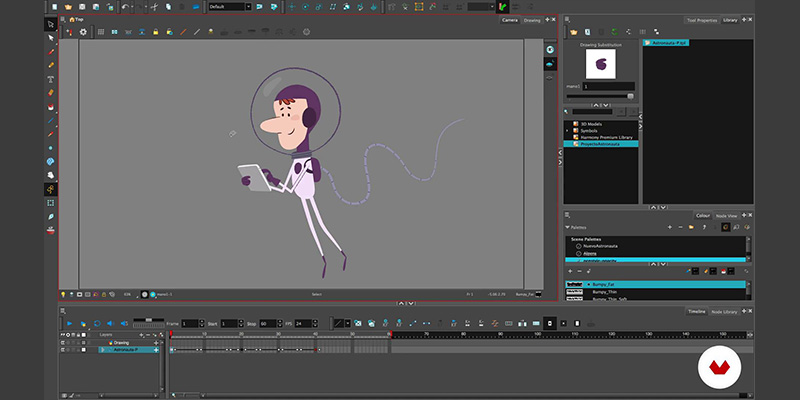 Toon Boom Harmony is one of the best 2D animation software on the market nowadays, being the choice of thousands of artists around the world. It's a complete studio that enhances your creative process from sketch to final cartoon or animation. The choices are limitless in each and every tool, from the preset and customizable brushes to the pixel-perfect color and blending controls.
It allows you not only to animate but also to start making digital art from scratch with the richest drawing tools. Toon boom harmony is suitable for any sort of 2D animation, such as cartoons, Anime, TV shows, YouTube explainer videos, games, and much more. The latest release is Harmony 20, and it comes with a great set of new features and improvements:
Highly intuitive interface and customizable drawing tools:
Harmony comes with a UI that you can adjust according to your needs and workflow. You have the entire freedom to add, hide, and move tabs to help you focus and work on a specific task. There's also the possibility to save your frequent workspace layouts into a library of preset UI preferences, making it easy to browse the tabs settings within seconds. Not to mention the predefined brushes that you can diversify by importing your own favorite brushes that you made in other software.
It doesn't stop here since you can create brand new brushes by adjusting the parameters of transparency, pressure sensitivity, strokes, and all sorts of textures till you're satisfied.
Enhanced sketching process and camera motion features:
the drawing tools allow you to sketch your scenes and characters in no time, in addition to cleaning them very easily. Harmony comes with new engines to increase the precision of your cleaning, such as the stabilizer, the cutter, and the pull-string tool.
The software also gives you the possibility to animate your sketches in depth using the camera motion feature. You don't have to animate the entire layer, instead, you can just zoom in, zoom out or tilt the 2D scene along with your sketch components to make it even more vivid and natural. The depth perspective is assisted by customizable guidelines that you can apply manually, or by dropping a grid over the layer.
Harmony has more perspective features such as 3D positioning, which allows you to import predesigned scenes and preserve their layering and depth.
Fully assisted animation, rigging, and compositing process: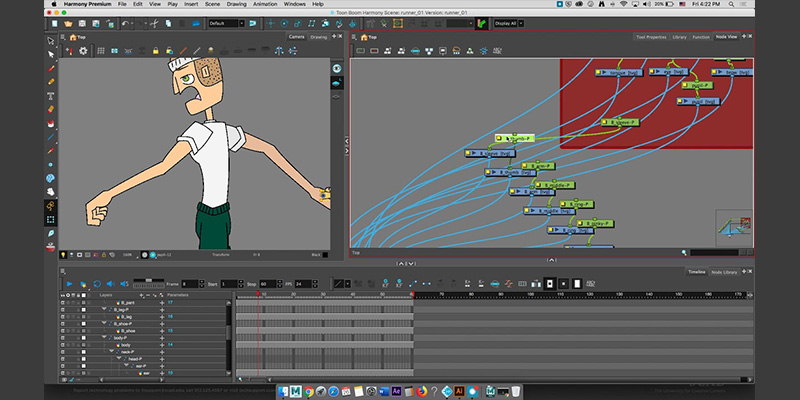 The animation in Harmony is enhanced by powerful tools all along from sketch to final project exported. You can control your steps, poses, and scenes by fractions of a second using either keyframes or the live Xsheet timeline. Coloring and texturing have never been easier with the onion-skin mode, layer parenting, and multiple selection ranges.
Not to mention that rigging your characters has become more and more realistic with the joints feature, puppet skeleton, and much more.
Various resolution and formatting options:
the resolution choices had tremendous improvements to match the growing needs of the media and entertainment industies. It goes from HDTV, 4k, and even more to take your work to the next level of visual quality.
Not to mention the numerous options of digital formatting, such as Vectors, raster images, PSD files, and even Bitmap. It allows you to have more freedom in your work with a high-efficiency rate, thanks to the built-in cross-platform engines.
Harmony also allows you to push your projects even further by giving you the chance to benefit from the advantages of both Bitmap and Vector format. It's a hybrid preset that allows you to fully control the appearance of your line art, in addition, to keep it natural, organic, and fluid.
Remote project management and teamwork:
you're most likely familiar with the typical stand-alone applications that you can buy as a package and install locally on your device.
In Harmony, there's another way to do things to make it easier for studios, companies, and teams to work together. This feature allows you to use the software as a mutualized database where you can put all of your files on a server. Then your team members can access it whenever they need them. You can automate the process to make it synchronize with your project, and you can secure your data in a very effective way.
System requirements and pricing plans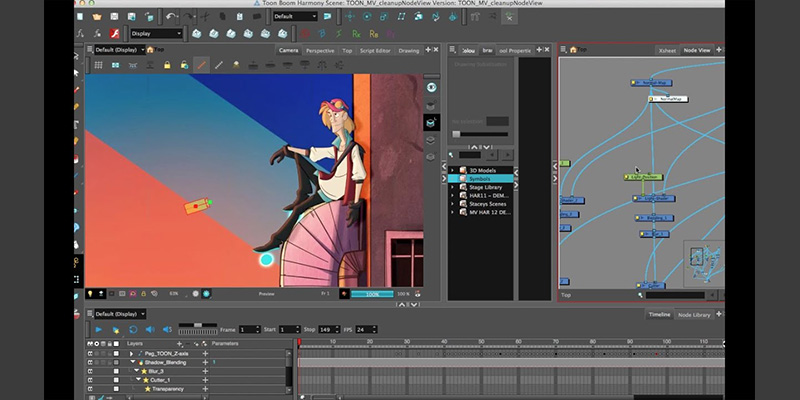 Harmony comes with really powerful tools and advanced engines that allow you to foolproof your production. You can pretty much create anything with this tool with very high quality, going through different and complex stages such as rigging, compositing, and animating. Therefore, it is natural to see that the system requirements leveled up to match this full-featured animation software. You'll need a minimum set-up of a Core i5 processor, 8 GB of RAM, and an NVIDIA GeForce GTX 560. But the recommended set-up goes till a Core i7 processor, 32 GB of RAM, and an NVIDIA GeForce GTX 1060.
The software comes in three versions according to prices and key features. The first one is Harmony Essentials, which is a light version with the basic tools that you can get for 25$/month. Wider access to the features and the mutualized co-working server is available in the Harmony Advanced version for 63$/month. The ultimate access to the integrity of the features comes with the Harmony Premium full studio version for 115$/month. In other words, Toon Boom Harmony is the tool of all budgets and all purposes when it comes to modern 2D animation work.