There are some very cool Blender cloth modeling addons for creating cloth and doing different types of simulations and effects like cloth tearing. Today we are going to take a look at 6 of those add-ons to help you work on your projects.
What to expect from Blender cloth modeling and simulation addons?
If you ever had the experience of modeling clothes and outfits for your characters, you will realize the required effort. And even if you only intended to, it's really like learning how to sew properly with needles and fabric. In addition to being time consuming and tedious, it might not look as good as high class "Couture". And most importantly, thinks like tearing fabric and similar simulations can be quite challenging. We got you covered with the following Blender cloth modeling and simulation addons that you definitely want to check.
6 – Cloth Weaver
This is one of the best Blender cloth modeling and simulation add-ons out there. It can help you create detailed and custom pieces of clothing with a high degree of control.
Cloth Weaver comes packed with a growing library of templates that can be used as a starting point. Such as pants, dresses, swimwear, and undergarments to accessories like glasses and handbags in addition to others as well.
This addon like other cloth creation software allows you to easily create your clothing outline, set up the sections to be sewn together and Cloth Weaver takes over the rest quickly.
With Cloth Weaver you can create entire objects made from fabrics such as bags, purses, tents, towels, etc. And you can also experiment if you want to create other similar things that you need in your project.
https://blendermarket.com/products/cloth-weaver?ref=247
5 – Molecular Script
Molecular Script is a particles collision addon that makes particles collide for creating certain types of simulations and effects. In addition to particles linking as well. And one of the most important functions is creating Cloth simulations. Including moving, bouncing, and especially tearing cloth simulations that look very natural and believable.
So overall it's a Blender cloth simulation addon that can use particle self-interactions, interactions with other particles, and all the types of linking that the script supports like linking at birth and linking after creation.
There are a lot of applications for this addon. Especially if used with other visual effects systems, the results are going to be beautiful.
The molecular script is a fun addon to use an experiment around with because there are so many settings that you can change to get different results.
Also you can use the CubeSurfer Addon that allows you to remesh a particle system in realtime. It works nicely with the molecular script Blender cloth simulation addon that was originally created by the same developer. And using them together it is possible to create amazing effects and high-quality simulations.
https://github.com/scorpion81/Blender-Molecular-Script/releases
4 – Cloth fx
This is probably one of the few Blender cloth modeling addons that simplifies cloth tearing within the software. By providing you with a set of tools, which allow for instant, real-time cloth tearing simulations.
ClothFX has a very fast simulation workflow, because you don't need to pre-bake any simulation since tearing is done in realtime, & baked afterward.
And the cool thing is you can create Custom Tear Maps. This will allow you to control how the cloth is going to be torn in every singular direction.
This is very important compared to any other Blender cloth simulation addon that simulates automatically. Because if you want to create visual effects like this for a project, you need full control over your cloth effects simulations.
https://blendermarket.com/products/clothfx—dynamic-cloth-tearing-plugin?ref=247
3 – Simply Micromesh
Another fantastic Blender cloth modeling addon that helps you project ready-made micro-objects onto your target object quickly and easily. With it, it is easy to create concepts and experiment and work on your projects if you need to.
This Addon includes more than 120 ready-made Micro-Mesh presets to use! And this is just the beginning.
Of course, you can change them or create and use your own micro meshes. This actually expands the horizon of what is possible using this addon.
Some of the settings that Simply Micro mesh addon gives you to help you control how your mesh looks are: for example changing the scale on two axes also rotation in addition to the ability to randomize both scaling and rotation of the objects in the pattern. You can adjust the scaling and phase quickly and it helps you to visualize the density quickly.
There is also the ability to determine the thickness of those preset objects. In case you want them to pop out more or want them to look flat.
You can also change the subdivision level of these objects to be able to see a higher quality mesh. Especially when zooming in and looking at it from a very close distance.
There is also a feature that allows you to subdivide and Unsubdivide the whole mesh. Which helps you increase or reduce the number of Micro-mesh preset objects on the mesh.
https://blendermarket.com/products/simply-micro-mesh?ref=247
2 – Modeling Cloth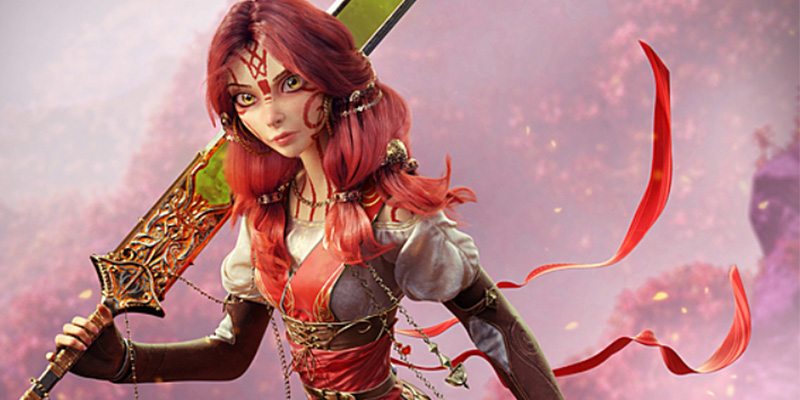 This Blender cloth modeling add-on was created and developed to be a good alternative for the Blender cloth simulation system. It can somewhat succeed at doing this to a certain extent by helping you create any type of cloth like you would using a professional cloth software.
Modeling cloth is an interactive Blender cloth simulation addon that can help you click and drag, add wrinkles, shrink cloth around objects mix soft body and cloth effects together and so much more.
Overall The developer is trying to make this add-on work in Blender using similar features and workflow to what we can find in the most popular software for cloth simulations which is Marvelous designer.
https://blendermarket.com/products/modeling-cloth?ref=247
1 – Simply Cloth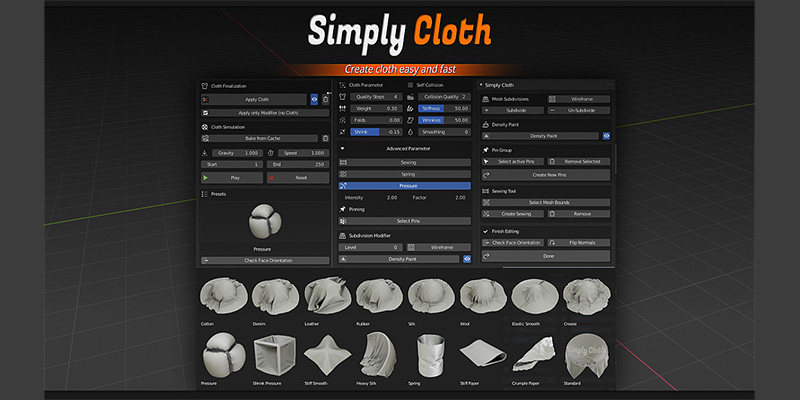 With this amazing Blender cloth modeling addon, you can create cloths faster and easier than before. Because it offers tools and features that can help you generate results similar to what we can do using specialized cloth design software. The good this is you don't need a lot of previous knowledge with the Cloth physics settings inside Blender. Because everything is simplified and made very clear using simple settings in the addon interface!
And for those who don't have experience making cloth, you can simply select one asset and one of the available presets and quickly adjust them according to your needs.
The presets include different cloth making materials like Cotton, denim, leather, rubber, silk, wool, elastic cloth, cloth with pressure, pressure, paper, and so on.
There is also a library of ready to use cloths like female underwear, bras, female shorts, male shorts, skirts, swimsuits, different kinds of dresses, different types of shirts, in addition to accessories like a mask, cap, belt, and so on.
Also, sometimes some clothes or furniture need pressure like some jackets, sofas or pillows. And this is where "Simply cloth" comes in to make things easier. Because it will give you a high degree of freedom and control over how you want the result to be. You can check this article for more information.
Additional and great features for more potential
Using vertex selection when choosing what areas you are going to apply pressure to. Or even better: using live paint lools that allow you to paint to choose what are areas are going to be affected and areas are not. In addition to that, you can pin certain points or straight lines that will help to create certain effects and dividing the cloth into separate areas that we applied pressure to.
Another thing about this Blender cloth modeling addon is it allows you to sculpt cloth using different brushes that can do different things. Such as Drag, push, inflate, pinch, expand, grab, mask, and so on.
So you can use these brushes to move part of the cloth to a certain position, or pinch it to look more realistic and believable. Because even though the initial simulation is good, you will need these types of brushes in order to be able to get a custom result that you are looking after. To clarify, we're aiming for an appearance that looks more natural based on our experience in the real world as human beings. So when something does not feel right, we can still control it manually using these brushes.