iOS devices have been a staple in the hardware industry for years now, and that's mainly thanks to their high-quality and ergonomic specs. Beyond the regular uses of these devices, we see many people flock to them for artistic endeavors, like sketching, drawing, digital painting and graphic design. It's been on my arsenal of tools for quite a while, as I myself rely on it heavily for digital painting. You might be wondering: what are the best painting apps for iPhone and iPad users?
Picking the right painting apps for iPhone and iPad
We covered some of the best drawing and painting apps for mobile devices before. This time around we wanted to make things a tiny bit more specific and talk about the topic with a focus on digital painting for iOS devices. So, in today's post, we will explore a bunch of apps that have a great brush engine that will help you make wonderful digital paintings.
1. Procreate
We already talked about Procreate in our last video about the best apps for drawing, but it would be unforgivable for us not to mention it again here. Procreate is arguably one the best apps you could get yourself on an Ipad, or an Iphone, to do digital painting. Let's give you a bit of a refresher on what Procreate is: Procreate is a painting app that is developed by Savage Interactive.
It is available on IOS devices with a special version for Iphone called "Procreate Pocket". With a price tag of 12,99$ USD for a perpetual license.
Procreate has many features, the most important tool in today's video is the brushes! The variety of brushes in the software is incredible. The app categorizes them into calligraphy, inking, painting, texture brushes and so on and so forth. These brushes are also customizable with a plethora of options such as Stroke Path, stabilization, grain… etc. You can also download brushes created by other artists and add them to your brush kit. The app also has a smudge tool if you rely on that in your digital painting process.
2. Adobe Fresco
The birth of Adobe Fresco came from the merging of two discontinued apps, Adobe Photoshop Sketch and Illustrator Draw. Fresco is the perfect app for digital painting as it offers you a variety of both raster and vector brushes.
The raster brushes include more than 50 Photoshop brushes along with Live brushes that work a lot like a traditional brush, these live brushes include a watercolor brush and an oil brush and both have a special way of interacting with the canvas as well as interacting with strokes.
One other important thing is that your brushes are fully customizable so you can concoct the perfect brush for your needs. Another noteworthy tool in the app is the liquify tool that can be used with the magic wand and other selection tools to make interesting effects!
All of the above mentioned features are free, if you get the premium version of the app it will expand your brushes library to more than a 1000 brushes and lets you import brushes among many other things. 
3. ArtStudio Pro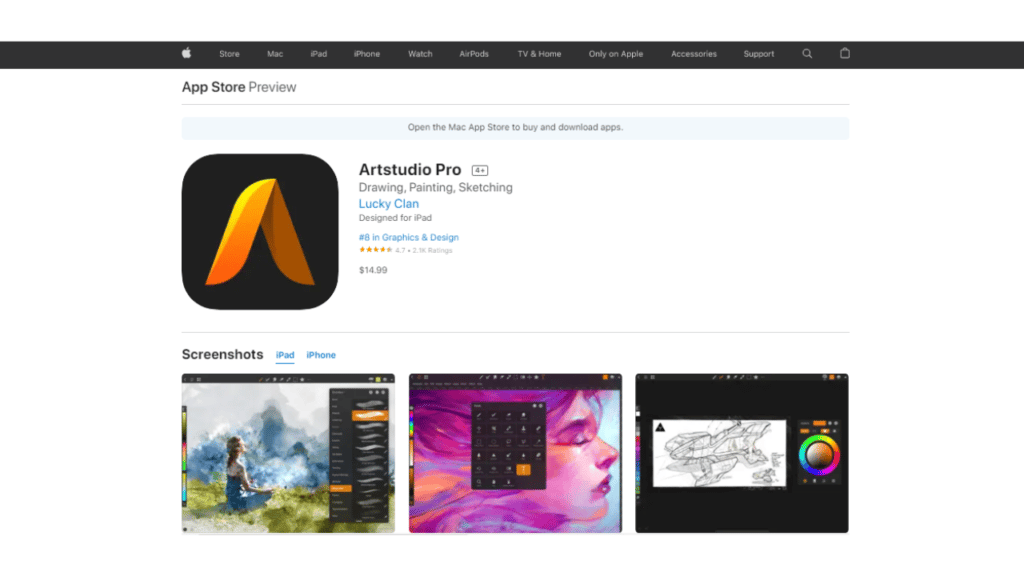 ArtStudio Pro is yet another painting app for both Iphone and Ipad. The app is developed by Lucky Clan and costs 14.99$ USD. ArtStudio has plenty of brushes and pens to choose from, inking, charcoal, oil paint, watercolor and so many more. The eyedropper is easily accessible at the top bar to help ease your transitions from using one color to another.
Among other features we have in the app a symmetrical drawing feature, as well as guidelines and grids if you rely on those in your painting process. Other tools include, but are not limited to, a shapes tool that includes lines, rectangles, ellipses…etc. Layers and layer options such as add, duplicate, merge down, delete, lock alpha…etc., transformation tools with move, scale, rotate an object options and much more.
4. MediBang Paint
A great free alternative to Procreate or Clip Studio Paint is MediBang Paint! MediBang Paint allows you to do many things, such as making comics. However it is also very effective for digital painting purposes as well! The app provides you with all the tools necessary, for instance, its huge variety of brushes, such as pen, airbrush, pencil, watercolor, smudge, mapping pen, round symmetry pen, edge pen, sumi, flat brush, acrylic, school pen, turnip pen, drawing pen, soft pastel …etc.
Creating an account will give you more perks and features, such as having more storage to save your drawing and more brushes to work with.
Speaking of storage, MediBang Paint has a desktop version and you can work on your art between your Ipad and computer if you save your work to the cloud. MediBang Paint also offers a premium version that gets you rid of ads. All in all MediBang Paint is definitely worth a shot and can sustain you and your painting needs just fine.
5. Clip Studio Paint
Clip Studio Paint is another drawing app that you can get on your apple device to do some digital painting. The app prides itself on its versatility as it has a variety of tools and features to accommodate illustration and manga or comic creation and of course painting. Since this video is all about painting, let's focus on the features and tools this app provides us with for painting. Let's start with the most important one, brushes.
Since importing brushes is a thing in Clip Studio paint, you can find more than 40.000 brushes in the app, from those provided for free to premium ones and whether provided by the app or by fellow artists; You'll be sure to find what you need! Another great thing about the app is that you can import a 3D model, which could be a great way to figure out how a pose works and makes finding the exact reference much easier.
Clip Studio Paint also has a cross platform support system with which you can seamlessly transition through. Want to finish that client's commission in a coffee shop because you're tired of staying glued to your desk at home all the time? Grab your Ipad and get going, Clip's got you covered! 
6. Ibis Paint X
Ibis is yet another drawing app on our list that would serve you very well while you paint! The brushes in this absolute beast of an app are plenty! From dip pens, felt tip pens, flat, oil and charcoal brushes, crayons to stamps. Other helpful tools and features in the app that you can use in your painting process are materials, filters, blending modes and not to mention stroke stabilization. Stroke stabilization can, for instance, be super helpful in letting you paint stray hairs on a portrait right! With Ibis paint there is also no limit on the number of layers you have!
The quality Ibis Paint provides you with is so high that you would think it is a paid software, but no. It is not! Ibis Paint is completely free, and does not hide the best features and tools behind a premium paywall model at all. The only thing a premium feature does in Ibis Paint is removing the ads! Which, honestly, in my opinion is just fair for all the amazing things the app provides. The app does have a Prime membership thing going on but it just adds extra things like cloud storage, fonts, tone and gradation maps, however this doesn't take in any way shape or form away from your experience with the app.
7. Linea Sketch
Linea Sketch is a drawing app created by The IconFactory and is available on both Iphone and Ipad. The app can be used in a plethora of things but most importantly has a nice set of brushes that you can use for painting.


Speaking of brushes, some of the app's brushes are technical pencil, art pencil, felt tip pen, marker,  watercolor brush and pencil plus. In addition, the app has a blending tool simply called Blend to help you smudge and soften your strokes. If you prefer to start your painting on a textured canvas the app has plenty of options white bond, butcher's paper, black construction, blueprint and many more in addition to the option to toggle on paper grain. Linea Sketch is free, but offers in-app purchases.