Being a very successful game developer and publisher can be due to many factors, such as ambition, creativity, and passion. However, these factors can only be achieved by well-established studios in conjunction with talented artists, in addition to having access to the best software and tools available (if not developing custom tools, when necessary that is).
Blizzard Games is a prime example when it comes to relying on powerful software, because they have many successful AAA video games under their belt. We can mention for example World of Warcraft, Diablo series, Starcraft series, Overwatch, and the well-known Warcraft series. As a game developer or 3D artist yourself, you must be wondering: what 3D software does Blizzard use for their game development pipeline? and how do they make such great games?
To know exactly what kind of tools Blizzard Entertainment use when working on their video game projects you need to gather all available data from across the web, whether it be by looking at some behind the scenes footage or surfing many forums and articles, as Blizzard is not that open to what 3D software and tools they use in their games.
It didn't stop our team of expert 3D artists and game developers to gather an extensive list of the most used 3D software and game engines by Blizzard entertainment. The list includes, but is not limited to:
However, we're sure that knowing the software list alone isn't enough to understand how were they leveraged in the production pipeline itself. This is why we decided to give you a full walkthrough of how Blizzard games are made, what are the most noteworthy ones and how did the team go about making them.
How are BLIZZARD games made?
1. Character Creation
Character modeling is a very essential process that requires the work of a handful yet carefully selected artists. Generally speaking, Blizzard primarily uses Maya, 3DS Max, and Zbrush in addition to their own proprietary tools for modeling and sculpting, whereas for texturing the models they use Substance Painter and Mari.
These software are widely used on all of their video game projects, knowing that these are excellent industry-standard software that provide the latest features, tools and can act as a strong building blocks for their pipelines, enhancing the workflow that allows them to make better games. To be honest, this is a expected, to say the least; for making of giant titles such as: WoW, Overwatch and Warcraft 3, and many more.
Blizzard entertainment isn't the only studio using Maya for game development; studios like DICE, Insomniac Games and Naughty Dog used it for games like "Mirror's Edge Catalyst", "Ratchet & Clank" and "Uncharted 4".
Though it is worth mentioning that during the development of Warcraft 3:Reforged, Blizzard artists had to transfer the original work done in 3DS Max into Maya for the rework, but that did not go smoothly as artists encountered issues in scaling their models properly to fit in the world, it goes to show that using multiple software and versions has its pros and cons that must be taken into consideration.
Of course, this doesn't mean that 3Ds Max isn't used for game development; we made a list of some of the greatest games made with 3Ds Max.
2. Concept Design & Concept art
Conceptual art is the backbone and the starting point of every video game project, concept artists serve as the ideas generators, they receive the team's ideas and thoughts and project them into either their 2D digital art, drawings or even 3D renders.

When making Overwatch and WoW, Blizzard heavily used Adobe Photoshop because it is the leading software when it comes to 2D art in a video game production pipeline, they used that in addition to Painter.
3. Game Environment Art
Blizzard video games, without a doubt, have some of the most beautiful environments, that you can find in video games.
For example, its unique and compelling environments from games such as the Diablo series and Warcraft III, millions of old-school gamers around the globe still believe that World of Warcraft has one of the BEST video games environments.
Furthermore, since Blizzard Entertainment is very conservative about its game engines and tools, the only accessible data that I could assemble only scratch the surface. Almost all of their video games use proprietary tools, in addition to in-house game engines that are designed specifically for a modular level design.
For instance, the MMORPG game WoW used the world of Warcraft Editor; an editor made exclusively for the making of WoW, also an editor that can make any video game artist's life easier for sure!
On the other hand, Overwatch developers used another exclusive world editor. As stated in an article on Overwatch's news page, their game utilized TED.
What is "TED" you might ask?
It is a game editor that acts as a visualizer to bridge the base code engine data to artists in the easiest way possible, it rearranges and fine-tunes the overall game level design and environment.
The list goes on and on for other video games except for Hearthstone, which officially stated that it used Unity as a game engine.
Blizzard developers did not see the need to create a game engine knowing that Unity could deliver and suffice, also considering how small the project was at that time.
It is worth mentioning that when I dived more into this topic, I encountered a forum speculating that "Starcraft 2 "and "Heroes of the Storm" share the same game engine. This speculation was amplified by a user's comment stating that he asked a Blizzard recruiter on campus about it, and the latter was approved, adding that all other games had different game engines.
4. Animation
Arthas, Thrall, Tyrael, Jim Raynor, Lena Oxton, are all iconic video game characters. Blizzard Entertainment brought life to many memorable characters and heroes, and it succeeded in doing so by having the finest artists and the use of industry-standard software.
Animating video game characters can be considered of the hardest tasks in the video game development industry.
In addition, the most frequent software that I encountered while browsing through many of Blizzard's job listings is Maya. According to the behind-the-scenes footage that was released, we can see that Maya is understandably an industry-standard software for its spectacular animation tools that made it stand out. It is a must-have tool for animation, such as animating characters from Heroes of the Storm and much more. In another YouTube video titled "This Is How Blizzard Video Games Are Made" we can notice the use of 3DS Max during the making process of "Rise and Shine" (the seventh animated short for Overwatch).  
Due to the lack of official data about the potential use of Motionbuilder, one can assume that it is solely for the requirement of experience using Motionbuilder in Diablo IV.
5. Cinematics
Blizzard Entertainment has its watermark on the video games industry when it comes to stellar looking cinematics, as all 3D enthusiasts aspire to achieve that level or the quality, which leaves these artists wondering about the software and render engines involved in the making of these breathtaking cinematics like WoW, Diablo and Overwatch.
A Blizzard developer from the cinematic department stated that originally Blizzard's cinematics only used Renderman and Vray, until they started slowly shifting towards implementing Redshift during the development of Overwatch into their pipeline. Till this day Blizzard uses Renderman solely on their characters and figures and a combination of Redshift and Katana on environments, and assets.
When it comes to 3d software The cinematics team according to what I found uses a combination of 3ds Max and maya for polymodeling and animation, but for creating characters they also use Zbrush which is the industry standard software for sculpting stuff especially characters.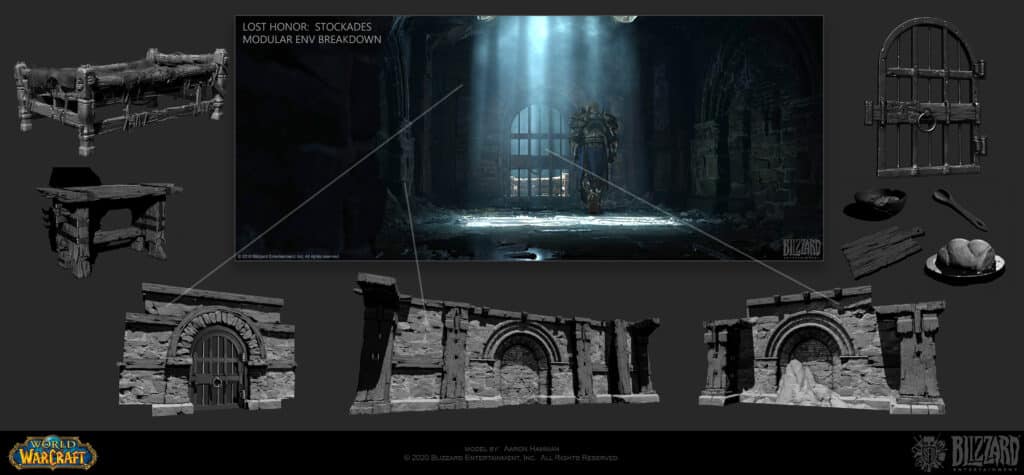 For editing Cinematics videos, Blizzard used to use Source Filmmaker (SFM), which is a very powerful movie-making tool. However, lately, Blizzard used Premiere Pro to edit all the footage and produce the final cinematics products.