3Ds Max is an industry-leading 3D software known for its modeling and rendering tools. It comes with dozens of features and techniques to master, from sculpting and texturing to lighting and rendering. 3Ds Max has the power and flexibility to meet the creative needs of most productions in different fields.
This software is used widely in designing and modeling for game creation purposes as it is relatively easy to use and has many capabilities and unique features. But one of the question you must be asking yourself: can I use 3Ds Max for games and their development process from A to Z? Is 3Ds Max good for game development? Are there any games made with 3Ds Max out there to prove it?
The simplest answer would be: yes, of course. 3Ds Max proved itself to be extremely versatile and efficient in real-life game production pipelines. It can have a hand in creating high-end games throughout the entire process and in most phases. But how do we know that? you might ask.
Well, today, we have selected six of the best games made with 3Ds Max to build stunning worlds, create realistic characters, and deliver immersive experiences. Don't miss out! 
Is it good to use 3Ds Max for game development?
Game Development is the art of creating games and describes the design, development and release of a game. It may involve concept generation, designing, building, testing and all the way down to release. Gaming is one of the most popular computer activities. New technologies are constantly arriving to make it possible to develop better and more immersive games. Game Development can be undertaken by a large Game Development Studio or by a single individual. It can be as small or large as you like.
Moreover, game development uses different software, for instance, Blender is used for games. Likewise, 3Ds Max is also used for gaming due to its modeling and rendering capabilities. Besides, its many plugins and scripts that comes in handy. However, in this article, we will see the top six games made with 3Ds Max.
6. Eve: Valkyrie
Eve: Valkyrie is a multiplayer, dogfighting shooter game set in the Eve Online universe designed to use virtual reality headset technology.
Initially started for Microsoft Windows for use with the Oculus Rift virtual reality headset, CCP Games has declared they plan to facilitate cross-platform play between the three major VR systems: the HTC Vive, the Oculus Rift, and the PlayStation VR.
Published in March 2016, the game has two game mode options: Chronicles can be played in a single-player, while combat allows eight by eight combat PvP (player versus player) missions.
Assets & environments in this game were modeled and textured using 3Ds Max as it is user-friendly in modeling and supports complex game development pipelines.
Link: https://www.evevalkyrie.com/
5. Halo Wars 2
Halo Wars 2 is a real-time tactic and strategy video game developed by 343 Industries plus Creative Assembly. It was advertised by Microsoft Studios and published in February 2017 on Windows and Xbox One. The game is set in the science fiction world of the Halo franchise in 2559.
It is a continuation of Halo Wars (2009). The story tracks the crew of Spirit of Fire, a United Nations Space Command ship (UNSC). Spirit of Fire comes at the Ark, a Forerunner installation accountable for constructing and remotely managing the titular Halo rings. A dispute breaks out between the UNSC forces and an alien faction identified as the Banished over control of the Ark.
The game was fully modeled in 3Ds Max, which did the required job perfectly thanks to its highly customizable features that allowed the artists to create tighter pipeline integration with an improved Python and .NET toolset.
Link: https://www.halowaypoint.com/en-us/games/halo-wars-2
4. Edge of Nowhere
Edge of Nowhere is an action-adventure, virtual reality video game produced and developed by Insomniac Games for Microsoft Windows for the Oculus Rift virtual reality headset.
The game was published on June 6, 2016. It is based on the work of H.P. Lovecraft, At the Mountains of Madness. In Edge of Nowhere, the player commands the protagonist Victor Howard during his journey to find his fiancée, Ava Thorne. Because the latter, along with the rest of her scientific expedition, went missing.
3Ds Max was used for the modeling, texturing 3D assets in this game in addition to animation, especially that this game is a VR third-person action-adventure.
Link: https://insomniac.games/game/edge-of-nowhere/
3. For Honor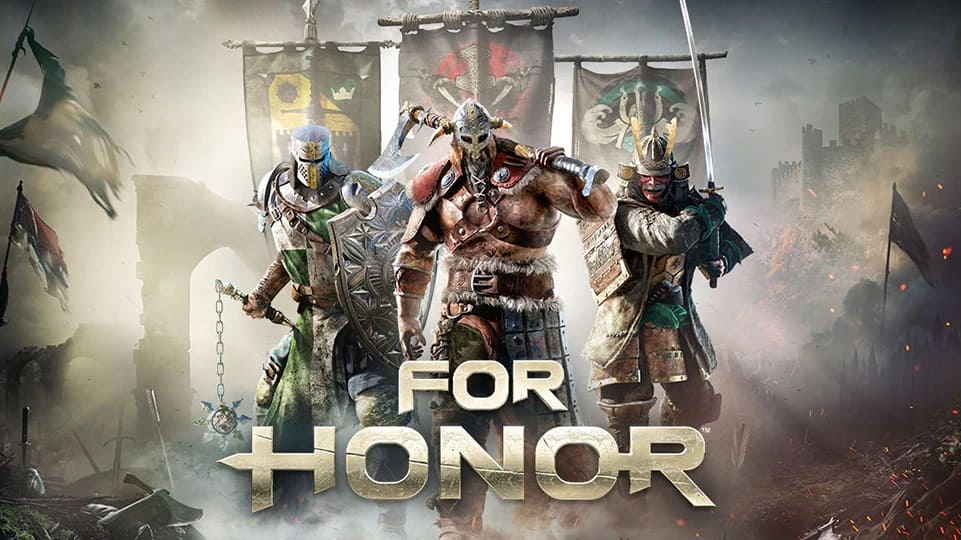 For Honor is a 2017 action video game developed and published by Ubisoft for Microsoft Windows, PlayStation 4, and Xbox One. The game allows players to play historical soldiers and warriors, including knights, samurai, and Vikings. The game was developed primarily by Ubisoft Montreal and released worldwide in 2017.
The 3D artists who participated in the creation and development of this game used 3Ds Max for modeling and texturing the game's characters. Ubisoft prefers 3Ds Max because it helped them to create large-scale scenes due to its powerful modeling tools, in addition, to the support of high-end material editing tools that allows the artists to create and edit materials and maps in the scenes they were working on.
'For Honor' won the Gamescom 2016 awards for Best PC Game and Best PlayStation 4 Game.
Link: https://www.ubisoft.com/en-gb/game/for-honor
2. Watch Dogs 2
Watch Dogs 2 is a 2016 action-adventure game developed by Ubisoft Montreal and distributed by Ubisoft. It is the sequel to 2014's Watch Dogs and the second part in the Watch Dogs series.
It was released for Xbox One, the PlayStation 4, Microsoft Windows in November 2016, and Stadia in December 2020. Set within a fictionalized variant of the San Francisco Bay Area, the game is played from a third-person viewpoint. Its open-world is navigated on foot or by vehicle.
Players guide Marcus Holloway, a hacker who works with the hacking organization DedSec to take down the city's high-level surveillance system known as ctOS. There are multiple techniques to accomplish missions, and each successful task raises the follower count of DedSec.
Cooperative multiplayer enables competitive one-on-one battle and connecting with other players to neutralize a player, causing havoc.
The designers and the 3D artist used 3Ds Max to model and texture the different characters, the environment, and the buildings of this game. This software was also used in the lighting process.
Link: https://www.ubisoft.com/en-gb/game/watch-dogs/watch-dogs-2
1. Dead by Daylight
Dead by Daylight is an indie horror game developed and distributed by Behaviour Interactive. It's arguably one of the best games made with 3Ds Max, both a survival and action-horror multiplayer match.
One crazed, unstoppable Killer chases down four Survivors through a terrifying nightmarish world in a deadly game of Cat & Mouse. It was published on June 14, 2016, for PC (Steam), June 20, 2017, for Console (XONE/PS4), September 24, 2019, for Nintendo Switch, and April 16, 2020, for Mobile.
The designers of this game have used 3Ds Max to model and texture the different characters, as the software's tools allowed them to easily model a person, place, or even elements with fast modeling and sculpting workflows.
Link: https://deadbydaylight.com/en
Final thoughts
We finally reached the end of the article! As you have noticed, 3ds Max has a robust modeling toolset and has typically been seen as the 3D app for the game industry. This set of high-end games made with 3Ds Max is a tangible proof in my opinion. It is known to have a bit more flexibility and options compared to other alternatives. It has been used to create some of the best games in the world. 3Ds Max is undoubtedly a practical choice when it comes to game creation and development.