The 3D design industry is growing and becoming more substantial day after day. But, along with it, the client demand for quality has also incredibly increased. The more quality the product gets, the more polygon, the longer the render time is, the more GPU costs, and the more it renders. You do need a strong computer as a 3D artist, but sometimes it's not enough. If you aim to reduce your workflow's time and cost, you should consider using online render farms services.
How can online render farms be an asset?
Online render farms are cloud-based rendering services that bank on node-based cores that use powerful GPUs to help speed up the rendering process. There are many advantages that this technology can have, and we can summarize it as follows:
Instead of having one machine responsible for single-handedly creating an entire animation or presentation, you can get the advantage of the power of thousands. Your limited hardware power will no longer stand in the way of your creative freedom.
You'll save tons of time: hours of rendering time immediately become minutes. No more getting frustrated waiting for hours (if not days) for your scenes to be finally rendered. You already spend a lot of time modeling, texturing and baking.
You'll be able to double down on quality without worrying about frying your machine. Set the frame rate to whatever you like without any limitations. The quality of your work will no monger depend on circumstances.
But, you certainly have to ask yourself: which render Farm is the best suited to your project and your needs? There are a lot of aspects that you will have to consider.
Today in this article, we will take a closer look at the countdown of the best 10 online render farms in 2021 so you can, in the end, choose the best-suited render farm for your needs. The video above is to give you a glimpse on the results that you'll be having with your final renders. Combine this with good monitors and you'll have that $1M studio look you've been seeking. Don't miss out!
1. Fox Render Farm 
Pros
Low cost & high-speed
High compatibility for software and plugins, support Unreal Engine
TPN-accredited vendor
24/7 service team (Response time within 15 mins)
CPU/GPU rendering supported
No need to install the Client, you can submit tasks through the web page
Cons
English and Japanese language only
Founded in 2011, Fox Renderfarm is a SaaS-based online cloud rendering platform. It is one of the largest online rendering farms in the world, with over 6,000 nodes and 30,000 physical servers (no virtual machines). Powerful rendering capabilities enable more than 1,000 parallel computing servers in a single job.
Fox Renderfarm provides CPU/GPU rendering and supports most 3D software, renderers and plugins. Users only need to complete the cloud rendering service in a few simple steps. Another standout feature of Fox Renderfarm is that you can uploaded and downloaded assets at a high-speed. For large projects that often face tight deadlines, using Fox can save a lot of time.
It is worth mentioning that Fox Renderfarm also has a strong support team, and the average response time for problems is less than 15 minutes.
Price: 0.036$ – 0.06$ /core hour for CPU and 1$-2$ /node/hour for GPU. Power: Cores per node: 16 cores/ GPUs per node: 2/ Number of Nodes: 6000.
2. AnimaRender 
Pros
24/7 support.
Not bounded to uploading, downloading, or processing capacity only.
Cons
AnimaRender is a render farm online based in Russia. It combines the capabilities of both CPU and GPU to assist all of the nowadays popular software. Users should simply upload their projects, choose the settings, and render. AnimaRender ranks 3rd in the GPU-based rendering field with support for Houdini, Cinema 4D, Blender, 3Ds Max and Maya.
The advantage of AnimaRender is that it is not limited to uploading, downloading, or processing capacity only. However, you should know that the dump files will be automatically deleted after ten working days from the end of the render.
The other significant advantage of Anima is the 24/7 online support service provided by technical experts who will try to help you solve any problem you may face.
Price: 0.5-1.24$/node/hour for CPU and for GPU it is 12.6-21.9$/node/hour.
Power: CPU: 2 Xeon E5-2670 v2, 2.6GHz, 8 cores/ GPU: 8x GTX 1080 and 5x GTX 1080Ti/ RTX 2080Ti/ Number of Nodes: 500/ RAM per node: 64 – 128 GB.
3. RenderNation Farm 
Pros
Supports an array of old and new professional plugins.
Cons
Only supports Maya, 3ds Max, and Cinema4D.
No 24-hour customer support.
There is nothing extraordinary or extravagant about RenderNation farm; it just works as it is supposed to work. This Farm hangs its hat on delivering the best results quickly to meet the clients' expectations.
Moreover, it keeps a running blog with the latest news about rendering and their ongoing support of the most famous rendering and modeling tools and programs. The other good thing about this Farm is the competitive prices.
Price: $ 2.42/ Server/ Hour.
Power: 220 Intel Xeon 2.5 GHz.
4. Concierge Render 
Pros
Parallel rendering of frames.
Zero queues.
$5 free credits to start.
Cons
CoreWeave's Concierge Render will come in handy if you have a limited budget. It has over 45,000 GPUs ready and capable of rendering fast and efficiently without a hassle. The Farm offers free render previewing and a wide array of options for render quality.
The biggest drawback that made Concierge Render take 10th place in this countdown is that it is exclusive to Blender users, Cinema 4D and Redshift users. With a swathe of options in terms of 3D software, that looks very limiting!
Price: $ 0.50 GPU/Hour
Power: 45,000 GPUs, Zero Queue. 
5. Ranch Computing 
Pros
Support an extensive range of software, versions, and plugins.
Cons
No 24-hour customer support
Ranch Computing was founded in 2007 in France. It's one of the greatest online render farms that offers high-performance rendering services for both CPU and GPU projects and provides hardware solutions dedicated to 3D rendering.
This Farm does not display the kinds of CPUs and GPUs it offers. Instead, it displays it by the level of service quality, for instance: GPU-low (max 14 nodes), GPU-medium (max 28 nodes), and GPU-high (max 56 nodes).
It has a sleek interface that clearly shows the variety of rendering services for designers and visualization artists. It also has sections available to rent or even buy.
Price: Starting from $ 0.018 per GHz/Hour.
Power: CPU: 2 Xeon E5-2697A V4, 2.60 GHz, 16 cores/ Number of Nodes: 500/ RAM per node: 128 – 256 GB.
6. Render Pool Farm 
Pros
Easy to use, pay-as-you-go system
24-hour accessibility
Supports all famous software.
Can utilize ProRender plugin.
Cons
50GB upload file size limit.
Render Pool farm is one of the youngest render farms online. The Japanese telecommunications corporation Morgenrot recently founded it in early 2020.
This Farm is based on the SaaS platform and supports various famous software and renderers, especially Octane and Blender. One of the significant drawbacks of Render Pool is the maximum user data upload limit of only 50 GB. So, if you are a big Studio or a company with large projects, maybe this will not be the perfect choice for your needs.
Price
ProRender rendering starts from $0.52/GPU/min.
Basic Blender Cycles rendering starts from $1.04/GPU/min.
Power: GPU: AMD Radeon™ RX Vega56 / Rate=2020.3
7. Render Rocket 
Pros
200 software and plugins supported and constantly adding more.
Free storage with no cap and unlimited previews.
Highly competitive pricing.
Cons:
No 24-hour customer support.
Rocket Render farm is one of the best online render farms for designers and 3D artists operating under a strict budget. This Farm offers unlimited free previews besides free storage, which will solve a problem that many designers suffer from.
Being able to quickly display previews will permit faster workflow and a truncated design loop that will let artists focus on the design and the presentation. Render rocket works with most modeling and rendering software and tools, with recent support being rolled out for Cinema 4D.
Price: $0.70 per core per hour.
Power: Over 100 Eight Core Servers of capacity.
8. Garage Farm 

Pros
Supports most major software and plugins that exist.
24-hour, 365-day customer support.
Easy-to-use interface.
The lowest prices available.
Cons
Currently doesn't support Octane Render and Redshift.
Garage farm is a render farm founded in early 2010 in the UK that offers both CPU and GPU rendering services. This gives artists and designers plenty of pricing options for their rendering work.
This Farm provides the service under SaaS form, and it is suitable for VFX, ArchViz scenes, and Product Visualization thanks to its excellent CPU rendering capabilities.
Garage Farm also provides a broader range of software and tools than other render farms and is at the forefront of rendering solutions for Lightwave 3D, Modo, Sketchup, Rhino, and Blender. There are only a few farms that support these pieces of software, which makes Garage special.
Price: $0.0075/Ghz /hour | $0.00125 per OB hour.
Power: 20,000 CPU cores | 500,000 CUDA cores.
9. Rebus Render Farm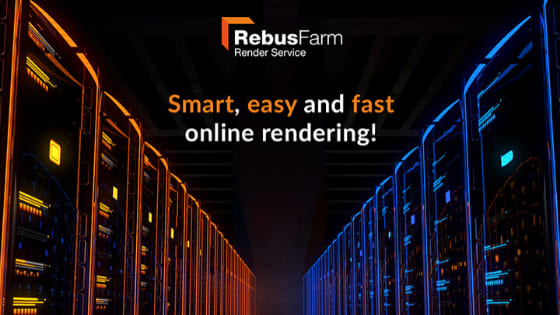 Pros
High capacity of data.
Cloud rendering service that can manage major 3D software.
Cons
RebusFarm is a German company specialized in rendering that provides services for studios and artists around the world. This Farm has a high capacity for data rendering with 3,000 XEON CPUs at its disposal.
It offers a cloud rendering service that can manage almost every major 3D software and programs that exist. It is based on the model of SAAS (software-as-a Service). You only need to submit your work directly via a plugin inside the 3D software and wait for the results to be received.
For CPU rendering, the render farm operates with AMD's Thread Ripper 3970X, and for GPU rendering, they offer NVIDIA's Quadro RTX 6000 to render tasks on the cloud.
Price: 0,014 $ per GHz and 0,011 $ per OBh (30$ free trials for new users)
Power: Total: Cinebench of 4.7 Mio; Octanebench of 26.259
10. IRender Farm 
Pros
Simple user interface.
Transferring is easy.
Customer support services are always available.
Low-cost rendering compared to competitors.
Cons
Users have to install the software they use on IRender servers
We reached the Top 1 render Farm in our online render farms list! The IRender farm was developed in 2019 in Vietnam with the most powerful GPU and CPU infrastructure to manage all heavy-duty tasks. The GPUs used are RTX 3080/ RTX 2080Ti/ RTX 3090 with heavy-duty processors (Intel Xeon Processor W-2245 & Dual Xeon E5-2670), having multiple cores to support the heaviest tasks.
The rental service by IRender is simple to use as it involves just a few steps to get started. IRender aims to facilitate everyone to access the powerful machines to turn their designs into reality by providing their cloud render services. This render farm is built on an IaaS (Infrastructure-as-a-Service) platform, providing high-performance computing for rendering.
You need to access IRender's powerful server through Remote Desktop Application and complete control using it as their computer. Far from other render farms, designers will have to install the software they use on IRender servers. But, once it is installed, all pieces of software will be saved and ready for the following uses.
It is our top choice for many reasons:
simple user interface that anyone can use.
low-cost fees that allow the users to save money for other future projects.
customer support is just a few clicks away. They are available at any time to customize the hardware up to your needs.
the servers at this Farm are always available; users can access them whenever they need them without any worries.
if you use special software or plugins that other render farms do not support—don't worry—IRender can help you manage your tasks in minutes with high-computing servers.
Price
Power
CPU: Dual Xeon E5-2673 v3 | GPU: RTX 3090/ RTX 3080 / GTX 1080 Ti cards/ RTX 2080 Ti | RAM: 128GB
Best alternatives for online render farms
We don't want to be biased and advise you these options directly. There are a few things to try before outsourcing your rendering processes to render farms online:
Conclusion
As you can see, depending on which render engine "software" you are using, how big or complex your project is, and your budget, you can choose a render farm that fits your needs. This brings us to the end of this article. We hope that the details listed above about the different online render farms helped you decide which one to pick and use. Happy rendering!