Today, you will be able to buy a Computer as a 3D artist so you can create your projects without problems.
If you are a 3D artist you probably realize the importance of having a good computer that allows you to do your work smoothly. Different components in your machine can help you perform different tasks, and you will need a stronger CPU, RAM, or GPU depending on whether you are a 3D modeler, and animator, a VFX artist, or a visualization artist who does a lot of rendering work.
In this video, we are going to talk about how 3D software, in general, uses your computer hardware while you are doing your work, and how they can help you to prevent you from working smoothly and getting better results.
---
3D Modeling Work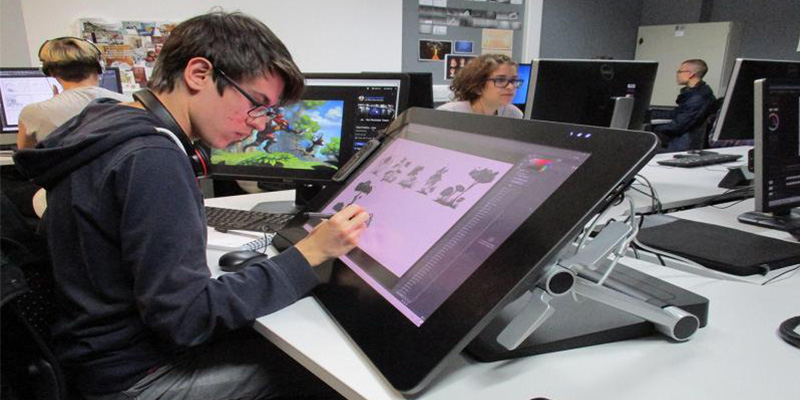 Creating 3D models using 3D software such as 3ds Max, Maya, Cinema 4D, and Blender is not really that demanding in terms of how much power needs from your machine when creating simple things, like simple props and basic character. You can actually do it using an average laptop, but if you try to do things that are more complicated than that like sculpting characters with hundreds of thousands or millions of polygons using Blender or Zbrush, texture painting using texture paint software, or if you try to create interior or exterior scenes with many pros or pieces of furniture lying around then you need a not so average computer.
If you don't want to face problems that can potentially slow you down when working on your personal projects or when doing freelance work for clients you need to have a computer whether it be a desktop pc or a laptop that has a really good processor, and at least a mid-range ram and a good graphics card so you can be able to paint and texture your assets smoothly using, for example, substance painter or Mari also view them quickly textured and rendered in real-time using a software such Marmoset.
---
3D Animation Work

The important thing in the work of 3D animation artists is working smoothly in real-time and it is extremely important to get feedback in realtime as they animate their characters because if they work on slow machines where everything is not moving accordingly and responding in a timely manner it will be near impossible to get the job done. 3D animation artists don't really need a super-powerful graphics card because usually animation scenes are not visually demanding in addition to that animators often work using wireframe or a simple graphics shader.
If you are learning animation or you are working as an animator then you need to have a computer that has a strong CPU, it does not mean that it is not necessary to have a good GPU but it means that the CUP is what you should focus on.
---
Visual Effects
For a visual effects artist work:
The first thing you need to look for is the processor. Because the processor's speed is at heart for any simulation whether it be pyro, fluid, or as simple as a particle system.
The second most important thing in effects and dynamics is the RAM, which is something that can speed up your simulation.
And last but not least, the GPU is more important when doing final renders or viewport renders.
Among all the things that 3D artists can do, I believe doing simulations and visual effects, in general, is the most demanding, and you should invest in your machine as much as possible if you want to work faster.
---
3D Rendering Work
CPU will always be an important part of the rendering process and can not be fully skimped on because the processor is like the heart of a computer that is pumping blood all over the body including rendering operation, so the CPU is always working and can work up to 40% or 50% even when rendering on the GPU. And you can get significantly faster results with having a weaker CPU if you get a more powerful GPU that is capable of GPU rendering and your chosen rendering engine supports GPU rendering such as Redshift or octane render.
If you are actually using GPU render engine then you will better off if you have a stronger GPU. It is always better to have a graphics card that is at least above average and it is better if you have a decent Processor.
Even though GPU rendering is faster and more efficient than CPU rendering. The answer to the question of whether you should focus on rendering using the CPU, or go all go for GPU rendering, is subjective and usually depends on what kind of work you do and required graphical rendering needed to complete your work in a timely manner.
For example, if you are just doing a few renders here and there you will probably be fine just with CPU rendering. But if you have clients that need their project to be completed in a certain period of time, then you probably should consider GPU intensive rendering.
Also, there are huge differences between the needs of the architectural industry compared to the animation and VFX industry.
---
We talked about what pieces of hardware you should focus on, depending on what you do as a 3D artist, but we did not talk about the specs of a computer that you should work with.
Storage HDD Vs SSD?
I will prefer SSD over HDD any day. The reason being they are solid-state so very little chance of failure and incredible speed. Your system will boot up in 4–5 secs if your OS is installed on SSD. Although they are costly but worth it.
Desktop PCs vs Laptops
A PC will be much cheaper than a laptop. Say a price diff of approx 40–50k that you can always invest in a good CPU or GPU.
Simulation and rendering in VFX are CPU and GPU intensive so they will generate a lot of heat.
Custom build CPU gives the option to install multiple fans and water cooler for your processor while the laptop has no such choice.
You can always upgrade your processor, GPU as you move forward. On a laptop, you are restricted.