"Is Blender good for video editing"… have you been wondering about that lately? Blender is a famous 3D software that can be used for modeling, animation, visual effects and it also includes a video editor. Today we are going to talk about the Blender video sequence editor and how it can help you edit your videos.
---
What is the Video sequence editor
In addition to modeling and animation, Blender can be used to edit videos. There are two possible methods for this, one being the Compositor. But most people will prefer to use Video Sequence Editor (VSE), sometimes shortened to just "Sequencer". The Sequencer within Blender is a complete video editing system that allows you to combine multiple video channels and add effects to them. You can use these effects to create powerful video edits, especially when you combine it with the animation power of Blender!
---
Blender VSE in Films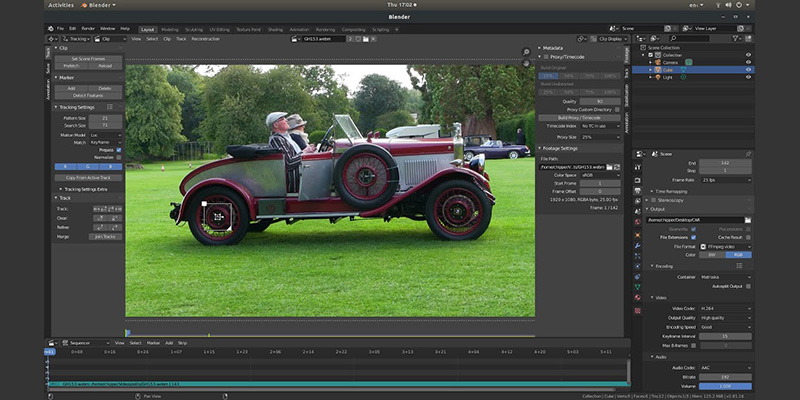 The Blender foundation actually created several open movie projects over the years. And these movies were created for the most part using Blender including the video editing part. So the Blender video sequence editor was used to work on some serious projects. Which shows that it can handle adding together and editing clips with their effects and so on.
This part of Blender was not being actively developed in recent years but lately especially with the 2.8 release things have changed for the better with new tools and features.
---
What can you do Using Blender VSE
To use the VSE, you can load multiple video clips and lay them end-to-end, overlay them, and you can insert fades and transitions to link one video to another. And you can add audio and synchronize the timing of the video sequence to match it.
Like any other video editing software, Blender offers a variety of tools that can help video editors and filmmakers to combine clips of video and Audio together. By cutting, moving, snapping, splitting, and duplicating stripes. As well as more complex tasks like video masking or color grading. These operations are not exclusive to video only because you can also edit audio as well. Since Blender video sequence editor offers two channels, one for Video and the other for Audio.
There are up to 32 slots for adding video, images, audio, scenes, masks, and effects. So basically you can add as many effects on top of your original clips as you want whether it be images, text, other videos and you can even add videos with a green screen as well if you want to integrate other elements.
Blender Video sequence editor also allows you to see Live preview, luma waveform, chroma vectorscope, and histogram displays. These are different preview modes that can be useful for different purposes.
And of course, there are many controls and parameters that you can use to change many things like Speed control, adjustment layers, transitions, keyframes, filters, and more!
---
Why Choose Blender for Video editing
1_it is completely free & open source
If you don't know yet, Blender is a completely opensource and free to use software that can help you do a lot of things like 3d modeling, animation, Visual effect, and of course video editing. It is actually one of the most advanced free video editing software on the market right now.
2_it is very stable and powerful
The video sequence editor in Blender is very powerful and stable as well. Which makes it even better for putting together large sequences or editing complicated videos for free.
From the experience of many people who do their video editing work using Blender, it is stable compared to the other video editors. This is actually expected from a software such as Blender. Because it can handle complex visual effects work, large scale 3d scenes with millions of polygons. In addition to creating long animations with many characters and moving parts in the scene.
3_you can work on the whole project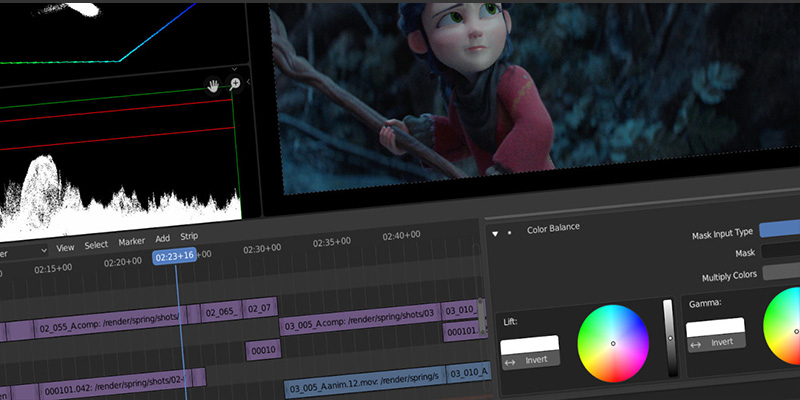 As we said before Blender can do all these things like modeling, animation, effects, and so on. So if you want to render your scenes and combine them using the video sequence editor you can do that. Like how the Blender animation studio team was able to create their open movies using Blender and its tools.
4_it got improved an new tools were added with 2.8
The features and the new tools that have been added or improved with the 2.8 release and beyond makes it an option that a lot of people are beginning to consider. Because now it is on part with very respectable commercial video editors our there in the market.
5_it is flexible

Since Blender is open-source you can use Python programming language to add features that you believe are lacking in the Blender video sequence editor to do your work, or if you want to contribute to the development of Blender. Actually, this is an area where the Blender development team and volunteers are putting increasingly more effort into because it is such a useful part of Blender. So if you have got skills and you want to help you can do that.
You can also use Blender addons to add to the existing features of the software, which is great if you come from another video editor. And there are some features that don't exist already in the Blender video sequence editor yet. But I am sure that with the rate of progress of Blender, a lot of tools and features will be added soon either directly or using add-ons.
---
Blender vs Video editing software
There are a lot of video editing software whether they are paid or free. Software such adobe premiere pro, Final cut pro, sony vegas, Camtasia. And free ones or those that have free versions like VSDC Free Video Editor, movie maker, Shotcut, Davinci resolve an so on.
I can't tell you that Blender is the Best video editing software out there but I can confidently say that it is one of the best ones right now. It does not have all the features that professional video editors need and it is not the most optimized in terms of speed and other factors. However, it is being developed faster right now to meet the needs of those who do video editing.
---
New features in Blender VSE
The interface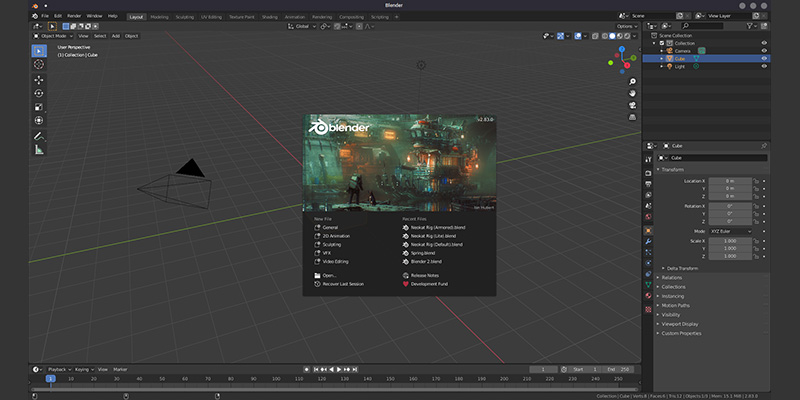 With the complete revamp of the Blender user interface, we also got a new look and feel to the video sequence editor as well. And now it looks much better and everything seems like a modern video editing program.
changes to the text or font

Even though this does not seem like a big deal, with new releases of Blender 2.8 we got better-looking fonts and way more options when it comes to how text appears in our videos. Because before that, the Video sequence editor had very basic fonts with very little control which basically was better than nothing.
quick access to menus

Now you can right-click on video clips or audio to get access to menus that include the basic functions that are used often in addition to other tools. This can help you save time and work quickly.
Cash Preview
Now using Blender sequence editor you have control over the Cash preview. You can basically allocate more computing resources to viewing shorter or longer sections of your clips depending on your needs or the power of your machine.
images & text are alpha over by default

Now in the new releases, the text and the images are by default alpha over. Meaning that any text or image you add on top of your existing clips will automatically have a transparent background behind them. Which is a no brainer for other editing software but this is actually a fantastic feature that helps you to be more productive. To clarify, this option existed in Blender but you had to choose it yourself before the new updates.
strip time properties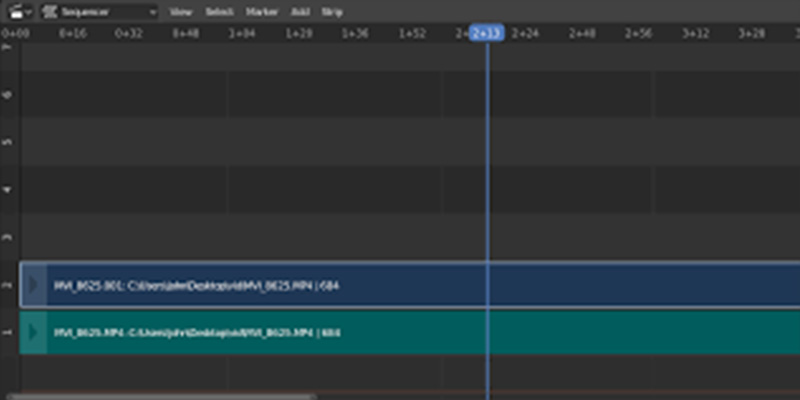 In Blender now you can also see frames in addition to time which is very helpful for animation work.
Better control of Audio waves and volume.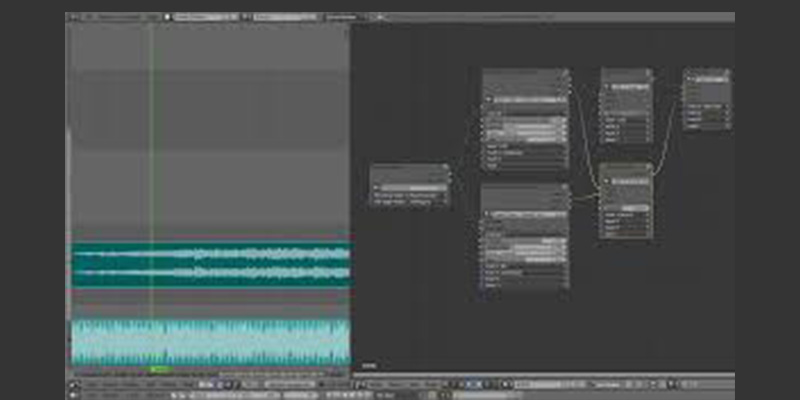 This is a visual improvement to the way you see audio in the sequencer that helps you identify the changes you made to the audio. In addition to how it differs from the other parts of the audios clips included in the video sequence editor. And of course, there are other audio features that you can use as well.
---
How to increase VSE Performance
If you are facing problems with performance in the Blender video sequence editor you can actually do few things.
Playback performance can be improved in several ways. The biggest impact on performance is to allow the Video Sequencer to cache the playback. There are two levels of cache: the first is a RAM cache, this is enabled by default but can be increased based on the amount of RAM available. The next level of cache is a disk cache that stores cached strips on disk.
A disk cache can generally cache more than a RAM cache, but it can be slower. Both of these cache options can be configured in the Preferences.
Another way to improve performance is by using Strip Proxies. These are used to cache images or movies in a file that is easier to playback by reducing the image quality by either decreasing the resolution and/or compressing the image.
---
The future of Blender and Video Editing
Blender video sequence editor was going to be removed in the 2.8 release but it successfully made it because they saw it has potential. Since Blender is used by many artistic people like filmmakers, animators, people who create short animations, commercials, and so on. The Blender development team is thinking about taking the video sequence editor in a new direction where these people we talked about can do their work inside Blender instead of choosing to do it using another video editing software.
Actually, this was the goal behind developing different tools for Blender and making it the swiss knife it is. Which is doing all or most of the things that artists need to do in production using only one or just a couple of software.