We are going to talk about 18 of the best Blender Addons For Modeling that you can use to save time and take your modeling to the next level.
How you can make great models using Blender Addons For Modeling
Some of these tools are used for quick and simple tasks. Others are really going to change the way you model in Blender. We are going to start the Count with :
18 – Loop tools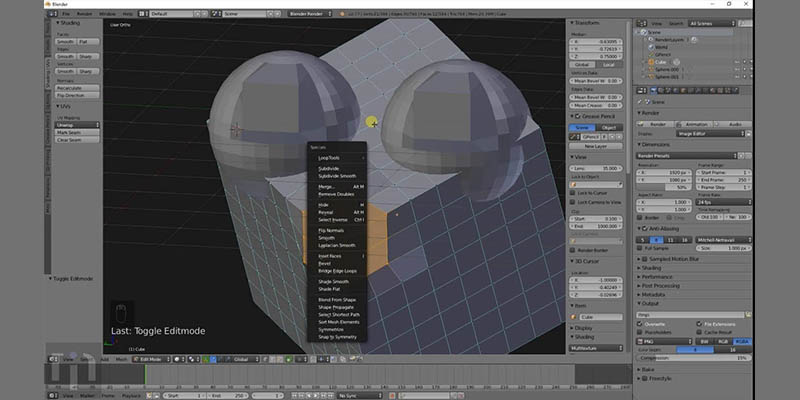 Loop tools is a useful add-on that comes with Blender. Back in the previous versions of Blender loop tools was the only way to get some important stuff done.
This addon has a lot of operators for making any number of edges into a circle, making sloppy loops into a perfect curve, flattening things at strange angles just to name few things that loop tools can do.
free, ships with Blender, just activate it
17 – Advanced Boolean tools
This add-on comes with nice Boolean tools and modifiers that can make the process of modeling hard surfaces easier.
Some of the modifiers are Array-, Mirror- and Solidify modifier.
Also, You can use the Boolean by creating a plane, give it thinness then cutout the difference witch is great for creating hard surface details in a very short period of time.
Free/Pay-what-you-want : https://gumroad.com/l/nd9h_abt
16 – Bool Tool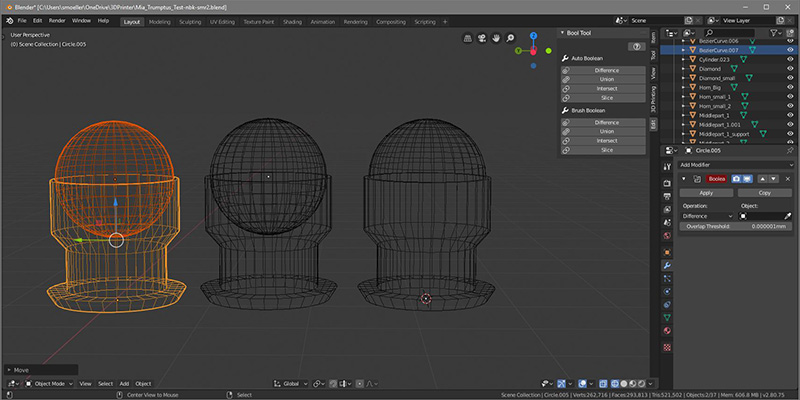 This add-on is a nice way to create complex Boolean effects in a simple way like a lot of the other tools available for Blender.
It is free and available for all Blender users because it is a built-in add-on.
There are paid and better alternatives for this tool but they operate using the basic principle which is using primitive geometry to perform a Boolean operation to add or extract details. I would say it can a good job for complex modeling or hard surface none the less.
free, https://github.com/ranjian0/building_tool
15 – Building tool
This add-on is interesting because it makes it possible to create nice buildings or houses really fast by adding procedurally some of the most building blocks for building like floors, Windows, Railing, Doors, Balconies, and Roofs.
Building tool works using the same principle as the add-ons that are used to create or place intricate details on hard surface models but instead of that, it is used to generate architectural elements real quick. This one is especially good for quick exterior archviz.
free, ships with Blender, just activate it
14 – Instant meshes remesh

This free add-on seamlessly integrates the Instant Meshes automatic retopology tool in Blender.
Instant Meshes Remesh, as the name suggests is an addon to remesh your Models. It can be especially usefull when you sculpt, for example, the topology will not look as good as you want it to be so you need to remesh it. Since these types of add-ons exist I don't recommend doing by hand because it usually takes a lot of time.
This add-on allows you to get way better results compared to using the automatic remesh, you can also use the mesh modifier in Blender but using the add-on is still a better choice.
free, see https://blenderartists.org/t/wip-instantmesher-automated-export-and-import-for-instant-meshes-windows-linux/657259
13_Archipack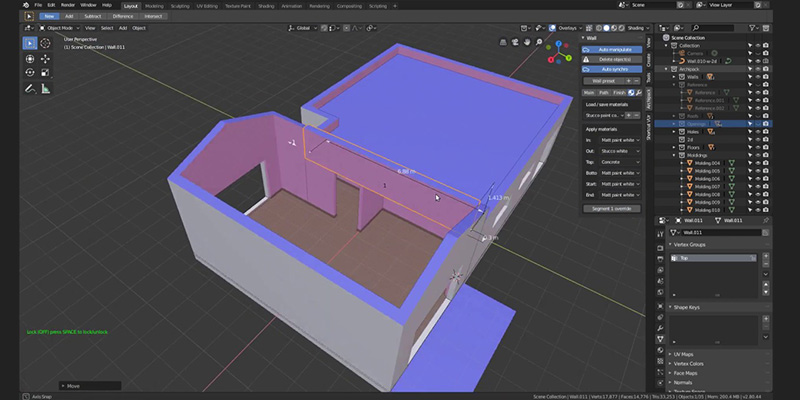 The Archipack is a Blender addon that contains a collection of parametric primitives for ArchViz. It's an easy way to create some of the most needed elements in architectural visualization work like walls, windows, doors, floors, stairs just to name a few.
You can also use presets like the type of stairs or Windows which gives variety and a lot more options to architects and designers who don't want to spend too much time on modeling.
ships with Blender, just activate it
12_pivot transform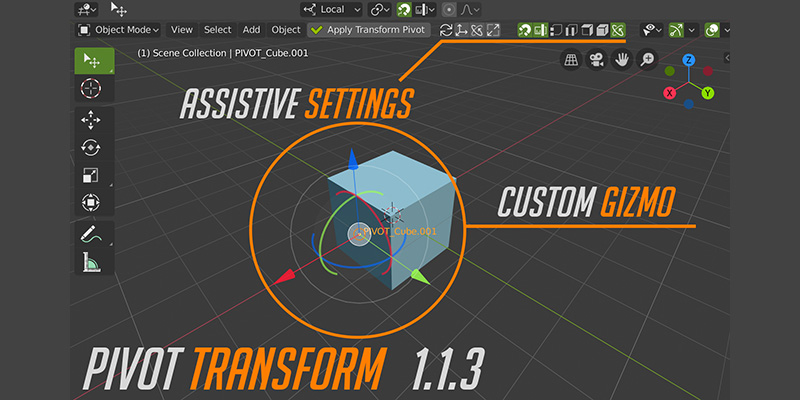 Pivot transform is an add-on that helps you to change the position of the pivot point as needed. You can align it to the normals of the desired polygon, rotate and move it, or place it in the center of the object and 3d cursor. The Addon brings all the necessary functions to have a good experience with objects orientation in space.
often in 3D modeling, we have to change the position of our object relative to another, like changing the value of the opening of the lid, door and so on. I think that pivot transform is a tool that is going to make a difference in some of the confusing and hard to do manual things such as dealing with pivots.
Paid/$5 : https://blendermarket.com/products/pivot-transform?ref=247
11_DynRemesher
DynRemesh is a quad-based remesher for Blender which I believe is really good for assisting in retopology for dyntopo sculpts & 3dscans containing too many triangles. The UI is simplified to make clear and easy to perform the necessary steps for quad remeshing automatically, which is a good thing because no one wants to spend a lot of the limited time we have trying to figure out complex interfaces.
paid $28-35 Dollar : https://blendermarket.com/products/dynremesh-2?ref=247
10_By-Gen
BY-GEN is a free and open-source add-on designed to simplify the process of creating non-destructive, generative modeling styles in Blender. It also let's us use generative modeling styles on existing geometry.
It makes heavy use of the modifier stack to provide various forms of mesh-manipulation to let you achieve a variety of geometric effects. Through the use of a simple interface, you can either generate new objects from scratch or apply styles to pre-existing objects.
free/Pay-what-you-want : https://gumroad.com/l/BY-GEN
9_Machine tools
MACHIN3tools is a free, continuously evolving collection of blender tools and pie menus in a single customizable package.
This addon is basically good for functional purposes like working in the 3D view, Pie-menus but there are also features for editing like clean up mesh, smart vert, smart faces and so on.
Machine tools is created by the same developers of Meshmachine and Decalmachine the difference is these two add-ons are not for free.
free/Pay-what-you-want : https://gumroad.com/l/MACHIN3tools
8_smart fill
This add-on extends the functionally of Blenders' native fill command. The function of this addon is pretty simple – it just adds things like grid fill and bridge edge loops to the mix when necessary. The good thing about smart fill is not that it does something that artists cant do but Since these actions are so common, having access to all of them by simply hitting F is a fantastic time-saver.
paid/$3 : https://gumroad.com/l/Blender_addons_smart_fill
7_Tesselator

Tesselator is a good remeshing addon that helps you create regular quad and triangle meshes easily out of sculpts.
It can create pure quads, pure triangles and quad-dominant meshes with high control over the flow.
Tesselator is on of the best options in the market place.Even though it's not exact, it performs pretty well for simple models and can create good looking topology.
Also, the new release Tesselator 1.28 for Blender 2.8 has even better features and the developers are promising to keep working on it by adding more features.
Paid/$8.50: https://blendermarket.com/products/tesselator?ref=247
6_modeling cloth
This add-on was created and currently developed by rich Colburn which can be considered a good alternative for Blender cloth simulation system.
Modeling cloth is an interactive cloth simulation engine. You can click and drag, add wrinkles, shrink cloth around objects mix softbody and cloth effects together and so much more.
The developer is trying to make this add-on work in Blender using similar features and workflow to what we can find in the most popular software for cloth simulations which is Marvelous designer.
Paid: https://blendermarket.com/products/modeling-cloth?ref=247
5_Mira tools

Mira Tools are modern modeling and retopology tools. This is a set of tools that the developer dedicated to his daughter.
There are some Modeling and Retopology Tools that were written a while ago. Some of them were taken from blender like CurveStretch and CurveSurfaces. But DrawExtrude, LinearDeformer, and CurveGuide tools were taken from Lightwave and Modo. This shows us that a lot of the add-ons and the tools in this industry are inspired by other software and other tools.
This add-on has a lot of useful tools like DrawExtrudetool, PolyLoop tool, CurveSurfacestool,Noise tool, Deformer Tool, and a few other tools.
free : https://github.com/mifth/mifthtools
4_Box cutter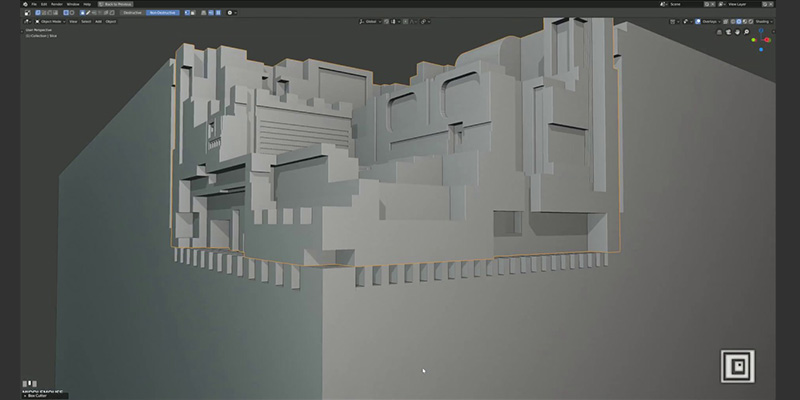 Boxcutter was intended to be a fast on-screen 3d view drawing cutter. Throughout the developer's experiences they have learned and enhanced the tools through time and experience to optimize the workflow to be as fast as humanly possible for users. They offer a variety of behaviors to personalize the experience to keep things running fluidly.
Boxcutter operations are non-destructive which means that it can guarantee that shapes will be kept live until you decide to apply them.
Paid/$20 :
https://blendermarket.com/products/boxcutter?ref=247
3_Retopoflow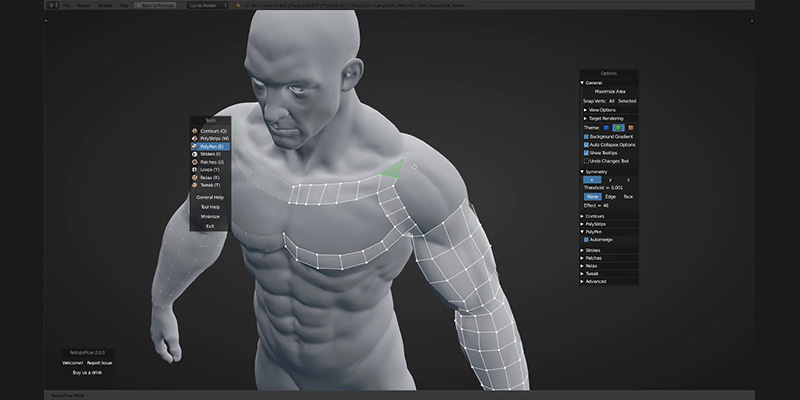 RetopoFlow is an addon that will help to create smooth, efficient, and effective models for high-quality versions of detailed sculpts.
Retopoflow was actually rebuilt from the ground up.
RetopoFlow does help artists turn sculpting work into Models that are good for practical uses with a fairly easy to use tools. this retopology suite turns a difficult and technical process to a smooth, and artistic flow which was achieved after the developers recreated the whole thing to make it better.
Paid/$86 : https://blendermarket.com/products/retopoflow?ref=247
2_Hard Ops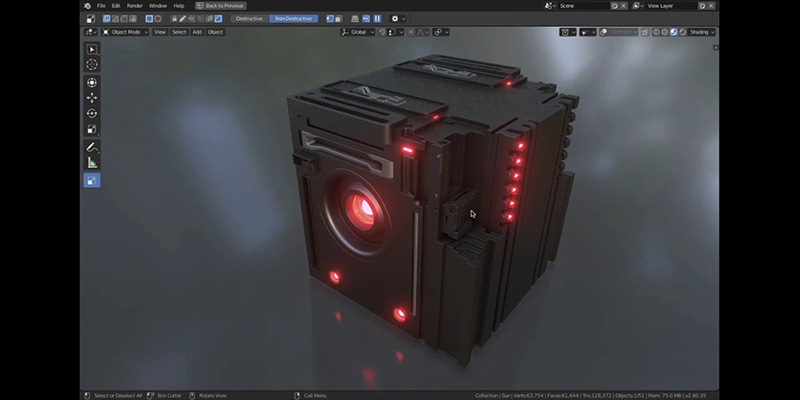 Hard Ops is a joint collaboration between its original developed and many other artists in attempting to streamline a hard surface workflow in Blender.
Hard Ops has been designed from the ground up to be an efficient workflow that is assistant for Blender.
This add-on one of the best tools for hard surface modeling for Blender due to the tools it can offer that can the process of hard surface modeling easier and faster.
Paid/$20 : https://blendermarket.com/products/hardopsofficial?ref=247
1_Mesh Machine
MESHmachine is a blender mesh modeling addon with a focus on hard surface work without subdivision surfaces.
This is probably the best add-on for hard surface modeling for AAA video game assets or high poly models in general.
It has a lot of great features that can make heavy hard surface modeling work way easier than relying on Blenders tools alone or even some of the addons available in the market place.
Paid/$40 : https://blendermarket.com/products/MESHmachine?ref=247