One of the most requested topics is definitely the best free addons for Blender users. We've posted before about the top Blender addons of all time, but although they're amazing, they come at a cost in most cases. This is why we decided to vary the options for all budgets and cover this specific topic in today's article.
Will these free addons for Blender remain this way for good?
Unfortunately not, so if you're a Blender user you might wanna take action fast. The best proof is that some of these addons had to be deleted from this list, because a price tag was put on them after a few weeks (check our video below for more information).
We'll talk more about this throughout this article, but for now let's dive right in and start the count with:
41. Nature Clicker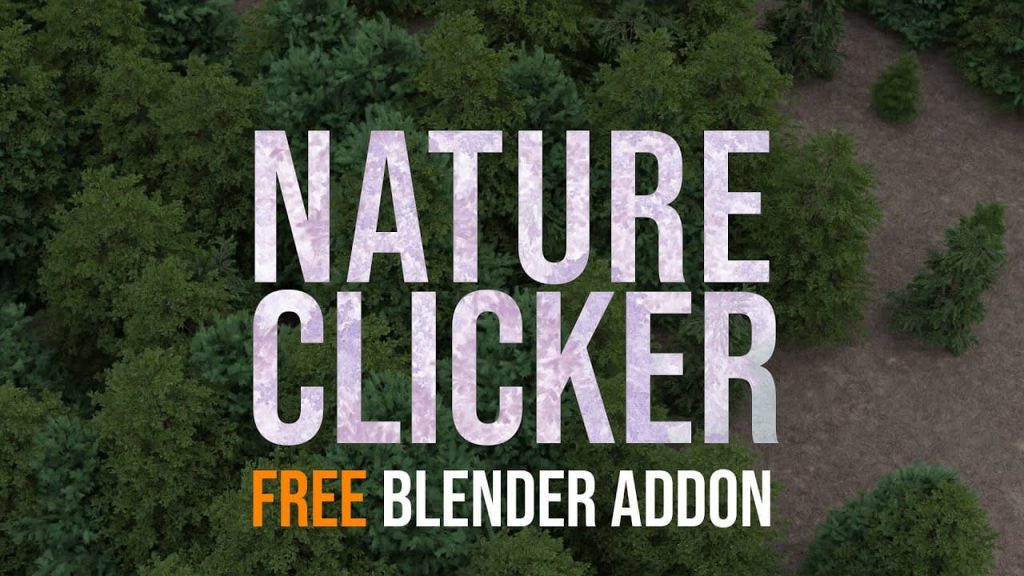 Our first entry on free Blender addons id this great tool for a quick and manageable process of placing nature assets with more control than particle systems.
You can choose any asset within your Blender scene. You can place objects with randomized rotation, skewness, scale, and so on. You can also let the assets always stick to the ground or change the surface they will be applied to such as walls, roofs, and so on.
You can get this addon here: https://gumroad.com/l/QfghQ
40. Blender GIS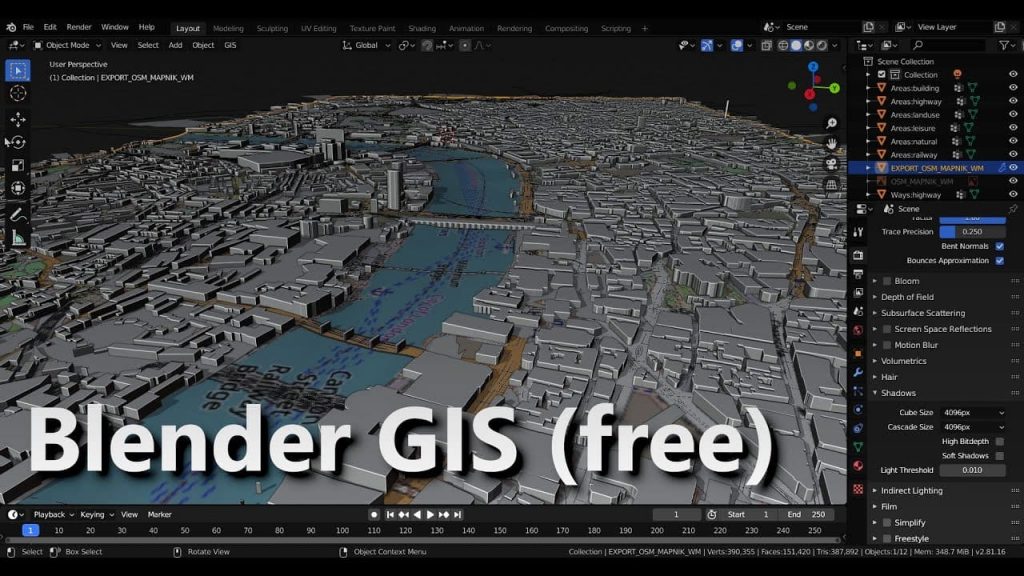 Blender GIS is an addon that uses satellite data to create cities and exterior environments. It is very similar to Blender OSM except that it thrones among the free Blender addons. However, it can be a little bit more difficult to use although it's one of the best Blender addons in the field. Using this addon It is possible to create cities instantly with bridges, rivers, railways and tens of thousands of buildings if needed.
Find it on GitHub by clicking here: https://github.com/domlysz/BlenderGIS
39. Animation Extras
This addon represents a very good 3D Onion Skinning tool in Blender without any shortcuts. It works using Meshes that are drawn directly to the viewport using Blender's BGL and GPU modules. Also to make sure that your animation project is not going to be slowed down, the addon doesn't generate extra meshes, nor extra materials. Which means that you will be animating at relatively the same speed so to speak.
The addon is available for download here: https://gumroad.com/l/animextras
38. Spread Objects
This one doesn't only belong to the free Blender addons squad, but also the most fun to use. It allows you to spread objects that are joined together. This is very useful in many different situations when you have to do it manually which is not only time-consuming but annoying too. It takes care of calculating the number of columns/rows and the spacing needed between each object and another. These objects will be spread along the timeline to help you quickly change the distribution.
You can download it here: https://gumroad.com/l/spreadobjects
37. Node wrangler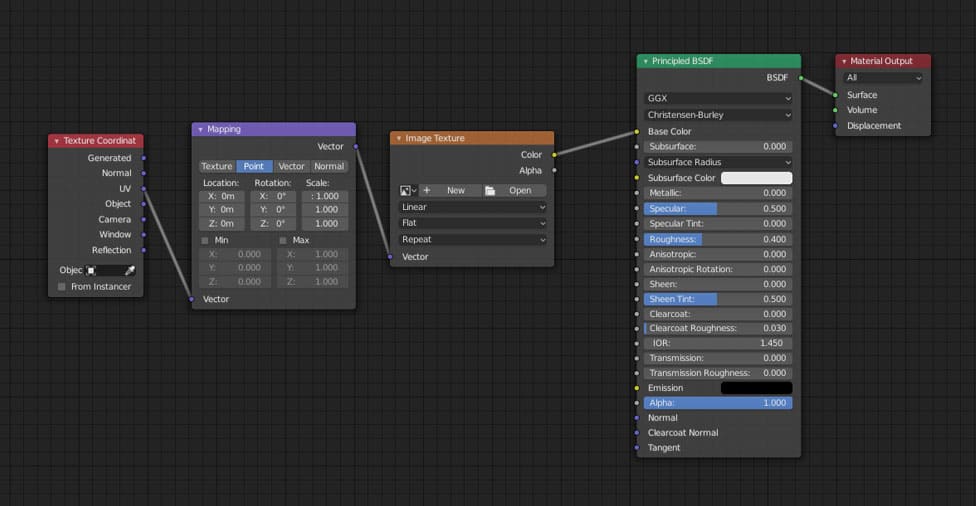 Node wrangler is an addon that comes with Blender. Even though it is an old one, it is still one of the best free Blender addons and the most useful. There are so many shortcuts that can be used to be able to do different things related to working with nodes like:
connecting texturing
switching nodes
changing levels
colors, and so on.
36. Chalk Style Wireframe
This addon provides a quick workflow for creating Ambient Occlusion (AO) "chalk" and "sketch" type renderings. It is a free tool for doing quick wireframe renders easily. But there are two great paid addons by the same developers capable of doing the same things better. In addition to a ton of other features that can help you save time and get cool-looking renders. We've made an extensive post about these specific rendering addons "Chalk Style" and "Sketch Style".
Note that given the time you'll be checking the link, you might have to wait for the addon to be available again. As we said before, the free option is very limited in time although you can still get it for $1 on the Blender market here. With that being said, you can still choose to wait for the free addon here: https://gumroad.com/l/chalkstyle
35. Archimesh
This is another entry among the free addons for Blender that come bundled with the 3D package itself, and it allows you to create a lot of architectural elements. For example Rooms, House structures such as walls, Doors (with one and two leaves), ColumnsStairs (straight and curved), Tile roofs, and more.
Archimesh allows visualization artists or architectural designers to save time and have a better experience overall. Especially if they don't want to deal with complex or boring technicalities of modeling.
34. Mirror Selected Bones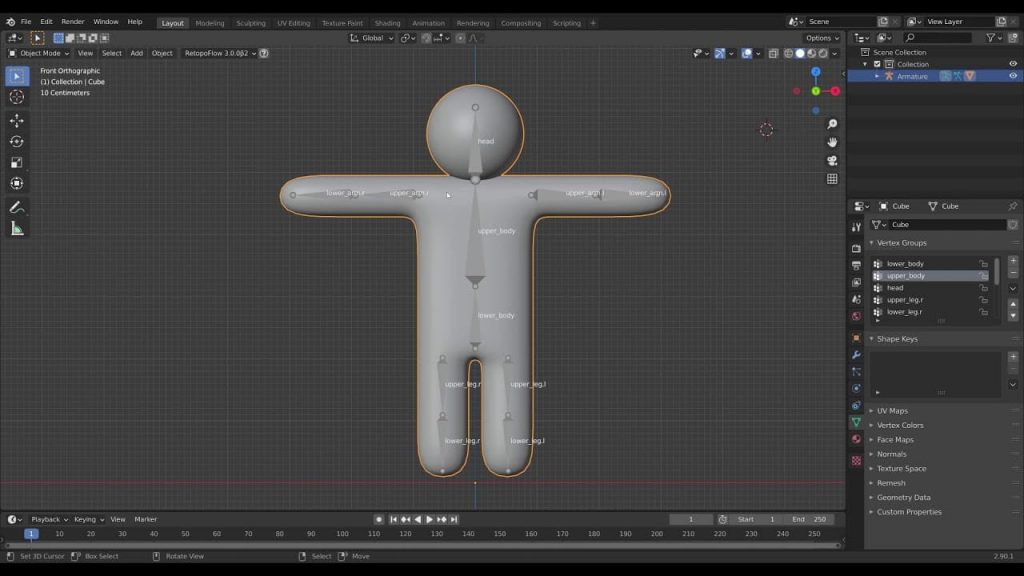 This addon is ideal when you have a symmetrical model and you need to paint weights with the x-Mirror-Option. It allows you to easily mirror the weight paint data of bones and their corresponding vertex groups to the other side. With this addon you can project your working status to the pose bone on the other half of your object.
Unfortunately, it's no longer free as we mentioned in the introduction. Although it was totally free around a month ago when we were selecting free addons for Blender users, a price tag of roughly $3 was recently put on it. If you're still interested in this very useful and affordable tool, you can get it on the Blender market here: https://blendermarket.com/products/mirror-selected-bones?ref=247
33. Anti-Seam
This addon was designed to solve a time-consuming problem when working with materials in Blender. It basically helps you make any type of texture seamless without having to do it yourself manually hours on end. With the help of certain tools and parameters, you can easily change and control how the duplicated textures look at the end of their seems. It requires a little work to make it look perfect but the results look great and it is way less time-consuming compared to doing this work manually.
You can download the addon here: https://gumroad.com/l/juLNpq
32. Archipack
The Archipack is a Blender addon that contains a collection of parametric primitives for ArchViz. It's an easy way to create some of the most needed elements in architectural visualization work like walls, windows, doors, floors, stairs just to name a few. You can also use presets like the type of stairs or Windows which gives variety and a lot more options to architects and designers who don't want to spend too much time on modeling.
It comes shipped with Blender, just activate it to start using it.
31. Simple Tabs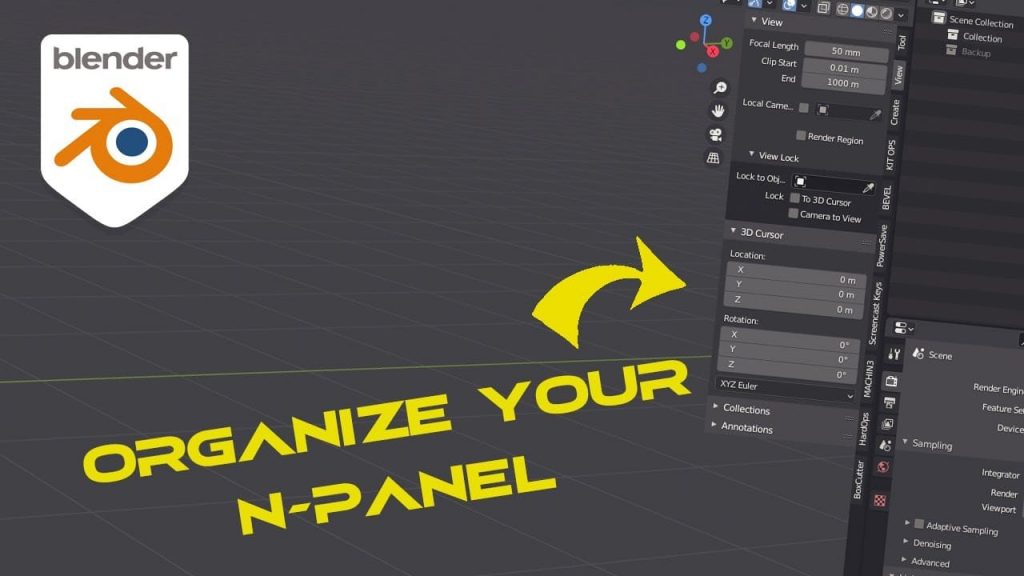 SIMPLE TABS is a Blender addon that was created for the 3D View N panel only. The developers focused on the Npanel because it usually a busy palace where there are many addons panels, basically it represents the majority of the tabs in Blender. The concept of this addon and its features are simple and they include the ability to:
reorder N-panel tabs
rename N-panel tabs
consolidate N-panel tabs
If you're interested in this addon, you can download it here: https://gumroad.com/l/simpletabs
30. Molecular script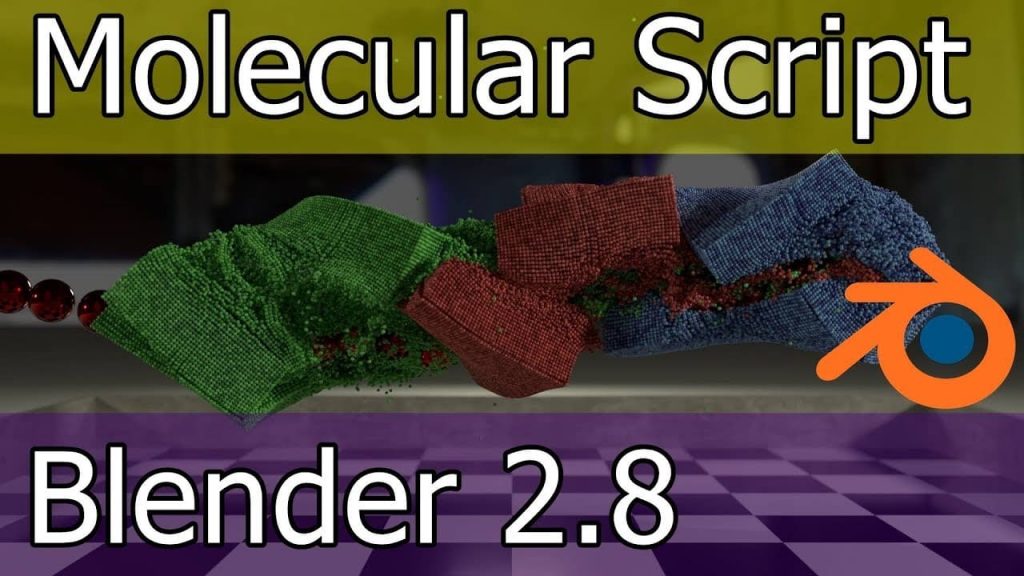 Molecular Script is a particle collision addon that makes particles collide for creating certain types of simulations and effects. In addition to particles linking as well. So overall it can use particle self-interactions, interactions with other particles, and all the types of linking that the script supports. Like linking at birth and linking after creation. Not only it forged its path to this list of free Blender addons, but if we were to create the "most enjoyable addons" list we would include it too!
You can find this plugin on GitHub here: https://github.com/scorpion81/Blender-Molecular-Script/releases
29. Cube surfer
CubeSurfer Addon allows us to remesh a particle system in real-time. It works nicely with the molecular script addon that was originally created by the same developer. Using them together, it is possible to create amazing effects and high-quality simulations. It highly comforted our choice of putting it on the best free Blender addons list.
Download the addon here if you're interested: https://github.com/porkminer/CubeSurfer
28. Powersave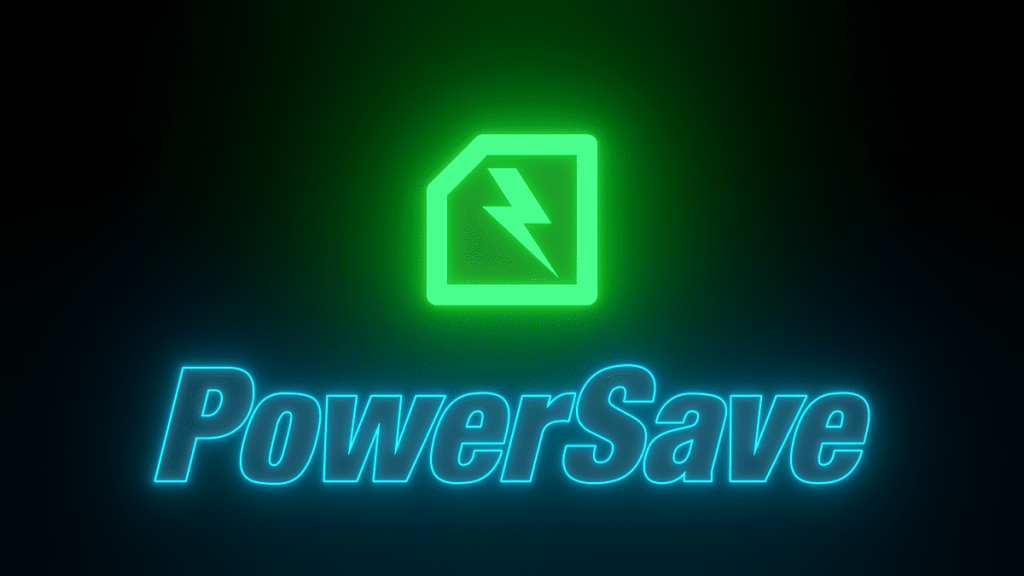 This addon was created by master Xeon and team c the developers of popular Blender addons such as Boxcutter. As the name suggests it allows you to easily, smoothly, and with much more efficiency save your progress in addition to more options compared to other saving options in Blender. For example, it has the ability to save instantly similar to save states without dialog or interaction needed once installed.
Also, the generic naming system capable of avoiding unintended overwrites ensuring progress is never lost. In addition to that, there is a 3D viewport notification icon near the top bar for visual awareness of save status always just to name some of the features.
You can download this great addon here: https://gumroad.com/l/powersave
27. RigUI
With the RigUI addon, you can create custom pickers in Blender. It lets artists create a picker by creating simple 3D shapes in the viewport and linking them to parts of the character rig controls.
There are actually two main methods for working with rig controls. Especially when it comes down to 3D character animation: On-character controls versus an animation picker. When it comes to complex characters, it is very hard to beat an animation picker.
Find the plugin here: https://github.com/ChristopheSeux/rigUI
26. Mira tools
Mira Tools are modern modeling and retopology tools. There are some Modeling and Retopology Tools that were written a while ago. Some of them were taken from Blender like CurveStretch and CurveSurfaces. But DrawExtrude, LinearDeformer, and CurveGuide tools were inspired by Lightwave and Modo. This shows us that a lot of the addons and the tools in this industry are inspired by other software and other tools. In the same vein, it's one of the best free Blender addons that can be a huge time saver.
You can download the tools here: https://github.com/mifth/mifthtools
25. True Mars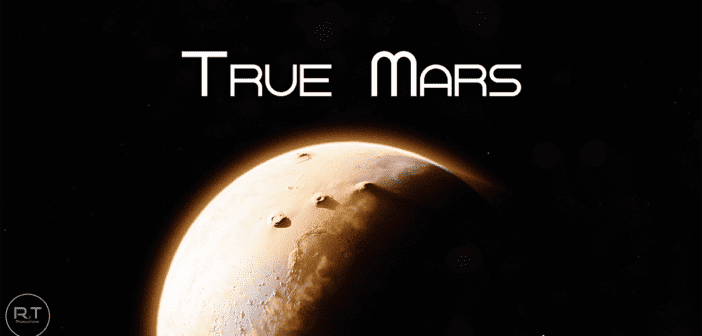 This is not just a model of Mars. You can say it's one of the best Blender addons that help you when creating your perfect planet Mars. It works using a bunch of very high-quality Textures from NASA and a sphere. BUT! It's professionally done, and there's a high-resolution version with 24k textures and there's low res with 8k textures for those who prefer speed over accuracy.
There are also Procedural Dust Storms and they work just fine in Eevee which is Blender's real-time engine. This will allow you to see how your Planet is being modified in real-time while you are changing the settings without having to render every time which I think is fantastic. Mars's atmosphere is kind of the opposite of Earths, so during the day, it's brownish/red skies, and at night, it's got a nice blue haze.
Again, it's unfortunate that we had to update this list and remove the link to the free addon because it's no longer the case. However, if you're interested you can still get the addon for $2 here: https://blendermarket.com/products/true-mars?ref=247
24. Loop tools
It is a useful addon that comes with Blender. Back in the previous versions of Blender, loop tools was one the only way to get some important hard surface stuff done. But now there are many other alternatives, however, it is still good. This addon has a lot of operators for turning any number of edges into a circle, making sloppy loops into a perfect curve, flattening things at strange angles just to name few things that loop tools can do.
As mentioned above, it ships with Blender. Just activate it and you're good to go!
23. Checktoolbox
This addon can make your life easier by highlighting the information of models that can be problematic later on if you are not aware of. For example object count, isolated element count, double count, and so on. All this happens in real-time through shading colors of models in Edit Modes. This will help you keep an eye on important info while doing your work.
Here's the download link if you're interested: https://gumroad.com/l/apny
22. Bool Tool
This addon is a nice way to create complex Boolean effects in a simple way. Like a lot of the other tools available for Blender.
It is free and available for all Blender users because it is a built-in addon. But it can be a very effective way of starting to use Boolean tools before deciding on more advanced addons that we are going to go over very shortly.
21. Bumarin Sculpture Pencils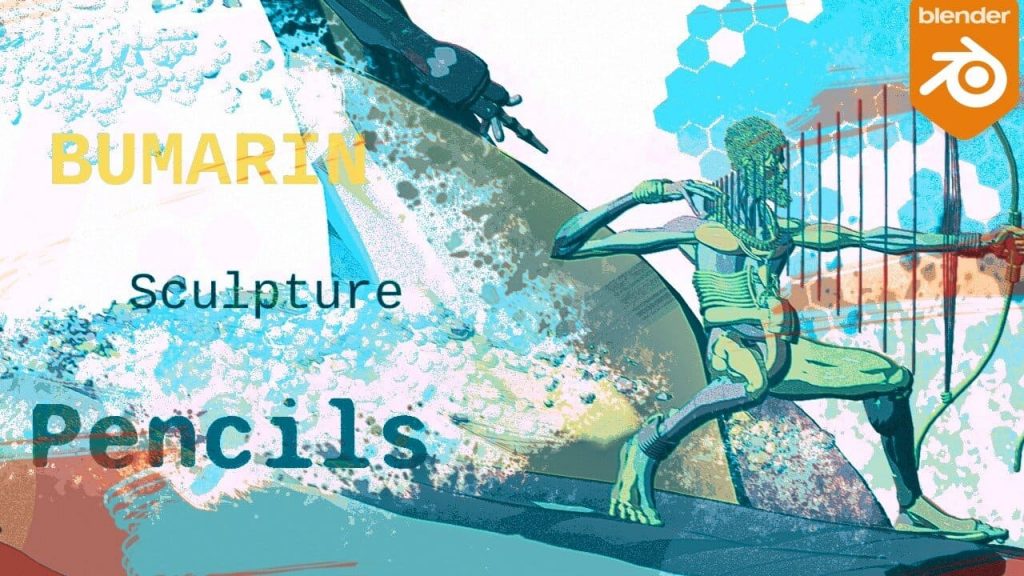 This is a fantastic addon for Sculpting, anatomy, and organic modeling. But it can also be used for Prototyping and concept sketching.
Its concept and tools are simple but its very powerful and creative. It has a traditional approach to sculpture that from a set of clay pieces generates a unified sculpture. Actually using this approach is different but interesting refreshing. This Blender addon comes with 7 brushes. The features it comes with include:
Parametric clays.
Instant Brushes.
Fast remeshing.
Non destructive workflow.
Get this powerful addon here: https://gumroad.com/l/bumarinsculpturepencils
20. Building tool
This addon is interesting because it makes it possible to create nice buildings or houses really fast. You can achieve this by procedurally adding some of the most frequent blocks for building. Things like floors, Windows, Railing, Doors, Balconies, and Roofs.
Building tool works using the same principle as the addons that are used to create or place intricate details on hard surface models. But instead of that, it is used to generate architectural elements real quick. This one is especially good for quick exterior archviz.
It's free and ships with Blender, so you just need to activate it.
19. By-Gen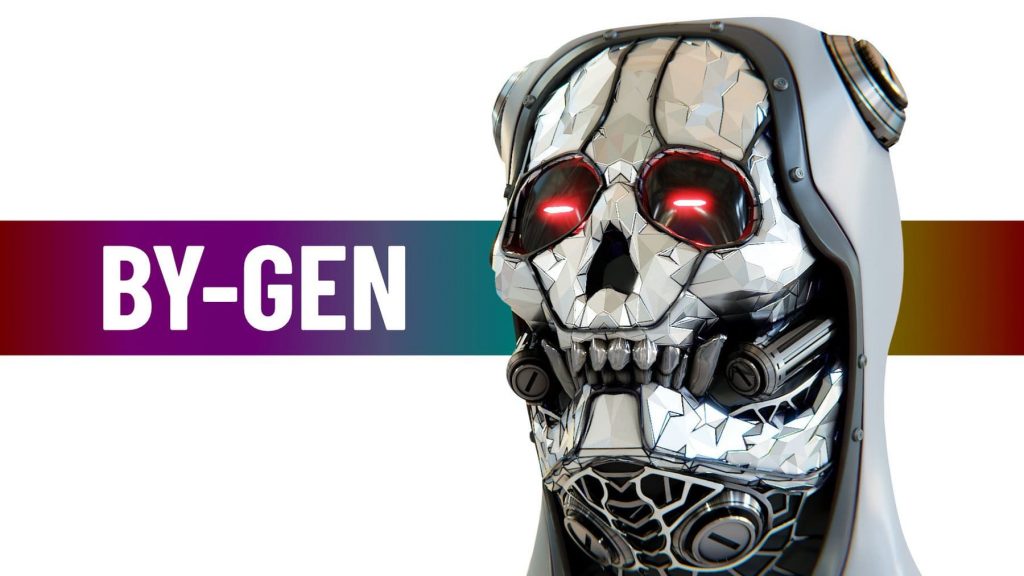 BY-GEN is a free and open-source addon designed to simplify the process of creating non-destructive, generative modeling styles in Blender. It also lets us use generative modeling styles on existing geometry.
It makes heavy use of the modifier stack to provide various forms of mesh-manipulation to let you achieve a variety of geometric effects. Through the use of a simple interface, you can either generate new objects from scratch or apply styles to pre-existing objects.
You can download the addon here: https://gumroad.com/l/BY-GEN
---
18. Instant meshes Remesh
This is one of the free Blender addons for retopology that seamlessly integrates the Instant Meshes automatic retopology tool in the software. As the name suggests, it is an addon to remesh your Models. It can be especially useful when you sculpt. Instant Remeshes Remesh allows you to get way better results compared to using the automatic remesh. You can also use the mesh modifier in Blender, but using the add-on is still a better choice.
You can find the addon plus the install instructions here: https://blender-addons.org/instant-meshes-remesh/
17. Speedretopo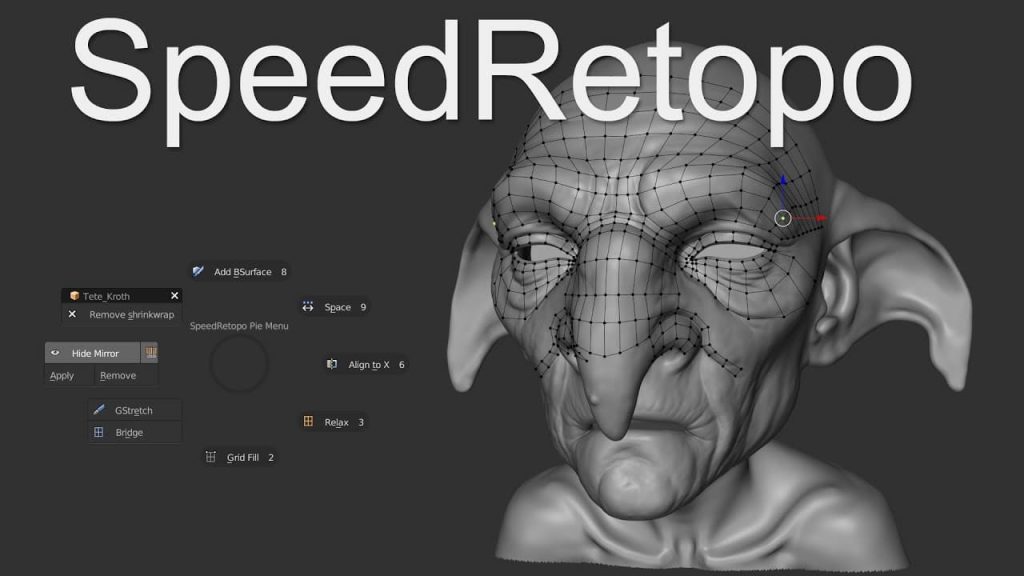 This is another entry among the free addons for Blender dedicated to remeshing your sculpts. Before Starting the Retopology, you can choose which tool to use. Such as Simple Vertex, Bsurface, or Polybuild. Also, you can add/remove/Update the Modifiers and use the available tools. The add-on creates a mesh, and when you are in the edit mode, you just have to draw Grease pencil lines and click on Add Bsurface.
If you're interested in this awesome addon, you can find it here: https://gumroad.com/l/speedretopo
16. Easybpy
This addon was created to make using Blender API easier because it gives you the ability to language that is appealing to the average Blender user, in addition to that it reduces the user's exposure to complex code paths. Basically, this addon is a simple method for those who are not familiar with programming languages to create tools in Blender. But if you are good at using them you probably won't need this addon.
Download the addon here: https://gumroad.com/l/easybpy
15. Retopo MT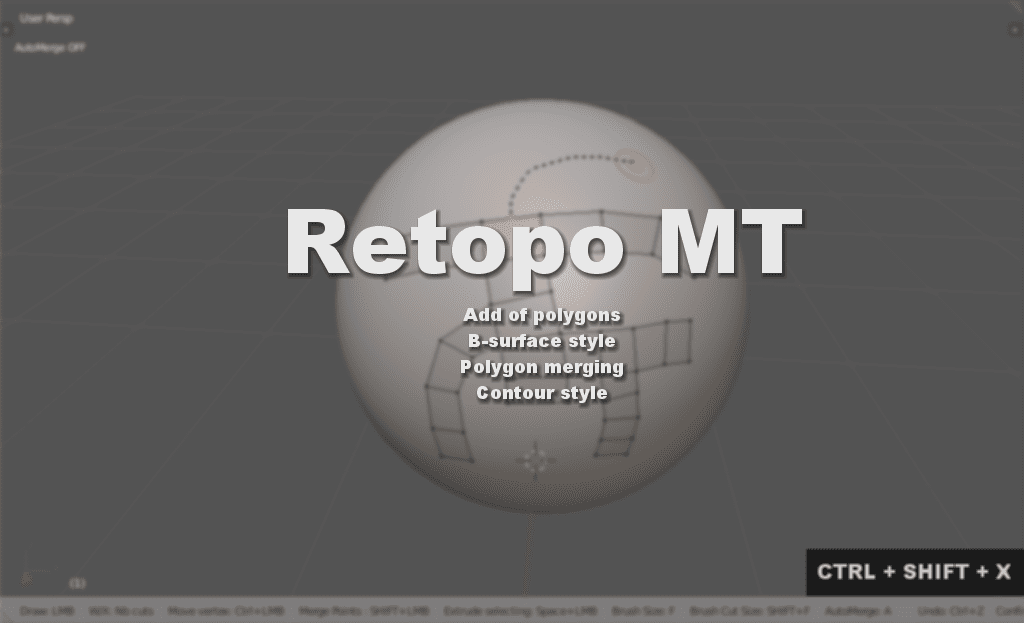 This addon offers nice tools and it works nicely with some other addon too. Its simple approach and tools allow you to create smooth and clean meshes easily.
For example, B-surface style allows you to draw lines or select points to create or generate quad surfaces smoothly. Polygon merging as the name suggests is a tool that allows you to merge the vertex in the circle. Also, there is the Contour style tool that allows you to create retopology meshes around circular meshes very easily.
Find the addon here: https://gumroad.com/l/cngnb
14. JArch vis
JARCH Vis is one of the free Blender addons for architectural visualization that helps artists to create certain architectural objects in a way that makes them easily customizable. The architectural elements that can be created are: Siding elements, Floors, Windows, and Roofs.
You can download the addon here: https://github.com/BlendingJake/JARCH-Vis
13. Scatter Objects
The Object Scatter addon for Blender allows you to scatter a mesh on a surface. It doesn't have to be a plane that you want to scatter objects on, it can be a sphere for example. It can be used to scatter any type of objects across surfaces. Like grass on a terrain, buildings on large surfaces or anything else that can take an insane amount of time to scatter manually.
This is also one of the free Blender addons that are built-in the software. And it can be used to generate some interesting results without any financial requirements.
12. COA Tools
The COA Tools is another Blender Addon For Rigging that comes as a combination of tools that are used for Cut Out Animation. These cutouts are sprites and the addon offers a lot of the tools you need to animate them. And it is easy to use as well. While we have now grease-pencil, it seems to me that the COA tools is still pretty handy. Because it offers everything you need in one panel, it feels like a streamlined application.
Get the addon here: https://github.com/ndee85/coa_tools
11. Checker
This is actually a part of another paid addon known as ZenUV so if you have the paid one you don't need checker free addon. As the name suggests, it allows you to properly arrange and check the UVs of your 3D models properly by using simple and fast tools and features such as :
A Node-Based System that allows you to add textures without ruining your UVs.
Special and easy-to-read Checkers.
In addition to a tool that allows you to filter existing textures by resolution, square and rectangular formats.
This tool also escaped the free Blender addons list very recently. So we had to update this article and remove the link to the (no longer available) free version. You can still pay $1 to get this addon though, and here's the link: https://blendermarket.com/products/checker?ref=247
10. RigFlex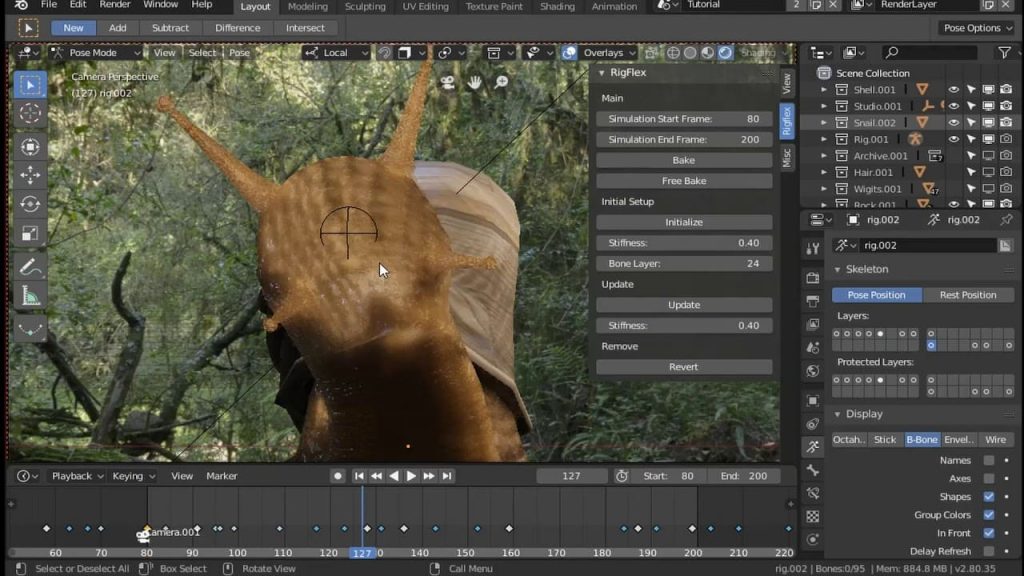 The developers of this addon actually worked on Rigflex a few years ago as an experiment, but later, it was proven to be a handy tool. After a while, they gave it a re-vamp and ported it to Blender 2.8.
The movement of many animated characters is improved by some sort of soft body simulation. Antennas, clothing, tails, feathers, scales – you name it. Blender has a variety of techniques for this but it takes a while to get it right. Often, it is needed to add just a simple 'lag' action to pieces of the model, such as antennas, backpacks, hair strands, and so on. Also, not long ago there has been an older addon that has a similar aim (called Jiggle Armature).
Get the addon here: https://github.com/nerk987/RigFlex
9. Real Camera
As the name suggests, Real Camera is an addon that allows you to control the Blender camera. It is almost like a real camera inside Blender. This will allow you to have control over many features that real cameras have. For example, it will enable you to have a real camera like autofocus and exposure when rendering your projects.
There are some other settings like Aperture, Shutter Speed, and Focal Length. But, the main point of this addon is the auto-exposure and autofocus. And like using a real-life camera, there are certain features that can be replicated and controlled using the same principles. It doesn't only belong to the free Blender addons squad, but the best ones too.
You can download this great addon here: https://3d-wolf.com/products/camera/
8. Camera Manager
The camera manager addon for Blender allows you to add cameras and it's a marker in the timeline. Besides that, the add-on comes with interesting features that come in handy when you are working on an animation. It will save a lot of time managing the camera's in that case.
This addon has a clear interface that can help you see and manage your cameras very easily. For example, you can at any moment align the camera with an object and lock it on it. You can also align the camera with a view or track the camera to an object. In addition to that, you can create camera markers that allow you to animate the process of switching cameras. We posted before to cover some of the best Blender camera addons that will ACTUALLY be worth the money you'll be spending on them.
With that being said, you can choose to download the free Camera Manager here: https://github.com/wisaac407/blender-camera-manager
7. Advanced Boolean tools
This addon comes with nice Boolean tools and modifiers that can make the process of modeling hard surfaces easier. Even though this addon is free, it can help you achieve really great results. It comes with a handy pie menu with the Boolean operation, cleaning mesh, wire-shading, edit normals, some modifiers, and bevel operations. Some of the modifiers are:
For example, You can use the Boolean by creating a plane, give it thickness then cutout the difference. Which is great for creating hard surface details in a very short period of time.
It definitely deserves a good spot among the free Blender addons that are worth trying. You can download it here: https://gumroad.com/l/nd9h_abt
6. Renderman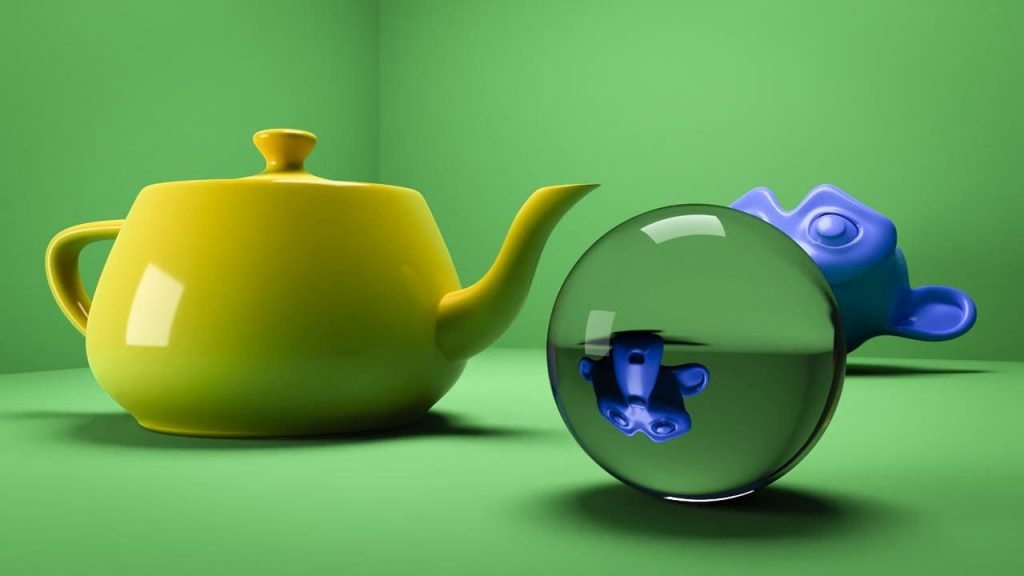 Pixar RenderMan is a very strong and efficient render engine produced by Pixar Animation Studios. They use RenderMan to render their in-house 3D animated movie productions. And it is also available as a commercial product licensed to third parties. On the other hand, it is completely free for those who don't want to use it for commercial purposes.
Although we casually selected this tool among the free Blender addons, it's worth mentioning that it's only the case for personal use. You can find it on Github by clicking here.
5. Rigify
Rigify is a rigging addon that is shipped with Blender. Moreover, it is an automatic rigging system generator that you can use in production. The good thing about this tool is its simplicity, because it takes out the technicality of rigging and makes it more artistic. Anyone can create a character and rig it in minutes using this tool.
Which is a great thing for professionals that don't have a lot of time, or beginners that don't want to fry their brains with the complexity of rigging especially when starting out. Consequently, it carved a nice spot on the best Blender addons list we collected for you.
Since Rigify comes with Blender, you'll just need to activate it to start building your rigs.
4. Machine tools
MACHIN3tools is a free, continuously evolving collection of blender tools and pie menus in a single customizable package. This addon is basically good for functional purposes like working in the 3D view, Pie-menus but there are also features for editing like clean-up mesh, smart vert, smart faces, and so on.
Machine tools is created by the same developers of Meshmachine and Decalmachine. The difference is these two don't belong to the free addons for Blender because they're paid, but we included them in our list of the best Blender addons for hard surface modeling if you're interested.
But you're here for the free one, right? you can download it here: https://gumroad.com/l/machin3tools
3. Textools
It is a collection of tools that helps artists with UV and texture-related tasks. The main philosophy is to shorten typical steps into simple context-sensitive single clicks. Textools addon comes with Size tools, UV Layout tools, Selection tools, Texel Density tools and it can do Texture Baking as well. This tool is really good for doing UV unwrapping work if you need something that allows quick or fast UVing.
This is one of the free Blender addons that are dedicated especially to UV unwrapping. However, if you're looking for an extensive list, you can check our detailed post on the best Blender addons for UV unwrapping and UV packing.
You can download the Textools addon from GitHub here: https://github.com/SavMartin/TexTools-Blender
2. Kit Ops 2 Free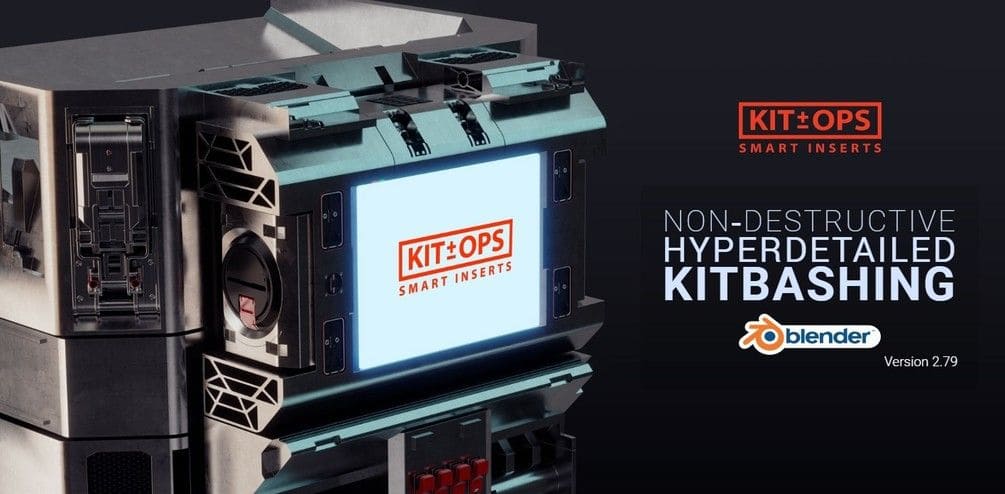 KIT OPS is one of the free Blender addons for hard surface modeling that you can use to instantly cut and add to existing objects. Or create standalone objects with the goal of rapidly creating and exploring new designs. This addon is very effective and so easy to use, you don't even need a tutorial to understand how it functions you can right away start using it in your projects.
The Free version can take you a long way but if you want more features the pro version of this addon is absolutely worth it. We've already posted a detailed and extensive article covering this awesome kitbashing addon that would revolutionize your workflow.
With that being said, get the free one here: https://gumroad.com/l/kitops
1. Animation Nodes
The Animation Nodes addon hands down the best addon for motion graphics and animation in Blender. It is a node-based visual scripting system designed for motion graphics in Blender. The main goal behind it is that users have a very customizable and extendable node framework. You can use it as a powerful driver alternative, text manipulator, animation replicator, and much more.
Compared to the other addons on this list probably Animation nodes is the most complicated. Because it is the most advanced and allows you to created professional motion graphics using Blender.
Actually, the developers created a website in which you will find a detailed manual that includes all the necessary details about what this addon can do. In addition to the way you can use it, which is a great starting point if you have little experience. Here's the GitHub repository where you can download the addon: https://github.com/JacquesLucke/animation_nodes
Conclusion (and why you should get these free Blender addons)
The first obvious reason is the fact that they may not remain free forever, as you've already seen above. Some addons got a price tag after a few months of being free (although a $1 price tag isn't much but still, free means free). The second reason would be the immense value that you'll be getting, often compared to the one provided by pro addons. So don't hesitate to get your hands on these valuable tools and let us know what you think. If you know any other free addons that we didn't mention, feel free to extend the list in the comments below. Happy Blending!