This article will cover 12 fantastic Blender addons for hard surface modeling. If you want to make the process of modeling complex hard surfaces using Blender easier then you should consider using some of them in your workflow.
Are Blender addons for hard surface modeling worth it?
Hard surface modeling is definitely known for its complexity, let alone its time consumption. Most 3D artists find it interesting, certainly because it allows them to unleash their creativity. However, sometimes it becomes too tedious to even finish a project in a timely manner. This is where Blender addons for hard surface modeling come in very handy. I'm sure you'll agree with me after you discover all the features that they have to offer.
12 – Loop tools
Our first entry of this Blender addons for hard surface modeling list is Loop tools. It is a useful add-on that comes with the software itself. Back in the previous versions of Blender loop tools was one the only way to get some important hard surface stuff done. But now there are many other alternatives, however, it is still good.
This addon has a lot of operators for turning any number of edges into a circle, making sloppy loops into a perfect curve, flattening things at strange angles just to name few things that loop tools can do.
free, ships with Blender, just activate it
11 – Cablerator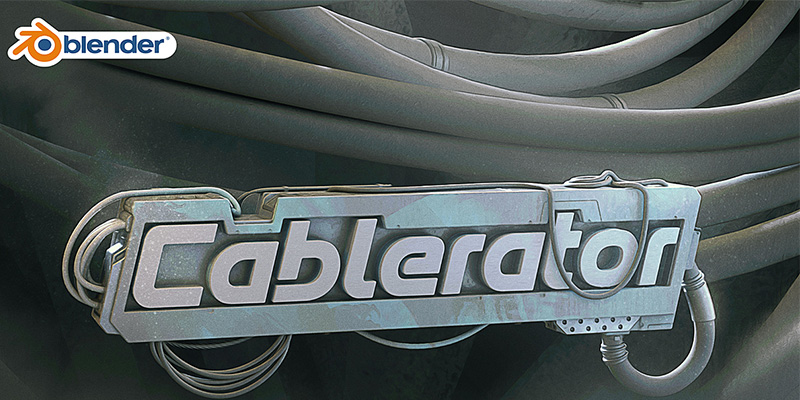 This is not exactly an addon that will help you create and edit hard surfaces. It comes very handy if you want to add cables to your projects in Blender. Including hard surface modeling projects such as robots, ships, and so on. You can use this fantastic addon that allows you to do that easily and in a very short period of time. It has many different features and tools that can be more than enough to create all sorts of cables and manipulate them as you please.
For example, you can:
Create a simple cable.
Draw cables on flat surfaces.
Connect a cable to a surface
Connecting 2 cables together
Add Connectors to Cables
Add connectors to multiple Cables
Add segments
Copy segments along with cables.
Connect multiple objects
Create a pack of cable and more.
Addon's page: https://blendermarket.com/products/cbl?ref=247
10 – Advanced Boolean tools
This add-on comes with nice Boolean tools and modifiers that can make the process of modeling hard surfaces easier. Even though this addon is free it can help you achieve really great results.
It comes with a handy pie menu with the boolean operation, cleaning mesh, wire-shading, edit normals, some modifiers, and bevel operations. Some of the modifiers are Array-, Mirror- and Solidify modifiers.
For example, You can use the Boolean by creating a plane, give it thickness then cutout the difference. Witch is great for creating hard surface details in a very short period of time.
Free/Pay-what-you-want : https://gumroad.com/l/nd9h_abt
9 – The Shipwright
This is a Blender set-up that allows you to dynamically create interesting looking objects like Sci-Fi ships and parts. And this allows you to automate the process of extruding and manipulating objects.
Basically what this add-on allows you to do is to create a wide range of objects based on seed values. But It takes at least 10-15 seconds for the add-on to recalculate with the default set-up.
Furthermore, the changes you make in parameters will automatically update the model. You can also create objects that you can further edit and combine in Blender.
Plating Generator
Shape Generator
Hull Texture
Addon's page: https://blendermarket.com/products/shipwright?ref=247
8 – Bool Tool
This add-on is a nice way to create complex Boolean effects in a simple way. Like a lot of the other tools available for Blender.
It is free and available for all Blender users because it is a built-in add-on. But it can be a very effective way of starting to use boolean tools before deciding on more advanced addons that we are going to go over very shortly.
Their paid ones are better alternatives for this tool but they operate using the same basic principle. Which is using primitive geometry to perform a Boolean operation to add or extract details. I would say it can do a good job for complex modeling or hard surface nonetheless if you can't afford paid ones.
Free: https://github.com/ranjian0/building_tool
7 – Machine tools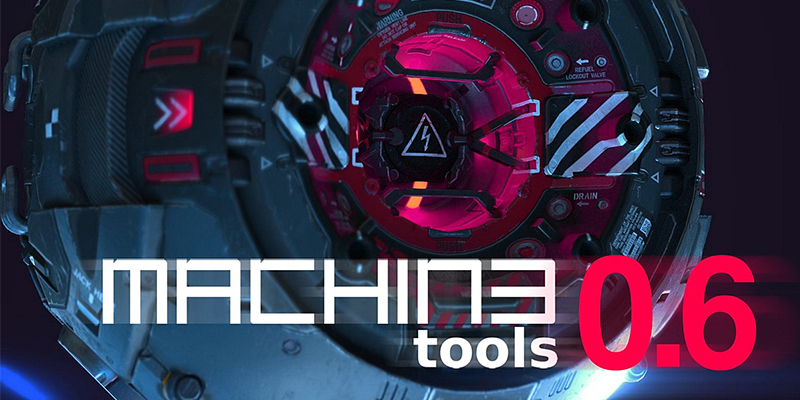 Machine tools is a free, continuously evolving collection of blender tools and pie menus in a single customizable package.
This addon is basically good for functional purposes like working in the 3D view, Pie-menus. But there are also features for editing like clean-up mesh, smart vert, smart faces, and so on. Machine tools is created by the same developers of Meshmachine and Decalmachine. The difference is these two Blender addons for hard surface modeling are not for free.
This machine tools free addon can be a good introduction to doing certain things in hard surface modeling. But if you want more keep watching (reading).
Addon's page: https://blendermarket.com/products/MACHIN3tools?ref=247
6 – Fluent
This is one of the most interesting and powerful Blender addons for hard surface modeling. This is the case because it can combine many tools and functions the addons on this can do and more.
When it comes to boolean operations, Fluent is very good and can do a lot of things, but this is not just it. Because it can do a whole lot more.
For example, you can turn any selected surface into a cloth panel which can be useful for many situations. You can also, connect different pieces of geometry or connectors using cables that can be manipulated according to your needs. Whether you want them to be straight, curved, or anything else.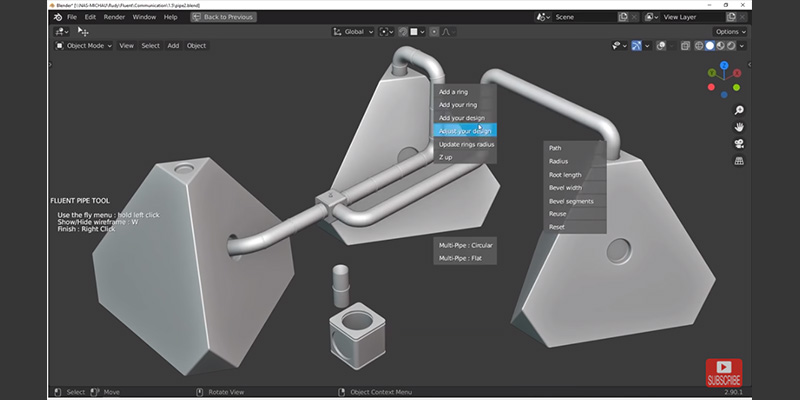 If you need to create a chain, this addon got you also covered because it has a tool for this too. And if you want to add cables, changes, or pipes that you personally made you can do this too. In order to have more control and freedom when working on your projects. In addition to that, you can slide objects along pipes as well to be able to add connectors in the right place.
It goes further to allow you to add the ability to unwrap or UV map your model with one click.
Addon's page: https://blendermarket.com/products/fluent?ref=247
5 – Kitops pro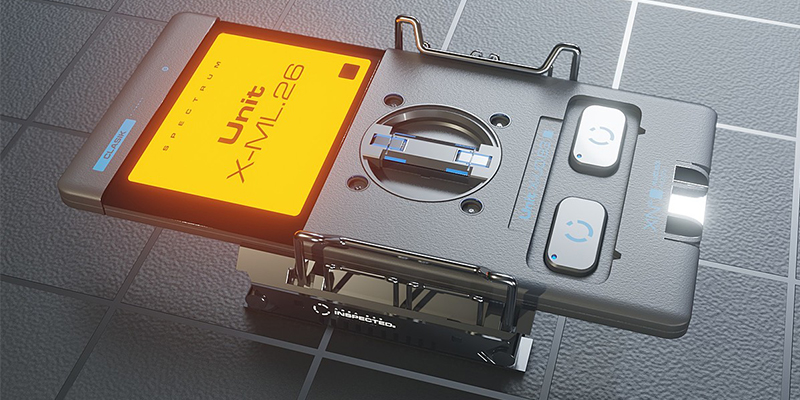 KIT OPS PRO is one of the Blender addons for hard surface modeling that you can use to instantly cut and add to existing objects. Or create standalone objects with the goal of rapidly creating and exploring new designs.
The Pro Version of this addon comes with a pack that includes 300 high-quality inserts that you can use to take your designs and models to the next level. And most of them were created by masterxeon1001 himself! a Great Blender artist and a developer of popular Blender add-ons such as Boxcutter. But the addon was developed by Chipp walters, an industrial designer with many years of experience.
This addon is very effective and so easy to use, you don't even need a tutorial to understand how it functions you can right away start using it in your projects. After you install the addon and the packs that come with it, you will be able to see several lists that have different inserts organized based on their type.
For example, if we start from the MA cutters complex pack. We can see more than 30 highly complex inserts that can help you add details to complex designs such as robots, spaceships, or industrial machinery in record times.
And there are many other packs that help you add amazing details to different hard surface modeling projects.
Addon's page: https://blendermarket.com/products/kit-ops-pro-asset–kitbashing-addon?ref=247
4 – Hard Ops
Hard Ops is a joint collaboration between its original developer and many other artists. In attempting to streamline a hard surface modeling workflow in Blender.
This add-on one of the best Blender addons for hard surface modeling due to the tools it can offer. To clarify, it can make the process of hard surface modeling easier and faster. Above all, it is used by many professionals in different industries such as film and video game development.
This addon is powerful first of all because it has a Modifier based Non-Destructive Workflow. With Menus and Active Tool to be able it efficiently.
Some of the tools you can use include Smart shapes via hopsTool, Non-Destructive & Destructive boolean cutting system, Circular Arrays and normal Arrays. In addition to Multiple Interactive Modifier popup with hotkeys for efficiency and much more.
Addon's page: https://blendermarket.com/products/hardopsofficial?ref=247
3 – DecalMachine
This is one of the top blender addons for hard surface modeling. Especially when it comes to adding mesh Decals when detailing hard surfaces in a very non-committal, non-destructive, UV-less way. The library is very interesting and it contains very beautiful and well-designed decals that can help you work on a wide variety of hard surface projects. And you can even create emissive decals that look fantastic especially for sci-fi stuff. In addition to that, you can create your own if you need to in case what you are looking for does not exist in the library.
You can do a lot of things with these decals: they can be sliced, projected, or created edges even, depending on your particular project's needs.
And the good thing is if you already added materials to the surface, they can blend in with the material and fit in perfectly. Also, DecalMachine has trim sheet support and Trims can be easily placed, cut, manipulated, or removed directly in the viewport.
For many Blender artists, this addon is a huge time saver, you should try it out.
Addon's page: https://blendermarket.com/products/DECALmachine?ref=247
2 – Box cutter
This is one of the most popular Blender addons for hard surface modeling in the community because it is a very fast and efficient surface cutter.
It is an ever-growing and expanding set of tools that can help you save a ton of time. Especially since it is optimized to be as fast as humanly possible for Blender users.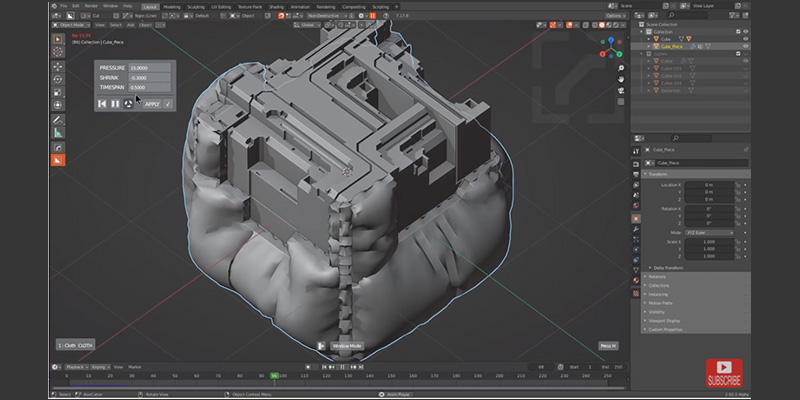 Boxcutter operations are non-destructive, which means that it can guarantee that shapes will be kept alive until you decide to apply them.
The tools you can use include Cut, Slice, Inset, Join, Knife, Extract, Make. In addition to other options to personalize your experience and to be able to work even faster according to your personal workflow. You'll be amazed by what this addon is capable of .
Addon's page: https://blendermarket.com/products/boxcutter?ref=247
1 – Mesh Machine
MESHmachine is a Blender mesh modeling addon with a focus on hard surface work without subdivision surfaces.
This is probably the best Blender addon for hard surface modeling for AAA video game assets or high poly models in general.
It has a lot of great features that can make heavy hard surface modeling work way easier than relying on Blender tools alone. Because there are a lot of tools in addition to some ready plugins that you can insert directly.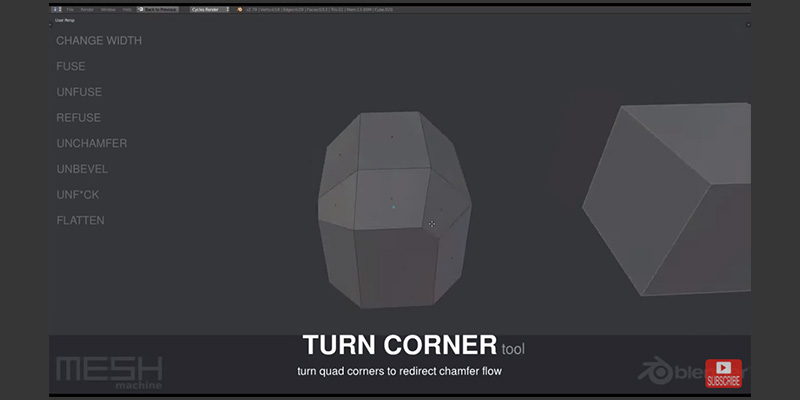 For example you can use tools such as fuse, unbevel, , chamfer, unchamfer, offset, Boolean tool and so on. And you can use techniques such as variable fillets, washouts technique
It is great for doing chamfer, bevel, and boolean operations in addition to many more functions that you can test for yourself. The interesting thing about it is that it makes difficult hard surface modeling tasks look easier and way less time-consuming.
Addon's page: https://blendermarket.com/products/MESHmachine?ref=247