With so many photo editing programs out there, it's hard to know which one will be right for you. Affinity Photo and Adobe Photoshop are two of the most popular options on this list, but how do they stack up?
Table of Contents
Here is a quick comparison between two popular photo editing programs: Adobe Photoshop vs Affinity Photo. We compare the features of each program so that you can decide which one would be best for your needs!
What is Affinity Photo?
The Affinity photo program is a robust and powerful way to edit your images. Developed by serif, this line has been around for over ten years now! It has been born to work in tandem, seamlessly connecting between different platforms for maximum convenience – so you'll never miss out!
With Affinity Photo's raw power, you'll be able to work at a speed that is unheard of for most other programs. In addition, it has an incredible toolset with features tailored towards professionals who need them the most!
What is Photoshop?
It was first released in 1987, and has gone on to be one of Adobe's most popular programs ever since! Photoshop is the best tool for editing graphics and images. The program was created to edit photos, but it can be used as a general-purpose design package too!
Its power lies in its flexibility; with an extensive range of tools including advanced brush settings available on desktop versions (and apps), Photoshop has never been more relevant than nowadays both professionally or personally.
When it comes to choosing the right software, many factors go into making a decision. Luckily for you though we've taken all those pesky selections and boiled them down in this easy-to-read features guide! So sit tight as our team forecasts which features will make your choice clear.
Key features
Affinity Photo
Affinity Photo is a great editing application, but it lacks some features that Photoshop offers. For example, Affinity doesn't have 3D capabilities or animation tools like those found in Adobe's popular graphics program!
Using Lightroom with affinity, you can import PSD files, import Photoshop brushes, use most *Photoshop plug-ins, and edit using Photoshop plug-ins.
Templates are organized by output, making it easy to choose one.
In the Tone Mapping persona, the standard software includes several presets for photography.
Saves up to 7,000+ steps of the undo history after you close the project. It allows you to restore older versions of documents and protects you from accidental changes.
A persona-based workspace with categories such as Photo, Liquify, Develop, Tone Mapping, and Export. Each persona becomes associated with a specific set of tools, resulting in less confusion and a more efficient editing process.
Raw images can be edited using the Develop persona in Affinity. Simple edits can be made in this workspace to prepare the raw image for further editing.
A live preview of a brush effect lets you see how it will look before you apply it.
With the shape and pen tools, you can create vector shapes.
Adobe Photoshop
The software can sync with Cloud Documents, an online storage service that lets you access your designs worldwide. When you switch from one device to another, Cloud Documents can sync quite well. It also handles big files exceptionally well.
The Photoshop family of applications works well with each other. One of the best plug-ins for importing and enhancing raw images in Adobe Camera Raw. In addition to Photoshop, other applications such as InDesign, Lightroom, and Illustrator work great with it. There are more than 20 Adobe products overall.
A font library with thousands of options is available through Adobe Typekit. By clicking the activate and deactivate buttons, you can easily download and offload them.
You can access Adobe Stock, a huge collection of stock images, through the Adobe Creative Cloud application. There are license credits attached to each asset, which can be obtained via subscription or purchased individually.
Pricing
Affinity Photo's one-time purchase price of $49.99 allows you to have access not only to the desktop version but also to all additional kits and bundles available in their shop at an extra cost of $20.00.
Adobe Photoshop is available to all via subscription, with the lowest base price set at $9.99/month for individuals on annual terms or education institutions paying less than half that amount per user every three months – it's up to you!
Adobe is growing in price while Affinity's one-time purchase will be more worth it in the long run.
User Interface
Affinity Photo has an elegant user interface with dark colors and simple features, making it easy on any level of photographer!
While both Adobe Photoshop and Affinity Photo have similar tools to the left, more panels are right beneath them with identical tabs up top. You can move each panel around on either side for your convenience – they'll magnetically snap into place when you're done using it!
One major difference between these programs though is that while PS allows users to save custom workspace settings in order make editing easier later down the road; AP doesn't allow this functionality at all which may be why some people prefer one over another.
The Affinity Photo workspace is more organized than Photoshop. It has separate workspaces for different types of tasks, which makes the interface less cluttered and easier for your eyes!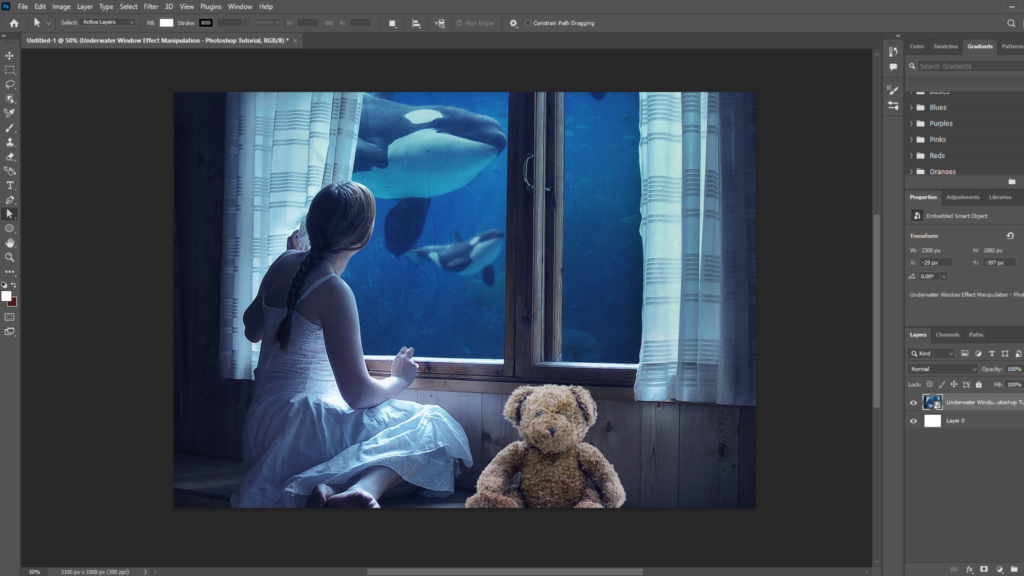 The Adobe Photoshop workspace can be customized with different settings to suit your needs. You are given the option of choosing from Essentials, Graphic and Web, or 3D mode depending on what type of project you're working on at any given time!
Workflow
While both programs offer a great deal of flexibility, Adobe Photoshop has better workflow advantages due to its compatibility with Lightroom.
Lightroom is a great tool to organize your photographs, but it's part of an Adobe family. Though there isn't anything as good when you need tools for managing large amounts in the current period – Affinity Photo has its version that does just what we want!
Photoshop has a tool called Action, while Affinity Photo offers Macros. Macros and Actions both let you record a series of actions. The difference is that Macros have limited functionality compared to Action, which has more robust capabilities because it's not simply an automation tool – there are also other ways in which this particular program can be used too!
Learning Curve
Some people might find Photoshop or Affinity Photo too complex to learn on their own. However, there are plenty of tutorials and lessons online that can help you get started with these programs!
Adobe Photoshop Learning curve
The Adobe Photoshop 24-hour, Monday through Friday chat is a great place to get answers to your questions. They also have an extensive community forum where you can ask for help from other creatives and professionals in the industry, who are willing to share their knowledge with others on these platforms!
Adobe has an extensive tutorial library that will teach you everything from Photoshop's basics to advanced lessons. There are written tutorials and video training videos available for whatever task or skill level one may need!
Affinity Photo Learning curve
With Affinity, you can find the answers to your questions about video production and post them for others in a forum. You also have access through email support if chat or phone services aren't available on their site!
Affinity has a Start Guide and workbook to help you get started with the program.
You'll have no problem getting used to Affinity if Photoshop is already your go-to. The two programs share many similarities, such as ease of use and functionality – so any experience with one will transfer over nicely into the other!
Both programs have a robust support system and offer intuitive features for those who are just starting. However, in terms of learning curves, they are not equivalent: Photoshop's learning curve is significantly steeper than Affinity.
Conclusion: Photoshop vs Affinity Photo winner
Photoshop and Affinity Photo are both powerful, raster-based photo editing programs. They each have unique features that you'll need to take into consideration when making this decision for yourself!
If you're looking for an affordable, yet powerful graphics software that will let your creativity shine through – Affinity Photo is the perfect fit. If you're on the other hand looking for industry-standard software, Photoshop is the one to go for. You'll be able to do almost everything with it.
We hope you found this video useful and informative. Comment below if you think that we've missed something or if you have any other suggestions. Thank you for watching as always and see you next time.