You need software for organizing, optimizing, and editing digital photos regardless of whether you shoot with a smartphone or work in a studio. Currently, smartphone cameras offer more functionality than classic point-and-shoots, and pro-level cameras now reach 150 megapixels.
Ever-more-powerful features are being added to photo editing software. Both people who shoot with smartphones and those who shoot with advanced digital SLRs care about how well their photos turn out. The best results can be achieved by importing the images onto your computer for organization, picking the best ones, perfecting them, and then printing or sharing.
Photography is a craft that takes time and patience, but with the right tools in your arsenal, you can achieve amazing results. We have compiled this list of the best photo editing software for aspiring photographers who want their work to look its best.
How Can You Choose the Right Photo Editing Software?
A $52,000 Phase One IQ4 shooter may want different photo editing software from a mobile photographer. Our PC software reviews link to all levels of software, and you can determine which is right for you by reading the reviews. Professionals should be able to use entry-level programs from time to time, while "pro-sumers" should be able to use Photoshop. As a rule, those at each of these levels will find the products intended for them the most convenient.
In order to help you choose the right photo editing software, we considered the following factors:
Your photo library is organized, synchronized, and accessible
Adding depth and versatility to photo editing
User-friendly
Power
Shareable options
Support for various devices and file types
Creativity
Enjoyable
What Is the Best Way to Edit Pictures Online?
You can learn a lot about your personality by what kind of pictures you take. From the colors to how many people are in them, it's fascinating how different our lives would be without this documentation! So if you're looking for some new ways to document life then check out these photo editors available on both Google Photos or Flickr with their own unique features tailored just for photography enthusiasts like yourself.
Entry-level photographers may benefit from online photo shooters, and we have included a bunch of them on this list. Generally, they're free and often come equipped with online storage options which allow users to get creative when sharing photos across social media platforms, .etc.
It's the Image template library of the highest quality.
You can easily design social media posts, YouTube channel art, birthday cards, and even Facebook posts with DesignWizard's thousands of pre-made image templates.
Features:
At this site, users will find more than one million images, tens of thousands of videos, graphics, and illustrations of the highest quality.
Each image and video can be used for commercial purposes.
It is easy to share content instantly via social media.
Facebook, LinkedIn, and loyalty cards are examples of marketing templates.
You can resize images, add text, and add logos with this simple photo editor.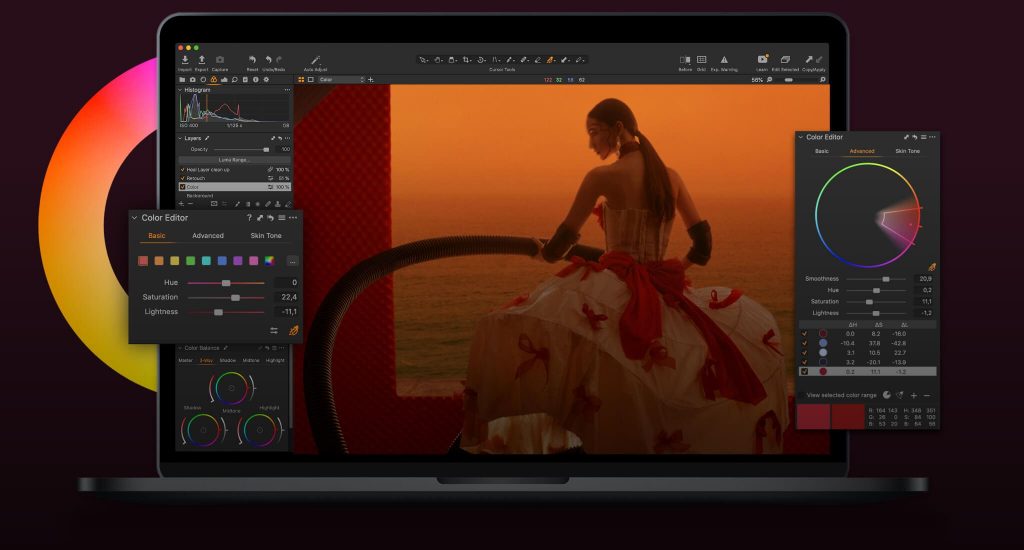 Capture One is a photo editing software created by Phase One, a company that makes cameras. While RAW image editing software may look like any other image editor at first blush, it offers a unique set of features. You should choose this over Adobe Lightroom if you mostly want to enhance RAW images.
Aspects to keep in mind:
Masking without Photoshop is possible with this program.
Performance is excellent despite the large number of images involved.
Color and white balance adjustments are more flexible with Advanced Color Editing.
Depending on your preferences, the interface can be customized.
You can adjust several layers at once without getting slow.
CONS:
You can't export an image without a watermark. You will have to process it to remove the watermark.
Dehaze tool is absent
No cloud storage option
If you want to brush up on your editing skills, PicMonkey is recommended for beginners. In addition to photo editing, it offers many other features such as cropping, touch-up, and collage. Professionals can also use it as an alternative to other heavyweight photo edit software because of its simplicity, ease of use, and simple features.
Aspects to keep in mind:
Mobile apps for iPhone and Android allow you to edit images easily.
An excellent selection of templates.
Advanced tools for creating stunning images.
Regular updates bring new tools and features.
This photo editing software doesn't require you to be an expert
Designed for people with no graphic design experience. You can create and edit images for your social media profiles and website with Stencil, an online photo editing software. It is perfect for social media marketing professionals, bloggers, and small business owners, and has a user-friendly interface.
Social media images, such as banner ads, headers, profile pictures, posts, and more, can be made easily with this program.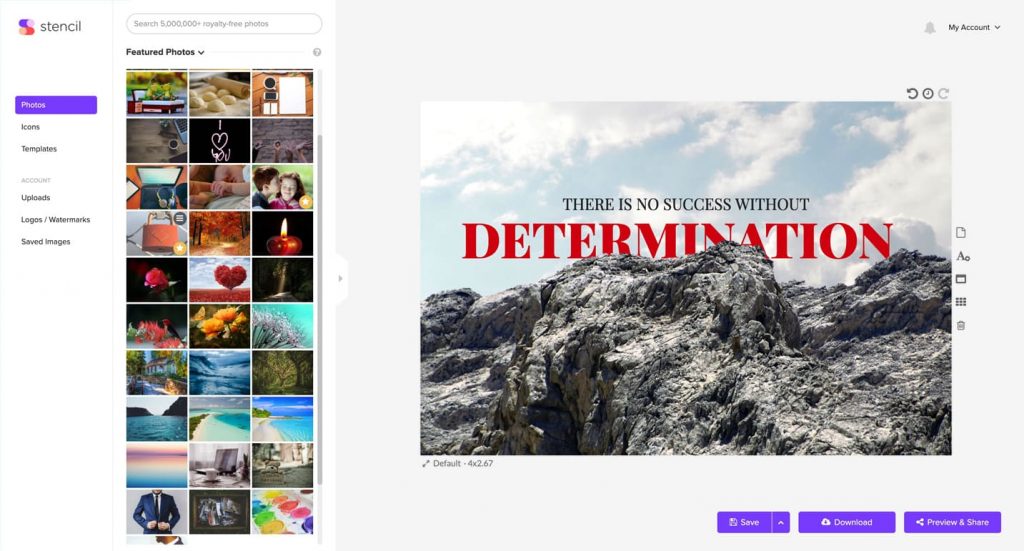 The following are just a few features of the system:
Instant image resizing.
Ability to store and upload multiple logos.
Different browsers addons that are easy to use.
Identify safe spots in your image to put content.
From your dashboard, you can share images on a variety of social media platforms.
Keep all your 'favorite' icons, logos, and images separately for quick access.
Stencil comes with a bank of over 5 million royalty-free images in high resolution that you edit within your Stencil dashboard. Additionally, you can create different designs with over 1200 templates.
A popular online photo editing software for creating beautiful photo templates is Canva. Users with little technical knowledge can edit graphics thanks to the simple user interface. Several layers can be added to your photos with its user-friendly drag and drop editor. The program allows you to customize your photos for social media or your website by adding fonts and graphics.
Among its main features are:
For on-the-go design and editing, it offers a mobile app.
Creating visual content is easy with the more than 8,000 templates, photos, icons, and cards available in this tool.
Image cropping and straightening.
Provides a speech bubble maker.
A decent computer can be used to access it since it is online
Its extensive library of images and designs is available all the time.
Cloud-based photo and design storage.
This software facilitates the effective melding of imagery to create stunning composites that look both natural and realistic. Using Aurora's AI-based neural network, a photographer can create HDR images from a single file instead of using traditional HDR methods.
Here are some of its Aspects to keep in mind:
You can create stunning HDR images with the 20+ tools that are included in this program
Boosts depth and detail by intelligently reducing noise
The HDR clarity feature enhances contrast localized within the frame for better results
In just a few seconds, you can transform RAW images into creative masterpieces thanks to its 80 unique presets
In the manual mode, you will be able to control your camera exactly as you wish.
Another powerful Adobe product is Lightroom. If you are a photographer who wants an easy-to-use yet powerful tool to be able to edit your images, this is the right tool for you. Lightroom Classic and CC offer a better user interface than Photoshop, which has a complicated and intimidating user interface.
The following are some of its incredible features:
You can customize sliders.
Tools for removing blemishes and fixing defects.
Multiple devices can be synced.
Lens-based and cam-based corrections.
Adjustment tools for gradients and brushes.
Numerous presets and professional filters.
The ability to detect faces helps in organizing photos more effectively.
CONS:
Options for editing are limited
Neither layers nor blend modes exist
Designing graphics is limited
Adobe Lightroom can be replaced by Skylum Luminar. Due to this, its popularity has grown.
With this program, you can edit images with more power at a more affordable price. Luminar 4 is faster than its previous versions. It is a perfect blend of both Lightroom and Photoshop. Those who use it will get both of their functionality.
This software has the following notable features:
Automate photo management with clever shortcuts.
The content of the hard drive is always updated in the folders.
You may choose between viewing filmstrips, galleries, and single images.
Technical support and sales assistance are available 24/7.
Less lag time with fast editing controls.
Masks and adjustment layers.
Enhancing the sky with artificial intelligence, and rays from the sun accidentally activated by AI.
CONS:
There is no guarantee that healing or cloning tools will work in every situation.
Improvements could be made in the organization and management of workflow.
A capable photo editing software tool at an affordable price, Corel PaintShop Pro is available for Windows. Sometimes referred to as a Photoshop alternative, the program lacks advanced functions, such as Camera Shake Reduction, 3D modeling, Faces Liquefy, detailed typography, and so on. Nevertheless, Corel PaintShop Pro is a good choice if you want an image editing software with basic yet effective features.
You should give it a try because of its unique features:
Beginners will love it
The ability to edit 360° images
Smooth and crisp user experience
Using pre-existing templates, designers can get started right away
Gradients, picture tubes, colors, and palettes are just a few of the features in the library
CONS:
Windows is the only operating system that supports PaintShop Pro. A Mac version is not planned in the near future.
I would like to highlight Adobe Photoshop as one of the best photo editing software. Since Adobe Photoshop is one of the most well-known names in photo editing, there really isn't any need to explain it. It is a perfect solution for professionals. It offers virtually any editing feature you can imagine.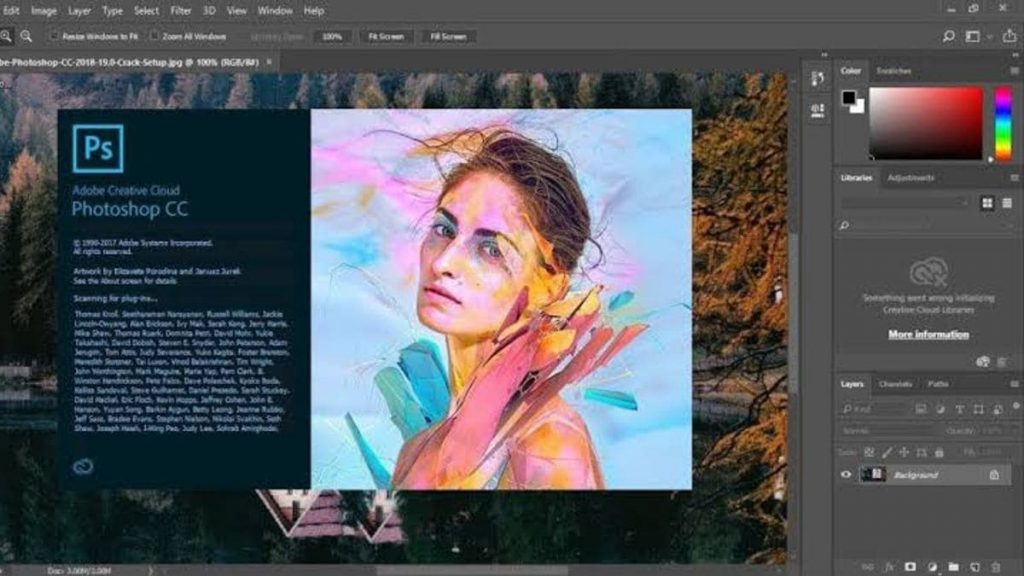 Including all of Photoshop's features is practically impossible. Consider these key aspects before making a buying decision:
These tools are the best in the market for masking and selection.
Retouching and cloning capabilities are incredible.
Even with larger images, Photoshop is lightning fast
The company offers depth map editing tools for HEIF files and support for HEIF format depth maps.
As well as supporting all the standard file types like JPG, PNG, and GIF, Photoshop also supports raw files.
For non-destructive editing of your images, adjustment layers are used.
Are There Free Photo Editing Apps?
If you're an aspiring photographer, then the smartphone camera is hardly cutting it anymore. You might be wondering what programs are out there to take your photos from ordinary and make them extraordinary? Well, don't worry because we've got some great news for all of our readers who want better results! With up-to-date computer software such as Microsoft Photos app in a touch-friendly interface that offers manual correction tools like blemish removal or face recognition capabilities along with side raw file support with automatic editing options too; this will allow users greater creative control when taking pictures.
Apple Photos does a few things too, though its automatic albums aren't as editable. The Apple iCloud and the Microsoft OneDrive program also sync with online storage services. If you take pictures of your dog or flower, the application will identify the type of object you are taking a picture of.
Apple pictures integrate well plugins such as Perfectly Clear that help enhance images while adding effects like filtration snow-scapes during winter months.
The free photo editing software that Ubuntu users are covered with is capable-enough, it can be used in the Shotwell app. And no discussion of this topic would be complete without mentioning GIMP (GNU Image Manipulation Program) which comes for Windows Mac Linux and offers many plugins to edit photos like those found within Photoshop but little comfort or usability features as well access speed has been seen on some platforms where Polarr & Pixlr may prove useful lightweight options worth considering depending upon what you need your program does best.