A game engine is a software framework primarily designed to develop video games and includes relevant libraries and support programs. Game engines provide super-fast photorealistic rendering that architects can also use to make architectural visualization smoother while creating visuals that can rival those created using offline rendering techniques. But the question is: can you use game engines for architectural visualization?
The tools permit users to create immersive experiences like VR walkthroughs, providing a more compelling and immersive way to experience designs. Moreover, architects can work in the drafting programs they love, convert the data flawlessly in minutes, and go straight into fast, smooth, real-time rendered architectural visualization using these engines.
Can you use game engines for architectural visualization?
According to recent statistics about the usage of game engines, game development leads the use cases with names like Unity and Unreal Engine at the top of the list. So, it must seem counter-intuitive to use a game engine for architectural visualization. However, it actually has many advantages that might persuade you into giving it a try:
The rendering time can be significantly optimized. For example, Unreal Engine has various types of light setup modes that vary from static, real-time and hybrid. It results in a much faster rendering process.
The quality can easily compete with the high-end flagship rendering engines like V-ray, Redshift or Arnold.
The combination of reduced rendering time, power and modularity can be the equivalent of a lot less costs and expenses. Imagine being able to avoid paying insane amounts of money for online render farms and rendering engines. There are plenty of game engines that are a lot more affordable, and some of them are even completely free.
As there are many game engines available on the market, picking the right one may seem complicated. That is why today, in this article, we have selected the best 5 game engines for architectural visualization to help you pick the one that fits your needs. Don't miss out!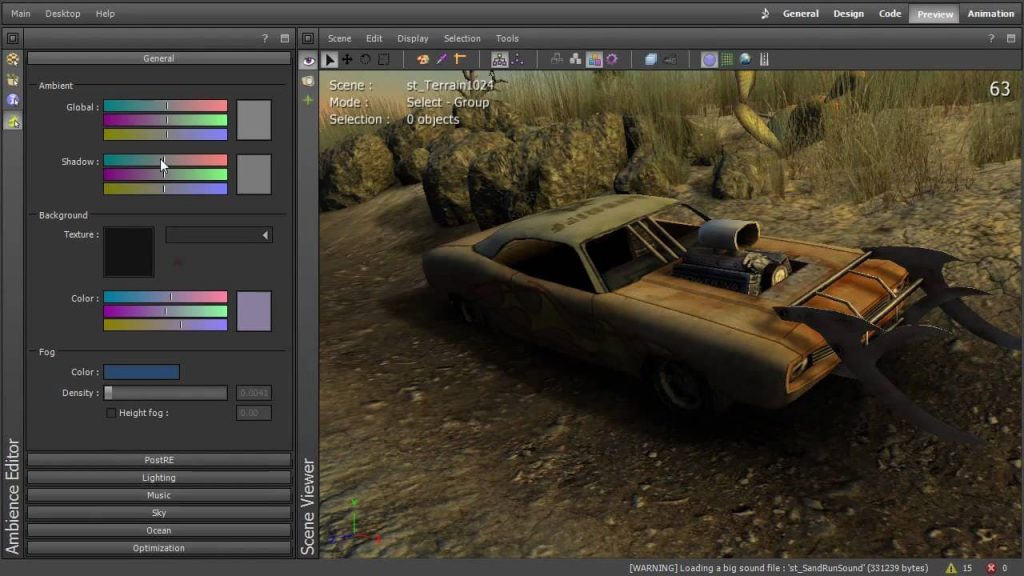 Creating video games and applications for desktop PCs, the web, game consoles, and mobile devices is possible with the 3D game engine with a graphical editor, ShiVa3D.
Although it is mainly used for the previously cited purposes, it also can be used for architectural visualization as it comes with an easy-to-use yet very powerful WYSIWYG (what you see is what you get) editor.
The ShiVa Editor comes with 21 modules, ranging from terrain and animation editors to material tools and a fully integrated code editor. This engine has many features, such as its flexible user interface, full LUA 5.1 support, multicore support in the editor, customizable shaders, and so much more. It certainly can come in handy for your ArchViz projects.
Pricing and licensing: New Basic license: $200, and the new Advanced license: $1000
Gamebryo is a game engine developed by Gamebase Co., Ltd. and Gamebase USA, which incorporates a set of tools and plugins including run-time libraries, supporting video game developers for numerous cross-platform game titles in a variety of genres, and served as a basis for the Creation Engine.
This engine has been employed in games and weather-intensive applications like military simulations, weather forecasts, and architectural visualization.
From rapid content creation with the custom entity library to real-time interaction with SilverLining elements within the Worldbuilder editor, architects or designers will quickly create their architectural visualization projects for outdoor or indoor environments.
It is straightforward to import art assets, and the engine itself is relatively stable. The drawback is that it has a pretty complicated learning curve when trying to script events and build environments overall.
Pricing and licensing: The engine provides flexible licensing models to suit the needs and budget of different projects, whether for full-scale commercial production or simple downloadable projects.
CryEngine (officially stylized as CRYENGINE) is a game engine designed and revealed by the German game developer Crytek. It has been used in all of their titles, with the initial version being used in Far Cry, and continues to be updated to support new consoles and hardware for their games.
It has also been used for many third-party games under Crytek's licensing scheme, including Sniper: Ghost Warrior 2 and SNOW.
This game engine can also be used for architectural visualization. It offers a set of tools that can help designers and architects turn their ideas into 3D models and walkthroughs.
Moreover, this engine benefits the Architectural Visualization pipeline in rendering out information and videos on the fly while still creating possible realistic results that would otherwise take extended periods to render out by traditional methods. However, some users found that there is a lack of learning materials.
Pricing and licensing: CRYENGINE is for free. 5% royalty applies when you ship your project. Your first $5K annual revenue per project is royalty-free.
Unity is a cross-platform game engine designed and developed by Unity Technologies, first announced and released in June 2005 at Apple Inc.'s Worldwide Developers Conference as a Mac OS X-exclusive game engine.
The engine has since been gradually extended to support various desktops, consoles, mobiles, and virtual reality platforms. It is prevalent for iOS and Android mobile game development and used for games such as Pokémon Go, Monument Valley, and Call of Duty: Mobile. It is cited to be easy to use for beginner developers and is famous for Indie game development.
The engine can create three-dimensional (3D) and two-dimensional (2D) games and interactive simulations, as well as other experiences. Industries have adopted the engine outside video gaming, such as architecture.
Unity has become such an essential cog in the architectural visualization machine. It has gained a massive following as a rendering tool as it gives artists the tools they need to showcase architectural projects in ways previously thought impossible.
And it is in design communication that Unity provides the missing link. It does so with the help of mainstream computer technology, which has finally reached a point where building a photorealistic, immersive, and interactive visualization experience won't shatter the design budget.
It has partnered with PiXYZ to cut down on the amount of time 3D content developers spend preparing data for import. Unity for architectural visualization is poised to make it even easier. That is why it is our second-best pick!
Price: Unity offers a range of plans for all levels of expertise and industries:
The individual plan for students and personal use is free of charge. It also provides two different paid plans for teams and enterprises with monthly and annually subscriptions, starting from $399/yr per seat.
Unreal Engine is a game engine developed by Epic Games, first showcased in the 1998 first-person shooter game. Initially created for PC first-person shooters, it has since been used in various genres of three-dimensional (3D) games and has seen adoption by other industries, most notably the architectural visualization industry.
Its founder Tim Sweeney believes that the world of visualization is changing, creating a clear common language between the presently disparate fields of architecture, video games, and film. He believes that the industries themselves should begin to hybridize and learn from one another.
For example, video game developers may reach out to architects to understand how to construct 3D buildings. In contrast, architects may learn from the navigable virtual environment of video games to discover new means of representation.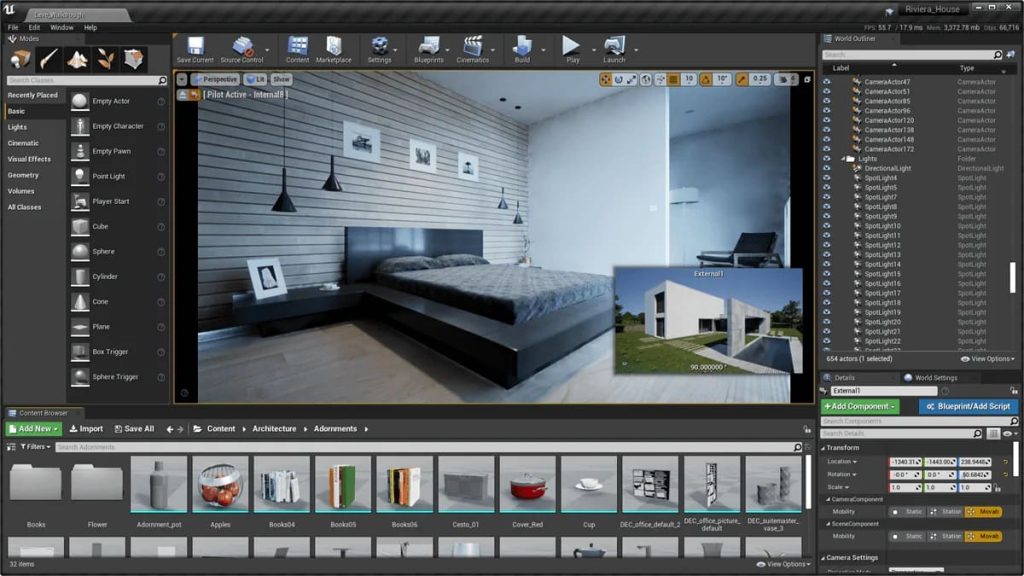 The unreal engine allows visualizations to embed building technology information in programs like Revit. Unreal Engine's Datasmith service allows non-game creators to easily import and prep BIM and CAD data.
Rather than deconstructing and reconstructing elements for transfer into the game engine, Datasmith makes it easier for enterprise users to transfer their files.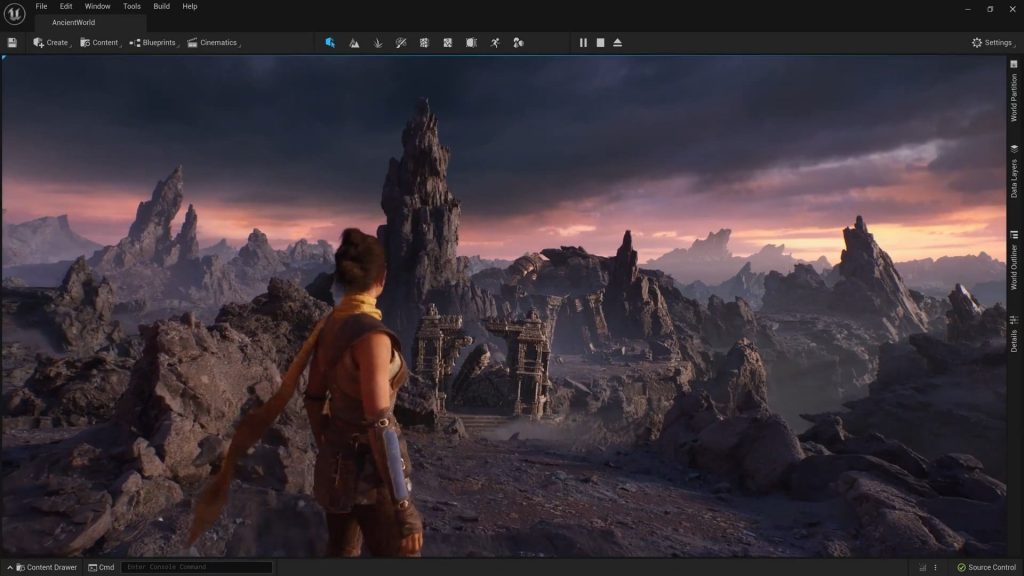 Unreal Engine 4 is free for architects and designers. Previously charging a $19.99 a month subscription fee, prices for Unreal Engine 4 were already notably more affordable than many of the software packages used by designers and architects.
Since architects do not usually produce a commercial product by definition, this also means that the 5 percent royalty fee assessed to video game makers and developers does not apply. Unreal Engine 4 makes it even easier for architects to embrace their software by incorporating training guides and a showcase of architectural visualizations on their website. And that's why, Unreal Engine 4 totally deserves first place on our list!
Price: Free. Epic takes a 5 percent cut of all gross revenue on applications (primarily games) created using the engine once it is monetized, and when the lifetime gross revenues from the product exceed $1,000,000.
Final thoughts
Game engines such as Unreal Engine and Unity have made their way into the architectural visualization field and have been used by many famous architecture offices like Skanska, Foster + Partners, and Zaha Hadid Architects. They used them to visualize and test new buildings. This makes keeping pace with the development a necessity.
This brings us to the end of this article. We hope our selection of the best game engines for Architectural Visualization gives you a clearer idea to decide which one to pick for your future projects.