Creating a good video game in this day and age is not an easy feat to achieve. It's a process that takes a great deal of effort, time, money, but most importantly, it takes good tools that artists and studios can use and rely on to bring their vision to life.
If you are someone who plays video games but doesn't have a clue about what kind of 3D software are used to create them, this post is for you.
We will give you a quick overview that will help you to know more about the 3D Modeling Software used for Video Games. We are continuously updating this post to make sure that you'll always have the most relevant tools at your disposal.
1. Autodesk Maya
Autodesk Maya is probably the most used 3D software when it comes to professional 3D modeling and animation for video games today, given its long history that goes way back to 1998. AAA studios around the world are using it to work on the best video games in the market because it offers a good balance of what game development artists need like Modeling, UV unwrapping, Baking, rigging, animation, and so on.
Of course, no 3d software alone is enough to fill the needs of the whole game development pipeline in just creating game assets let alone making a complete playable video game. If you are solely interested in making video games, Autodesk offers Maya LT, which is a version specifically created for indie game developers who can't afford the price of the full package.
Maya has good modeling tools that allow game artists to create everything necessary inside a video game such as characters, game props, environments and so on. Also, what makes Maya a good option for making video games is the fact that it is excellent when it comes to rigging and animation, which is very important in this industry. No to mention the availability of plugins and scripts that can help you streamline your workflow and take your game dev process to the next level.
Big studios such as Naughty Dog rely on Maya as an essential part of their pipeline as they have worked on some of the most iconic video games of the last decade such as Uncharted and The last of us. Maya is also popular among professional 3D modeling companies such as 3DModels, which offer a large selection of game-ready 3D models.
2. Autodesk 3ds Max
I would say that 3ds Max is probably the only 3D Modeling Software used for Video Games that can compete with Maya, because it has been an essential part of many game creation pipelines for a very long time. Along the history of its existence, it became better equipped for this type of work. 3Ds max has good and easy to use Modeling, UV unwrapping, baking and animation tools. They're almost as good as Maya's because they are currently developed by the same company known as Autodesk, but I would say that Maya is superior to Max in terms of animation.
Generally speaking, 3ds max can be very good for modeling a lot of the things that go into a video game, like characters, environment props, vehicles and so on. Not to mention that it offers a wealth of plugins and scripts to extend its modeling potential even further.
Notable users of 3ds max in the video game industry are Ubisoft studios that used it pretty on all the Assassins Creed franchise, which is known for rich environments and good animation. Also, Deus Ex in which The team at Eidos-Montreal used 3ds Max to create the world of Deus Ex, from its characters to its extensive environments.
3. Blender
Even though Blender is not part of the AAA industry when it comes to video games, it is an important part of the indie game development world. This is the case because it is a professional 3D software that can do pretty much everything that 3ds Max and Maya can do, in addition to having some other features. And all of this is for free, that's why indie devs of those with limited budget find Blender a very good choice.
We talked about Blender's game engine at length before, and we even mentioned some of the best games at which the software had a hand in making!
It can be good for 3D modeling, Uv unwrapping, sculpting, painting, rigging, animation and so on. Blender, in particular, is getting a lot of momentum lately, especially with the 2.8 Release. This led many artists, whether they are beginners or professionals, to give Blender a try. Without forgetting medium and indie studios using it more and more.
4. Modo
Modo is also a good option as 3D Modeling Software used for Video Games, it is a good tool to create and prepare assets and environment props for any gaming engine.
The modeling tools are good and easy to use and can be edited and integrated into any workflow, in addition to that, it has sculpting tools and the ability to handle high re-meshes efficiently.
There are many tools to model quickly both High and Low polys models for your assets, then creating efficient UVs and backing.
Even though Modo has very good tools for creating assets as 3D Modeling Software used for Video Games, it is not as popular in the game development industry like 3ds Max and Maya, the best 3D Modeling Software used for Video Games, except for making indie games.
5. Houdini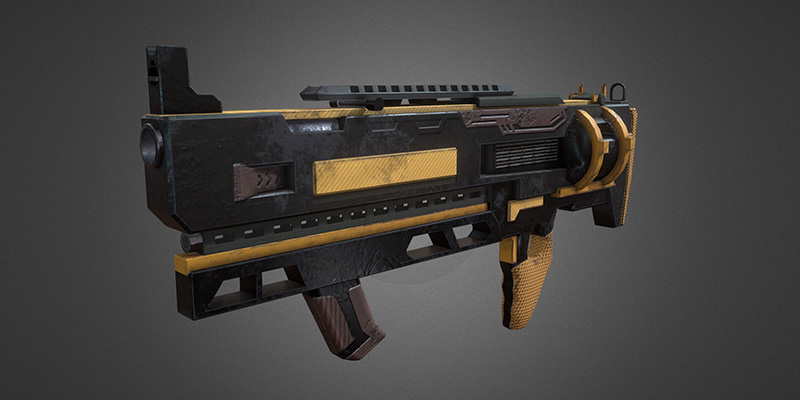 Houdini can also be a good 3D Modeling Software used for Video Games but it is not used the same way that Maya, 3ds max or Blender are used because the procedural approach that Houdini offers can be a good way to create procedural assets and environments before the deadlines. We took a look at some of its most important uses for video games in a previous post. Also, it helps to keep costs under the budget if you use Houdini Apprentice, which is free for non-commercial use.
Houdini is, for the most part, used by indie game developers, but some big studios such as Ubisoft began using it lately, when they created the large scale environments for some of their video games such as Ghost Recon Wildlands, in which they relied on it as a primary tool for creating large scale environments, which all its natural elements such as roads, villages, rivers, vegetation, and so on.
In addition to this, Houdini is a fantastic 3D package for creating game cinematics because after all, it is an excellent program for VFX.
6. Cinema 4D
Cinema 4D is another Famous 3D Modeling Software used for Video Games that can do many things and can satisfy most of the needs of game artists working on video games assets for their projects, from Modeling, UV unwrapping, rigging, animation, and more.
Even though it is, generally speaking, less know for its uses for making games, it can be a good option for making indie games, especially, if you are doing it as a hobby or something on the side, I mean if you are not interested in working for big game studios as a primary goal. We compared it to Houdini on that regard if you're hesitating to pick one of them.
7. Zbrush
Zbrush is widely known as 3D Modeling Software used for Video Games, especially for high poly characters and sometimes for architectural or environment stuff. Because Maya & 3ds max are not equipped with Sculpting tools that allow artists to capture the necessary details when working on complex and highly detailed characters, especially, animals and all different types of monsters. Various texture maps get baked and the geometry goes through a process called retopology afterward. Zbrush does UV creation and retopo too, but there are better tools that are usually used at that stage.
I don't think that two artists can disagree that Zbrush is the absolute go-to for sculpting, especially, when it comes to the complicated projects because it's specialized and has been leading this industry for so many years. But there are few software worth mentioning in this category such as Mudbox, which is also a good sculpting 3D software from Autodesk that was originally developed as a tool of adding high details to creatures for the film and VFX industry but later found its way to game development but it is not widely used as Zbrush is.
There is also a free sculpting software called Sculptris, from Pixologic, the developers of Zbrush, it can do a decent job but it is no where near Zbrush because I believe that it has not been developed in recent years. But it is a nice option none the less.
8. Substance Painter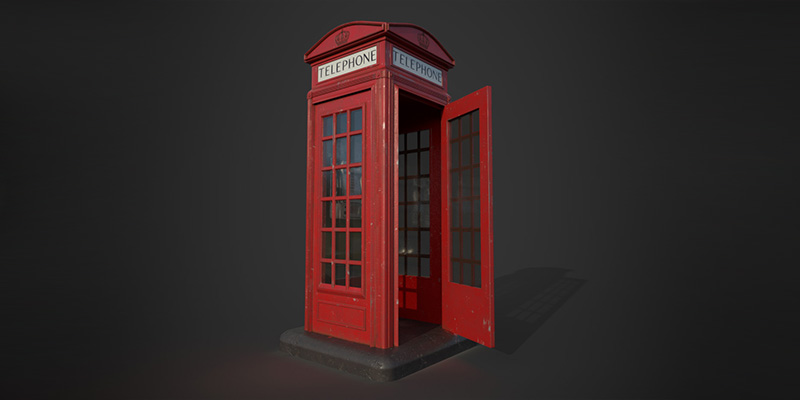 Substance Painter is industry standard when it comes to PBR texturing and painting, which is a crucial part of game development, I would say that this painting program kind of revolutionized and changed pipelines of the majority of game development studios and artists working in other fields alike.
The thing is that 3D Modeling Software used for Video Games such as Maya and 3ds max are good for modeling but when it comes to Baking, texturing, and painting they are lacking, compared to what artists and studios would like to have, especially, with the availability of specialized tools such as this one.
Substance Painter is a one-stop shop for all the needs of Painting and texturing for games artists, it is possible to bake the Highpoly model you made in your 3D package on the low poly. you paint intricate details, add masks, layers, you name it.
I would say that Substance painter is now the Zbrush of painting and texturing in the game development because it became an essecial part of many studios Pipelines and it has been used on many great titles us as Days gone, Fallout , Assassins creed, Spider man, Shadow of the Tomb Raider death stranding, Gears 5, the Last of us 2 and much more…
9. Mari
Mari is also a texturing and painting program but I would say that it is more dominant in the VFX industry because it allows artists to create super high-quality textures, up to 32k by 32K, which is definitely not going to be needed for making video games.
One of the notable examples of Mari being used in the gaming industry is when Ready at Dawn studios used it to work on their video game The Order:1886. The work they did was fantastic and it proved that Mari can also be a good painting and texturing tool in for games not only for VFX work.
10. Quixel suite
When using Quixel Suite, the interesting thing is you don't have to leave photoshop if you have been using it for a long time from the time when Photoshop was the go-to painting tool for game assets.
Quixel Suite comes with NDO painter DDO painter and 3Do Baker. It allows you to create normals and PBR textures inside photoshop.
NDO painter is used to create the normals and add details to them in a nice and quick way using photoshop tools.
DDO is a PBR texturing tool that allows you to create final textures quickly, it is artistic and allows you to create high-quality game assets.
11. 3Dcoat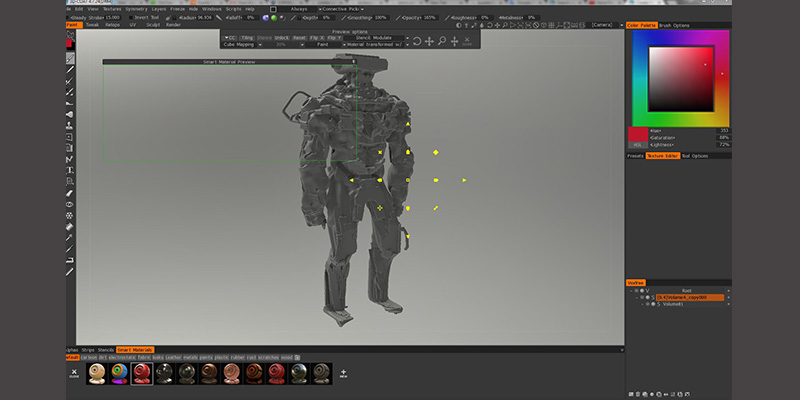 3DCoat was always a powerful tool that can handle massive projects. One of its strong suits was its stability and responsiveness to heavy scenes and models. In this version, the folks at Pilgway outdid themselves…and now, 3DCoat can handle a whopping 200 million triangles in the scene for ultimate flexibility, which also means sculpting will be smoother and working with huge scenes or Photo-scanned data will be as smooth and as responsive as possible. You can check our latest video about the software if you want to have a better idea of how to use its potential to the fullest.
Some of its prominent features include:
It is modeling and sculpting software but it can do a good job when it comes to texturing game assets.
It has Realtime physically based rendering viewport with HDRI.
It has a good toolset for painting tasks, also it has a tight interaction with Photoshop.