Two of the well-known 3D software that artists and studios rely on are Side FX Houdini and Cinema 4D. Each of them has different things to offer, which makes each one of them good in a specific field.
In this video, we will try to give you an overview of what these two professional 3d software are capable of, and how they are used across different 3d computer graphics industries.
Game Development
In the game development industry, Sidefx Houdini has become a very important tool that helps both AAA and indie video game studios to work on their projects because it offers amazing tools for both modeling and visual effects
It is being used to create large-scale video game environments in record times, relying on less manpower, which led many studios to integrate it in their pipelines and creating custom tools around it, so their artists can work even faster depending on the type of projects they are working on. So far, Houdini has been used to work on some of the best video game titles like Farcry 5, Horizon Zero Dawn, Uncharted 4, Ghost Recon, and much more.
Cinema 4D, on the other hand, is not popular in the video game industry. Even though it is capable of working on 3D assets, creating environments, character animation, and the things necessary for 3d game artists.

There are plenty of examples that prove that Cinema 4D can be good for working on video games, but it is not popular in this industry for multiple reasons like, the fact that Maxon the company behind Cinema 4D, Simply, has not pushed its marketing towards games. for example, in Maxon events, it is mainly featuring Motion Graphics and Visualization. In addition to that, studios don't change their software and pipelines unless there is a very good reason to do so. Honestly, Cinema 4D does not offer more than 3Ds max or Maya in this field, so, people don't see a good reason to switch.
So, when it comes to making video games, Cinema 4D is good if you want to work on your own video games as an indie developer, but Houdini is good for both, whether, it be indie game development or joining the AAA industry.
Advertising
When it comes to working on TV commercials or advertising in general, Cinema 4D is a very good option, if not the best option among most 3D packages. Over the years, Cinema 4D attracts many artists and studios that need good tools for this type of work because it has a robust toolset of Motion Graphics tools, which is often essential for creating commercials.
Houdini, also can be fantastic for creating TV commercials, especially, when it comes to high-end commercials, where there is a need to create realistic natural environments.
Generally speaking, Cinema 4D is better and widely used for creating commercials because it is easier and equipped with tools specially developed for artists working in this industry.
FILM & TELEVISION
In terms of VFX SideFx, Houdini is used by some of the VFX studios to work on all different types of projects, especially big-budget projects because it was designed to be very good at this type of work.
https://www.youtube.com/watch?v=8kl3gXKN9X4
FX studios are transitioning to using SideFX's Houdini in their post-production houses because of its versatility, power, and its impressive jaw-dropping level of quality. A major benefit of Houdini is the built-in procedural generation for VFX. Everything from destructions and deformations, to hair, ice crystals, waves, bubbles, fire, and more – can all be procedurally generated inside of Houdini.
One of the reasons why Houdini is attractive to VFX artists and studios is its ability to achieve high levels of flexibility and control to enhance both creativity and productivity.
Cinema 4D also has its place in the industry because it was used to work on some of the best films we have seen in recent years. Also, it is popular among small VFX studios and freelance VFX artists. But I would say, it is more used in the VFX industry to achieve high-quality motion graphics effects in films such as Iron Man, Tron Legacy, Pacific Rim, and so on.
Architectural Visualization
Cinema 4D has become popular among artists who do architectural visualization because it has good modeling tools, and there are many render engines that can be integrated with it, which gives you more options to choose from. also, what makes Cinema 4D good for archivz is the fact that its modeling tools can help with some of the difficult tasks without necessarily needing too many plugins, even though, there are fantastic plugins that can be very helpful.
Houdini, on the other hand, is not popular among architectural visualization artists because this type of work does not need a high degree of complexity or advanced tools. But it is qualified to be very good non the less.
Ease of Use/difficulty
when it comes to ease of use or doing things on the go, Cinema 4D stands out because it is known as one of the easiest 3D packages to learn and to use. Pretty much all the tools you need to use are clear and easy to find. It is just a matter of finding good tutorials or courses to learn from that can push you in the right direction to start using the software on your own.
Houdini, on the other hand, offers a lot of depth, functionality, and flexibility. There are many things you can do with insane degrees of freedom but that comes at a cost, which is complexity and difficulty. To be honest, Houdini is considered to be the hardest 3D packages to learn and use because its workflow highly depends on Proceduralism using nodes and coding.
But as you gain more experience using it, you will know your way around many things and you will be able to save time because Houdini is designed to work procedurally to automate time-consuming tasks in addition to having the ability to change whatever you want even after a long period of time which also allows you to save time and effort.
Modeling
In terms of modeling, Cinema 4D is easy to use and very straightforward. It has a more traditional modeling interface and approach to modeling. The user can do the modeling using primitives and models using points, edges and Polygons. There are also deformers to change the shape of your models, and Generators.
On the other hand, Houdini is also good at modeling but it is not the most straightforward modeling software because it is highly procedural, but it allows for rapid creation of complex objects based on geometric shapes. It also allows you to rapidly change minor details that are frequently repeated.
Many artists don't really use Houdini as a primary modeling program, but it is powerful when it comes to modeling large-scale environments.
So, for modeling, both are great, but they can be useful for different purposes.
Animation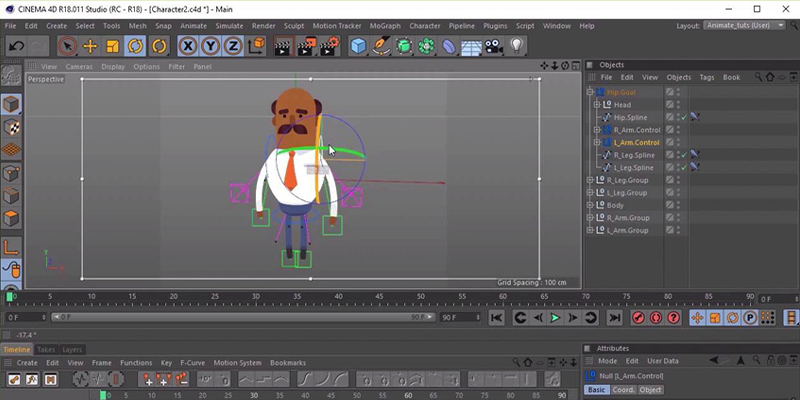 When it comes to character animation, especially SideFX Houdini, which has become much better, especially in the last few releases, because it needed better rigging and animation tools due to the type of projects it is mainly used for.
Also, the flexibility of changes it offers during the whole process of rigging and animation makes it attractive as well.
Cinema 4D is also a very good 3D software for rigging and character animation, even though, it is not very popular among professional animators like Maya, for example. But Maxon is, slowly but surely, making it better by providing better rigging and animation tools.
Motion Graphics
Cinema 4D offers an excellent, intuitive workflow for creating and developing outstanding motion graphics, including start-to-finish integration with Adobe Photoshop, Illustrator, and After Effects. Cinema 4D is known to be the go-to 3D software for motion graphics work because, Maxon, the Developers of Cinema 4D made sure to create a fantastic and robust toolset that helps motion graphics artists to generate amazing results using different powerful and easy to use tools.
Houdini, can also be very good for motion graphics because of its procedural nature. You can use its great tools to create various types of elements that can be used for motion graphics.
Houdini, can do pretty much anything that Cinema 4D can do, and it offers limitless possibilities and high degrees of flexibility in this type of work, but again, it is not going to be, as easy or as straightforward, as Cinema 4D is.
Visual Effects
Houdini, can be used to Create feature film-quality Destruction effects with its advanced particle and dynamics tools. Many artists are using particles, fractured rigid body dynamics to create massive simulations using the amazing tools that come with Houdini. There are also good tools among some of the things that Cinema 4D offers to VFX artists, which are amazing motion tracking tools, which allow them to track and solve a shot using the C4D Motion Tracker. Also, it has important tools for animating geometry and cameras; creating materials; and lighting 3D shots.
Lighting and Rendering
When it comes to rendering, there are some built-in renderers for Cinema 4D. Namely, Physical Renderer and Pro-Render. Both are decent enough, but given how the technology has advanced in the last few years they are probably not the best option to stay on top of your game.
Now, Cinema 4D comes with Redshift which was developed by Maxon last years. Redshift is one of the Best render engines you will ever use with Cinema 4D, it a super-fast and efficient render engine. There are also other powerful render engines that can be used with Cinema 4D such as Vray, Octane, and Arnold, they are great and can be good for different projects.
When it comes to lighting and rendering, Houdini ships with the powerful rendering engine Mantra, but also supports 3rd party rendering engines that offer options for artists or studios that don't want to use Mantra.
Also, Sidefx introduced recently Solaris, which brings a new context called LOPS, or lighting operators, that brings native USD support to Houdini to allow for comprehensive lookdev, layout, and lighting workflows, in addition to the new render engine called Karma, which could potentially replace Mantra in the future.