The impact of architecture on society cannot be overlooked. As an architect or a designer, you often need to make plans and details to ensure that this impact is positive.
Today, we have brought to you the list of Top Free 2D Architecture Software. Let's dive in!
What are the best free 2D software for architecture?
Architectural plans and details are very important to the architect or the designer. And what they actually need after getting the approval of the client is 3D renders and animation. But to materialize this project in real life, the architect needs to draw the entire project in detail.
For that reason, architects always attend to look for the best 2D drafting software because doing all that work and generating huge amounts of details for any project is a long process, and it takes days and days of work.
Some 2D drafting pieces of software are really expensive and not everyone can afford them. That's why we will talk about the best free 2D programs in the market that offer the same features as the ones you might pay to use them. These programs are available for students, low-budget architects, and small businesses.
9. QCAD
It's a free 2D CAD software that is also open-source. It helps you produce highly detailed technical drawings. The software is available on Mac, Windows, and Linux.
QCAD has a user-friendly interface. It is provided with all the necessary details you need for your 2D plans, such as measurements, area, and text. The software offers a lot of useful features like importing and exporting DXF and DWG files, and it also has a rich library with over 4800 CAD objects.
You can use QCAD to design a simple project or even a complex project with organic shapes. You can use this software to produce interior plans, buildings plans, diagrams, schematics, and even landscape projects.
The software can use both metric and imperial systems. QCAD supports multiple file formats, and it also has 35 CAD font, 24-bit color, and 47 line types.
Link: QCAD
8. LibreCAD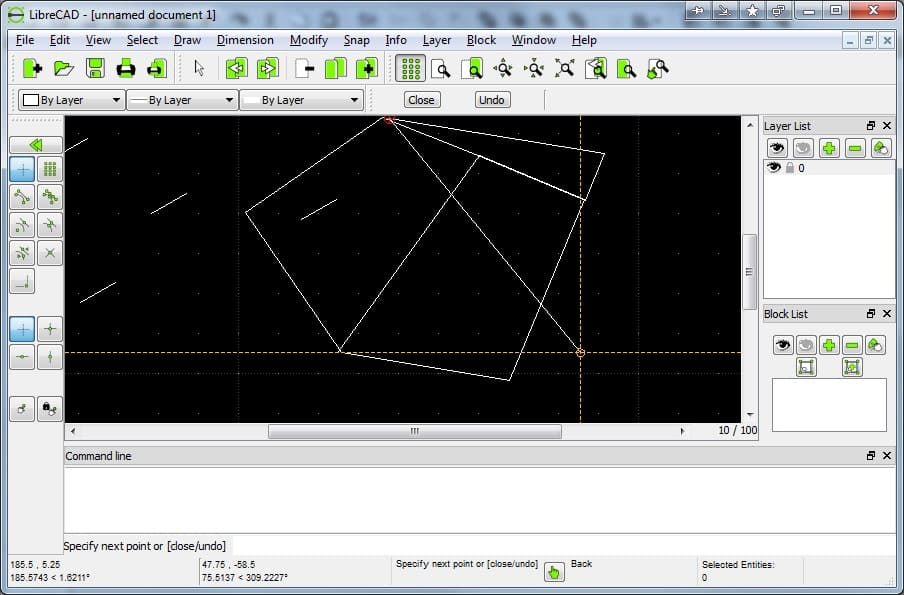 This open-source and free 2D architecture software is available on Mac, Windows, and Linux. It offers you a 2D drafting solution.
The interface of the application is developed on the QT library, which gives you the possibility to customize the appearance of the software easily. The software is fully featured with different 2D tools for design. You can use lines, curves, and different forms to generate your plans. In LibreCAD, you can work with layers, which allows you to select several items and edit them separately.
LibreCAD is compatible with different software including CAD software where you can, for instance, import a file from AutoCAD or QCAD and work on it. The good thing about this software is that it has a strong community service where anyone can join and participate in the development of the software.
Link: LibreCAD
7. Draft IT
Is also a free 2D CAD software for drafting and such. It has multiple powerful tools to help you in the 2D design process. You can use the metric or imperial system to draw in the software.
Draft IT is available only on Windows. It was designed to be an easy tool for professionals, students, and hobbyists. Besides that, the software helps you increase collaboration between different colleagues, and it offers you design analysis, documents management, presentation tools, and manufacturing design data.
The software is completely free and easy to install. In addition, the software has a dynamic editing function with visual handles and snaps. You can also provide your technical plans with different dimensions whether it is Linear, angular, radial, and arrow dimensions.
There are multiple tutorials available online to help you in your learning process, and there is also a great helping system in case you have questions or problems with the software.
Link: Draft IT
6. SketchUp Free
Among all the facts that surround SketchUp, it's well known to be easy-to-use software. The use cases of SketchUp include the possibility to create a 2D base plan for your 3D model. In order to switch to 2D in SketchUp, you need to orient your point to the top. You can find it in the view tab.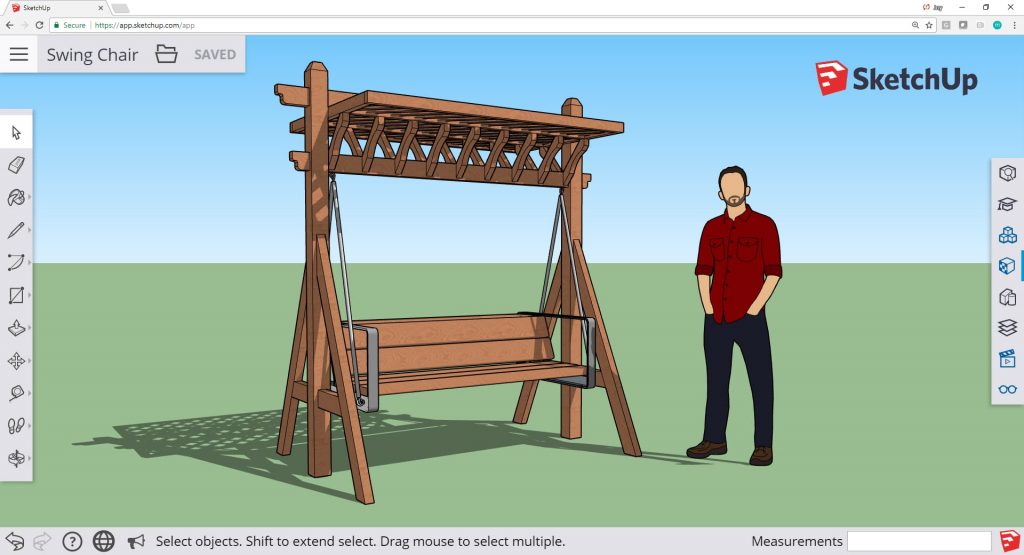 It is better to draw when you face your workspace. You have the basic tools to use in 2D drafting; you can use the pencil icon to draw lines and the arc to draw curves. You also have the rectangle and the square icons to create forms. Besides that, you can copy, move, rotate your forms, and add colors and texts.
However, SketchUp is not solely a 2D architecture software, is still very limited in 2D drafting. The level of details is so low compared to other 2D drafting software. We even made full comparisons of that sort:
Link: SketchUp Free
5. FreeCAD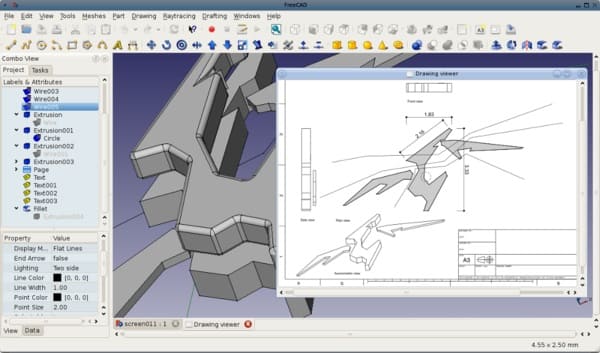 FreeCAD offers you the possibility to produce technical drawings. In order to draw all the technical plans, you need to use the Draft Workbench that has all the necessary 2D features and tools, which can be offered by other famous 2D CAD software. We actually made full comparisons on that regard:
In this Draft Workbench, you will find tools to draw lines, polylines…etc. You will also find modification tools like rotate and move. In order to work on the 2D drafting, you need to switch to the Draft Workbench, which is one of the modes that exist in FreeCAD.
You also need to configure the Grid and the Working space for better results. The software supports multiple file formats and collaborates well with other CAD software. It also helps you draw sheets module to create 2D schemas from 3D models and use it in the laser cut process.
Link: FreeCAD
4. Sweet Home 3D
It's a great free 2D CAD software for home interior design, and it can also be used to create 2D plans. The software is available on Windows, Mac, and Saas, and it can be used by companies or individual designers. You can also use the software in the external planning of your house with the ability to place furniture and home appliances.
The software contains the drag and drop toolsets and a large library full of pre-modeled furniture, interior and exterior components, as well as lighting. The software is not very flexible in the design compared to other home design software on the market; however, it works well for beginners and simple projects.
Link: Sweet Home 3D
3. 3D Crafter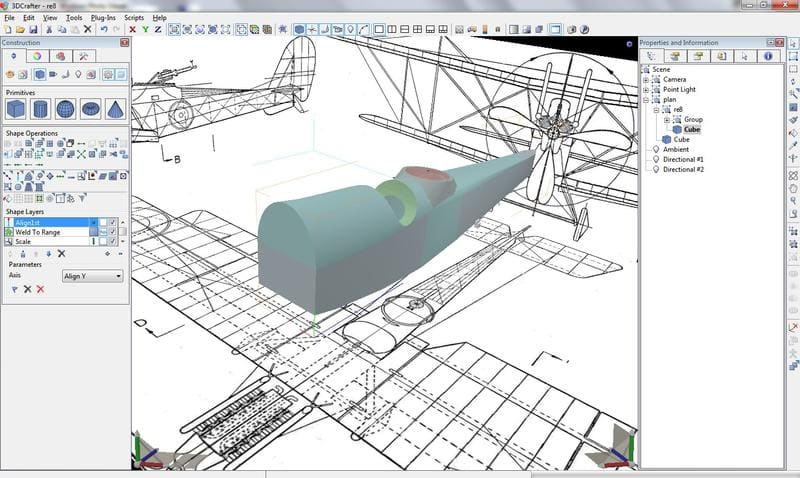 It's an open-source free 2D architecture software that you can use to get your 2D technical plans. The software has an intuitive interface with a drag and drop system to make the workflow fluid and easy.
The good thing about this software is that you can use it in small-scale projects or big complex architectural projects. It's because the level of detail that 3D Crafter offers is great, and the precision is also present and well established. The software has a version for Windows only there are also multiple tutorials to help you get familiar with the software in a short amount of time.
Link: 3D Crafter
2. OpensCAD
It's another noteworthy free 2D CAD software. The software can be used to create accurate 2D drafting.
OpensCAD supports multiple file formats like DXF and DWG, and it also collaborates perfectly with all CAD software. OpensCAD has a lot of useful features in the 2D drafting like Grid layer, and drawing layers, zoom and pan, basic draw tools (line, arc, and circle), and basic edit tools (move, copy, and rotate).
Link: OpensCAD
1. Solid Edge 2D Drafting
This program is considered a great option for 2D drafting; it was developed by Siemens. Solid Edge 2D Drafting is available for free, and it can accompany you through the whole process of your product development in order to provide the necessary technical documents.
This free 2D architecture software contributes to the collaboration between different team members and increases communication at work. It is compatible with multiple software including CAD software, and it also supports DXF and DWG files.
The software can assure and cover the technical study for big and small projects, offering a lot of useful features that you can find in the most expensive software. However, it is only available on Windows.
Link: Solid Edge 2D Drafting
Final thoughts
If you are a student, a beginner, or even a hobbyist you don't have to start with an expensive or a paid program. All these pieces of software offer a lot of good features that can compete with the paid ones. All the programs that we mentioned previously are well-rated and can offer good services for users according to the level of details needed and of course according to the project needs.
If you prefer using your mobile device for architecture purposes, you can check our extensive list of the best architecture apps for mobile devices. On the other hand, if you want to find a suitable machine, you can check our beginner's guide on the best laptops for architecture students.