Architects spend more and more time in their offices each day. Designing and recreating any type of construction in 2D or 3D is crucial for helping clients visualize their projects by using different tools.
However, architects also have a lot of work outside their offices. So, we have selected the best mobile apps for architecture available on IOS and Android for this year.
Can mobile apps for architecture replace advanced software?
The question here isn't really about "replacing" the frequent architecture software altogether, but rather extending them.
The best example to illustrate this become evident when looking at your workplace: computers and workstations that architects use can't be describes as average. In other words, carrying them around or even acquiring them in the first place isn't that easy. But to keep productive and have your skills always top notch, you'll have to work even when your high-end computer isn't around.
This is exactly why these apps for architects will turn out to be very handy. Using apps for architecture design purposes doesn't seem as the most orthodox way, but it certainly has its benefits. You can take a look at our video to have an idea about the interface, and some features explained.
Now that you're convinced of the value that you'll be getting with mobile apps for architecture, let's look at some of the best ones on the market.
1- AutoCAD 360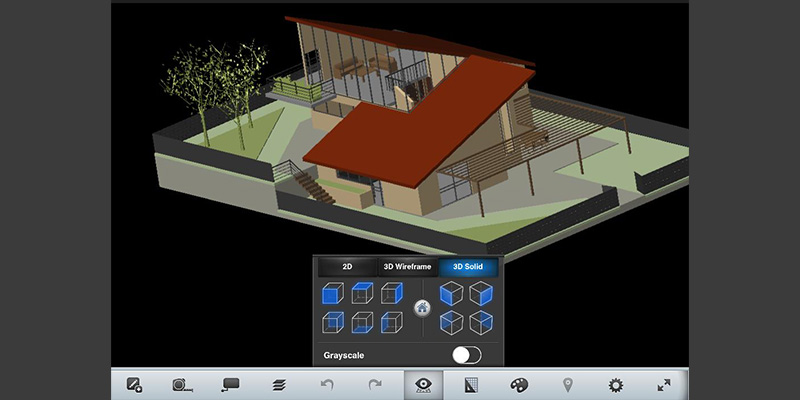 AutoCAD 360 is one of the best mobile apps for architects to do their job on the go. It allows you to access your AutoCAD and Revit files wherever you are. It also allows you to measure while on-site and annotate 2D drawings with comments and images in addition to the ability to instantly share them with other design team members directly from the mobile device.
Furthermore, this app has multiple layers to see more details and contextual information compared to paper drawings. Of course, it's not comparable to the desktop version of Autocad, but it can be super useful just as much.
Works On: iOS And Android
Price: The Premium version is for $5/month or $50/year, and Ultimate is $15/month or $100/year
2- BIMx
This app allows architects to use the ArchiCAD program to access their mobile files and make measurement adjustments on site. With its Hyper-model characteristics, navigation is so much easier, and access is immediate. These features allow you to navigate through
Floor-plans and a 3D building model in a short time efficiently. It is also suitable for displaying information on the building components. It offers extremely smooth handling and exceptional performance, even for complex 3D models and extensive 2D documentation.
BIMx allows you to get the full package of blueprints through the tap of a finger, even on the building site.
Works On: Both iOS and Android
Price: Free or $49.99 for BIMx PRO
3- Shapr3D
Shapr3D is a 3D Computer-Aided Design app for the iPad and Apple Pencil. It is one of the popular apps for architects that allows them to draw sketches rapidly and easily before turning them into 3D models. Shapr3D can be used with other CAD software as well. It is designed for precise solid modeling but it can be great for architectural 3D design as well.
And it runs on the same engine as most desktop CADs software. Its functional interface and user experience can help you create 3D sketches much faster than other 3D CAD apps. Contrary to the typical CAD software, with this mobile app and its neat UX/UI, there is no need to worry about using it. You can start by doing simple stuff and you will figure out how it works after a few days of practice.
Works On: iOS.
Price: Free. The PRO subscription is for $29.99/month or $299.99/year.
4- Magicplan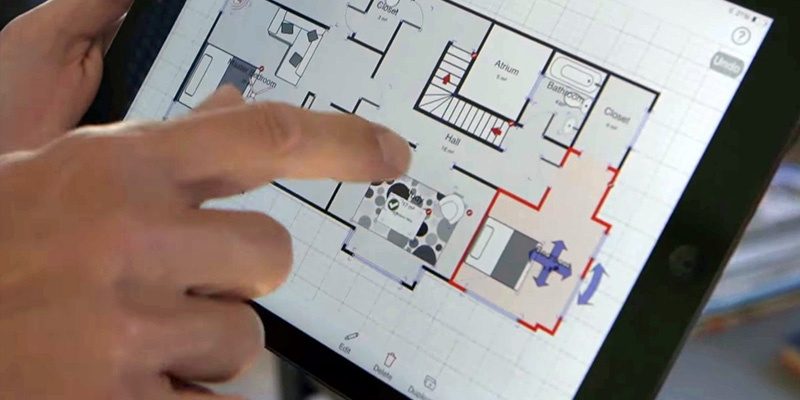 Magicplan is a space-scanning mobile application that uses input from your smartphone to devise complete floor plans. It lets you create your floor plan in seconds. Pictures of the room's corners are turned into measurements and can be turned into a 2D overview, thanks to its augmented reality technology. Or, you scan multiple rooms to complete entire buildings' floor plans, and you can also add furniture as you want. This app is one of the easiest to use among these apps for architects, but it takes a bit of practice to get the hang of it.
Works On: iOS and Android
Price: $2.99 per plan or $9.99 per month (unlimited plans)
5- Morpholio Trace
This is a sketching app made for architects. It allows you to immediately sketch on top of imported images, background templates, or 3D models in addition to layering comments or ideas to generate fast sketches. You can use it to create designs with color, templates, styles, and stencils. This app is pushing the boundaries of what is possible utilizing AR and VR for architecture sketching work.
Works On: iOS
Price: Free (Basic version), with a yearly subscription for Premium, or Pro features.
6- SketchBook
SketchBook is considered the best sketching app on the market for many reasons. It has one of the best user-friendly interfaces in the field. This makes it simple for architects to create quick designs without getting overwhelmed by various tools.
The app has lots of great features. For example, you have access to an array of drawing tools, and you can modify the size of the canvas to suit your requirements. Moreover, the app comes with multi-touch support.
You can even save your designs to an in-app gallery for later access.
Works on: iOS, and Android
Price: 4.99$/month and 29.99$/year for pro membership.
7- Isometric
It is true that you will not use this app for architecture design purposes in depth. However, it does offer a simple collection of tools for creating beautiful designs. All you have to do is tap the App two times to place different forms on an isometric grid, which means that you can make a quick building design in minutes.
The app takes some time to get used to if you are used to more professional apps and software. Still, it is ideal for creating fast models when you are in a rush.
Works on: iOS, and Android
Price: Free for basic use.
8- SketchUp Mobile Viewer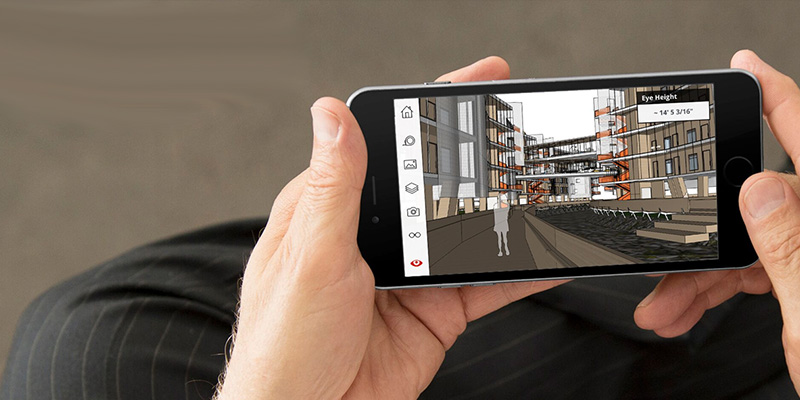 SketchUp is one of the most successful pieces of design software, as we all know. That is why they have released the SketchUp Mobile Viewer app. This app works in a much similar way as the iRhino 3D app. You can access and view your SKP folders no matter where you are.
Better yet, the app can be connected to your SketchUp 3D Warehouse. That means you can directly download any models on the go. Sadly, the app doesn't allow editing at this time.
Works on: iOS, and Android
Price: Free, $9.99 per year for the premium version.
9- ArchiSnapper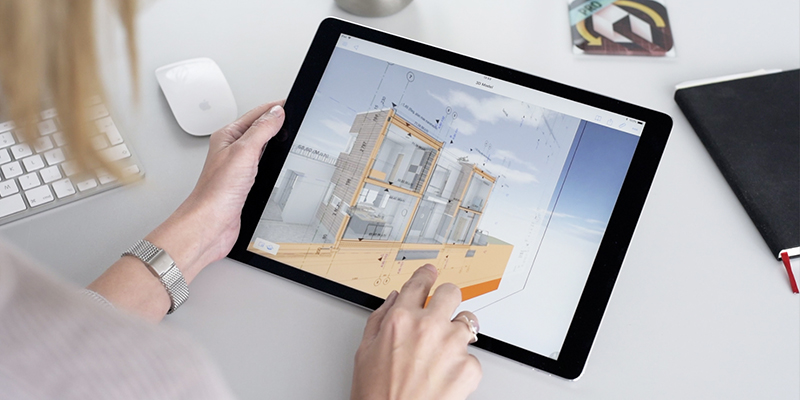 ArchiSnapper is a field-reporting mobile app that allows users to draft a report while and after site visits efficiently. It offers many features, you can take photos, draft, and comment using the app. It can be available on a phone or tablet, organizes data, and seamlessly form the report.
It can also save you a lot of time compiling your work. The reports made in this app look great with a minimal amount of effort. Furthermore, it also helps you organize and track problems that need attention until they have been finished.
Works on: iOS, and Android
Price: ArchiSnapper pricing starts at $24.00 per month. They do not have a free version, but they offer a free trial.
10- ARki
ARki app allows you to visualize your 3D projects realistically. You can use it for interactive presentations and explanations. You can also import different models from different software including 3dsmax, Micro Station, Blender, SketchUp, ArchiCAD, Maya, cinema4d, Revit, rhino, and more.
Furthermore, you can create dynamic layers and toggles to fall into your sketch's different aspects. Or use the "full scale" feature to wander around in your 3D models on-site in realtime.
Works on: iOS, Android (available soon)
Price: Free (1 plan), $23/month – $255/year (PRO)
11- Autodesk FormIt
This app offers intuitive 3D sketching in a web browser, mobile app, and Windows app. The conceptual sketch should drive BIM, and FormIt assists you in that.
First, you need to do the conceptual design (defining location, materials, massing, layers, scenes, and levels). Once it is done, you can keep the working drawings process inside Revit. This app includes the different 3D sketching tools and a two-way connection to Revit via the FormIt Converter add-in for Revit.
Works on: iOS, Windows, Web.
Price: Free (FormIt) or Paid (FormIt PRO).
12- IRhino 3D
Rhino 3D is a digital design software for architects. It allows for the creation of detailed designs, and it can generate photorealistic renders. Until lately, architects had to show these renders to customers using the software. IRhino 3D changed that in certain situations. The app is still fairly simple. However, it does allows you to view any 3D models you create in Rhino 3D software on your mobile device. It does not allow editing, but those features may arrive in later versions of the app.
Works on: iOS
Price: 3.99$
13- Sun Seeker
Sun Seeker is not focused directly on architecture as other apps are on this list. Still, it makes a fabulous addition to them all. Sun Seeker is all about aiding you in finding the best sources of sunlight. It organizes data relating to solstices and the times for both sunset and sunrise. It also uses augmented reality. This helps you determine solar pathways based on intervals every hour. It is useful when making any design decisions that relate to lighting for your constructions. You can even use the app's data that contributes to emulate real-world lighting conditions in your modeling software.
Works on: iOS
Price: 9.99$
14- PadCAD
PadCAD is considered a great starting point for any simple design or modeling work. Architects can use it for minor remodeling and home extension products. It also proves to be beneficial when generating site surveys. Simplicity is key here. The app has a simple user interface considered as user-friendly that allows you to knock together a CAD sketching on the spot immediately. You can then import this design to a more sophisticated professional software to add more detailed touches.
Works on: iOS, and Android.
Price: Free, $19.99/month upgraded.
Conclusion: adopting apps for architecture design purposes
We're definitely not saying that you should give up on the usual tools that are already part of your arsenal. Instead of that, the spread of mobile apps for architecture ignited for a reason: they can be a huge plus when it comes to productivity.
Do you have a favorite? feel free to extend this list in the comments and we'll make sure to include them in future posts.