If you want to know about the best architecture Architecture Software for Home Design in the market, then today we collected 13 of them that can help you do your job faster and more efficiently.
13- Live Interior 3D
One of the best architecture software for a home design dedicated to professionals, developed by Belight Software. It is very easy to learn and can be a great alternative to expensive CAD Software. 
It has a clear and intuitive interface. And it is good for both beginners and professionals if you want to create floor plans that include all the details of your home in addition to creating 3D objects like furniture. And if you want to create a walkthrough animation you can do that as well with ease. 
12- Chief Architect
This software was specifically designed for the home industry. It simply allows 3D design tools to be used by novice computer users or by those who find other CAD programs complicated.
It has automated building tools for home design, interior design, to be able to create all aspects of your project such as living room, kitchen & bath, and so on. Chief Architect makes it easy to create construction drawings, elevations, CAD details, and 3D models as well.
11- Palette Cad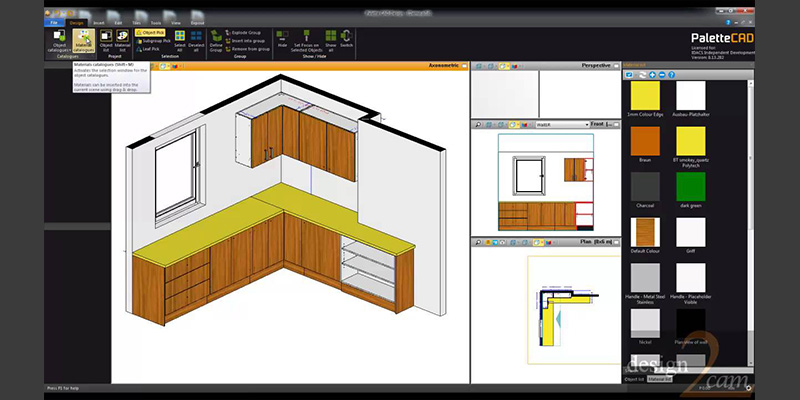 If you are looking for software that has a lot of features but also easy enough to use so that learning how to use it doesn't take your focus away from your actual job, should check out Palette Cad.
The interface is well designed and it allows you to work while you are learning how to use the software.
The features are plentiful and let you get very creative with any and every room in the house you are designing.
10- Dream Plan Home Designer.
This is a great software to design the interior and the exterior of your house, it actually helps you start the design from the scratch, by adding walls, floors, ceilings, doors, and windows. After that, you can add all the furniture relative to the place, add all the decoration and textures. It is a good software for beginners in the design industry or even for people who like to design their houses on their own, it has a version for Mac and Windows, it also has a free version but it is limited in tools comparing to the paid ones.
9- Total 3D home 
This is a great software to do both interior and exterior home design, but it has more tools and features for interior design. Total 3D Home comes with a rich library of design elements that can help you create your house.
you can create a complete design, and the smallest details can be created even electrical and mechanical house parts such as outlets, sprinklers. Total 3D home offers a lot of good features to make home design easier, for instance, you can import an image of a plan and edit it directly. The software also offers around 1400 plan samples to be used as a source for ideas or inspiration, they are also editable.
8- Sweet Home 3D
It is a free 3D application to do 2D drawings and 3D views; it can be used to do interior and external design. Furniture in this software can be imported from different software and used to create a specific interior design for any kind of space. Sweet Home 3D can also be used to draw walls, ceiling, add doors and windows, control all the light, and render realistic images and even animation videos. It also supports multiple formats and can also export to various formats.
It is available on Mac, Windows, and web-based. It is very easy to use and anyone can use it to design their own home without the help of a professional, workflow with this application is smooth, and results can be generated quickly. It can also be used by furniture designers in order to have detailed plans for the furniture.
7- Home Designer
This software is made exclusively to do home design, it is a sort of a combination of all the features that exist in 3D software, it has tools for interior design, landscaping design. Using this software you can create floor plans, interior design, topography, and everything relative to the design field. working with this software is very easy. The interface is small and the tools are straightforward. The good thing about it is that you can do a home design or a space design quickly avoiding starting it from scratch. 
You can do this by downloading ready-to-use furniture and architectural elements and drop it into your place. These furniture groups can be moved and customized according to your needs. The software also offers tools for a high level of detail because it is a very important thing in interior design.
6- Autocad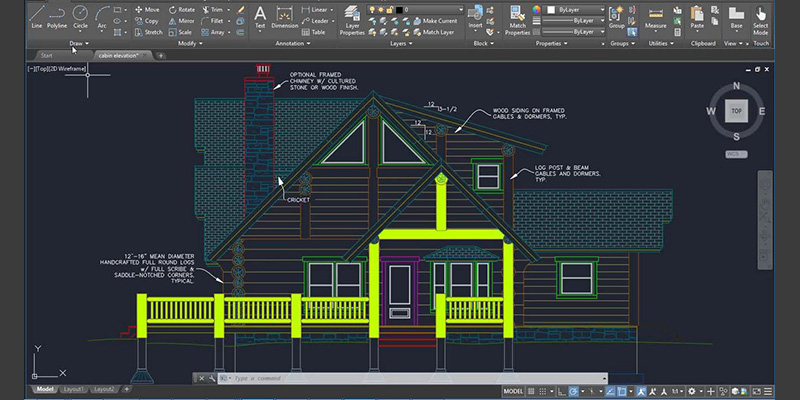 Many architects and designers start with Autocad to understand the field and to have a strong base to learn other software. AutoCAD helps architects and designers to create 2D and 3D plans with high precision. In addition to that, it offers a lot of features like drafting, 2D geometry, and 3D modeling with solids, surfaces, and mesh objects. It has also a lot of good features to work effectively in an organized environment where you can use layouts and layers to organize the project. Layers, for instance, are editable, you can change the color of the drawing, the type of line, the thickness, and lock it down to keep the layer locked.
Working with AutoCAD is very simple, the interface is easy, the commands are not that complicated that's why it is the perfect software to start with for beginners and students. The good thing about AutoCAD is that it can be used by architects, to do architectural plans, and by engineers to do mechanical, electrical, and structure plan.
5- ArchiCAD
Archicad belongs to both BIM and CAD families; it has been developed by a Hungarian company called Graphisoft. this software offers a computer-aided solution to follow the whole design process of any project whether it is interior design, building design, or landscape design which makes it a versatile software and a complete one because it can cover different phases of the project. Besides the software also offers 2D plans with different details according to the scale along with 3D models.
It also has a powerful rendering engine, to work on some final renders. Besides that, the software offers all the support documentation relative to the architecture field. And it automatically provides sections and elevations along with the 3D model. ArchiCAD is also known for its flexibility with organic forms, it can model any type of form needed.
4- Revit
Unlike AutoCAD, Revit belongs to the BIM family, which means it is a building information modeling software. It is used to work on architectural plans, structural plans, and MEP plans.
It also works in 2D and 3D at the same time, which saves a lot of time and effort for designers. In addition to that, working on Revit is based on communication between different parts of the project, they all work in the same file and any changes made, everyone is involved in it. 
The software has also a rich library of components that can be used in interior design, these are editable according to the needs of the work. Revit has also a good rendering engine to render the project after modeling. But there is a much better alternative rendering Engines as well.
3- Sketchup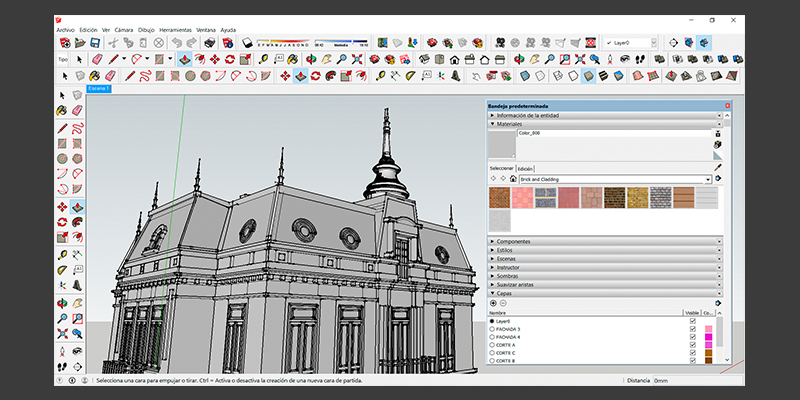 Great software for 3D modeling, it is very flexible and intuitive, used a lot in the interior design because it has a large library full of assets that can be found on the warehouse of the software. The interface is simple and easy to use, the tools, and commands are not complicated, it will take a day or two to understand the basics of Sketchup.
It is a very good software when it comes to creating details, especially in modeling and rendering. Sketchup is also compatible with many rendering engines such as Vray, which offers a lot of features for materials, textures, lighting, quality of the renders, and even image editing after the render. Sketchup has also tools to control sun direction and timing; it even can create small animations using the rendering tools. 
https://www.sketchup.com/plans-and-pricing
2- 3Ds Max 
It is a great software for interior design and architectural visualization, although it is also used in other fields, it is still very powerful in terms of rendering because ii comes with the powerful render engine Arnold and it is compatible with all major render engines as well.
working with 3ds max can be hard or easy at first depending on your previous experience and the field are in right now. is a friendly software but it definitely requires training, from about two to three weeks to learn the basics, and if you want to get more experience with Archviz modeling and rendering, it will take more time.3ds max has some components to be used in the interior design of different spaces like bedrooms, bathrooms, living rooms, houses, gardens, and so on. Besides, it offers a lot of features relative to lighting, textures, materials, and effects, to have realistic renders and high-quality images.
1- Blender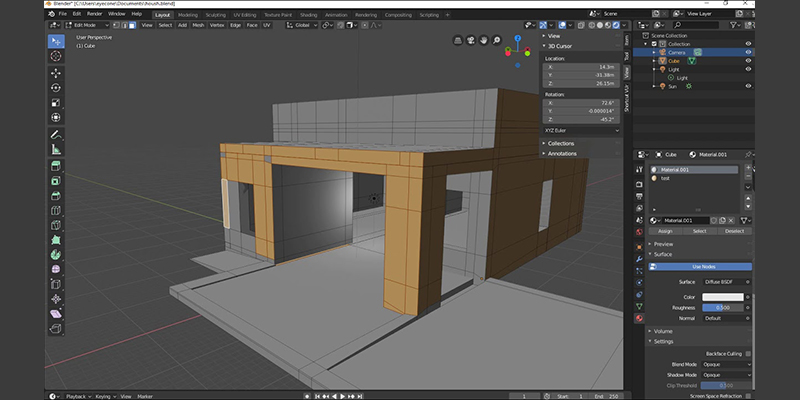 It is a multifunction software that is used in different fields for different kinds of work. It can be used in different industries such as VFX, video games, video editing, and of course, it can be used in the architectural field and the interior design industry as well. Blender is known for its ability to create high-quality materials and textures and its powerful rendering engines Cycles and Eevee. It also has a lot of parametric tools for adding architectural and interior design elements. In addition to others that can help you control lighting, exposure, sun direction, contrast, and all the settings relative to the render. What makes Blender very attractive in interior design is its great addons for interior design both that ship with it and those you can buy or download for free.
Blender is a very flexible software, and you can model any kind of shape with it for your interior design, especially organic forms for the furniture.
Since Blender is open-source software and totally free it is perfect for beginners because even though it is free it offers a lot of good features that compete with the giants of the industry. This software is the best value when we consider its tools and features against its price compared to the other software.