Animation shows and cartoons are probably one of the most important forms of media and entertainment today.
If you're thinking of diving into the entire process of producing Anime from the idea to the final product you'll have to consider taking your art to the next level by using 2D digital software.
Today we'll present to you a list of the Best Anime Software for Beginners, to expand your horizons and kick-start your career as a 2D artist or 2D animator.
6- Open Toonz
It's an open-source software completely free of charge that can be one of the best 2D animation tools for beginners. It was initially developed by the Italian company "Digital Video S.p.A." before the giant Japanese production Studio Ghibli customized it for Anime creation.
In short, you'll be using the same software that Studio Ghibli and Mad House use for their projects.
https://opentoonz.github.io/e/
It's certainly very cool but there's more to it, especially with the highly intuitive UI and the easy-to-use tools. For example, the digital painting tool is compatible with any graphic tablet running Windows, Linux, or iOS. You can also draw by hand and then go through a scanning and cleaning process if you prefer paper-based drafts and sketches. The coloring also comes out easy and vivid with preset color swatches. In addition to the frame-by-frame animation, you can enhance the compositing results with over 100 predefined motion effects.
5- Procreate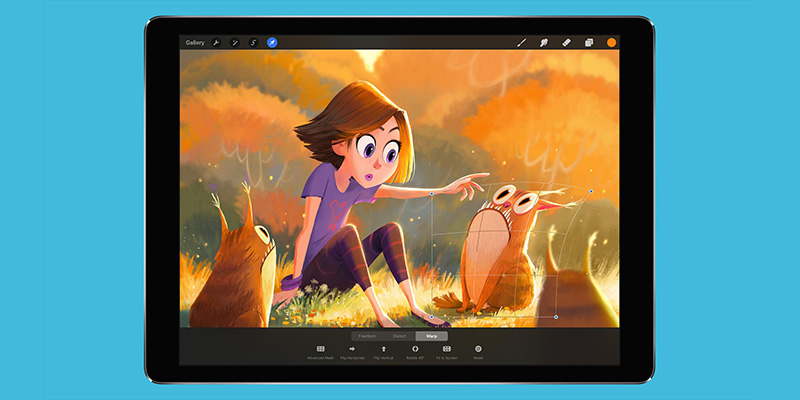 It's definitely one of the leader software of digital and concept art in the iOS App Store, being exclusively launched by the Apple brand. So as you might know, there's no equivalent of this software on the Android platform since it was specifically designed for iPad.
It's needless to say that the features and tools of this software are stunning. Firstly, it comes with over 200 preset brushes with a large variety of textures and tones that simulate the traditional painting perfectly. If you're used to canvas, acrylic paint, charcoal and all the materials it comes with you'll certainly find a good program for recreating all of that digitally. Procreate Brush Studio Store gives you access to thousands of additional brushes to choose from and add them to your library. Not to mention the possibility of importing your favorite Adobe brushes that you use in your Photoshop workflow. In addition to that, you'll discover even more powerful tools to take your plain sketches and paintings to the next level.
There's a lot to discover in this software, from the intuitive color swatches to the advanced control shortcuts. Your workflow will be fast with simple functions to undo, redo and toggle the UI components very fluidly.
All of these features and more for around 10$ on the App Store, the latest update is the Procreate 5.0 version compatible with iPad Pro 12.9-in and above.
4- TV Paint 
It is a software built to enhance any kind of digital illustration in general, in addition to specific features and tools for Anime production. It's used globally and trusted by famous studios such as "Studio Colorido" and "Wit Studio". You'll be able to draw and illustrate your characters and designs with ease, in addition to adjusting them on a storyboard using custom panels. its high compatibility with graphic tablets is stunning and allows you to turn mere sketches into rich and beautiful digital paintings. Moreover, the coloring tools are highly customizable with the "Smear Stamp" mode, allowing you to control the stroke, opacity, and line art to suit your needs. After that, you can bring your creations to life with 2D animation, post-production, and FX studio render.
The permanent professional license is around 1500$, but you can consider the standard edition for 500$ as a start. The pricing also includes special licenses for students, starting from around 600$ for the full professional package and 300$ for the standard edition.
3- Toon Boom Storyboard Pro
If you're a fervent Manga reader you're certainly familiar with the concept of panels, characters' dialog, and scene backgrounds. It's actually one of the major pre-stages that come before the animation, compositing, or the final editing of the Anime. The product goes through many phases before it's done. If you're a traditional artist you're probably going through this primary phase that we call storyboarding, it comes along with the script of your animation.
Traditional line-art on plain paper panels are good if they're meant to be static, but the scanning and redrawing process can be quite messy. This is where Storyboard Pro can come in quite handy to help you make your life easier. It's most important due to its amazing features that provide you with everything you need to go from sketch to animated story.
 No matter what graphic environment you're working on, the predefined templates and libraries of this software are a lifesaver when it comes to speed and quality. There are tons of customizable panels and storyboarding sheets that you can modify easily to suit your needs.
Your workflow is enhanced by the drag-and-drop system allowing you to cut, move, and replace scenes within seconds. Not to mention the additional performance properties such as the smooth and fast line stabilizer, pressure sensitivity, and tilt responsiveness. You can also inject advanced graphic components such as 3D concept art, isometric approach, and hyper-realistic texturing. It's fair to mention that many global studios use Storyboard Pro in their award-winning projects. we can mention for example "OLM Digital Inc.", "Pipeline Studios", "Toei Animation" "Cartoon Network" and many others.
When it comes to pricing, offers are flexible to suit the needs of different people. As a start, there's a free trial of 21 days. If you want to get familiar with the software before fully diving into it, it's your best option. Once you get convinced by the powerful tools it offers you can move to a paid license. you can pay either 60$/month, 470$/year, or a permanent license for 1030$ per package, in addition to the possibility of getting it for free if you're a student.
2- RETAS Studio Pro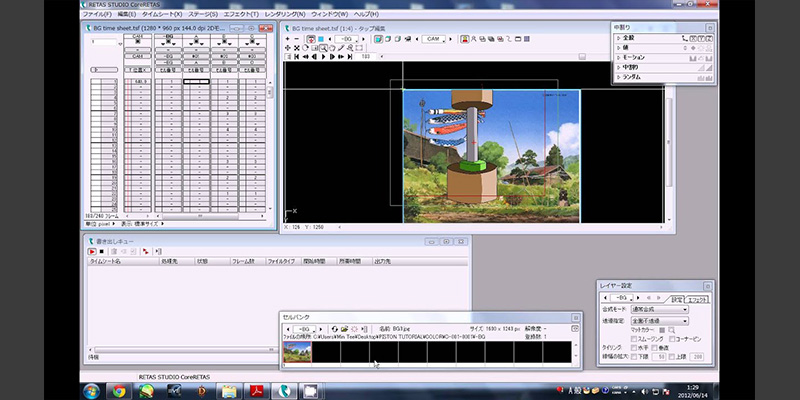 This full animation bundle is a leader in Japan's anime industry since 2008, and it was widely used before the arrival of its successor Clip Studio Paint. If you're looking for a complete studio to make either Manga or Anime, this software offers you 4 different embedded tools to assist your creative process from scratch.
Firstly, there's Trace Man HD that covers your hand-drawn sketches, characters, panels, and scenes into a vector image by scanning and tracing them in a flawless way. You can edit them and add them to existing frames, store them in your library or use them in a fresh panel template.
On the other hand, you can skip the paper drawing phase if you're more of a digital painting fan. RETAS Studio provides you with the Stylos HD tool that gives you the entire freedom to make your line-art directly on the appropriate screen. Any device running Windows or iOS equipped with a digital pen, the sensitive screen will be good enough, like Wacom or Huion graphic tabs or even iPad.
After that comes the coloring process that's amazingly ensured by the Paint Man HD tool, built on an AI recognition system and a raster-based fill. This means that your colors will come out very clean and adapted to resizing without any ugly pixels or weird strokes.
 In the end, you'll have to animate the whole thing using the Core Retas HD Tool that simply renders your key-frames and sound effects in a very fluid way. The interface isn't very intuitive so you will probably need some extra practice to get used to it, but the outcome is totally worth it. Not to mention that the software is very popular so it's easy to find tons of documentation and tutorials online.
When it comes to the price you'll, unfortunately, struggle a bit since the developing company "Clecys" replaced it with Clip Studio Paint. However, you can still find full packages on Amazon for around 2500$ if you're willing to use them on a professional scale. The high price is completely natural since huge studios like "Ufo Table" and "Mappa" use it widely in their production. Otherwise, you could just settle for Clip Studio paint since it's powerful too.
1- Clip Studio Paint Pro
Formerly called "Manga Studio", it's one of the most powerful software of graphic design in general. The thing that makes it very interesting is the fact that it suits many types of design, in addition to many stages of Anime creation. it serves all purposes like storyboarding, animation, texturing, coloring, and many more. But most artists use it for digital painting and character design, as it has an amazing set of features and tools to create the best graphics.
It's fair to mention for instance the awesome embedded brush stabilizer that comes with the package. It will help you create some highly smooth lines and edit them in a very fluid way without having to put too much pressure on your pen.
There are also super flexible erasing and adjusting tools that make your sketch cleaning process very fast and neat. In addition to that, the color fill and the brushes will make you feel familiar because they simulate classic art so well. You'll end up getting used to digital art very quickly and go far beyond the simple paper and pencil results.
It's most importantly easy to learn and to handle in a short period of time even for complete beginners. You can find tons of tutorials and support on the official website and everywhere on the web since this software is very popular. It's available for a one-time purchase download or package version.
It's around 60$ for Clip Studio Paint Pro, but if you want the full feature version you might want to consider Clip Studio Paint Ex for 239$. Furthermore, there's a version completely free of charge called Clip Studio Paint Debut. It has some basic features and it's good to discover the general traits of the software, but for a professional career, we definitely recommend the full Ex version as a lifetime license investment.