Today we are going to talk about the top 8 Open source 2D animation software that you can use to work on your projects. each one of them has its own tools and features that make it unique and powerful at the time.
8- ENVE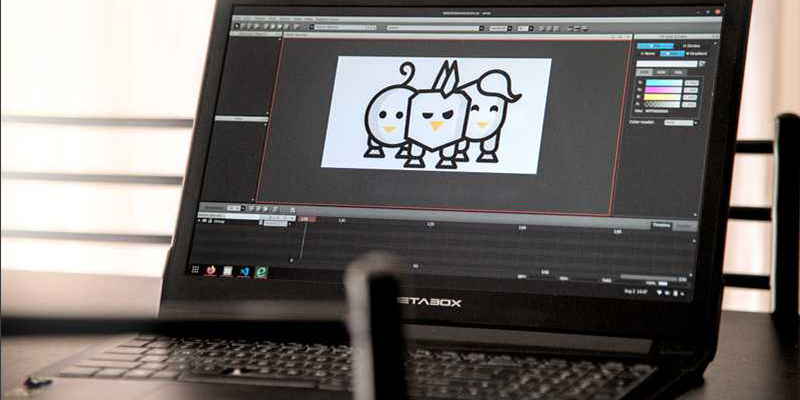 Enve is a promising new Open source 2D animation software.
This software has both vector and raster animation capabilities and a workflow that should be familiar to users of other open-source graphics software. even though it is new, it seems polished and intuitive and can do a lot of things as well.
Although it has raster animation tools – it uses the MyPaint brush library as a painting engine and has graphics tablet support. and from what we can see so far it seems good at doing vector animation.
Which is great for people who need free and open-source software for logo animation and design.
The Workflow of This software including many of the keyboard shortcuts and the overall feel is similar to what most people are used to when using software such as Blender, Inscape, or After effects.
Supported Platforms: Windows, Mac, and Linux.
Price: Free
7- Tupitube
Tupitube is an animation software created by Maefloresta Inc. It's basically an amateur animation software that is very popular among kids, students, and teachers. Schools and colleges are also using this 2D animation software. Its simplistic design and UI are very easy to use for beginners. It also has a virtual assist feature to help with the animation process.
Tupitube can help create different things with a range of animation features. and The hand-drawing animation features are the most commonly used followed in Cut-Out animation. Even though it might appear unprofessional, Tupitube does have advanced functions such as Rotoscoping and Stop-Motion animation.
6- GIMP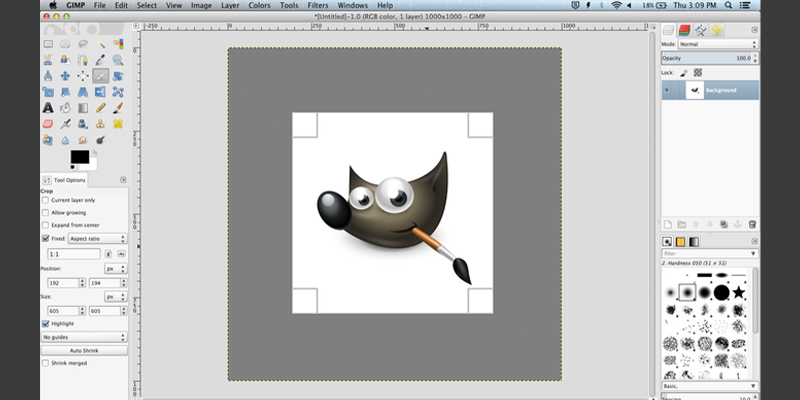 GIMP is an acronym for GNU Image Manipulation Program which has all the features that a software like Adobe Photoshop has. In addition to that, there are tools and features for animating 2D figures and drawings. The animation is basic but it does provide frame-by-frame editing and composition. If you are looking for very basic animation software, GIMP is a good one for a start.
There are Gimp Animation Packages that allow making animated GIFs or short video clips but for longer and more professional animation you probably want to consider other alternatives down the list.
5- Krita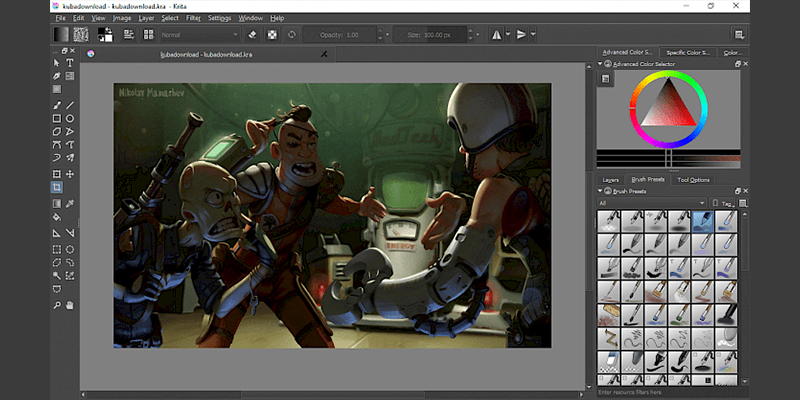 Krita is a free and open-source raster graphics software designed primarily for digital painting and 2D animation.
It features an OpenGL-accelerated canvas, color management support, an advanced brush engine, non-destructive layers and masks (similar to Adobe Photoshop), group-based layer management, vector artwork support, and more
Thanks to the 2015 Kickstarter, in the 3.0 version Krita was equipped with animation tools. In specific, Krita has frame-by-frame raster animation. there might be some tools that are missing compared to the other 2d animation software but the basic workflow is there.
and since Krita is used by a lot of artists as an alternative to popular tools such as Photoshop, it is going to attract even more people now because they don't have to use multiple software to do different things including 2d animation.
It runs on Windows, macOS, Linux, and Android. 
https://krita.org/en/features/highlights/
4- Synfig Studio
Synfig Studio is free and open-source 2D animation software, and if you are looking for one of the most convenient places for beginners to master 2D animation then Synfig is probably the right one for you. With the use of Synfig you can create timeline-based animations.
you will find a great community behind Synfig software, they produce many tutorials and videos to allow beginners to learn the program easily.
With Synfig you can make beautiful animations in a very easy way in a short time.
If you had worked with Flash before, then Synfig will look very familiar to you. They both have a very similar workspace. Synfig is a vector-based animation software that allows you full control of the characters and editing artwork animation. It also allows you to create character puppets.
Synfig is the best animation programs to begin with. Give it a try.
3-_Pencil 2D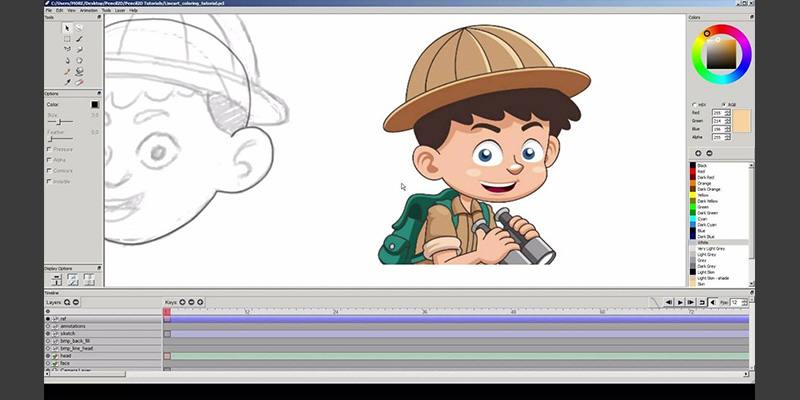 Pencil2D is another free and open-source animation software. It is known as one of the most powerful Open source 2D animation software and it is very popular.
It has a simple and easy-to-understand interface that has a kind of minimalist workspace. You can make every frame from scratch because it is based on traditional frame-by-frame animation.
As mentioned before, Pencil2D is open-source, which means that you have access to the source code if you want to help add features or tools that you feel will help you and help the community as well.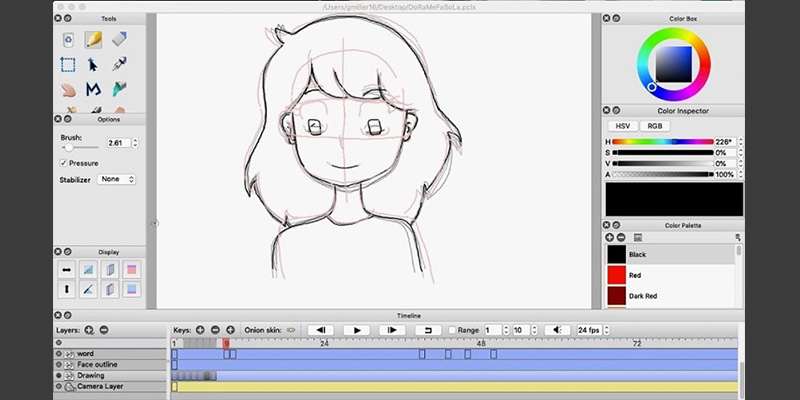 Pencil2D is both raster and vector graphics-based with a smooth switch between the two types of artwork. You can use it to create animations using 2D hand-drawn animation tools if you are into traditional hand-drawn animation. 
To start with Pencil2D you can use the manual, the tutorials on the official website or you can check the forums of the growing community where you can find tons of tutorials and lot of support.
It is also a cross-platform program, so you can download it for Windows, Linux, and Mac. It can be installed on any computer since it is a lightweight program that doesn't need a very powerful machine.
Supported Platforms: Windows, Mac, and Linux.
Price: Free
2-_Opentoonz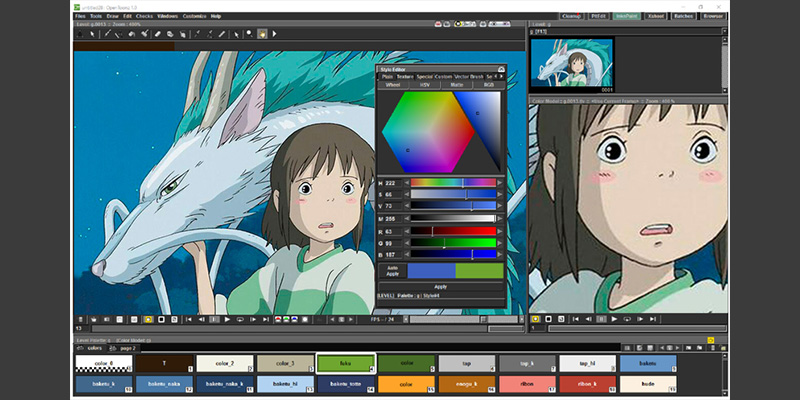 Opentoonz is one of the top free and open-source 2D animation software that you can use to create videos.
In the beginning, Opentoonz was not that popular due to the many issues that were in the software, but since it is open-source it gets a lot of improvements from the developer's community that they bring many changes and make the recent updates very stable.
Over the years it was used to create some of the most popular Japanese anime shows which shows how good and important it is in the animation industry.
In OpenToonz you can find a toolset with many features that gives a great result of animation videos.
Opentoonz can be used by anyone for free. It is a powerful alternative software for 2D animation content.
Supported Platforms: Windows, Mac and Linux.
Price: Free
1- Blender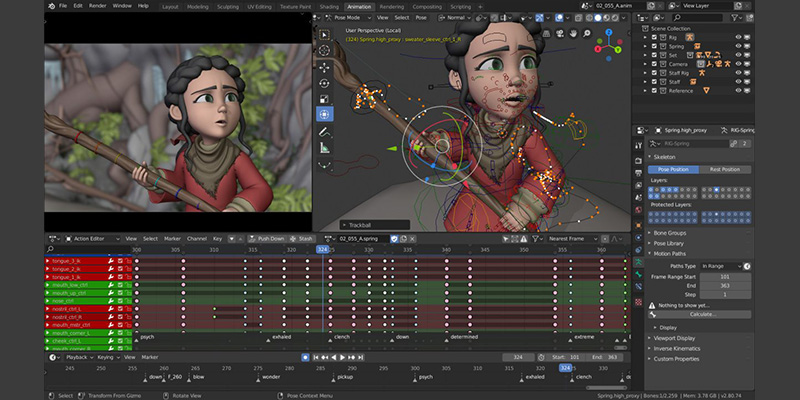 Blender is an open-source free-to-use 3D and 2D animation software, for both commercial and personal use. it is a cross-platform 3D creation program, it offers a powerful arsenal of tools, with Blender you can do modeling, animation, rigging, simulation, rendering, motion tracking, compositing, video editing, or game creation. in addition to a great 2D animation system.
Blender is one of the most active open-source software in terms of development and improvements. it is being constantly updated with new tools and features by the Blender team in addition to contributors from around the world that make sure it is always the best it can be.
Blender suite is suitable for beginners, as well as for professional users.
and it is good for 2D animation because it has a unique tool known as the grease pencil. A grease pencil is a revolutionary tool in Blender that is being used for different purposes other the making 2d animations.
Blender Institute has released this steampunk-ish 2D animated short created entirely in Blender, in 2018. Also, a Netflix film called "I lost my body" was created using Blender and the grease pencil as well.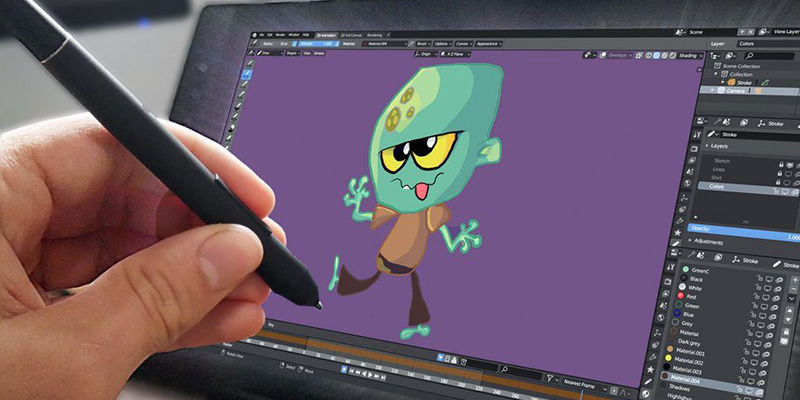 Today after a dedicated team of blender developers worked on it for years it is now a full 2D drawing and animation system. And This unprecedented integration of 2D tools will enable many artists to create next-level concept-art, storyboards, and 2D animation for their projects.
Like 3d animation in Blender, the process of creating a 2d animation project goes through 3 different stages. First preproduction in which we are going to create the story, script, storyboard, and animatics using the grease pencil as a primary tool for doing that.
The second part is the actual production in which we create the characters, rig them, create all different types of animation, line art coloring, do the visual effects and draw all the details you need using the grease pencil. And when we are done we can render the final results using Blenders render engine called cycles or we can use Blenders real-time render engine called Eevee.
Supported Platforms: Windows, Mac and Linux.
Price: Free