If you are interested in computer-aided design software you probably heard about Autocad. It is a well know software that has been around for a very long period of time. Over the years, it became better and covered a wider range of uses to satisfy the needs of designers and engineers in many fields.
In this video, we will see What is Autocad used for, and give you all the details you need before starting your projects with it.
---
What is AutoCAD?
Created in December 1982, AutoCAD is a multidisciplinary technical drawing software in 2D and also 3D. In 1992, AutoCAD was developed for Mac Operating System, then for Windows in 1994. Its publisher, Autodesk the developer of this software has made it a popular tool in design and engineering offices around the world. Because of the huge tools and features it offers. Autocad is updated every year to offer users more features and a better experience. Since 2004, Autodesk has launched a new version of its software every year.
This versatile software offers the possibility of designing various elements and objects in 2D and 3D. Users can create their own manufacturing plans, but also realistic images of their models by applying colors and textures. They can also animate these objects to simulate the operations of a machine or take a virtual tour in a house. In its first version, AutoCAD software was developed for mechanical engineers. However, since 2004, the software has been constantly updated to offer even more functionalities and data specific to the industries that use computer-assisted design.
So, What is Autocad used for?
---
Autocad in Architecture
AutoCAD Architecture is a version of AutoCAD software incorporating features dedicated to architectural production. This allows architecture professionals to develop plans for residential and commercial buildings, among other things. This version is more advanced than the basic software since it offers specific objects made to the field of architecture. Besides, with AutoCAD Architecture, any modification can be automatically updated on all the elements in which it appears. this helps saving time and effort.
---
Autocad in Interior design
While AutoCAD is a recognized software in the field of architecture and construction, it is also recognized for space planning and interior design. Thanks to its 3D tools and the many resources that the software offers to users, such as unique materials, a rich color palette, special arrangements, and so on.
Professionals of interior design can expand their creativity and work on complete, realistic, attractive, and personalized plans for their customers. The 2D function also, makes it possible to produce plans conforming to reality, while adding annotations to clients or coworkers.
---
AutoCAD in Civil engineering
AutoCAD is also very useful for this type of work. With its Civil 3D tools, civil engineering professionals can design plans for the construction of roads, bridges, other transport systems, and even sewer systems. They can use 3D models to create surfaces, volumes, and add materials, in addition to section drawings that help to achieve a precise and realistic result.
---
AutoCAD for Mechanical engineering
Mechanical designers, who use AutoCAD, prepare plans for machines and mechanical devices. With 700,000 standard parts and objects and an advanced mechanical drawing toolbar, AutoCAD users can create highly accurate 2D and 3D drawings that are true to the end product they will get. Everything is thought of in this software to save time and effort
for its users. Industrial design becomes easier and more consistent.
---
AutoCAD for Electrical engineering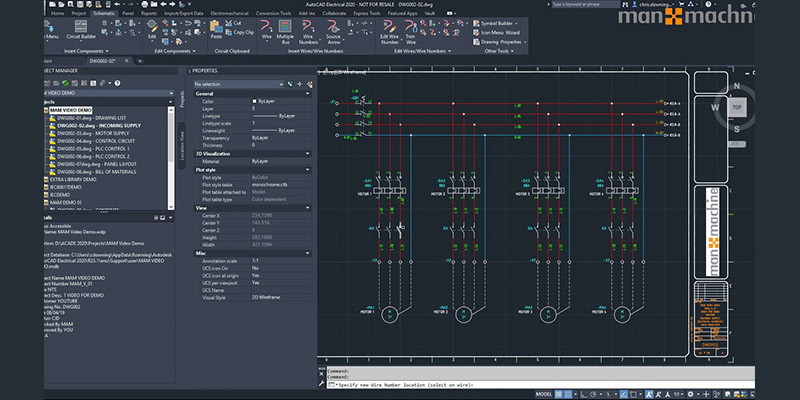 AutoCAD is also an essential tool for electrical design professionals. They can prepare wiring diagrams for use in the manufacturing, installation, and repair of electronic gadgets. These drawings facilitate the installation of the cables since everything is thought out beforehand in the smallest details.
Some people pick up CAD software faster than others, but it will take time and effort, so how can you master it easily!
---
AutoCAD in Manufacturing
AutoCAD software is also used in many industries for manufacturing. Industrial designers represent and define the objects to be manufactured. Based on strict specifications, they calculate and determine the different parts that will constitute the final object and then virtually assemble them on a computer. These drawings will then be used to develop prototypes and marketable series. Every detail, be it the shape, the size, the color, or the material, is thought upstream and highlighted in the design to obtain an optimal result.
---
Price of Different versions of Autocad
If you are going to use AutoCAD for educational purposes, Autodesk encourages students by providing special versions. But if you will use it for professional purposes, you are going to pay according to what you need. And If you want to try the software, you can get the trial version available for 30 days.
https://www.autodesk.com/products/autocad/overview?term=1-YEAR
AutoCAD comes in many forms including:
AutoCAD
It's the most complete offer with all the features. If you take out this subscription, you will get access to AutoCAD for Windows and AutoCAD for Mac, plus industry-specific toolsets of AutoCAD Architecture, AutoCAD Electrical, AutoCAD Map 3D, AutoCAD Mechanical, AutoCAD Plant 3D, AutoCAD Raster Design, and the AutoCAD web and mobile apps. For $1690.
AutoCAD LT
It is a simplified version of AutoCAD for 2D drafting that does not allow 3D modeling and visualization for $420/year.
AutoCAD Mobile app

AutoCAD mobile app has core design and drafting tools. Work on your CAD drawings anytime, anywhere—even offline for $55 a year.
AutoCAD web app
This is an online app to edit, create, and view CAD drawings in the web browser on any computer. And it comes for free with Autocad and Autocad LT