In this article, I tried to give you an overall look at 21 of the very famous Autodesk software for 3D designing, architecture…etc., with a detailed explanation of their use.
https://www.autodesk.com/products
■1- AutoCAD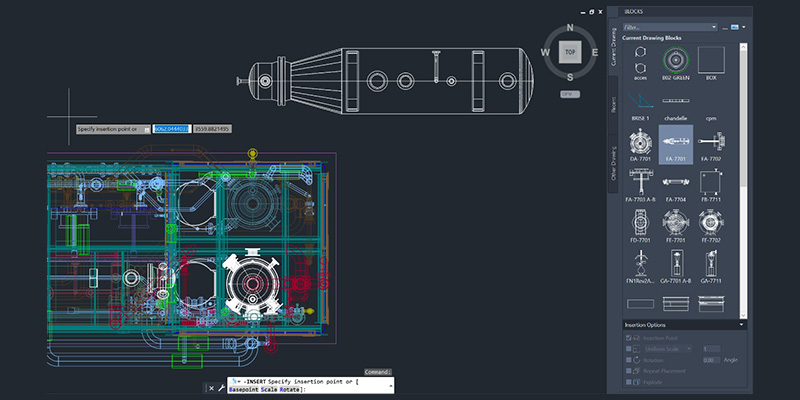 AutoCAD is s computer-aided design software that architects, engineers, and construction professionals rely on to create precise 2D and 3D drawings. It is widely popular in those industries because it was one of the first of its kind in the field. That is why it kept growing and pushed Autodesk with it to become the giant company it is.
Price: $1,690 /year
– Free for students, educators & academic institutions
■2- 3ds Max
3ds Max is one of the best software ever developed under Autodesk in the late 80s and 90s. It offers a rich and flexible toolset to create designs, animations, and effects with full artistic control. It is very popular in the video game industry because of its capability of creating game assets and animations. This software can be used to visualize high-quality architectural renderings, detailed interiors, and objects. Furthermore, it can bring characters and environments to life with animation and visual effects.
Price: $1,620 /year
– Free for students, educators & academic institutions
■3- Maya
Maya is a 3d modeling and animation software developed by Alias in the 90s and then acquired by Autodesk in 2006. It is a leading program in the industry of game development, animation, and VFX.
These days, it is extremely popular in art schools and studios because it has been a leading computer graphics software since its inception. It was used to create numerous successful video games and films.
Price: $1,620/year
– Free for students, educators & academic institutions
■4- Revit
Revit is a building information modeling software made for architects, landscape architects, structural engineers, to name a few. It was originally developed by Charles River Software, founded in 1997, and renamed Revit Technology Corporation in 2000, and acquired by Autodesk in 2002. This software allows users to design a building structure and its components in 3D, annotate the model with 2D drafting elements, and access building information from the building model's database.
Price: $2,425/ year.
– Free for students, educators & academic institutions
■5- Mudbox
Mudbox is a powerful computer-based 3D sculpting and painting tool. Currently developed by Autodesk, Mudbox was created by Skymatter, founded by former artists of Weta Digital, where it was first used to produce the 2005 Peter Jackson remake of King Kong. Mudbox's primary application is high-resolution digital sculpting, texture painting, and displacement, and normal map creation, although used as a design tool.
Price: $80/ year
– Free for students, educators & academic institutions
■6- Fusion 360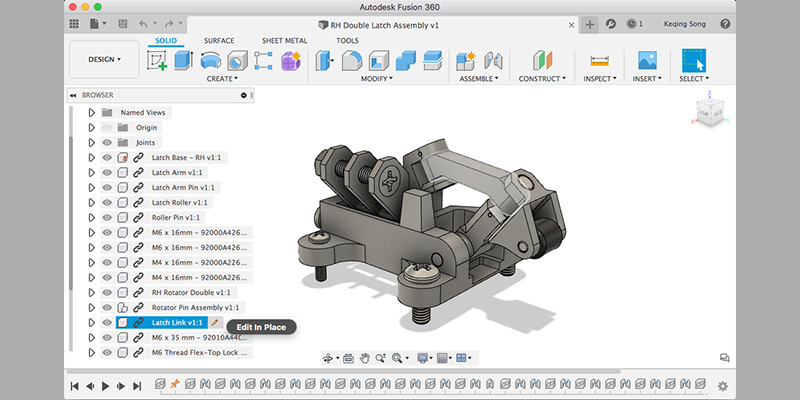 Fusion 360 is a cloud-based 3D computer-aided design program. A plus of the Fusion 360° platform is that it stores the model's complete history and all the changes. This software contains a variety of design options, like freeform, solid, and mesh modeling. Fusion 360 allows for exploration and iteration on product ideas and collaboration within the distributed product development team. It also combines organic shapes modeling, mechanical design, and manufacturing in one comprehensive package.
– Price: $60/month or $495/year
– Free for students, educators & academic institutions
■7- SketchBook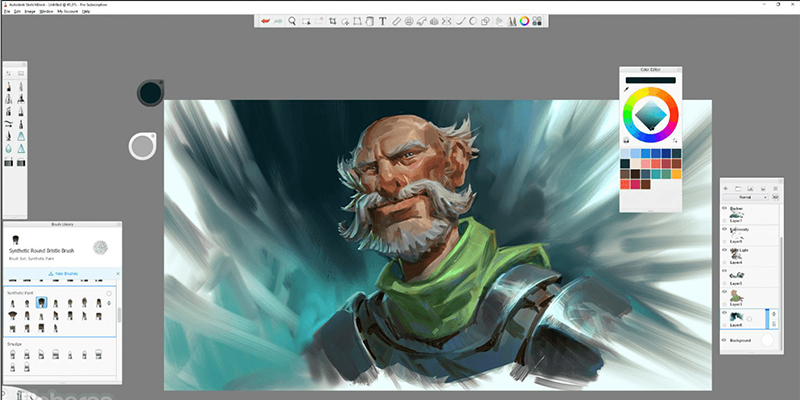 Autodesk SketchBook is a drawing software accessible on both desktop and mobile. It is a bit similar to Photoshop, and its several alternatives since it's a raster image editor. What makes it distinctive is its heavy focus on drawing, painting, and easily creating artwork. In contrast to Photoshop, SketchBook isn't aimed at image manipulation or photography. Instead, the software comes with a wide range of tools aimed at artists and designers. Sketchbook makes full use of layers so that you can group and set up various elements easily. Additionally to the basics, SketchBook comes with some more specialized tools. These include various guides and rulers, perspective guides, distort transform, brush blending, easy gradients, and a separate "Flipbook" animation mode.
Price: Free.
■8- Inventor
Inventor is a CAD (Computer-Aided Design) software developed by Autodesk in 1999. Autodesk Inventor is a standalone product that offers core CAD features, such as parametric design, stress analysis, and sheet metal design. Autodesk Inventor is a 3D software with tools for creating a 3D mechanical design, making simulations, and designing products. Inventor is a powerful software used by many professionals and in several fields. This software helps you measure the flow of Digital Prototyping to design and build better products faster. By using Inventor, you also get an accurate 3D digital prototype that allows you to validate the form, fit, and function of the design you are working on.
Price: $2,085 / year.
– Free for students, educators & academic institutions
■9- TinkerCAD
TinkerCAD is an online 3D design tool coming from Autodesk made especially for beginners. This software features an intuitive block-building concept, letting you develop models from a set of simple shapes. TinkerCAD comes with a library of multiple files that users can use to get various shapes that fit different situations, and they can manipulate them as they want. It also has a direct interaction with third-party printing services. It is quite a simplistic program that can have limitations for some designs. However, it is aimed mostly at people with no experience whatsoever with 3D modeling.
Price: Free.
■10- Civil 3D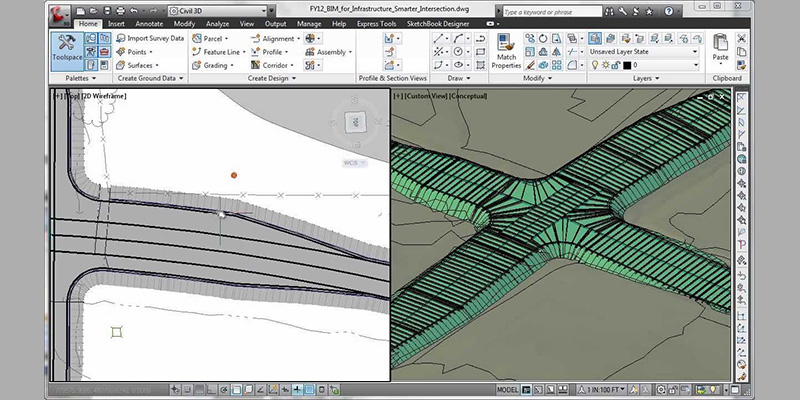 Civil 3D is a civil engineering design software released in 2005. The software was originally developed as an AutoCAD add-on by a New Hampshire company called Softdesk (originally DCA).
Autodesk acquired Softdesk, and Civil 3D was further evolved. This software supports Building Information Modeling (BIM) workflows on various civil infrastructure project sorts, together with roads, land development, rail, and airports. This software helps civil infrastructure professionals improve project delivery, maintain consistent data and processes, and respond quickly to project changes. Users can also help streamline time-consuming tasks such as intersections, roundabout, corridor design, parcel layout, tubes, and grading with exact tools and customizable design
standards.
Price: $2,315/ year.
– Free for students, educators & academic institutions
■11- Flame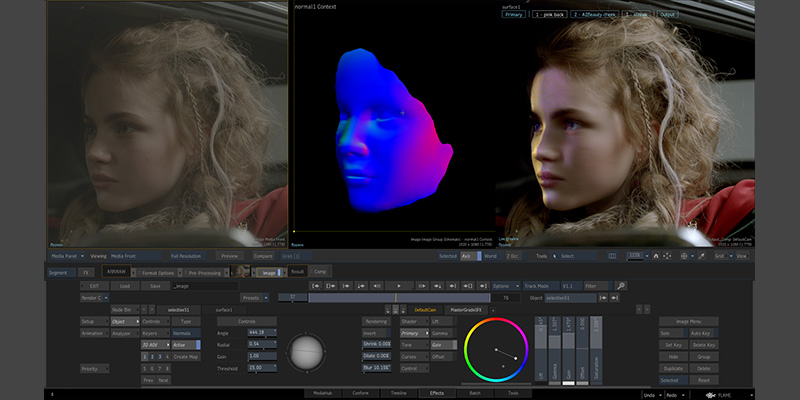 Flame is a 3D VFX and post-production software released in January 1993. This software provides powerful tools for 3D compositing, visual effects, and editorial finishing. An integrated, creative environment means faster compositing, advanced graphics, color correction, and many more.
Price: $5,755 /year
– Free for students, educators & academic institutions
■12- Arnold
Autodesk bought Arnold in 2016. Arnold is a sophisticated Monte Carlo ray tracing renderer, built to stand up to VFX and animation production demands. It offers a powerful and easy rendering experience that delivers stunning results and helps you focus on being creative rather than spending a lot of time going through settings. Arnold can currently be used for production rendering on both the CPU and GPU. Users can switch between CPU and GPU rendering with a simple click, empowering them to pick the type of rendering that fits their needs and workflow.
Price: $360/ year.
– Free for students, educators & academic institutions
■13- BIM 360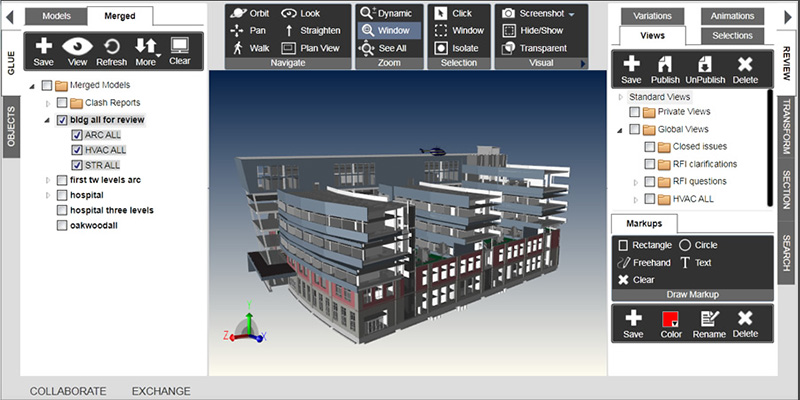 BIM 360 is an Autodesk cloud-based product that allows project teams to work in a collaborative environment effectively. BIM 360 is the overarching concept comprised of numerous modules specialized in different aspects of the project.
Price: $35/month/user. Volume discounts are available.
■14- Character generator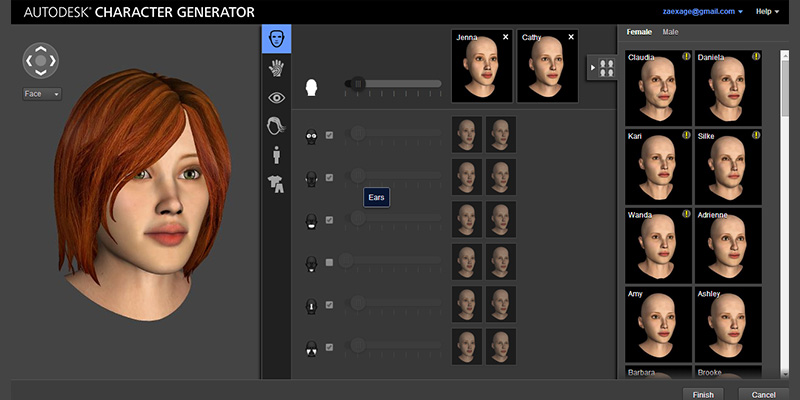 Character Generator leverages Autodesk's powerful 3D design and animation tools to provide you with a web-based laboratory to create fully-rigged 3D characters to use in games, animations, and scenes. It comes with an available catalog of over 100 body types, outfits, hairstyles, and physical attributes in a few simple steps. This software gives you control over a character's body, face, clothes, and hair. You can pick colors, textures, female or male Artistic Styles, and female or male Premium and Standard character preset to customize your character's look.
Price: $50/ year.
– Free for students, educators & academic institutions
■15- InfraWorks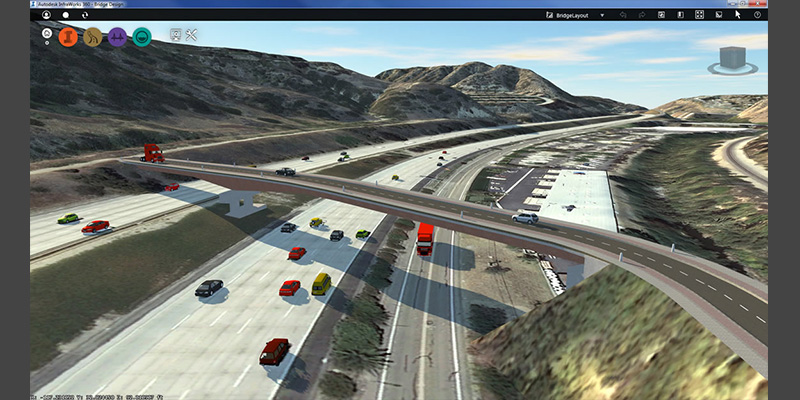 This software is a planning and design platform that enables engineers to quickly and easily convey primary design intent in a real-world increasing stakeholder buy-in and team decision-making. It leverages automated, rich 3D model building capability with web-based technology and vertically-specialized functionality to provide infrastructure engineers with the industry's most compelling conceptual design tool.
Price: $1,740/ year.
– Free for students, educators & academic institutions
■16- Advance steel
This software is specifically made for structural engineers and steel detailers who need professional and user-friendly 3D structural steel detailing BIM software. Advance Steel raises productivity and drawing quality and also reduces the risk of errors. This software accelerates the design phase by offering an extensive library of automatic joints. It generates all workshop and general arrangement drawings using smart tools to control dimensions and labels and all necessary views required automatically. Its users can create, manage, and modify complex, intelligent 3D models and all associated drawings faster than static 2D drawings with its easy learning curve.
Price: $2,095/ year.
– Free for students, educators & academic institutions
■17- Alias
Autodesk Alias is a CAID software that became part of Autodesk in 2006. This software is used in Automotive Design and Industrial Design for generating "Class A" surfaces using a special modeling procedure. Its tools and potentials are oriented more towards the "styling" aspect of design. It does not go into mechanical detail like other CAD programs. Still, it has a much more powerful set of tools for creating precisely sculpted curves and surfaces and all 'touch and feel' surfaces of any part that demand aesthetic finish.
Price: $4,445/ year.
– Free for students, educators & academic institutions
■18- Navisworks
Navisworks (also known as JetStream) is a 3D design review program that was purchased by Autodesk in 2007.
This software is primarily used in construction industries to complement 3D design packages (Autodesk Revit, AutoCAD, and MicroStation). Navisworks permits its users to open and unite 3D models, navigate around them instantly, and review the model using a set of tools, counting
comments, redlining, viewpoint, and measurements.
Price: $925/ year.
– Free for students, educators & academic institutions
■19- Netfabb
Netfabb is a software that cleans and repairs 3D models. When you upload or design models on the Exchange, they are processed by this software in the cloud. Netfabb works by analyzing the model and then performing steps to fix any issues it finds. It will fill holes, correct triangle orientation, merge close borders, delete redundant and degenerate faces, and remove self-intersections.
Price: $4,415/ year.
– Free for students, educators & academic institutions
■20- Design Review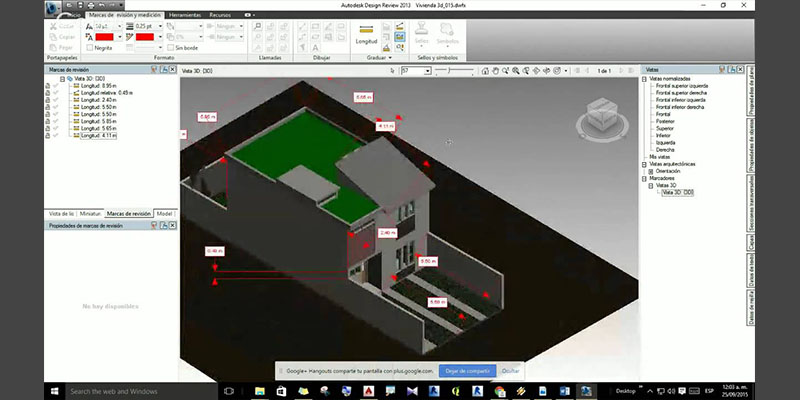 Autodesk's Design Review is a program used for creating and reviewing DWF files. An open, distributed, and secure file format developed by Autodesk, DWF allows you to combine and publish rich 2D- and 3D-design data and share it with others.
Price: Free
■21- Dynamo Studio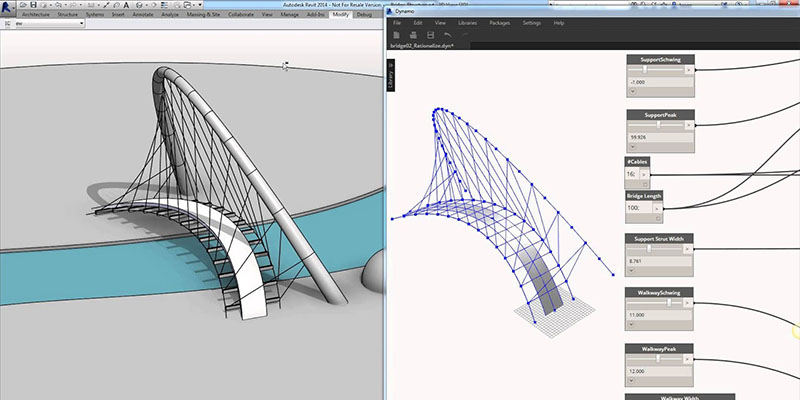 Dynamo Studio is a visual programming environment tool that allows designers to explore parametric conceptual designs and automate tasks. This software can extend your designs into interoperable workflows for documentation, coordination, and analysis.
It works with Revit and extends its power by providing access to the Revit API in a more accessible manner. Rather than typing code, with Dynamo, you create programs by manipulating graphic elements called "nodes."
Price: $325/ year.
– Free for students, educators & academic institutions
As you can see, we covered all popular Autodesk products. From TinkerCAD for absolute beginners, through professional CAD and 3D modeling software for game and film, Archviz, industrial design to powerful tools designed for CNC machining and Additive Manufacturing.