If you're interested in hard surface modeling, this article is definitely for you. We have gathered a list of amazing Blender hard surface modeling courses to help you start your learning journey in this field.
How can a Blender hard surface modeling course be an asset?
It's certainly not magic: the field itself is not a piece of cake. However, what you need is a structured learning process that breaks down the concept in a way that you can grasp. It's true that these Blender hard surface modeling courses can do that, but above all you'll need tons of dedication. Set your mindset, muster your courage and motivation then let the mentors do the rest.
9 – Steampunk Gun Game Asset In Blender
https://blendermarket.com/products/steampunk-gun-game-asset-in-blender-tutorial?ref=247
This Blender hard surface modeling course will teach you how to create a Steampunk gun game asset. Starting from Concept and ideas guidelines using Pureref. Which is a free software that is mostly used for collecting reference images, ideas, and inspiration.
After you know what exactly you are going to make, you will start working on the Highpoly and Lowpoly mesh modeling in Blender. In addition to Detail Sculpting in Zbrush.
The UV creation process will be done using Headus UV layout. Which is UVLayout is a stand-alone application for the creation and editing of UV texture coordinates for 3D poly meshes and subdivision surfaces. And Texture map baking will be done using a combination of Marmoset toolbag and Substance Designer.
As a conclusion, the Realistic texturing process will be done with Substance Painter. And finally, Realtime render with Substance Painter, Marmoset Toolbag, Blender Eevee, and Sketchfab. 
8 – Blender Pbr Art Creation: Sci-Fi Crate And Turret
https://blendermarket.com/products/learn-blender-pbr-art-creation–sci-fi-crate-and-turret?ref=247
In this second Blender hard surface modeling course, the instructor will teach you all the necessary tools and tips to create models from basic to complex starting. With a simple example of a crate that will help you get a better grasp of modeling Basics in Blender using Non-Destructive workflows. In addition to Cloth simulation UV mapping and Backing maps. And then you will learn how to create your own PBR materials, which stands for Physically-based rendering materials, then you will jump to creating compelling lighting.
This course is structured for both beginners and advanced users. The Goal of the first section is to introduce you to Blender while completing the sci-fi crate project, that will be hopefully inspiring you to take on the much more complex advanced section where you will create a sci-fi turret and learn all the advanced tools and tips along the way.
7 – 50 Modeling Issues From Hell 
https://blendermarket.com/products/50-modeling-issues-from-hell?ref=247
If you struggled with 3D modeling in Blender you probably realize that some things are tough and make learning hard sometimes, and needlessly uncooperative. So many things can go OFF THE RAILS. Even if you feel more or less comfortable with 3D modeling in Blender, there are always more things that can challenge you.
So this Blender hard surface modeling course will be a very efficient training. Helping you to identify and solve 50 Common 3D Modeling Problems in Blender. such 
A subdivided object collapsing into a shapeless mess
Topology going haywire
Non-manifold geometry
Boolean ops ruin the topology
Some models just explode (due to an error in the modifier stack)
Bevels overshooting
Exported models are broken
Too many polygons to even move a vertex
…or Blender just crashes
6 – Scifi Crate Design In Blender
https://blendermarket.com/products/scifi-crate-design-in-blender?ref=247
This course is a simple introduction to the hard surface modeling workflow in Blender. Even if you are a complete beginner this will help you learn a lot because it contains very important and fundamental tools that every artist should add to their 3D skillset. If you struggle with 3D modeling, the boolean workflow, or just don't know where to start, this might be where you need to start.
You will learn proper modeling techniques and master 3D modeling and hard surface workflow in this comprehensive course.
The steps you will go through in this course include:
Hard Surface Modeling
Practical 3D modeling techniques and workflows
Non-Destructive Modeling
learning Realistic and natural lighting
Correct and appealing composition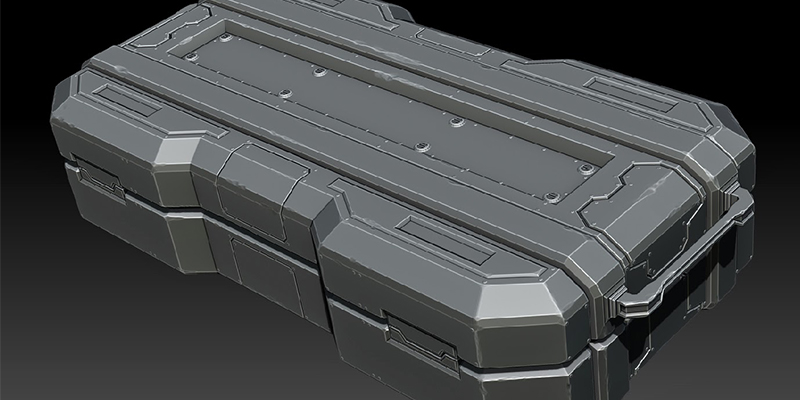 In addition to:
Rendering
Materials
Cycles Rendering Engine
And hopefully as a conclusion, you will have a better understanding of SciFi design.
5 – Create Sci-Fi Assets For Videos Games
https://blendermarket.com/products/blender-sci-fi?ref=247
This is an in-depth Blender hard surface modeling course that will show you how to create sci-fi assets for video games, and in this case, you will create a sci-fi rifle.
Before you start working on the actual modeling you can go through the Design stage. Which is very important if you want to create something unique and artistic. You can use different methods to do this if you want to. In this project the artist is just is using a combination of different models in order to stumble upon something that looks good.
And then based on the concept of the sci-fi weapon you can start modeling using basic shapes. This stage is usually called the block-out stage in which you put in place rough general shapes from which you will start adding details later.
After you finish working blocking out the sci-fi weapon you will have to start adding details to separate parts. Like the stock, grip, body, barrel, magazine, and so on.
Furthermore, the artist adds materials to different parts of the sci-fi weapon and then he starts UV unwrapping it. Which will be followed by exporting the model to "Substance painter" for baking and texturing.
4 – Hard Surface Modeling In Blender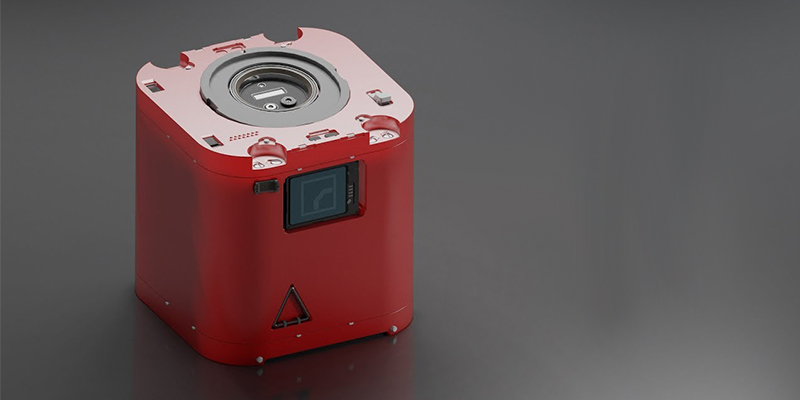 https://blendermarket.com/products/hard-surface-modeling-in-blender?ref=247
This is an in-depth Blender hard surface modeling course that can be great for those who don't have a lot of experience with the software. Because the two instructors Aidy Burrows & Gleb Alexandrov take through all the stages step by step.
Basically, this course will include everything you need to know to create robots and other hard-surface stuff in Blender. But most importantly, it's a comprehensive guide to learning powerful modeling workflows plus 6 hours of theory. 
I would say the downside of this course is that it's a couple of years old because it includes in part Blender 2.79 in addition to Blender 2.8 versions. Which might make your version look different, but if you focus on the techniques and concepts used it is not going to be a problem.
3 – Scifi Weapon Design In Blender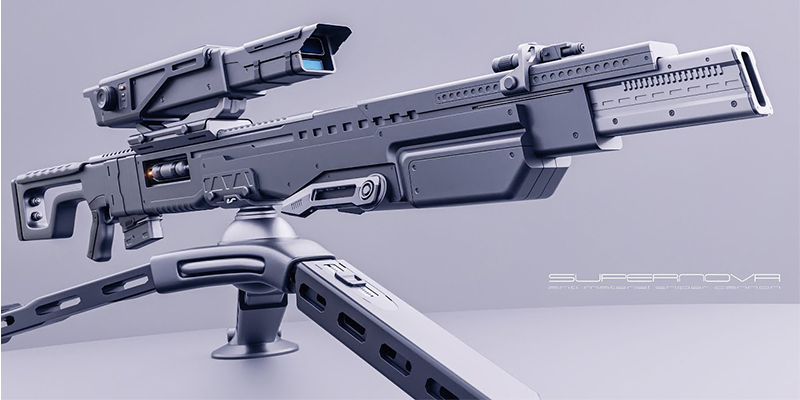 https://blendermarket.com/products/scifi-weapon-design-in-blender?ref=247
In This course you will learn how to create relatively complex sci-fi models, in this case it is weapons. And the good thing is that this Blender hard surface modeling course will teach you how how to create two courses from scratch, not just one. You will learn how to block out the model, detail it, use hard-surface techniques for clean composition. And finally apply materials to give it a beautiful final render, all done completely with Blender.
This course is not for absolute beginners but you can follow if you are a quick learner and you can pickup things fast. You will at least need to know the basic toolset within Blender (like scaling, extruding, moving, menus, etc). 
The most important skills you will learn throughout this course are Hard Surface Modeling techniques including, Boolean and Bevel techniques, How to clean up shading errors, How to fix artifacts and mesh distortions
Boolean cleanup which necessary after heavy modeling work of that nature. In addition to Topology Fixes as a continuation to the Boolean mesh clean up.
And after you are done with the modeling work you will go through creating materials. Not to mention some of the most important process components such as Lighting, Composition, and Rendering. These last steps are important but if you are a beginner I suggest you focus on the modeling part the most.
2 – Nitrox3d Non –Destructive Modeling Course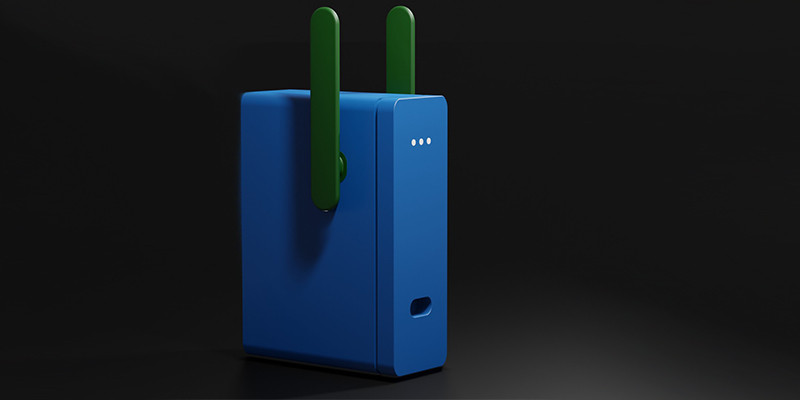 https://blendermarket.com/products/nitrox3d-non-destructive-modeling-course?ref=247
This is a Blender hard surface modeling course that will teach you NITROX3D workflow (Non-destructive Iterative Techniques for Rapid Object eXploration in 3D.) This course will enable you to quickly model in a parametric-like workflow, that will help you create complex shapes easily. This workflow is not going to include any addons like hard ops, box cutter or Meshmashine just to name a few but it is not a way to replace them either because those addons are almost irreplaceable.
NITROX3D cannot model everything (a car, a character), but it does work well for a number of products i addition to ArchViz models. The course Includes 230+ minutes of compressed* training videos** PLUS all source files, textures, and lighting rigs.
The instructor of this course is great and I am sure you will be happy to learn from him. In other words, it's the feature that really contributes at making this training a very good Blender hard surface modeling course.
1 – Scifi Mech Design In Blender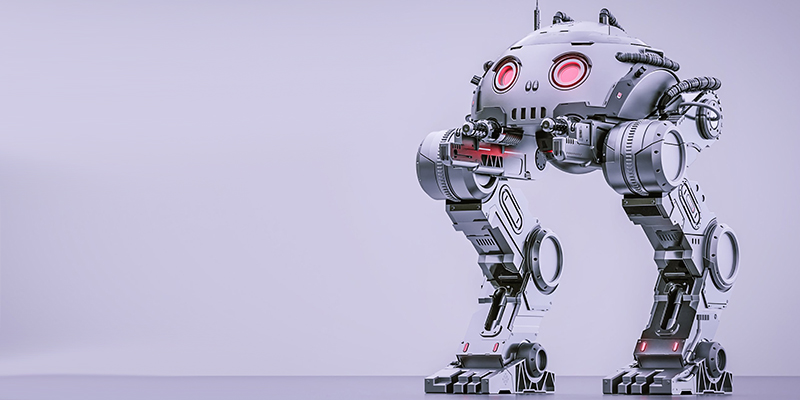 https://blendermarket.com/products/scifi-mech-design-in-blender?ref=247
This is a fantastic Blender course that will teach you how to master SciFi Mech Design in Blender is a comprehensive video course that will go in-depth and show you most if not all the techniques you need in order to be able to create hard surface machines, and Mechas, on your own.
But you need to be serious and committed because There are over 45 hours of video content in this course, so it will require patience and persistence. But by the end of it, your hard-surface modeling skills will certainly go to the next level.
First, you need to go throw the Blockout phase in which you will block the overall geometry of the model before jumping to the process of adding details. In order to make things easier, detailing this Mecha model will through multiple stages of iteration which good because it lets you become organized and focused as opposed to being confused when adding all the details at once. When you are done you will be adding Materials to make hard work pop up a little bit and then you will learn how to deal with Decal Application. And finally, you go through the Rendering and Post-Processing using a bonus video by showcasing how to create a composite with the mech in photoshop.
just want to mention that this course utilizes ESSENTIAL hard-surface addons, such as Hard Ops, Boxcutter, Decal Machine, and Mesh Machine, amongst a few others. You really only need the Hard Ops/Boxcutter package, because it's essential in this day and age to use add-ons to finish projects like these without spending truckloads of time modeling.