In terms of CAD software and 3D packages, the huge number of choices can make you confused about which one to choose. They share a lot of similarities, but they can also be different on many aspects. Not to mention that the value they can provide depends a lot on the field that you'll be using it for.
This is why we have been comparing various modeling and CAD software, for beginners and professionals alike. Today we will be adding a new comparison to the list: Rhino vs FreeCAD.
We compared Rhino and Solidworks before, and it was more than a modeling face-off. We also compared FreeCAD and AutoCAD, that too wasn't only a price tag face-off. In fact, we try to cover the tools from many angles because it's important to know their potential in detail before adding them to your arsenal. We'll do the same today by looking at things from 6 aspects to help you nail your pick. But before that, you need a brief overview to put you in the picture.
Things you need to know: Rhino vs FreeCAD
Rhino
It is a very famous 3D modelling software, which is based on a non-uniform rational basis spline. It is multitasking, versatile software, and it can be used in architecture, engineering, prototyping, jewelry design, industry, graphic design, and even automotive design.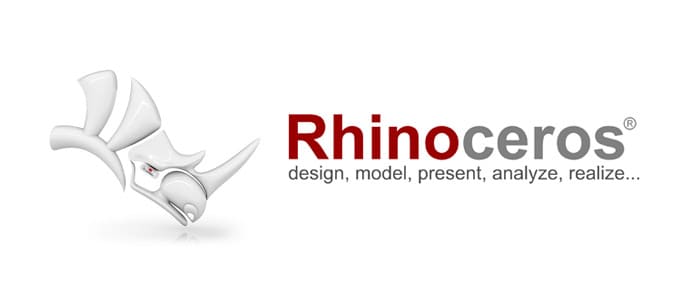 FreeCAD
It's a free and open-source 3D modeling software. It is used for architecture or MEP work (mechanical and electrical).
The software offers multiple features and solutions for designs like simulation, 3D modelling for architecture, and sketching, which you can also use in the pipeline design. The software enables designers to make both 2D and 3D shapes.
Now that you had a general idea about what you can do with these software, let's jump right into the core of the comparison.
1. Interface and modeling
Rhino
Rhino's interface is pretty simple. On top of it, you have a menu where you can find all the commands organized by function. You also have a toolbar that contains graphical icons.
You can have access to another list of commands by right-clicking on some commands on the toolbar. The viewport on Rhino allows you to get the working environment of the software. At the bottom of the interface, you can find the coordinate system used by Rhino.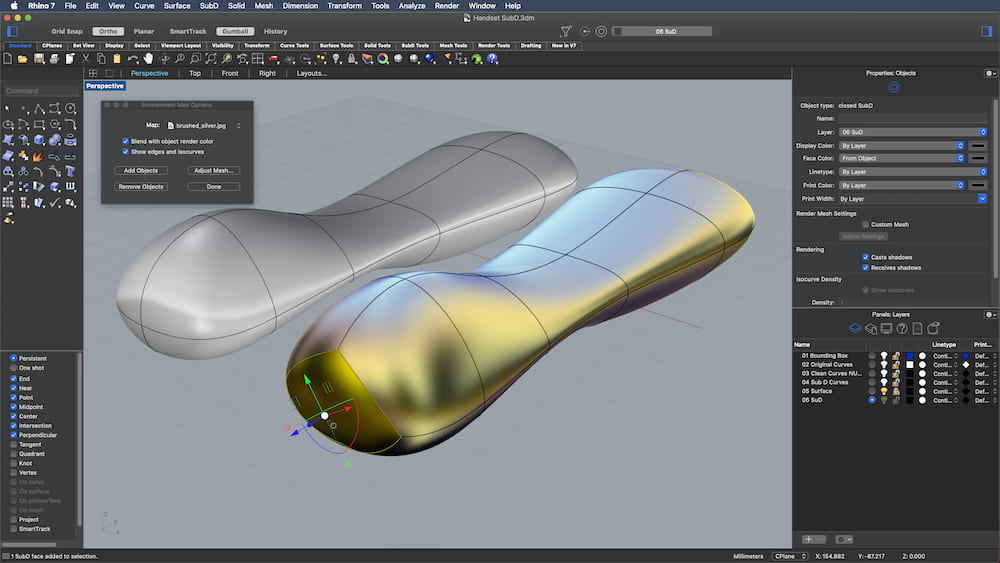 It's also a very powerful software in terms of performance and analyzing products. It is a very helpful for evaluation and it's also one of the software that are good for 3D printing.
A lot of architects consider it as the go-to interior design software. In addition, the software allows you to have a quick preview of the design before the construction, which clients generally ask for to approve the work. It works well in big urban projects.
Rhino is a great software to transform your ideas into a real 3D visualization. It only has a small issue related to precision compared to other CAD and MOD software. It is preferable not to use it for manufacturing or to make production and realization plans. It is mostly used in the early stages of the design or just to make a visualization of the model.
Another great feature that exists in it is the parametric modeling using Grasshopper: it is a great option to spend less time and effort. It will help you use the components in other projects and change the parameters of the object. The software also supports multiple 3D files so you can export your 3D to multiple types of files. Such as 3D save, 3DS import, DWG, DXF, FBX export, IGES export, KML export.
Rhino can model all the shapes that you can imagine. The software doesn't have a special configuration that you need to set up to start working with it.
Using it allows you to create points, curves, curves from objects, surfaces from points, or surfaces from curves. You can also create solids, such as spheres, cylinders, pyramids, and cones. In addition to that, the software allows you to create meshes from NURBS surfaces or closed polylines.
Rhino 7 has newly developed features to offer, such as SubB that will help designers to make high precision organic shapes. Blenders allow you to avoid creating a simpler blending surface. As for adaptersurf, it allows you to lock the history to modify the controlled points of the adapted surface. Not to mention that there's a bunch of addons that can make your life easier, like architecture addons for example.
FreeCAD
The interface of FreeCAD is very simple. All the basic tools and commands are displayed on the top of the interface. In addition to this, you can customize the interface of the software.
It is also built-in GUI mode which means it uses parametric model support to make the work of the designers faster and to spend less time. It has a great modelling engine called Kernel that allows you to create very complicated forms.
It is also based on the workbench; every set of tools that has the same tasks are grouped. You can also switch from a workbench to another and by that commands and tools change, but the content of the scene doesn't change.
The software has been developing and offering new updates since 2002. In addition, it offers a lot of good features. It is a very useful piece of software in terms of high precision 3D. you also have the possibility of checking the history of the work and changing parameters if needed.
If you need it to do mechanical pieces design or any small objects design, you definitely need to work on a Part design workbench. If you need to work on 2D only, then you have to use the draft workbench, and arch workbench if you need to work on BIM.
If you have a complex object to work on, you need to use the Part design workbench. It will enable you to start from a simple model, using features to add and remove pieces until you get the final shape you are looking for.
All the features you used in this process will be saved in a tree view. This will help you make any changes you want and the final object will be edited, too. The software can open many files formats especially for 3D print, such as OBJ, STL, and DAE.
FreeCAD has many add-ons to be integrated to develop the software and the workbench you use the most. There are two types of add-ons: external workbenches, which are tools that have been programmed in Python or C++.
The second type of add-ons is called the Marcos, which are short snippets from python that provide new tools. These tools are usually added to simplify a task or to edit a specific object. Adding multiple tools or add-ons can eventually result in creating a new workbench.
2. Learning curves
Since it is based on NURBS curves, Rhino is not complicated to learn at all, knowing that it is a complete software that offers rendering features and animation. It will take you one day to get familiar with the interface of the software and another couple of days to become an expert.
FreeCAD is a very easy software to start with if you have basic knowledge in the design software world. If you are not used to working with 3D software, it may take some time to get familiar with it; however, if you ever get stuck, you have the FreeCAD Forum that can help you and provide you with solutions to the problem you're facing.
3. Computer configuration
Rhino is a very heavy piece of software; it needs a powerful computer with a strong processor to support it, especially when you use it for a render or an animation.
Since FreeCAD is modelling and rendering software, it is better to have a strong computer with good requirements to get the best workflow and also to save time and minimize the effort because using a small-medium configuration computer can cause a lot of bugs in the software, and it will make the work process complicated.
If you're still not sure about this, we actually made an comprehensive post on how to choose a computer as a 3D artist. It can save you the burden of checking every single requirement, and definitely help you make your pick according to your budget (yes, we included pros, cons and prices). Even buying a monitor as a 3D artist is hard nowadays: imagine being asked for a refund on a 3D model you just sold just because your monitor didn't show you the flaws very clearly. We wouldn't want that to happen now, do we?
4. Rendering and animation
Rhino has a render toolbar: you can click on the current render and the software will provide you with a preview of your render and also a preview with full colours, textures, materials, lights, and bump mapping.
You can then set up the resolution of your render in render properties, set up the light and the materials, run the render and finally save it as an image. As for animation, it's the same steps, but you have an animation toolbar to use to set up the animation and then you can preview and record your video of course you can set up time and sun movement through months and years.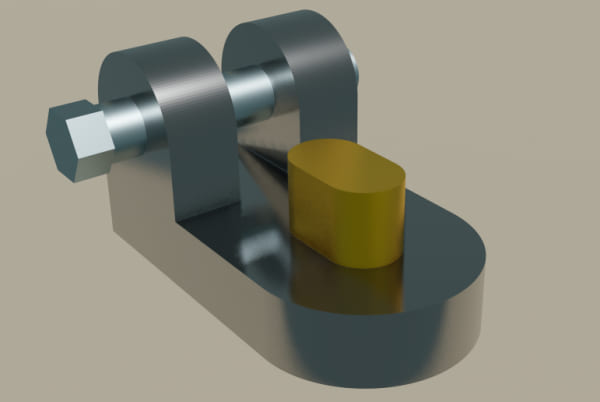 FreeCAD needs to improve its graphical part to have a better rituality for the renders and the objects. It uses an open-source external rendering engine to produce rendering images. You can find all the necessary commands and tools on the render workbench, such as scene lighting, camera settings, and materials support.
FreeCAD supports multiple external rendering engines, such as Blender Cycles, Appleseed, Luxcorerender, and Pov-ray.
5. Price and availability
Rhino5, for windows upgrade, costs 495 US dollars, while Rhino 5, for windows, cost 995 US dollars. The good thing about this software is that it's a one-time purchase—you don't need to update your license or anything and you get to enjoy free updates every time. Rhino 7 has a version for Mac; its price is 915 US dollars. You can check the official website for more information.
FreeCAD can run on Windows, Linux OSx, and also on Mac. It is open-source and free software. The good thing about this is that it is available for everyone, especially for students and beginners with a low budget. Also, everyone can contribute to developing and updating new features on the software, which is a great way to learn more and be more active in the FreeCAD community. Download it here: https://www.freecadweb.org/downloads.php
6. Industries that use the software
Rhino is a multi-tasking piece of software; it can be used in architecture, in the manufacturing and industrial field, automotive design, watercraft, product design like pieces of jewellery, and small objects.
FreeCAD is mostly used by designers and architects. It can be used in the industrial field, in designing robotic applications, it can also be used in the mechanical field to design small mechanical pieces. Because it offers such a good precision in the modelling; however, it can be used also to design any kind of small objects.