If you're a motion designer, animator, 3D artist, or even projecting to become one, Adobe After Effects animation plugins will help you unleash your creativity. You'll find them especially handy if you need to speed up your workflow and create fantastic animations with After Effects. We listed the best ones here in this article for you to check and rock your animation. We're continuously updating it to ensure you have the latest and best option.
How can these After Effects animation plugins be an asset?
If you took a look at our previous posts where we covered character animation and compositing plugins in After Effects, you'll certainly notice the value. Not only there are tools that you can use for free, but they can also tremendously improve your workflow. Couple these with good animation courses, lots of dedication and practice, and you'll be able to make mind-blowing animations.
It's the same thing with the tools that we will cover today, except that we'll look at animation in After Effects as a broad topic.
Table of Contents
1. Studio Plugins
Studio Plugins is a great Premiere Pro and After Effects animation plugin that gives you access to a huge library of Transitions, Text Animations, Graphics & Text Effects, Color Presets, and even Sound Effects for both Premiere Pro and Adobe After Effects, basically everything you need to make your video pop.
The most relevant feature of today's conversation must be the Motion Presets section. These allow you to quickly apply really awesome motion to your element text, shape, or even videos. It includes 11 Categories, each having multiple variations (like Scale, Position, Rotation, Fade…). In addition, you can use a combination of all or some of them together, like Position and Scale, or Fade and rotation, and so on. The great thing is that all of the animations here can be stacked on top of each other, so you can apply a Scale Motion on top of a Fade or Position change animation. 
Some of its additional great features include:
Text Presets: the text presets include more than 1000 professional fully animated and ready-to-use Text Animations. And similar to the Motion Presets, you get all the Fades, Scales, and Positions change animations that are divided into 12 Categories. If this particular area is of interest to you, we made an extensive list of text animation plugins that you might want to check.
Graphics & Effects: Studio Plugins has a huge library of Graphics and elements this like Backgrounds, Call Outs, Film Credits, Flares, Light Leaks, Smoke, Textures, and Titles.
Transitions: with more than 1500 transitions you won't think about Transition Again Studio Plugin has everything that might come to mind like Zoom, Wrap, Spin, Bounce, Shape Transitions, Film Transitions, Flat, Fade, Light Leaks, and much more. 
Color Presets: Color Presets is a new welcomed addition in the Studio Plugins line up and it helps you add some color variation to your videos, for instance, you can pick any of the 400+ Color Presets that are available or you can customize one yourself some of the Presets included are, Black and white, Chromatic, Cinematic, Fashion, Hollywood, Stylish, Travel, and Vintage. 
Sound Effects: Last but not least there is also Sound Effect and there is a surprisingly extensive library of Sound effects and Music selection here, like Animal Sounds, Computers, Environment, Footsteps, Home, HUD element sounds, nature, Office, Transition, and much more. All of them are of high quality and can be previewed right from the Plugin Panel.
We created a quick tutorial video reviewing Studio Plugins if you want to check it out, and have a clearer idea of its usage and potential.
The great thing is that Studio Plugins gives you access to a lot of the Transitions and Effects using their Free Plan. Of course, if you want to get access to everything you are going to need the Premium Subscription, which (if you do the math) the Yearly plan will come down to a little over $5 a month. Which is really affordable, but there is always the limited free plan. Or maybe it's time to cancel that Netflix subscription like everyone else 😉
2. Stomp Opener
Stomp Opener is not a plugin per say, but a template that contains an amazing set of 24 customizable text layers presented to you in a quick-paced, bold and dynamic animation. As the name suggests, it's an opener that you can use for your intros. You have a commercial, presentation or a YouTube video that you want to be impressive and impactful? You can easily achieve great results while saving time using this template.
3. Particle Builder
As the name suggests, Particle Builder is a great plugin for building particles that is fully free. It's the perfect tool for animators who want to create cinematic effects and animations with high quality. It has powerful features to make smoke, snow, sand, dust and fire. In addition to the super easy process of using it, it actually provides you with more options to change color, speed, direction and the number of particles. 
4. Reflexion
Another great entry among the free After Effects animation plugins that provides you with strong control over perfect 2D shape reflection, in order to use it on 3D spaces with very little effort. Creating reflection may require dealing with many layer duplications and other time-consuming steps. This is exactly where the Reflection plugin comes in handy: it breaks down this long process to simple clicks. In addition to that, it serves many other purposes like slideshows, presentations and more. Reflection plugin offers you the ability to control blur, tint, blend and skew among other parameters. You can also change more details like:
floor position.
reflection angle.
distance and falloff.
Find the plugin here: https://www.videocopilot.net/presets/reflection_plug-in/
5. Saber
For any animation video, effects can be the artistic plus that will make your video a stunning piece of work. For this specific matter, Saber on of the most notorious After Effects animation plugins will allow you to create beautiful light effects. It ranges from neon text effects, lightning, portals, lightsaber effects, laser gunfire, electric haze and many more. It also provides you with sophisticated styles like electric energy and lava. Saber empowers you with complete controls over strokes, colors and intensity. And there's more to it:
it's free and it offers you the ability to work with layers.
it has a range of presets that will help you in the process.
you can also use it to create glow falloff, mask outlines, dynamic text and built-in distortion.
Find this awesome plugin here: https://www.videocopilot.net/blog/?s=saber
6. Parrot
As the name suggests, this plugin will allow you to parrot elements to animate them. It's such a brilliant tool that will spare you from copying and pasting keyframes. The way it works is quite easy, and we can narrow it down to 2 simple steps:
selecting the element you want to animate as a master.
assigning the rest to parrot them (or in other words: to follow the lead).
Beyond that, it's a great tool for repetitive tasks: you will need to deal with one layer only. Once done with the master layer, you can apply the same animation to the other layers. Therefore, animating any shape, effect, mask or any other element is an easy and effective task with Parrot. This definitely makes it one of the After Effects animation plugins that are worth the money you'll spend on.
Find it here for $29.99: https://aescripts.com/parrot/
7. Ease and Wizz
Animators deal with too many elements that require keyframing most of the time. And for this matter, Ease and Wizz is one of the very handy After Effects animation plugins to with iconography, typography or infographics. It empowers you with a new panel in order to control the different animation presets. It also allows you to have control over all the animation ins and outs, not to mention that it includes Quart, Sine, Bounce, and Elastic effects.
Although the suggested price is roughly $24, you can get this plugin for the price that you want here: https://aescripts.com/ease-and-wizz/
8. Hi-Tech HUD Builder
Hi-Tech HUD Builder is a small plugin that will allow you to make Heads-up Displays (or HUD) graphics. It produces high quality animations that range from transitions, effects, intros, overlays and more. This plugin is the ultimate tool for you if you want to create Hollywood-like HUDs. In addition to that, it provides you with great features to create Sci-fi and High-Tech animations. Not to mention that it enables you to create fantastic infographics, holograms stylish effects and text animations. It also has around 60 items that vary from icons, signs, shapes and more. In other words, Hi-Tech HUD Builder is an easy to use and awesome tool to create futuristic animations.
You can find the plugin here: https://pixflow.net/product/quantum/
9. Graph Editor
This is another plugin that comes included in AE. It functions based on an XY graph to create organic animations. To use it, you only need to customize parameters like scale and position in order to display the different elements on motion. It's quite an easy, simple and a quick way to animate with AE.
10. Flow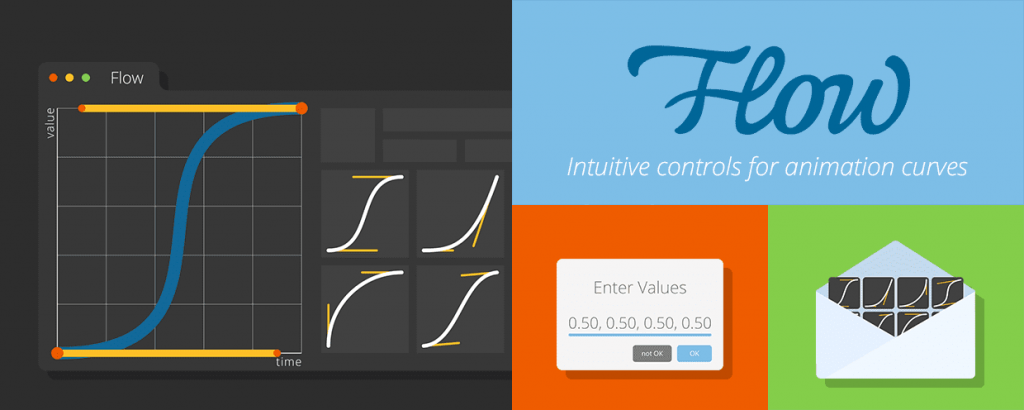 If in any case, you found the previous plugin Graph Editor too complex to use, then this one would definitely be the best alternative. Flow is a keyframing and animation plugin that is extremely simple and easy to use with a very intuitive panel. It can spare you from dealing with all the frustrations and complexities of keyframing. It provides you with preset settings for animation, which allows you to land on your animation sets quite smoothly. In other words, this is yet a good name among the After Effects animation plugins that are worth paying for.
Find the plugin here for $30: https://aescripts.com/flow/
11. Animation Composer
It's a very handy tool that will save you tons of time for the animation process. It's also very popular among designers: more than 50.000 designers use it all around the world. Animation Composer is a free plugin developed by Mister Horse. It allows you to master key framing of all your compositions. Not to mention that it deals perfectly with animations that contain too many shapes and multiple layers.
Moreover, it gives you a direct access to a bunch of pre-designed effects. Thanks to its huge library, you can use and customize a great deal of presets, pre-comps, sounds and so on. Therefore, Animation Composer is a great way to find and animate backgrounds, shapes, titles, illustrations and various other types of graphics.
Download the free plugin here if you're interested (and you definitely should be in our opinion!): https://aescripts.com/animation-composer/
12. Motion Path
It's a free tool that comes shipped with AE, and it allow you to create paths for your animation to follow. It's a great plugin for small objects, besides being very helpful to animate characters. Using it is quite simple:
Start with drawing the path that you want the animated element to follow, and it will move accordingly.
Use the Auto-Orient features that are perfect to orientate and maintain the right direction while animating.
13. Action FX Builder
Action FX Builder is a fantastic plugin developed to help you create and animate cartoonish visual effects, such as smoke, water, energy, fire, electricity, explosion, motion shape…, etc. This plugin is very rich with a huge number of effects, divided into eight different types. It has more than 100 cartoon effects plus 5 different transitions to create breathtaking animations. Thanks to its powerful features, Action FX Builder is perfect for creating transitional effects, animating texts in a unique way and making 2D animated sequences.
You can find it here for the very just price of $49: https://pixflow.net/product/fxmaster-fire-water-smoke-effects-adobe-after-effects-premiere-pro/
14. Type Builder
Almost every time we see an animation video, text is an important part of it. To animate text easily and save tons of time, here is this practical AE plugin for you. Type Builder is a plugin that will allow you to create text animation with high quality, besides kinetic typography in a simple way. It includes a variety of titles including minimal, glitch, broadcasting and others up to 17 different title styles. In addition to that, Type Builder provides you with control parameters where you can change font, color and duration. Not to mention that it supports multiple languages, making it deserve its place on this After Effects animation plugins list.
You can get it here for $59: https://pixflow.net/product/typoking/
15. Pixy Halftone
Pixy Halftone is one of the greatest After Effects animation plugins that will literally make you travel in time! It will allow you to animate your video in retro game style, and it also offers you great capabilities to animate pixelated halftone effects. It works over text, video or any animation. Furthermore, it's featured with Alpha Halftone that can create multiple layers over each other based on luminosity. Therefore, if you want to add a cool vintage retro style over your animation, Pixy Halftone is your guy!
The suggested price is roughly $20, but you can pay anything you want to get this plugin here: https://aescripts.com/pixy-halftone/
16. Plexus
If you need cool looking animated styles, then Plexus is the right plugin for you. Plexus is a stunning tool that allows you to create 3D shapes, to generate particles and even to link between them. So in other words, it will enable you to create beautiful effects. Moreover, you can use it to create relations between objects so when you move them; they will be moved as one flexible shape.
You can get it here for $250: https://aescripts.com/plexus/
17. DUIK
Duik plugin is an impressive free tool for animation and rigging. It will enhance your rigging process and take it to a completely new level, simplifying the workflow and making it a quick and an easy task. You can describe it as a powerhouse that will provide you with limitless animation possibilities right at your fingerprints. It works with inverse kinematics and functions amazingly with character animation, where it allows you to rig complete skeletons like elbow and knee joints for example. Some of the most notable features include:
Auto-rigging feature, which will help animate your character in an automated way.
Bones and Automated Dynamics.
Camera motion, controllers, keyframes and interpolations and much more.
The plugin is basically free, but it will be super helpful to the dev team to receive donations for this awesome tool. You can download it here: https://rainboxlab.org/tools/duik/
Conclusion
As you can see, there's an abundance of awesome After Effects animation plugins for all sorts of purposes and budgets. However, you might probably be a fervent user of free or open-source tools (we recommend you check our ultimate comparison of After Effects vs Apple Motion if so). Despite that, the value that this list will provide might push you to reconsider this preference.
At the end we hope you found this article useful and informative, comment below if you think that we've missed something or if you have any other suggestions.