Blender camera addons are extremely important if you want a great result. For this reason, we are going to talk about them In this article. Especially when it comes to rendering your scenes by choosing the suitable angle, moving shots and so on. So it's certainly not a question of preferring Cycles over EEVEE or prioritizing a texture over another. Because it's also a matter of making the best out of your modeling, texturing and lighting skills by keeping your presentation sleek.
Adding Blender camera addons to your set of tools: worth it or not?
First of all, these tools will be the foundation of your final rendered scenes as they usually come last. They can help you save time and work more effectively when presenting products, shooting cinematic shots, or anything of that nature.
7 – Real Camera
As the name suggests, Real Camera is an addon that allows you to control the Blender camera. It is almost like a real camera inside Blender. This will allow you to have control over many features that real cameras have. For example, it will enable you to have a real camera like autofocus and exposure when rendering your projects.
There are some other settings like Aperture, Shutter Speed, and Focal Length. But, the main point of this addon is the auto-exposure and autofocus. And like using a real-life camera, there are certain features that can be replicated and controlled using the same principles. For instance a higher number for Aperture gives a sharper image. And there are certain correlations between those features. for example, shutter speed affects a motion blur effect.
You can find all these settings in the Properties Panel > Camera tab. It has not only auto-exposure but also auto-focus features.
Addon's Link: https://3d-wolf.com/products/camera
6 – Shot Manager
Shot Manager is designed to speed up render management and shot design by saving frame ranges, render cameras, view layers, and output paths. Also perfect for splitting up a single timeline animation for game animation and multi-cam rendering setups.
To clarify, it's one of the Blender camera addons that have been originally developed for a specific project. After that, it has been further developed to cover a range of render tasks for ease of mind and improve render management on complex projects. It makes it easier to organize shots without needing to save out separate .blend files.
Above all, it's great for both mid to large-sized productions. Create shots and keep all the cameras, and assets in one file or use 'shots' to separate complex render set-ups and automate render paths.
Addon's Link: https://blendermarket.com/products/shot-manager?ref=247
5 – Quake Motion Camera Shake
It is considered one of best Blender camera addons because it makes animating handheld cameras for your scene extremely easy adding extra realism to your camera angle shots. It comes with handy camera tools like camera shake, camera switcher, camera motion and so many others.
This Blender addon comes with a simple and clean interface with three panels, Quake Camera Shake, Quake Camera Tools, Quake Motion Camera. And they will allow you to animate your cameras easily.
There are many and different camera movement presets. For example, there is "Pan Camera", which is suitable for Flight shots, involves waving from side to side.
On the other hand, Racing Camera simulates shots made by a moving object. Like a vehicle for racing or fast movements. Involves waving and tilting from side to side In addition to Tilt Camera, HandHeld Camera and more.
Addon's Link: https://blendermarket.com/products/quake-motion-camera?ref=247
4 – Shotlist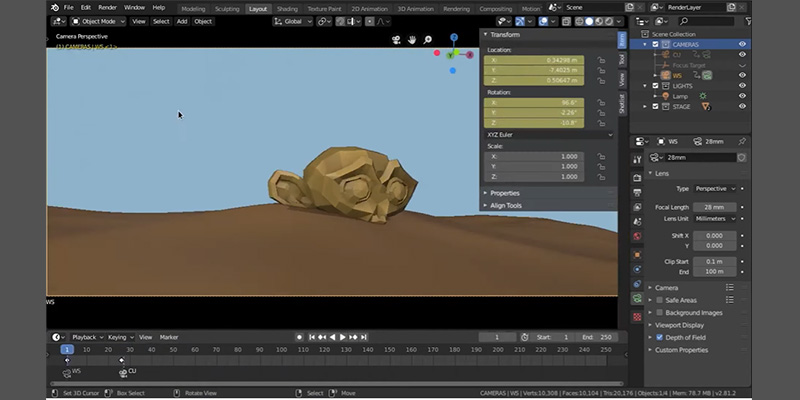 It's one of the Blender camera addons that allows you to do very simple but also time-consuming camera work. Especially, if you are going to do it yourself manually. It can be basically used to create, manage and navigate camera shots in Blender but it will be easier and quicker than usual.
The way it works is very simple you can just add a new shot; – Jump to the next or previous shot or specific shot real quickly. In addition to other basic stuff like Name/Rename shots, Remove individual shots or Remove all shots.
And of course, there are other functions that you can use. Thanks to the Shotlist addon that can help you navigate the cameras in your scene smoothly and more efficiently.
Addon's Link: https://blendermarket.com/products/shotlist-shots-manager?ref=247
3 – Camera Manager
The camera manager addon for Blender allows you to add cameras and it's a marker in the timeline. Besides that, the add-on comes with interesting features that come in handy when you are working on an animation. It will save a lot of time managing the camera's in that case.
This addon has a clear interface that can help you see and manage your cameras very easily. For example, you can at any moment align the camera with an object and lock it on it. You can also align the camera with a view or track the camera to an object. In addition to that, you can create camera markers that allow you to animate the process of switching cameras.
Addon's Link: https://github.com/wisaac407/blender-camera-manager
2 – Cablecam
The Cablecam rig add-on is designed to allow you to create cinematic sweeping camera moves easily using the three-axis control system. You can use this Blender camera addon to create cinematic shots of buildings, cars, or events such as sports.
Cablecam was created to make things simple and use it is also simple. First, you need to choose where you want your camera to look in your scene, then choose where you want your camera to be at that moment, and then correct your horizon with the rotation control.
In order to have more control over how the camera will be moving, you can create a path that it will follow. This can be a straight line or a curve with multiple curves and turns.
This could mean sweeping around your subject in a cinematic fashion, doing effortlessly slow tracking in on your subjects to build tension in your scene.
Also, if you want to create buildings and cities that you can see in the video above, you can find the Citybuilder3D addon that has many different city assets. I highly recommend it.
Addon's Link: https://blendermarket.com/products/cablecam-cinematic-camera-movement-rig?ref=247
1 – Quick Shot
This is one of the fastest and one of the most effective Blender camera addons for creating cinematic shots. Especially when it comes to product presentation with all its camera moves and angles that make your work look professional and satisfying.
Quick shot addon allows you to allow camera movements perfectly by moving faster or slower, rotate or move sideways depending on your needs in addition to cutting to the next shots automatically which is the secret behind the cinematic products' visualization that you see in commercials. It allows Allows for both spline-based and linear interpolation– which just means you can have the camera motion ease in and ease out or travel at a fixed rate.
And to have more control over the process you can easily change the shot duration at any time with all of the cameras and timelines being updated. In addition to the ability to change the shot order at any time also with the timeline being instantly updated.
It stands out on the Blender camera addons list for anyone who wants to streamline their animation workflow and do it quickly. It's especially for EEVEE users who want very quick visualizations of their models. Of course Cycles, users can use it too. Quick shots interface is designed to make things faster, simpler, and easier.
Addon's Link: https://blendermarket.com/products/quick-shot?ref=247