We are going to talk about Some of the best Blender Addons For Rigging that animators can use to save time and take their work to the next level if used properly.
What are the features of Blender Addons for rigging
When it comes to rigging different types of characters, animals, or anything that needs to be animated, you can rely on a lot of these addons because they are really good. Here, we are going to start the Count with :
12 – Car rig pro
CAR-RIG PRO allows animators to rig any type of vehicle with four wheels like weight heavy vehicles, city cars, race cars and so on… "Car-Rig Pro" is a fast and easy rigging system to install, it is obvious that this addon is for animators that don't want to spend a lot of their time on technical stuff instead they want to make the animation of vehicles look more believable and realistic also this addon is good for saving time and making the whole process easier.
Overall this car rigging add-on offers a realistic suspension simulation, it Supports Real-Time Ground Deformations. It also has Independent rotation for the front wheel and rear wheel. And it has other nice features like Automatic ground detection and Automatic steering.
The developers of this addon offer other rigging add-ons like Boat-Rig Pro,2wheels Rig, truck Rig, helicopter Rig and Drone rig.
Paid/$39 : https://blendermarket.com/products/car-rig-pro-blender-kit?ref=247
11 – COA Tools
The COA Tools is another Blender Addon For Rigging that comes as a combination of tools that are used for Cut Out Animation. These cutouts are sprites and the addon offers a lot of the tools you need to animate them. And it is easy to use as well.
Generally speaking, Cutout animation is a form of stop-motion animation where we use flat characters, props, and backgrounds cut from materials, such as paper, card, stiff fabric or even photographs. You can cut out the props and use them as puppets for stop motion. We are kind of using the same principle with Coa tools.
While we have now grease-pencil, it seems to me that the COA tools is still pretty handy. Because it offers everything you need in one panel, it feels like a streamlined application.
Free: https://github.com/ndee85/coa_tools/tree/blender28
10 – RigFlex
The developers of this add-on actually worked on Rigflex few years ago as an experiment, but later, it was proven to be a handy tool. After a while, they gave it a re-vamp and ported it to Blender 2.8.
The movement of many animated characters is improved by some sort of soft body simulation. Antennas, clothing, tails, feathers, scales – you name it. Blender has a variety of techniques for this but it takes a while to get it right. Often, it is needed to add just a simple 'lag' action to pieces of the model, such as, antennas, backpacks, hair strands and so on.
Also, not long ago there has been an older add-on that has a similar aim. called Jiggle Armature.
Free: https://github.com/nerk987/RigFlex
9 – Vehicles rig factory
Vehicles Rig Factory add-on is a tool for making rigs in many vehicle types. You can add any numbers of wheels for what you need, there are so many templates. Rigs for vehicles such as motorcycles, cars, trucks, buses and so on.
It is possible to make certain movements and even realistic movements. This add-on has many features that make it easy to animate vehicles, such as simulating wheel rotation, floor contact with contour, suspension properties and so on.
Vehicles Rig Factory was used for 2 years of production series, like YouTube series and heavy production for vehicle series. And they continued developing the add-on as they worked using it.
This add-on is probably the most expensive Blender Addon For Rigging at the $60 mark.
testing it in real production and proving it to be effective and efficient makes it worth it.
Paid/$60 : https://blendermarket.com/products/vehicles-rig-factory?ref=247
8 – Shape Key Manager Pro
Shape Key Manager PRO is designed to speed up the shape key rigging workflow. It allows animators to duplicate and/or mirror the shape keys while maintaining and retargeting their drivers.
This add-on is useful because sometimes when we finish rigging and setting up the drivers for one side of the character, we might find ourselves in a situation where we have to repeat the same tedious workflow for the other side. With this addon, It is possible to do this very quickly.
Paid/$4.99 : https://blendermarket.com/products/shape-key-manager-pro?ref=247
7 – Ragdoll tools
Ragdoll tools is an addon for generating ragdolls in Blender. Overall it is good for Generating hitboxes from meshes also from bones and Connecting existing objects to bones as hitboxes. Also, it is good for Copying animation from hitboxes to bones and backTools for mass editing rigid body and rigid body constraints settings.

All rigs created using this addon are non-destructive and can be easily deleted, which is a nice thing if artists want to change their mind or make the rig better.
Also, the tools that come with this addon, are packed in a pie menu, which is a good thing, because we don't want the tools to clutter up any panels.
Paid/$21.21 : https://blendermarket.com/products/ragdoll-tools?ref=247
6 – Freeik
Freeik is an addon that can be used to Turn basic armature into the animation ready rig in a short period of time. This addon actually has some interesting features that usually come with rigging add-ons, for example, it has a more intuitive way to pose and animate a model that you created whether it be a human character or an animal. Also, Bones can be pinned and root bones can be changed quickly.
The rig created using Freeik can split into parts during the animation which is a nice thing especially if we want to rig something like a robot or a character with prosthetic parts.
Also, this Blender Addon For Rigging offers a good way to keep things organized and accessible quickly which is that most of the features can be accessed from the pie menu.
Paid/$29.29: https://blendermarket.com/products/freeik?ref=247
5 – Blenrig
BlenRig is an Auto-rigging and skinning system that provides Blender animators with good quality rigs (including an advanced facial system).
The current version only supports Biped characters. According to the developers, the futur version will support more presets
Rig creation includes:
_BlenRig armature
_BlenRig Mesh Deform cage and Lattices
_Basic body meshes for creating low-resolution proxy versions of the characters.
4 – Voxel heat diffuse skinning
Voxel heat diffuse skinning add-on algorithm can overcome some shortcomings of Blender. It converts the non-seamless character into a solid statue, heat diffuses in the solid statue, so we can get the most natural vertex weights.
Traditional heat map diffuse skinning algorithm can only deal with watertight meshes. But artists create character components in their own way, then group them together to a character, usually the character is not seamless, this often causes traditional heat map diffuse skinning algorithm to fail.
The voxel heat diffuse skinning had already been equipped in Autodesk's Maya and 3ds Max for years, but Blender users don't have an opportunity to benefit from the feature. Hopefully, you will get better results using this addon.
Paid/$30 : https://blendermarket.com/products/voxel-heat-diffuse-skinning?ref=247
3 – Rigui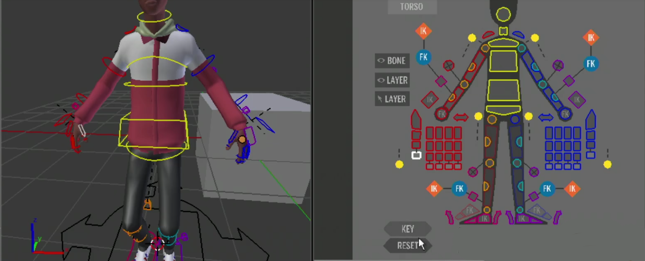 With the RigUI addon, you can create custom pickers in Blender.
RigUI lets artists create a picker by creating simple 3d shapes in the viewport and linking them to parts of the character rig controls.
There are actually two main methods for working with rig controls, especially when it comes down to 3d character animation: On-character controls versus an animation picker. When it comes to complex characters, it is very hard to beat an animation picker.
The new interface of this addon makes use of the 2D environment in the UV Editor in Blender to present the UI.
Free : https://github.com/ChristopheSeux/rigUI
2 – Rigify
Rigify is a Blender Addon For Rigging and it is an automatic rigging system generator that can be used in production.
The good thing about rigify is its simplicity, because it takes out the technicality of rigging and makes it more artistic. Anyone can create a character and rig it in minutes using this tool. It is a great thing for professionals who don't have a lot of time or beginners who don't want to fry their brains with the complexity of rigging, especially when starting out.
Rigify is great for relatively simple rigs or quick jobs that don't need a very flexible rig for doing specific things. So, when rigging complex characters for a show or something that will go on for months, you might want to create your own rig to have greater control and understanding to avoid any limitations or complications during production.
Rigify comes with Blender.
1 – Autorig pro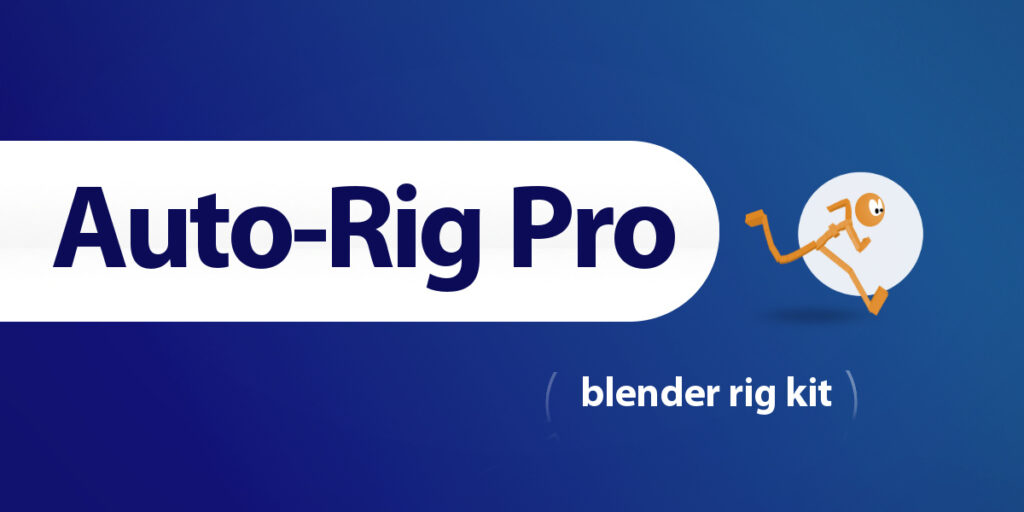 Auto-Rig Pro is an all-in-one solution to rig characters, retarget animations, and provide Fbx export for Unity and Unreal Engine. It was First developed as an in-house rigging tool, and they have released it a few years ago and many new features have been added since then.
If the character is humanoid, the Smart feature can automatically place the bones to speed up the process, after adding the green markers. The result remains editable.
Non-humanoid characters can also be rigged manually without the Smart feature. (this includes horses, dogs, or any other animal that has 4 legs…).
Based on a non-destructive workflow, the final rig remains easily editable anytime after its generation.
It is also possible to Customize the rig definition in a short period of time. this includes fingers, wings, toes, spine bones, multiple neck bones, tails, breasts, ears and much more. Also it is possible to Duplicate or remove limbs to rig spiders, centaurs… or whatever!
Overall this addon is excellent, and a lot of artists use it because it gets the job done properly and it is a fantastic time-saver.
Paid/$40 : https://blendermarket.com/products/auto-rig-pro?ref=247