The interest in reasonable representation and 3D models is growing day after day. As a result, different software and tools are popping into the market to meet all these needs. These tools, known as render engines, help create realistic representations and 3D models by allowing designers and experts to add surfaces, volumes, lighting, and materials to models and plans.
Brief Background: Octane vs Redshift face-off history
It's not the first time we compare famous render engines. We've posted before about another face-off comparing Cycles and Vray. We even decided to spice things up by taping into the modern render engines, comparing Vray and Corona. Today we're addressing a new comparison in the category of render engines.
Some of the famous render engines that have widely affected the industry are Octane vs Redshift render engines. Indeed they are both useful and powerful, but each one of them has specific different features. In this article, we will make a full comparison between them to help you pick the best one for you.
Redshift: Rendering Technologies Inc company was founded in early 2012, in Newport Beach, California, to develop a production-quality, GPU-accelerated renderer with support for the biased global illumination techniques that, until today, has remained squarely in the CPU- only domain. It is built to meet the specific demands of contemporary high-end production rendering.
Octane Render: it's an unbiased rendering engine with real-time capability developed by OTOY. It was the 1st commercially available unbiased ray tracer that fully utilized the GPU, giving it a significant speed advantage. This permits users to modify scenes in real-time easily.
In order to go really through the depth of this face-off, we'll be looking at both of them form 10 aspects of reference. This will allow you to perceive them from all angles, making your choice have a solid foundation.
1. Interface
Redshift
The UI of this render engine not confusing at all, it is simple and clear. The toolbar has many other toolbars with easy shortcuts to some of the most ordinarily utilized components. In the interface, you can find the Color Picker, a shading manager that permits you to pick the colors and textures that meet your need and fit your project. You can also find a File Manager that helps you run all of your scene files in a single place, set file paths, create scene archives, and keep track of assets like surfaces, textures, and proxy objects.
Octane
When it comes to this side of the comparison, it consists of four primary regions in the standard interface. The first one is the Render Viewport, which is a scene that is continually updated in the Render Viewport. The scene can be navigated in real-time. Adjustments to materials, lights, and cameras can be made and viewed interactively as well. The good thing about this interface is that you can update and change materials while seeing updates instantly.
The second one is the Node Inspector, which will display parameters related to specific nodes selected in the Node Graph Editor. The third one is the Node Graph Editor, which provides a visual, flowchart-like interface for managing the tasks. The fourth one is the Scene-Outliner, which offers an outline-like overview of all the elements in the scene. It also contains tabs for accessing the local and online material databases.
2. Speed
As we all know, Rendering's speed is one of the essential features users look out for before picking a render engine.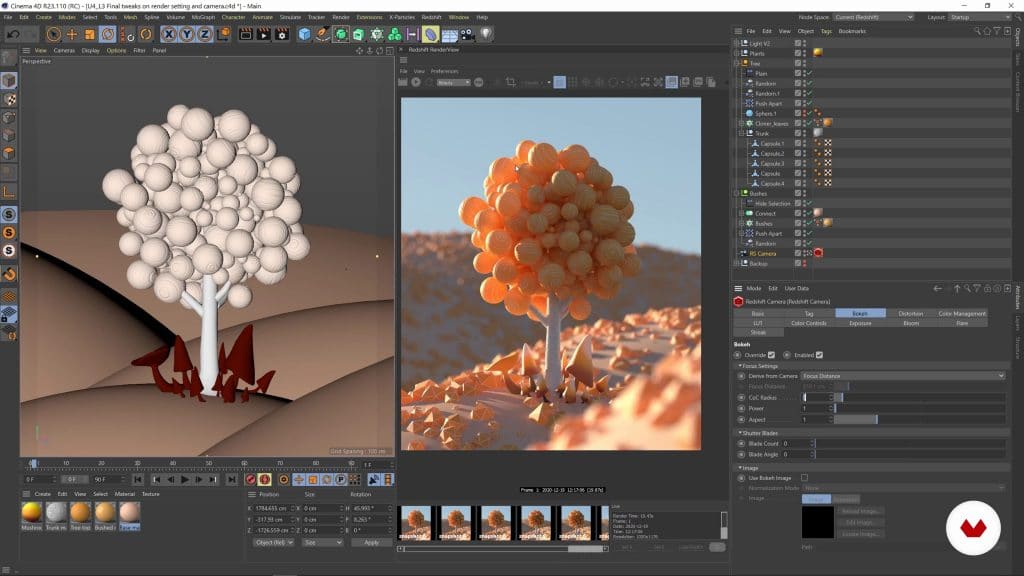 Redshift
It can be considered the world's fastest rendering engine. According to its developers, they tested rendering at five seconds a frame. When it came to final production renders, the maximum time was 10 minutes per frame. The overall average 6.5 minutes per frame – this was with global illumination, in-camera depth of focus, and in-camera motion blur. This means that you won't spend a long time getting your final high-quality model or image done.
Octane
It also helps you focus on being creative rather than spending a lot of time waiting next to your PC. However, it lags behind its opponent here. Regardless of the distinction in speed between these two rendering software, both of them have excellent performance. This makes it troublesome to entirely say one is better over the other.
3. Render Settings
If you don't have experience with rendering software, render settings can appear to be challenging as there are numerous tabs and menus to adjust.
Redshift
Render Settings Window in this engine hosts several settings. Depending on the results you want to get, the settings may require changes at each time. You can get ready settings examples in forums or the software's official website.
Octane
For this part, It can be difficult as there are many settings that you need to set. To fix the settings, first, open the render settings window by pressing CTRL + B. Here you will see three primary tabs: Main, Overwrite Kernel Settings and Render Passes. There is a separate section for Render Passes. You can check the website of this software for detailed information.
4. Materials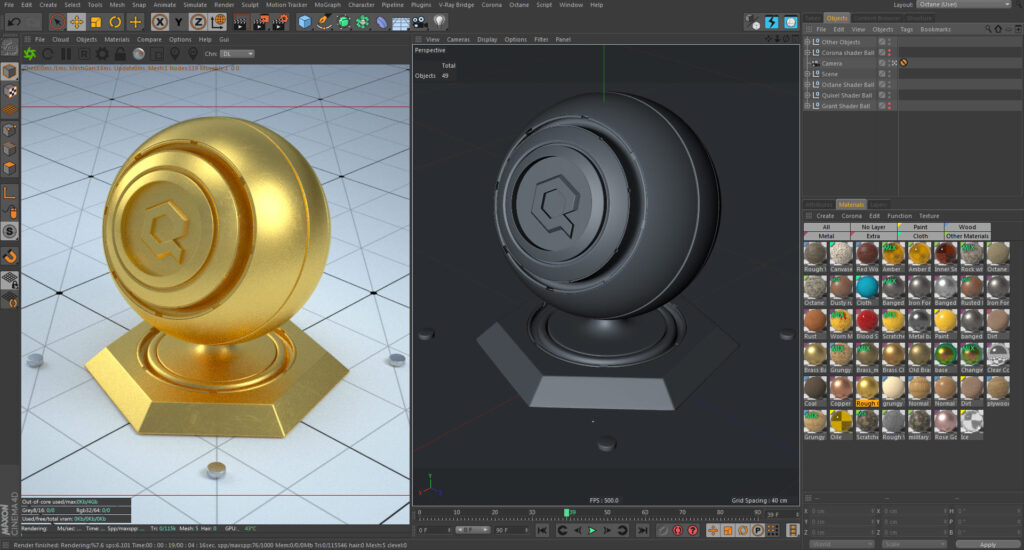 Since we're doing the Octane vs Redshift comparison, we might as well look at their materials side by side before looking at them separately. Actually they both don't come with a rich ready material library to reduce their size. However, both provide the users with packages of materials available online and ready to download at any time. These materials allow you to practice applying textures without spending a long time figuring out how to make them. There are numerous classifications of materials, such as glass, wood, stone,… etc. These all can be applied with a simple single drag and drop.
5. Real-time rendering capabilities
Redshift
This one uses GPU rendering ability. This permits you to render approximations of your final image quickly. With this, you can visualize how certain textures and lighting will interact together in your final render without having to wait hours to see the results. It's a powerful GPU-accelerated renderer built to meet the specific demands of contemporary high-end production rendering.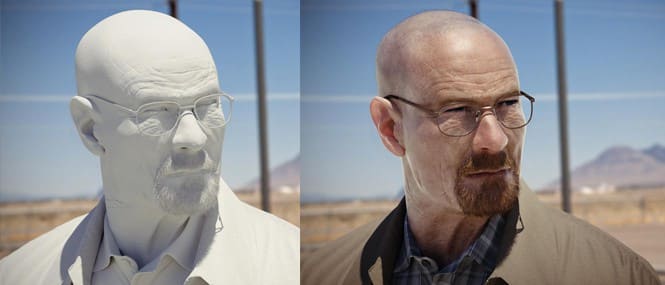 Octane
When it comes to this angle, it can upgrade the quality of environments and objects. However, real-time rendering in Play or Game Mode still relies on Unity's renderer OTOY's real-time. Path-tracing engine Brigade will be integrated into Octane, resulting in a vast improvement in scene load times and dynamic, real-time, path-traced rendering, and GPU & CPU Rendering.
Above all, it's a real-time, physically correct 3D rendering engine that uses GPUs too instead of CPUs for processing. This is a relatively new approach, as traditional graphics rendering was done on CPUs instead. Graphics processors are ideal for highly parallel tasks like rendering, and it is easier to fit multiple video cards in a single computer than various CPUs.
6. Disadvantages
Redshift: image quality is not the best in the world of 3D renderers for photorealism. Perfect results are hard to achieve. Besides, some users and experts think that it looks like a V-ray rip-off.
Octane: it follows its logic. Indeed, it works perfectly, but it is very different from all the other renderers. Moreover, the philosophy of the layered material is too different from the basic physical shader models. Some users said that it crashes sometimes and corrupts files.
7. Industries that adopted the render engines
Redshift is used by leading studios that have adopted it into their production pipelines include Technicolor, Polygon Pictures, Digital Domain, DHX, Rainmaker, Encore Hollywood, Blizzard Entertainment, FX3X, Original Force, Doodle Pictures Studio, Jim Henson's Creature Shop, Guru Studio, Magnetic Dreams, Muse VFX, Glassworks, MediaMonks, Hammerhead Productions, FunnyFlux, Blue Zoo Animation Studio, SHED, and Digital Dimension.
On the other hand, Octane Render is utilized by numerous experts and specialists and in multiple ventures, such as engineering, interior design, gaming, and product manufacturing. Moreover, it is used by a massive scope of studios producing famous Hollywood movies. For instance, "Westworld" (HBO), "The Crown" (Netflix), "The Alienist" (TNT/Paramount), "Altered Carbon" (Netflix), "American Gods" (Starz).
8. Availability
Redshift: it's available for 3ds Max, Cinema 4D, Maya, Houdini, Katana, and Softimage. And it is available on Windows and Mac OS X.
Octane: it's available for 3ds Max, Cinema 4D, Sketchup, Revit, Maya, Lightwave, Modo, Nuke, Poser, Rhinoceros, and Softimage. And it is available on Windows, Linux, and Mac OS X.
When it comes to system requirements, you can check our detailed post about how to choose a good computer as a 3D artist.
9. Learning curve
Octane
It can easily have the merit of being super easy to use. Once you start working with it, you quickly pick up the ins and outs. Using it, you can achieve photorealistic results like no other engine – it's fast, controllable, and fun to use. It also provides its users with intuitive render options that give the user time to focus much of their planning on the actual creative process and not troubleshooting settings. While Octane is easy to pick up though, it has a wide array of complex features that support OSL script, volumetric shading, and much more to enable its use in a wide variety of applications.
Redshift
Looking at the opponent now, there are tons of settings, checkboxes, and dials you have to tune just right to get the image how you want. For this reason, Redshift is one of the easiest rendering engines to learn and use. Most new users can learn using it in just one day if they already know some basics.
10. Pricing: Octane vs Redshift financial investment
Redshift: it's a licensed per machine with no limit on the number of GPUs. To clarify, there is no distinction made between workstations and render nodes. In other words, one license is suitable for one machine. The license costs $500. You can check the official website for purchase and additional information.
Octane: a free version of the Octane X standalone App will be available exclusively through Mac App Store when it comes to this renderer. Octane X Offline USB Dongle is not supported. A maximum of 1 GPU is available for rendering. Network rendering is not available. The license costs $699/year. You can take a look at the official website for further details.
Conclusion: Octane vs Redshift, which one is better at the end?
In the end, Redshift is so fast, and its production features get better with every release. It is quickly becoming the go-to render engine for the motion design market. Its biased approach to rendering makes it one of the fastest around. Octane render allows users to see a rendered scene in near real-time. Mainly since Octane uses GPUs to process the rendering. IPRs update real-time when an object is changed, a light is added, or a texture element is changed. Besides, it is so easy to learn and use.
So, as you can see, both of these types of software are powerful and known for their unique features. In this case, picking the right one for you or your business depends on what you will use it for and what kind of results you want to get. If you happen to use any or both of these engines, feel free to share your thoughts with us in the comments. Not only it will be insightful for us, but it will also help other passionate 3D artist choose their next favorite render engine.