Among all 3D software, the history of 3Ds Max specifically stands out with many interesting milestones and breaking points. Ever since it has been launched in 1990, 3Ds Max has been one of Autodesk's pillar products. Being industry-standard, it's one of the most chosen 3D software for high-end projects and various advanced purposes.
If you're already using 3Ds Max (or planning to do so), you're very likely to be aware of the huge potential it has. But what if we tell you that it can be extended to push even further limits?
This is where 3Ds Max plugins and scripts come to action. These tools can help you express your creativity in ways you have never imagined, making the process even faster. And what's even better than that: today we are going to talk about some of the best free 3Ds max plugins and scripts.
How can these free 3Ds Max plugins be an asset?
We have been covering many 3Ds Max plugins to help you bring more richness into your arsenal of tools. For digestibility's sake, you'll find them divided into specific categories like rendering plugins, extensive modeling plugins, awesome UV unwrapping plugins and many others.
But you'll notice one thing that most of them have in common: the price tag. The 3D package itself will cost you over $1000, so having to bear up with additional fees will be cumbersome in most cases (although totally worth it for the provided value).
Why you should consider using 3Ds Max plugins
The reasons are various really, but we can highlight them this way:
Saving time: because plugins and scripts are usually created for the sole purpose of making the creation process faster. No more unnecessary repetition and clunky steps.
Focusing more on the creative process: because 3Ds max plugins will do the boring dirty work for you, so you can focus on being efficient and creative.
Being productive: since the tools allow you to use your expertise in a more targeted way.
Time to discover today's free 3Ds Max plugins list!
18. QUADSCATTER
This is one of the ideal free plugins for 3Ds Max that will allow you to create various objects. We can mention for example wire fence, woven fabric, brick walls, masonry and much more. It allows you to deform scattered geometry to follow the surface's vertex normal. 
With the updated version of the plugin you can create a continuous geometric pattern on a surface and also choose which parts of the scattered item are conformed to the quad and allow some parts to extend beyond its boundary.
Link: https://cganimator.com/mcg-quadscatter/
17. SWEEP PROFILE
Sweep profile is a plugin that expands the functionality of 3Ds max sweep modifier and helps you to quickly select and apply profiles to shapes. Sweep profile does a good job when it comes to creating some architectural elements such as decorative ledges, belt courses on facades, skirting boards, and picture frame molding on walls.
The free version of the plugin contains 10 ready-to-be-used architectural profiles, and you can always expand your own user libraries by creating new profiles.
Link: https://3d-kstudio.com/product/sweep-profile/
16. SUPER HELIX
SuperHelix is a plugin for creating complex convoluted objects like DNA strands or tornado-like shapes. And even for creating helical paths to animate objects and characters. This makes it one of the best 3Ds Max scripts for 3D, animation, and VFX artists. Some its features include:
Editable gizmo for intuitive volume/flow manipulation.
Adjustable shape sections allow precise control over the final shape.
Native generation of helix along an editable path.
Helical flow control options give the spline a more appealing aspect.
Controls for both local/absolute rotations in perpendicular axes.
Creation of multiple helical splines in a single step.
Built-in spline growth animation.
Thoughtful ready-made presets make an excellent starting point.
Resulting helix is a standard editable spline object, easy to modify.
Link: http://www.splinedynamics.com/superhelix/
15. STONE PLACEMENT TOOLS
Stone placement tools is a very handy script for the creation of stone walls, stone pavements, and irregular stone patterns to simulate and create realistic walls and floors. The script is suitable for both quick projects and production quality results.
Link: http://www.scriptspot.com/3ds-max/scripts/stone-placement-tools
14. ROCK GENERATOR
RockGenerator is a free 3Ds Max plugin for production and real-time environments. As most of these 3Ds Max scripts, you can use it for both personal and commercial purposes.
This script has Features like:
rock presets.
tweak-able parameters.
automatic low poly mesh generation, with bake-ready UVs.
normal and AO map generation.
Link: http://www.scriptspot.com/3ds-max/scripts/rock-generator
13. PIPEDREAM
Pipe Dream is one of the free plugins for 3Ds Max that fall under the "generator" category: it generates random sci-fi pipes. The script windows contain several settings such:
The width of the area that should be filled with pipes.
The height of the area that should be filled with pipes.
The number of pipes to generate.
The maximum length of a horizontal pipe segment.
The maximum length of a vertical pipe segment.
The percentage of pipes that should be generated as completely straight.
The percentage of pipes that should have cylindrical decorations along with them.
The percentage of pipes that should have rectangular rails at the sides.
The percentage of pipes that should consist of several parallel smaller pipes.
The percentage of pipes that should have a round chamfer.
Link: https://www.scriptspot.com/3ds-max/scripts/pipedream
12. WIREMESH GENERATOR
Wire mesh generator is a free script for 3ds max, and as you can tell from its name it generates wire meshes in a quick and an easy way. This tool is compatible with 3ds max 2010-2021 versions.
Link: http://www.scriptspot.com/3ds-max/scripts/wire-mesh-generator
11. MW ROOFGEN
MW RoofGen is one of the quickest and the easiest free 3Ds Max plugins that can help you to generate accurate hipped roof geometry from a border spline and roof angle. Although, the script does have some limitations when it comes to modeling more complex roof shapes. Other than that, it should work well with the usual and realistic roofs.
Link: https://cgtricks.com/mw-roofgen-v1-3-mark-whelan/
10. Active Type: 2015 last update
Activetype is an amazing time saver script for 3Ds Max. Instead of searching and pressing buttons for different commands each time, this script gives you an input box where you can start typing their names (Box, Line…) in the viewport to activate them. There is no need to type the entire command name because ActiveType gives you suggestions when you start doing it just like the command Line in AutoCAD.
After installation, the script can be found at: Customize > Customize User Interface > Toolbars tab > Category > All Commands > ActiveType
Link : http://www.scriptspot.com/3ds-max/scripts/activetype
9. KITCHEN CABINET CREATOR
If you are someone who is frequently working on kitchens, furniture, and interior design, then Kitchen Cabinet Creator is an ideal script for you. It is intended to automate the process of making kitchen cabinets and make it easier. This means you will be able to model the kitchen's different elements from their outline with only a couple of mouse clicks.
Link: http://www.scriptspot.com/kitchen-cabinet-creator
8. RELINK BITMAP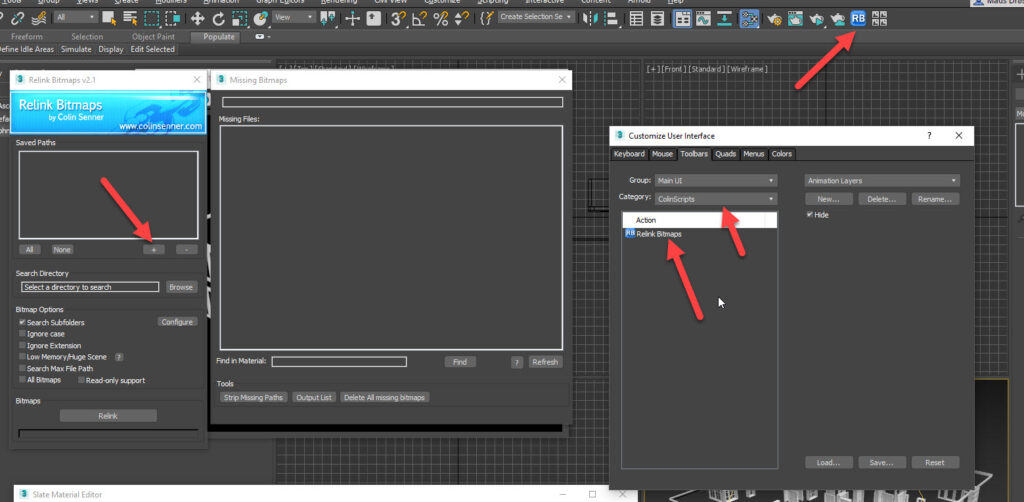 Relink Bitmaps is a script used to search for, fix and relink all kinds of missing files (Bitmaps, VRayMeshes, Mental Ray Proxies, VRayHDRI, IES…). It's especially useful in case they change directories or when you move computers. After installation, the script can be found in Customize > Customize User Interface > Toolbars tab > Category > ColinScripts > Relink Bitmaps.
Link: https://colinsenner.com/relink-bitmaps/
7. COPITOR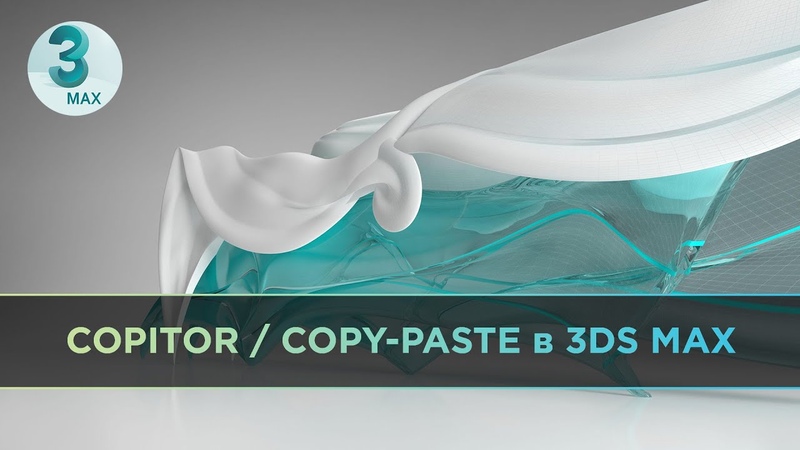 This little tool makes copy/paste objects from a Max scene to another one, possible and easier without going through the usual long and annoying process. Also, you can use it for testing, without losing anything. To install Copitor, you just need to drop its installation file in max viewport and go to "Customize" > Customize User Interface > Category: zOffTy Tools > Copitor.
Link: https://gumroad.com/l/Copitor
6. COLLECT ASSET
One of the simplest 3Ds Max scripts to archive assets into one flat folder. It was tested on 3Ds max 2016-2020, and it also works with:
Standard materials
Vray Render
Corona Render
Octane Renderer
Redshift Render
FStorm Render
Final Render
For installing the collect asset script, all you need to do is to select menu scripting, click "Run script" and then select the downloaded file. 
You will find it in Customize > Customize user interface > Toolbars > Category: Xiruim.
Link: http://www.scriptspot.com/3ds-max/scripts/collect-asset
5. FLOOR GENERATOR
FloorGenerator is a very useful 3Ds Max plugin for those working on architectural visualization. It helps them generate floor objects such as floor panels, tiles, pavements, and everything that is associated with a floor surface. The floor generator is related to two other plugins, Multi Texture Map and Unique Material, which makes it able to:
Create floors inside any closed 2D shape object, or on flat objects
Control width, length, grout size individually
Randomly rotate, offset and tilt boards
Interactive update to get instant feedback
Assign textures randomly using MultiTexture Map
It's a time-saver tool and it's highly recommended for you while creating visualizations. A free version of the plugin is available on CG-Source website.
Link: https://cg-source.com/FloorGenerator
4. FRACTURE VORONOI
This free script allows you to break any mesh in 3ds max into as many pieces as you specify. It's useful for creating explosions, smashed objects, and broken glass.
All you need to do is to download the script, then going to the main bar (scripting) and select "run script". When you select the new script a small window popup in your max interface. Press "pick object" from the new window and select the geometry you want to break apart and press break. The popped window has many options such as the number of parts you want to create.
Link: http://www.scriptspot.com/3ds-max/scripts/fracture-voronoi
3. RANDOM SELECT
This tool can be used to randomly select a defined count or percentage of objects and make changes to them to have a more realistic scene. For example, it is useful for making small size or position changes to floorboards or stone pavements to give them some randomness. It also can be used to change and vary material.
Link: http://www.scriptspot.com/3ds-max/scripts/random-select-2
2. UV PUPPY
UV PuppY is one of the most versatile free 3Ds Max plugins. It's a collection of quick select buttons and functions. It has a quick weld option and a lot of tools related to UV unwrapping. You can flatten all the UVs in a scene with this tool, or create a second UV channel for a large number of objects. There are so many functions with this plugin, the main one are:
Create UV Channels for Multiple Objects
Pack UVs of Multiple Objects
Multiple Unwrap
Quick Flatten Mapping
Attach Objects by Materials
You can get UV PuppY for free, but if you want to support the developers you can donate on Gumroad (https://gumroad.com/l/TIWvd)
Link: http://www.scriptspot.com/3ds-max/scripts/uv-puppy
1. VIEWPORT OVERLAY GRID
One of the simplest 3Ds Max scripts that allow you to Show a grid over the viewport. It's good for measuring and setting up geometry. The grid can have a variable number of horizontal and/or vertical subdivisions over the active viewport. Which means that you can draw uniform or non-uniform grids according to the project you are working on.
It can also be used to make a safe frame around your scene, or margins to help you focus on your scenes centerpiece and to freeze its objects.
Link: http://www.scriptspot.com/3ds-max/scripts/viewport-overlay-grid