The 3Ds Max is a very famous 3D software that so many indystries and hobiyists are using to get their projects done.
We saw that it would be very useful to read about the 3Ds Max History in this article, which will give its users a general idea on how it all started.
In 1990 a small group of 4 developers introduced a 3D software called 3D Studio to the world. The developers were, Tom Hudson, Gary Yost, Jack Powell, and then later they were joined by Dan silva. The four of them worked on the development of 3D Studio release 1, a feat that they achieved by trying to work on 3D tools for creating animations themselves as 3D artists. They were growing the software slowly by adding features that could make 3D animation possible.
After the first release in 1990, several other versions of the 3D studio came along to impress the video game and VFX industry with its features and tools that helped artists and studios to create some of the most iconic video games and films of modern history.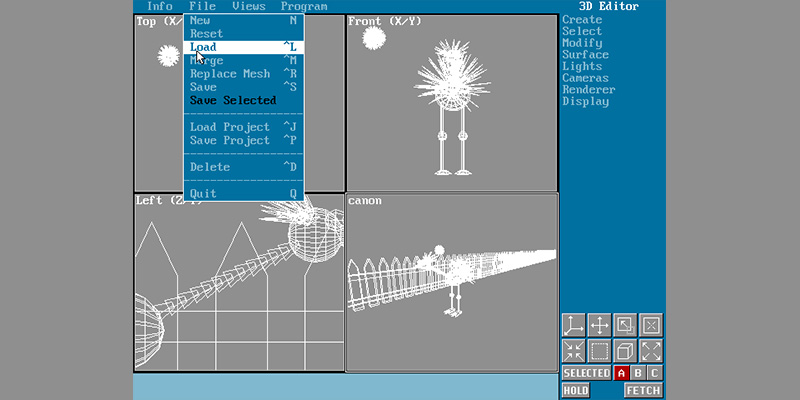 3D Studio started as a project of 4 developers inspired by TVshows and Sci-Fi movies of the seventies, to becomes later one of the pillars that millions of architects, video-game developers, and VFX artists stand on to bring their visions to life.
This is the 3Ds Max History
The 3Ds Max History of development began several years before its official launch in October 1990. Its early origins can be traced to the Solid States, a 3D wireframe renderer that ran on the Atari 800 and was published by ANALOG Computing magazine, and CAD-3D, the next incarnation of the software, which was published by Antic Software.
Antic's software was being managed by Gary Yost, and thus started the collaboration with Tom Hudson in 3D graphics software development. Gary, Tom, and Jack Powell were the three initial members of the Yost Group
In 1988, After their success on the Atari, The Yost Group formed and begun a publishing relationship with Autodesk. The team began a new project, THUD, modeling and rendering application named by Tom Hudson, the one and only programmer working on the project. The application started out in four modules (Shaper, Lofter, Editor, and Material Editor) due to the 640k memory limit on DOS.
After joining with Dan Silva, keyframing was introduced, which added the fifth and final module, 3D Studio. THUD had turned into a 3D animation program. Autodesk agreed to publish 3D Studio with the new Yost group and removed the 640k memory limit, allowing all 5 modules to work together.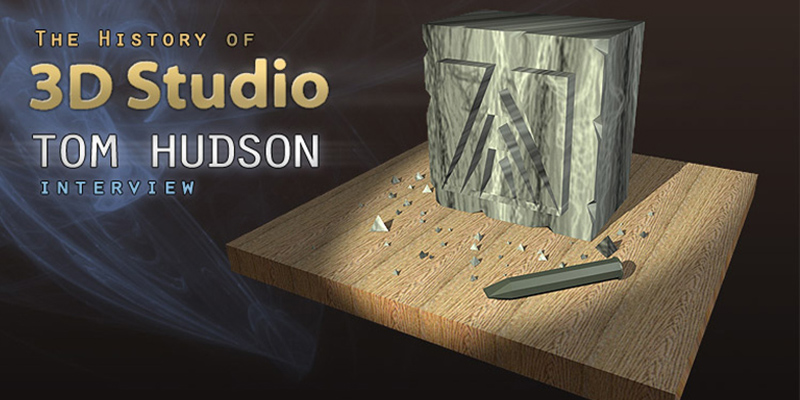 On Halloween of 1990, Autodesk released 3D Studio, the first affordable (and integrated) 3D modeling, rendering, and animation system for the PC. The product was released at an unprecedented price of $3495 USD and has not gone up since.
3D Studio was released with an amazing amount of functionality, the ability to draw spline shapes, lofted surfaces, geometric primitives, and basic mesh editing was combined with object-level keyframing were all revolutionary.
A 3D Studio support forum (the origins of "the Area") was started on CompuServe and eventually became one of the most heavily used forums on the service. Gary Yost and Jack Powell, from the Yost Group, became the primary "support" for 3D Studio and started building the 3D Studio user community.
_________________
In 1992, The Yost Group produced several suites of plug-ins that were sold aftermarket to enhance 3D Studio, providing everything from particle systems to lens flares.
Planning began on a new, object-oriented product (code name Jaguar, what would become 3D Studio MAX) that took full advantage of Microsoft's upcoming 32-bit OS and object-oriented programming methods.
_________________
In 1993, Autodesk released 3D Studio R3. With only Dan Silva and Tom Hudson working as developers, Dan gave the Material Editor and Renderer a major overhaul. Two new extension types were added for bitmap processing and keyframing, and the IPAS term was retired and the term Plug-In was used from then on.
Planning on Jaguar began in earnest, with Don Brittain joining the team from Wavefront to design its Windows framework.
_________________
In 1994, Autodesk released 3D Studio R4, this "plug-in release" adds all its new functionality including Inverse Kinematics, Fast (Shaded) Preview, and Keyscript (Keyframer scripting language)
This was the first release where Autodesk provided development assistance other than installation or the initial DXF support. Johnny Mnemonic and The Craft were made using this release.
After producing the impressive IK module for R4, its author Rolf Berteig was brought onto the Yost Group for Jaguar. The full-time Jaguar development team was then up to four.
A new publishing agreement was made with Unreal Pictures to produce a character animation add-on product for Jaguar. Code-named "Cheetah", it was the most complex plug-in concept anyone had yet come up with and pushed the architectural needs of Jaguar very early in its design.
_________________
In 1995, Autodesk announces 3D Studio MAX for the Windows NT platform at the LA SIGGRAPH. Crowds were blown away to see interactive shaded, textured objects, animating in real-time in the viewport for the first time.
Plug-in support for MAX was announced by numerous companies.
Undo! – Believe it or not, a new concept in 3D packages.
Animate anything at any time. What took hours to do in 3D Studio R4 could be done in seconds in MAX.
"Stress-free modeling" with proceduralism – the thought of saving modeling decisions, and animating the modeling process was revolutionary.
Blizzard Entertainment's Warcraft game was released and features film-quality cinematics created in 3D Studio.
After SIGGRAPH, 3D Studio MAX was shown at Autodesk Cad Camp, where the rest of Autodesk learned about MAX for the first time. The 3D Studio MAX beta program began, and a loyal group of 3D Studio veterans helped fine-tune MAX's features for usability in production.
_________________
In 1996, Autodesk renamed its Multimedia Division to Kinetix; with 3D Studio MAX as a flagship product.
Kinetix shipped 3D Studio MAX for Windows NT and showed the shipping product at NAB.
The product matched nearly all the "features" as 3D Studio 4 by name, but with tremendously more capability as you can now model, animate, and change your mind at any time.
The Character Studio product was announced at NAB, with Skin being renamed Physique.
A free "Combustion" plug-in was posted by the Yost Group at release as the first plug-in, add-in for 3D Studio MAX.
Johnny Mnemonic, one of the first films using 3D Studio DOS 4 for visual effects, was released.
The 'Dancing Baby' animation craze happened back then and it was Shipped as a ".max" scene example on the product CD, a slightly modified version was rendered to an AVI by a user, sent to a receptionist, and then went viral.
The first Tomb Raider action-adventure game was created using 3D Studio. This title was followed by 5 additional games, comic books, novels, theme park rides, and movies, centering on the game's heroine, Lara Croft. Croft was later inducted into the Guinness Book of World records as "the most successful human videogame heroine."
_________________
In 1997, Autodesk announced 3D Studio MAX R2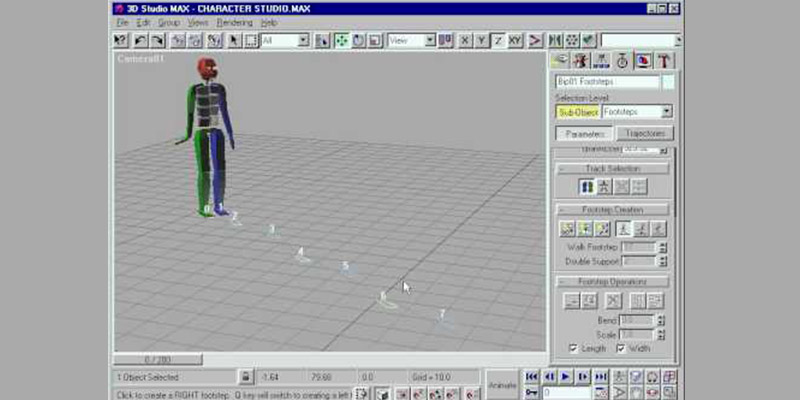 Originally codenamed "Athena", it boasts over a thousand new features and workflow improvements.
Major features include selective ray-tracing, Lens Effects, and Post Effects; basic NURBS modeling tools, MAXScript built-in programming language, and OpenGL support.
_________________
In 1999, Autodesk acquired Discreet Logic, Inc. which led to Discreet Logic and Kinetix becoming the division known as Discreet. Autodesk shipped 3D Studio Max R3 in the same year.
Originally codenamed "Shiva" after the Hindu deity – because of all the architectural changes that were happening in it. And it was the last version to be published under the Kinetix logo.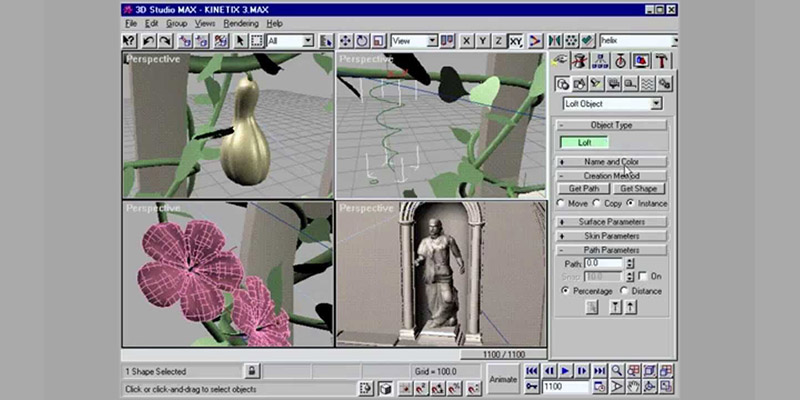 Several areas of MAX were refactored to allow the GUI to be customized through MAXScript integration. So, scripts could be anywhere and macro recording was possible. Also, the Scanline Renderer was enhanced with support for pluggable Anti-Alias filters and Supersamplers.
Digital Dimension created a one-minute opening sequence using 3D Studio MAX for the Super Bowl, the nation's highest-rated TV program. The opening sequence was so successful, it won the studio an Emmy.
_________________
In the year 2000, Autodesk shipped 3ds max R4, originally codenamed "Magma". 3D Studio MAX was renamed 3ds max (all lower case) to align with the lower case naming conventions of Discreet products.
Electronic Arts' The Sims, created using 3ds Max and Maya becomes the best-selling PC game of all time.
New features included a new IK system; QuadMenus context menus; ActiveShade render preview mode; a redesigned Modifier Stack (Stack View) with support for Drag and Drop; new Editable Poly modeling toolset; DirectX Shader support in viewports; and MultiRes mesh optimization.
_________________
Created with 3ds max in 2001, Fifty Percent Grey was nominated in the Best Animated Short Film category at this year's Academy Award ceremonies.
also, Halo 1 was released in the same year, breaking sales records. By 2002, this video game, created in part with 3ds max, will have sold over one million units.
_________________
In 2002 Discreet released 3ds max 5, which was the first release entirely done by Autodesk.
The biggest addition was the Advanced Lighting sub-system of the Scanline Renderer, including a Global Illumination module called Light Tracer, a Radiosity module, Photometric, and Daylights support.
Tom Clancy's Splinter Cell was released. 3ds max was used and received critical acclaim for both lighting and the high quality of animation.
3ds max won in the same year an Editor's Choice Award, with a 98% rating, from NextGenElectronics.com
The same year 3ds max also won an Atomic Hot Award from Atomic Maximum Power Computing Magazine, as well as the Seal of Excellence Award from Animation Magazine.
_________________
In 2003 Discreet released 3ds max 6.
The main new features were Mental Ray renderer incorporated into the base package; Particle Flow; a refactored Schematic View, Shell modifier; new Vertex Paint; Reactor 2 dynamics; and network support for Render To Texture.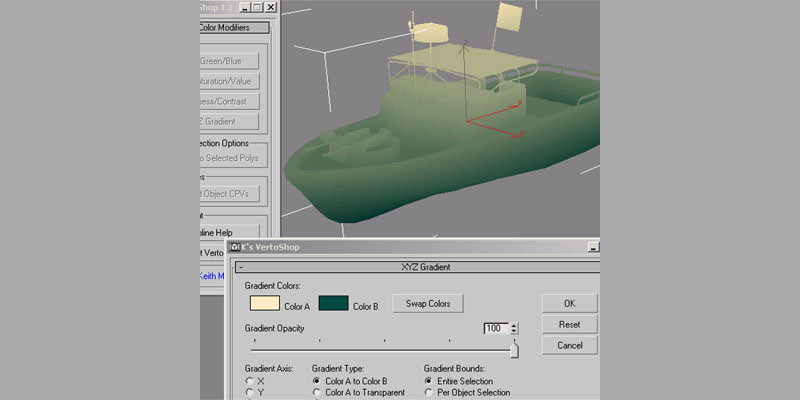 Kaena: The Prophecy used 3ds max, right out of the box, to create beautiful 3D scenery and characters.
_________________
In 2004, Discreet released 3ds max 7. It included new Editable Poly tools; new Edit Poly modifier; support for Normal mapping generation and rendering; mental ray (version 3.3) was included in core, sporting sub-surface scattering and ambient occlusion shaders and render-to-texture support; Character Studio 4.3 included in the base package; SkinMorph and SkinWrap modifiers; TurboSmooth modifier; Parameter Collector; Refactored Reaction controller; and walk-thru mode for first-person navigation in the viewports.
World of Warcraft, created using 3ds max became the Guinness Book of World Records title holder for the most popular MMORPG of all time, was released. Blizzard, the game's creator, used 3ds max to achieve high-quality detailed art.
_________________
In 2005, Discreet released 3ds max 8. The main new features were asset tracking with support for 3rd party solutions and Autodesk Vault shipping with the package; MAXScript Debugger; Hair and Fur; Cloth; major improvements to Polygon modeling, Skinning and UVW unwrapping, including a pelt mapping system; Motion Mixer support for non-biped objects.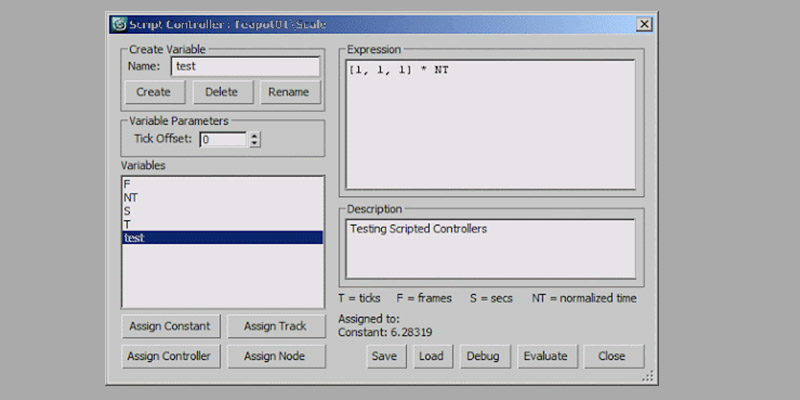 In the same year, Autodesk renamed Discreet "Autodesk Media & Entertainment."
Microsoft's Halo 2, created using 3ds Max and Maya marks the biggest game debut of all time.
3ds max was inducted into the Front Line Awards Hall of Fame by Game Developers Magazine.
_________________
In 2006 Autodesk re-named the software "Autodesk 3ds Max." And released Autodesk 3ds Max 9. This was the first release to include both 32- and 64-bit builds of the software. Major new features included Proxy Textures Manager; .NET support in MAXScript; ProBoolean and ProCutter; better mental ray 3.5 integration, with support for physical sky and sun and Arch&Design; shaders; faster screen redraws in Direct3D mode; Animation Layers; interactive Hair styling in the viewport; and better interoperability via the FBX data-interchange format (resulting from Autodesk's acquisition of Alias earlier in the year).
3ds Max won the Editor's Pick Award from Soft32.com
Gears of War was Gamespot's Readers Choice winner for 2006, a game created using 3ds Max. They said, "Shockingly good visuals make Gears of War grab you right from the start".
_________________
In 2007, Autodesk released Autodesk 3ds Max 2008 – the first release to adopt an annual naming convention rather than a version number. Major new features included core performance optimizations with a large number of objects; new Adaptive Degradation system with view-dependent per-object culling; Scene Explorer; Selection Preview in EPoly mode; Review; Sky Portals and Photographic Exposure Control; and MAXScript ProEditor.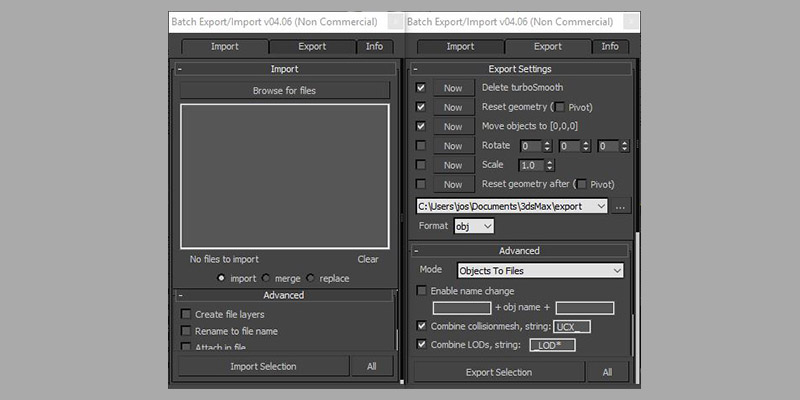 _________________
in 2008 Autodesk released Autodesk 3ds Max 2009 software and debuted 3ds Max Design 2009 software — a tailored 3D application for architects, designers, and visualization specialists. 3ds Max Design 2009 includes all features offered in 3ds Max 2009, with the exception of the software development toolkit (SDK). Both versions of the software offer a new Reveal rendering toolset; a ProMaterials material library; numerous biped enhancements and new UV editing tools; and improved interoperability with Mudbox, Maya, and MotionBuilder software. 3ds Max Design 2009 provided lighting simulation and analysis technology.
3ds Max won The Technology and Engineering Awards in the Gaming Category of "Visual Digital Content Creation Tools" and Their Impact from the National Academy of Television Arts and Sciences.
3ds Max was used on the first feature-length 3D movie shot with the Cameron-Pace camera also used on Avatar – Journey To The Center Of The Earth 3D
In the same year, Autodesk technology helped game developers execute their creative vision from start to finish. 3ds Max has been used by numerous developers to create games that offer believable characters, wondrous environments, and enthralling gameplay, such as Fallout 3, Far Cry 2, Mortal Kombat vs. DC Universe, and Prince of Persia.
_________________
In 2009, Autodesk released Autodesk 3ds Max 2010 and Autodesk 3ds Max Design 2010, offering more than 350 new features. In addition to being the first animation package to integrate mental images' mental mill technology, the 2010 release includes render-like effects in the viewport display, such as soft shadowing, exposure control, and ambient occlusion; over 100 new Graphite modeling tools; Containers; a new Material Explorer; xView mesh analyzer technology; and enhanced support for software interoperability and pipeline integration.
With Autodesk solutions present in all the films nominated in the Best Visual Effects category, The Curious Case of Benjamin Button takes home the Oscar®, and Matte World Digital, tasked with re-creating the early 20th century through Hurricane Katrina, used 3ds Max as its primary software. Other films using 3ds Max nominated that year include Iron Man and the short animated feature This Way Up.
Also in the same year, the movie 2012 was released and was one of the highest-grossing films of the year. Uncharted Territory, the lead visual effects (VFX) house and co-producers of 2012, created over 400 shots using mainly Autodesk 3ds Max software for modeling, UV mapping, rigging, effects, and animation. Scanline VFX also created over 100 complex water shots for 2012, and over 95% of the shots were fully CG and created with 3ds Max, most of them, right out of the box.
In Planet 51 an astronaut discovers a new planet, only to find out that he's not the only one there. Using 3ds Max, animators create a whole new world for him to discover.
3ds Max won Front Line Award for Best Art Tool from Game Developers Magazine.
_________________
in 2010 Autodesk released 3ds Max 2011. The first release to fully support the Windows 7 operating system.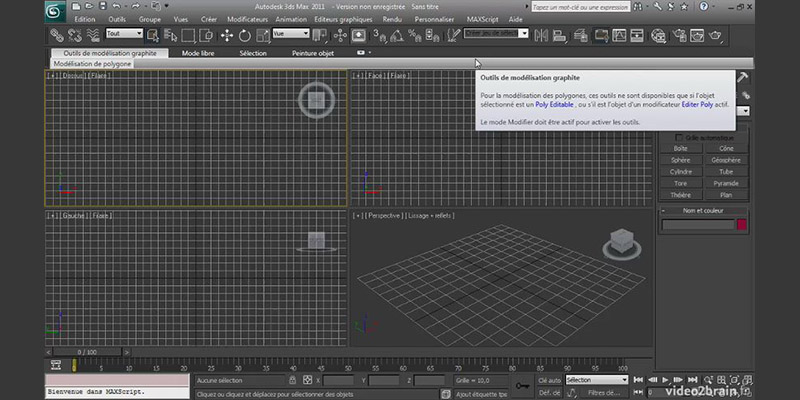 A new node-based material editor and full-featured compositor are new features offered in the 2011 release to help accelerate the creation of compelling imagery and entertainment content.
Autodesk products were front and center at this year's Oscars®, with over 11 nominated films employing Autodesk solutions. On Avatar, the highest-grossing movie of all time and winner of the Visual Effects Oscar, 3ds Max was used both by Industrial Light, Magic's Matte Department and Prime Focus VFX. Animated films The Secret of Kells and Granny O'Grimm's Sleeping Beauty both used 3ds Max as their tool of choice, and so did Best Picture Winner, The Hurt Locker.
also, 3ds Max won Game Developer Magazine's Front Line Award for "Best Art Tool" for the same year.
that was a quick summary for the first 20 years of 3ds max and how it became one of the best software in the industry that was used to create amazing projects over the decades that followed its debut.
original articles:
https://web.archive.org/web/20151024145611/http://area.autodesk.com/maxturns20/history