Updated on 15/06/2013
If you're thinking of diving into the world of digital art, you're very likely to think of getting yourself a drawing tablet. It doesn't matter if you've been relying on classic art mediums your whole life or didn't even have a passion for drawing. You'll always be a beginner when it comes to digital art because it's very distinct and different.
There's no doubt that most graphic design software have double the potential when used with graphic tabs. Even logo design software can achieve much more when combined with these devices. So the question is: what is a good graphic tablet for beginners?
In today's article, we've put together a list of the best drawing tablets for beginners to help you pick the one that would be the best fit for you.
Table of Contents
What do these drawing tablets for beginners have in common?
Before jumping to our list, here are some key points that you need to consider before choosing which tablet is most suitable for you:
You need to figure which tablet type you need. As there are multiple types as follows:
Graphic Tablet
Pen Displays
Tablet Computers
You need to know what are the features of the tablet from the following specifications:
Pressure Sensitivity
Physical Size
Resolution
Pen or Stylus included or not
Scrollers built in or not
Wireless or Wired
Software Compatibility
There's a whole bunch of good monitors for artists that you can combine with these choices for better results. With that in mind, let us start our list of the 8 best drawing tablets for beginners.
Top pick: Kamvas 16 Pro Plus from Huion
Competition in any market is great; Huion and XPPen have been dropping the hammer on Wacom each year which is not a bad thing by the way because healthy competition results in a win-win for everyone, especially the end users.
There are two variations for the Kamvas Pro 16 tablet that you can grab from Huion right now:
Kamvas Pro 16 4K.
Kamvas Pro 16 Plus 4K.
The only difference between these two is the color gamut and Contrast Ration. However, the one that we want to focus on today is the Plus model.
Accessories
This tablet comes with a complete set of accessories that you will find in the box:
Screen: also know as the display in the art community, is a pen display. this type of Drawing display plugs into your computer, like a Windows or Mac computer, and even some Android devices. It Is basically an extra monitor that you can draw on.
Stand ST200: a decent aluminum stand, which you can adjust with multiple levels. It has rubber bands on the top and on the button so it will prevent sliding while you are drawing on it.
Battery-free Pen PW517:  it's a great pen that uses the "Huion PenTech 3.0", so you get 8192 levels of pressure sensitivity and 60 degrees of tilt. We tried the pen in different scenarios (especially when drawing) and it's pretty solid. The straight lines are pretty straight, the pressure sensitivity is really stable and it tracks really well.
Pen Holder PH05A: it comes along 10 pen Nibs PN05A, a pen nib clip and a pen case.
Power Cables: this tablet can be hooked to a pc through a USB-C cable or the 3 in 1 HDMI, USB-A connector. There's also the USB power cable, power adapter and a USB-C to USB-C Cable.
Finally you have some additional accessories, like a pair of drawing gloves, a piece of cleaning cloth to keep that screen shiny and a quick start guide to get you going.
Key features
Right off the bat, the first advantage that comes to mind is the 4K panel. It provides you with the very convenient resolution of 3840 by 2160 pixels. The screen is also laminated, so the gap between the glass and the actual drawing screen below it is very minimal. As a result, this will eliminate that parallax effect and make the drawing feel more accurate compared to using a non-laminated display (like the Cintiq 16 for example).
In addition to that, it has a semi-Matt anti-glare finish that helps with reflections, reducing the reflected light from pure glass and making it less distracting distracting. Not to mention that it also provides some resistance or pen grip.
The pen is great for all use cases, but for a 3D user using Blender, this is actually extremely useful. Having the display and especially when sculpting is a world difference. I've been running the 16 Pro lately and it ruined the experience of the Intuos Pro that I usually use (for me at least and as far as sculpting is concerned). On the actual pen, you get two buttons. I set the first one to rotate the view and the other one to Ctrl so I can add or subtract when sculpting.
When it comes to portability, we can safely say that it's portable to some extent; it is a compact tablet that you can easily fit in your backpack and take it with you wherever you want. However, it also comes with those cables, so depending on your use case you might not want to pack it with you.
Price
When it comes to the price, the tablet starts at 829$. In other words, this is no longer a budget-friendly tablet that you buy as a Wacom alternative. 
This will definitely put it outside the budget of some people. But fear not, Huion has the same 16-inch display in lower resolution for a lot less money. So, if you can't buy this one you might want to check out some of their other releases.
Our team of expert digital artists put together a full video testing this tablet, you can check it out to have a better idea about its specs, potential and limits.
Ugee G3
It's one of the best drawing tablets for beginners with a phenomenal price. The physical specs of Ugee G3 also being very cool:
16.6 inches in width.
10 inches in length.
2 inches in thickness.
2.5 pounds in weight.
a large drawing area of 9×6 inches.
a USB input.
It has battery-powered pen that performs very well. It's designed with buttons that makes it fully stands for a mouse, replicating the left and right clicks. The performance of the tablet itself is very good: it responds quickly, catching and translating every single movement you make in a fluid way.
Although it has a small drawing area, it has a great sensitivity even in the edges where it usually drops. It will cost you around $100.
Ugee's official website: https://www.ugee.com/
Turcom Pro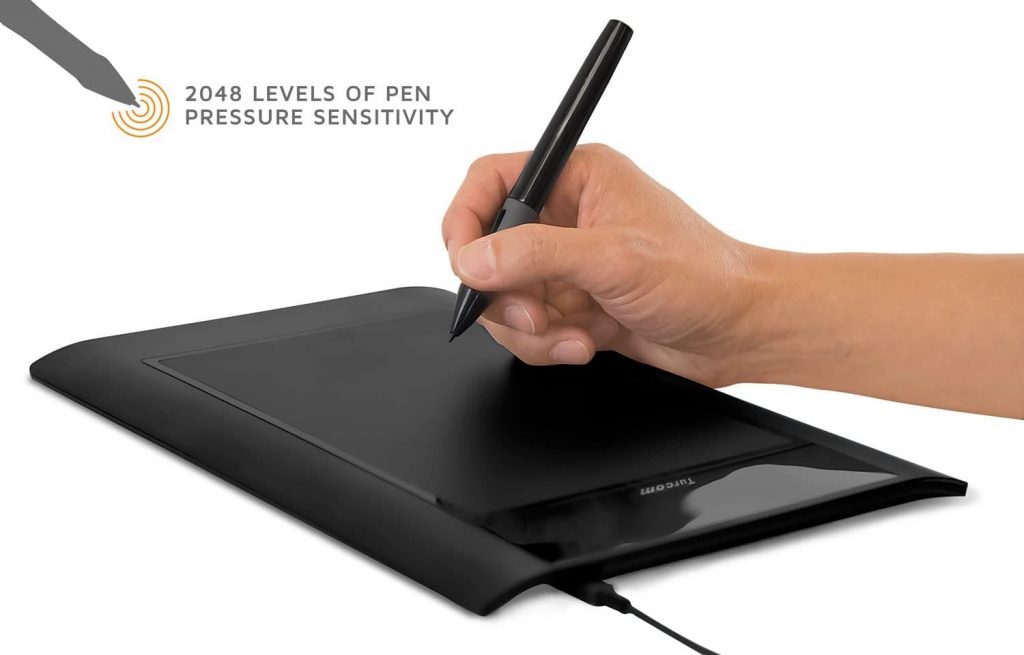 It's also one of the best drawing tablets for beginners, as it has a super easy setup process. It performs very well without any lag or spacing problems. It has an active drawing area of 8×5 inches. Actually, the product's name "Turcom 8×5 Pro" refers to the drawing area itself.
It's rather small compared to the other popular tablets, but for a beginner it's a nice starting point. The rest of the specs being as follows:
2 pounds in weight, making it convenient, very portable and easy to carry around.
14.5 inches in width.
12 inches in length.
2.5 inches in thickness.
Now let's talk about the stylus. Turcom Pro has a well-designed pen that it very easy to use. It has two buttons on its side that allow you to use it as a mouse. Not to mention that it lets you switch between two modes: the pen mode and the eraser mode.
The downside could be summarized in the fact that it runs on replaceable batteries, which might be inconvenient for many. However, the drawing output is amazing and it sure compensates on the battery disadvantage. It will cost you around $50, which is relatively cheap but without the specs lacking in anything.
Turcom's official website: https://turcomusa.com/
Ugee M708
If you want a tablet that is bigger than the average size, but still thin and light then this option is just the one for you. Ugee M708 is a great drawing tablet for beginners, with a very ergonomic design and a thin profile.
It's quite large with a width of 15.5 inches and a length of 9 inches. Moreover, it has a USB input for power, eight express keys for shortcuts and a battery powered stylus. It will cost you $74.
Ugee's official website: https://www.ugee.com/
Parblo Coast 10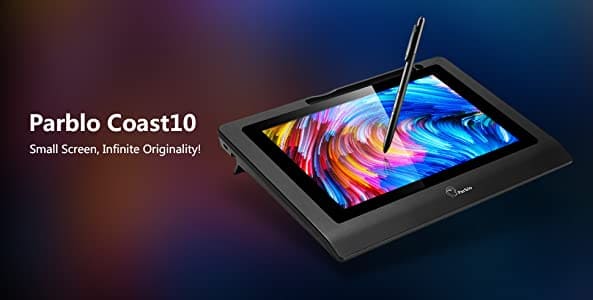 It's a professional graphic tablet that suits beginners very well. We can list this one among the drawing tablets with screen. It comes with a great display of 1280×800 resolution, providing you with a great color accuracy. The tablet has a USB input for power so you can use it anywhere, not to mention that it's highly portable making it easy to use in both wired and wireless modes.
The battery-free pen that comes with it is thin and light, and it can also stand for a mouse. In other words, it has a button that stands for the right click. However, if you needed the left click, you can tap on the drawing surface and the pen will perform the action for you. Overall, it will provide you with all the comfort and quality you need, with a pressure sensitivity that can reach 2048 levels. Moreover, the tablet has a grove on top of it serving as a penholder when it's not used.
Parblo Coast10 has very convenient physical specs, making it one of the best options for portability:
11.4 inches in width.
8.3 inches in length.
0.75 inches in thickness.
1.4 pounds in weight.
You can even carry it with you in your laptop bag. And for extra convenience, the package includes a USB hub and an anti-fouling glove. It will cost you roughly $260.
Parblo's official website: https://www.parblo.com/products/coast10
Artisul D10
This is a great tablet for beginners, in addition to being very well packed with features for the on-budget price that it offers. It comes with an HDMI input for videos plus the USB input for power. It's 12 inches for width and 8.2 inches for length, with a high-quality drawing surface. It falls under the category of drawing tablets with screen, and it works like bright LCD with an anti-glare glass.
The pen is very powerful with its battery-free and the 10 changeable nibs, not to mention the very neat storage container. It comes with buttons on the side that replicate the same functionalities of a mouse. However, the press keys are in the opposite side of the cable stick, which can be somewhat a hindrance during the process. It will cost you $63.
Artisul's official website: https://www.artisul.com/
XP-Pen Deco 01
This is the best tablet for beginners who want a full digital drawing starter pack. It has a large display with 10×6.25 inch of active drawing area, so there's plenty of room to draw in comfort with a resolution of 5080 lines per inch. You can connect it to a monitor with the USB type-C input, or choose the Bluetooth support if you prefer the wireless solution.
The tablet comes with a powerful battery-free stylus, with a pressure sensitivity that surpasses 8000 levels. With eight Customizable Keys and a sleek design that is suitable for right and left-handed artists, making this tool ergonomic was sure a priority. It will cost you roughly $70.
XP-Pen's official website: https://www.xp-pen.com/
Wacom Intuos Pro
This awesome tablet will allow you to enjoy all the rich and sophisticated drawing techniques, while keeping it simple at the same time. You'll often find it listed among the recommended drawing tablets for beginners who seek simplicity. It has an active drawing area of 8.7×5.8 inch.
It can be fully powered by a single USB cable, which also transmits the marks you make back to the computer. But it also has the Wireless Mode powered by a built-in Bluetooth support.
Moreover, Wacom Intuos Pro has a stylus that is considered three to four times more accurate than other products. The Pressure Sensitivity that goes beyond 8000 levels and the battery free autonomy are a tangible proof of that.
It comes with eight press keys that you can adjust to use as your favorite shortcuts, and a center wheel that you can use to perform simple task like zooming, changing the brush settings and so on. It will cost you $380.
Wacom's official website: https://www.wacom.com/
Huion H610 Pro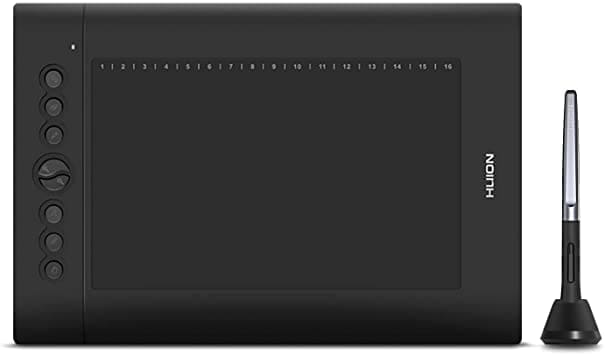 This is not only one hell of a tablet for beginners, but it's also one of the best budget friendly tablets ever. No wonder that it's by far one of the most recommended tablets for beginners. It's compatible with almost all operating systems like Windows, MacOS and Android.
Although it's very affordable, the specs are not lacking in any way. You can connect it to a monitor or a computer with the Micro USB input to see your art project on the canvas, including the USB type-C with an adapter.
Huion H610 Pro has an active drawing area of 10×6.25 inches, with a resolution of 5080 lines per inch. It comes with a battery free pen that supports more than 8000 levels of pressure sensitivity. Combined with the Innovative Tilt Control System, the pressure detection and the cursor positioning will provide you with high levels of precision and accuracy.
Furthermore, Huion H610 Pro has 8 press keys and 16 soft keys, all customizable to use as shortcuts. The pack includes an anti-fouling artist glove and a storing bag, all that will cost you roughly $50.
Huion's official website: https://www.huion.com/
Conclusion
We hope you found this article useful and informative, comment below if you think that we've missed something or if you have any other suggestions. Thank you for reading!