Free and open-source graphic design software is powerful and they offer great tools and features like the paid ones. However, not all of them have the same features and they vary in their ease of use or complexity.
So, if you want to start doing some graphic design but still not sure what free software to choose? We got you covered. 
today we brought to you this list of top 7 Free Graphic Design Software that you should take a look at.
7- PAINT.NET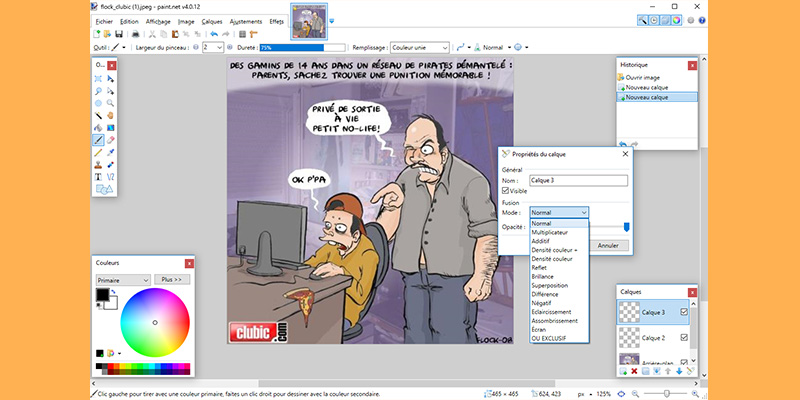 Paint.net is a simple yet advanced graphic design software and photo editor for Windows. Yes, this software is the alternative to Paint from Microsoft however it is a super easy-to-use program with stunning basic and effective capabilities.
For many, This software is their choice because of its friendly interface. It is extremely easy to use with all its simplistic features. The UI has tabs so you can work on multiple images at once.
In addition to that, there is a range of tools in Paint.net to create beautiful images. It has editing options, selection tools, special effects, blending options. and it has a range of various features from basic to advance.
 Besides, Paint.net has support for layers; which makes the design process and image compositing cooler and easier! 
https://www.getpaint.net/doc/latest/
6- Photoscape
Photoscape is a free and open-source photo editing and graphic design software. It is perfect for both beginners and professionals. It has many amazing tools allowing you to create anything you want. In addition to that. it is multiplatform, it can run on Windows, Mac, or Linux.
It has an image editor that enables you to easily use all the tools with a friendly User interface.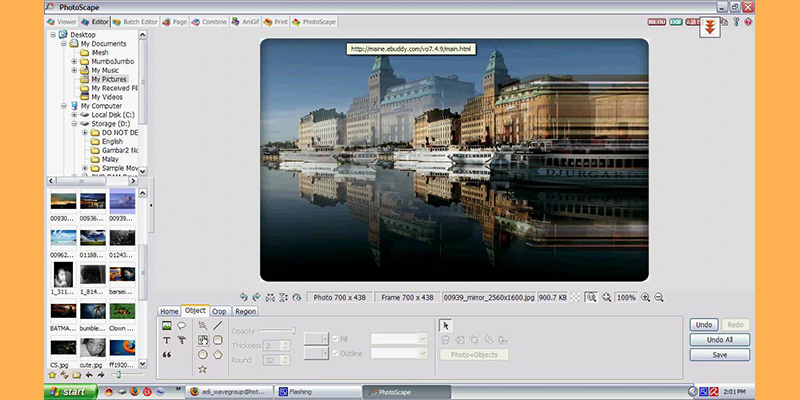 Photoscape has many features with a toolkit of text and color and layer adjustments. This software allows you to draw and paint as well. It includes drawing tools like brushes, clone stamps. It also comes with filters and other effects. 
One of the very effective tools of Photoscape is the batch editor where you can apply editing on multiple designs at once. You can do multiple operations like resizing or renaming with one click. Moreover, Photoscape supports integrations, you can add modules as you need.
5- Vectr
Vectr is a free graphic design program that supports scalable graphics with high quality. it could run on Windows, Linux, Mac, and even the browser. With it, you can design stunning logos, mockups, posters, infographics, and other designs whether you are a pro or a newbie.
Besides, you can find many video tutorials to learn it even quicker.
Another thing about Vectr that makes it perfect for beginners is the fact that it offers all the basic and useful tools. And using it will allow your creativity to flow in smoothly.
Vectr has many editing tools making it a powerful SVG editor. These tools include fonts, shadows, filters, drawing tools, etc. It allows you to create as many layers as needed. Even more, and supports annotating graphics.
One of the coolest features in Vectr is collaboration and synchronization. With collaboration options, you can share your project with your team or with anybody else. While with synchronization options, your working process will be more effective and efficient. because it allows others to see your design live.
4- Krita
Krita is mainly a painting tool, it offers you a range of cool brushes that are perfect for all artistic purposes. It also supports plugins, thus you are able to add more tools for working on your design projects.
One of the things that made this software stand for a long time, is the feature of brush stabilizers. This feature is very effective for artists allowing them to produce perfect lines, textures, and patterns.
Moreover, it includes filters and effects and you can add others if you want to. Krita also comes with amazing color options as a popup tab plus the color picker tool.
it is actually an artist toolkit. Krita is available for Windows, Mac, and Linux. This program allows you to unleash all your creativity due to its powerful and advanced features.
3- Gravit Designer
Gravit Designer is another graphic design software designed by CorelDraw Company besides CorelDraw program.
The software is perfect for multiple types of graphics, and delivers high-quality vector graphics, from logos to icons and from illustrations to printed designs and it has great capabilities in photo editing.
Gravit Designer is suitable for beginners. Its interface is very intuitive and engaging besides you can adjust it to whatever layout suits you. Since it is totally customizable.
Gravit Designer has two versions, one free version and another under the name Gravit Designer Pro. The pro version has some extra professional tools however the free one still as powerful as the paid ones.
Gravit Designer allows you to easily navigate between the different tabs and to switch themes from light to dark. You can add multiple artboards and pages and set the canvas as you like.
In addition to that, it comes with many graphic design tools such as a pen tool, lasso tool, and knife tool for non-destructive Booleans. It also has multiple fills and blending modes. In addition to that, it has a text engine, where you can make beautiful typography.
Gravit Designer is a vector-based software available for all platforms, it runs on Windows, Mac, Linux, or even on the browser. so whatever is your machine or your machines you can work on them all effectively! Likewise, it supports Cloud services and its pro version has unlimited Cloud storage.
2- Inkscape
Inkscape is a powerful graphic design editor. It is based on vector graphics, which makes it a great free alternative to software such as CorelDraw or Adobe Illustrator.
This program is designed for Mac, Linux, and Windows among others.
With it, you are able to create high quality and scalable graphics like logos, web designs, illustrations, etc. Inkscape is very popular in graphic industries since is a multi-purpose program and it is very suitable for beginners.
It requires no prior experience to get started using it because of its friendly interface. You can spend a short time getting used to the UI, the features are not complicated actually all the tools are relatively simple so whether you are a professional or a beginner, Inkscape will fit you.
It is an open-source program so you can add your own tools if you need to. And It has many advanced features and tools making it a perfect editor to create outstanding artwork.
For example it has drawing tools, color modes, effects and more!
You can add text and totally edit it with Inkscape's amazing text formatting tool. It has a range of filters created by the community behind it, and you can create your own filters as well. For many designers, what really makes Inkscape a very useful graphic design tool is the cloned objects.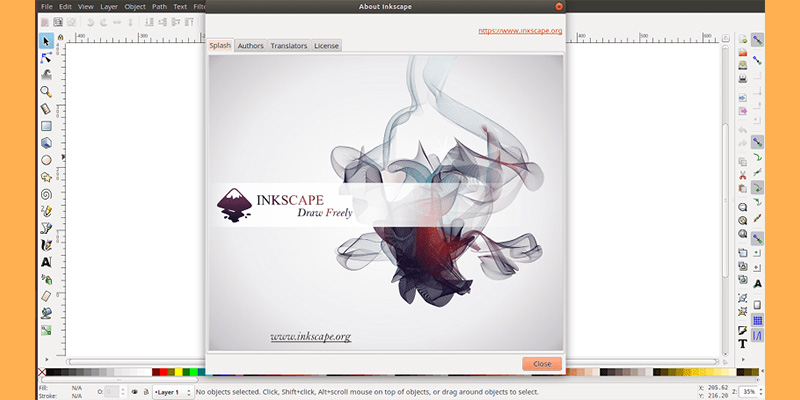 With it, you have multiple export options like PNG, EPS, or PDF. However, it is graphic design software that focuses more on SVG as a lot of work is done with that file format. In addition to that, it supports many features to allow the user to have a great SVC integration with high editor capabilities.
One thing some people complain about in Inkscape is the speed, Inkscape is relatively slowly however it has regular updates.
1- GIMP
This software is a free alternative to many paid design software.
GIMP is easy to use with a modern and customizable interface that has the ability to allow you to do editing even in the full-screen mode.
With this software, you can design artwork, icons, logos, etc. or you can do image manipulation. You can also create GIFs and animated pictures using it.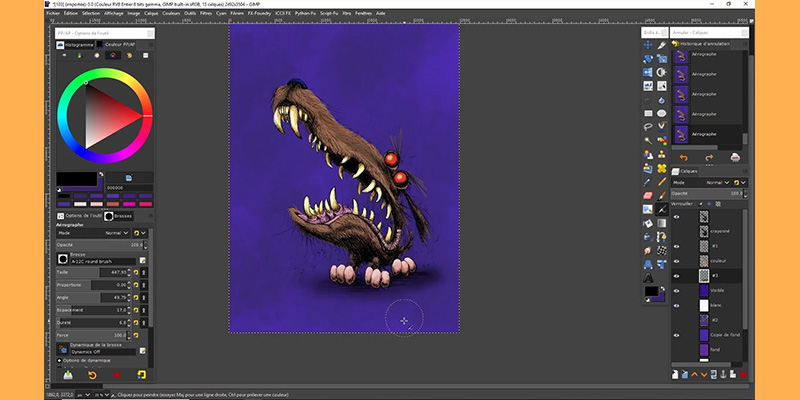 For photo manipulation, it allows you to edit and retouch images like color corrections, cloning and enhancement, and all that what makes GIMP ideal.
Furthermore, it uses GEGL Scripts feature what makes it a powerful image-processing program and at the same time a light editor.
The program uses a layering system where you can make a design from scratch. Moreover, GIMP has many advanced tools like painting tools, selection, mirror image, portrait stamp, masks, pencil, airbrush, and more!
GIMP is an open-source program; which means you can change the code to create a new distribution. In addition to that, it has a supportive community and a wide range of third-party free plugins. 
Another impact of the strong community, the availability of tutorials along with the fact that GIMP has a nice learning curve so it is suitable for beginners.
It is available for Mac, Linux, and Windows.